These Paleo Maple Caramel Pecan Turtles are made with real honey and maple syrup - so much healthier than regular turtle candies. They make the perfect addition to a tray of Paleo Christmas candies too!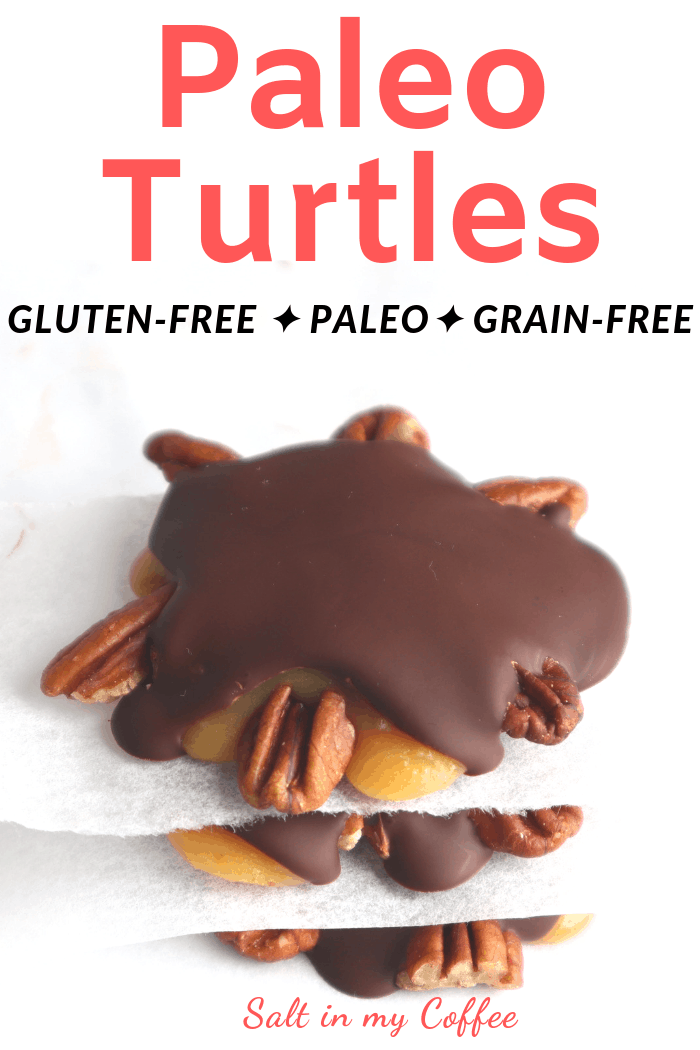 This article contains affiliate links. Click here to learn more.
I've spent an entire lifetime detesting caramel. It's ridiculous, but true. I hated it so much, I secretly judged people who could bring themselves to slather perfectly wonderful apple slices in something as horrid as caramel sauce.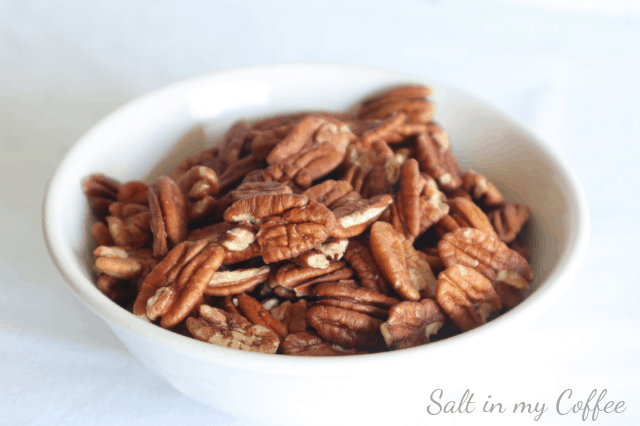 I hated the stuff - right up until this spring, when a happy culinary accident brought me to my senses, and made me realize what I've been missing all my life.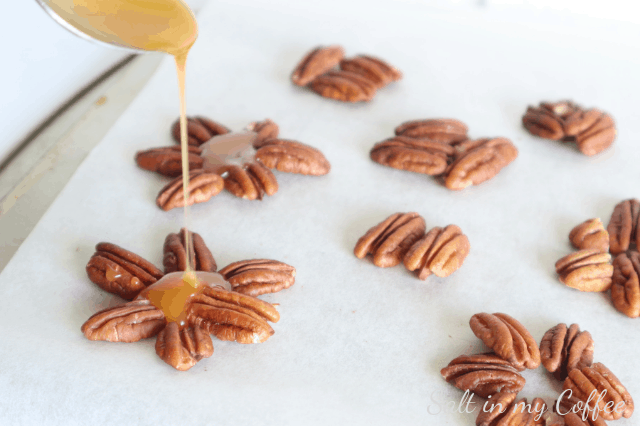 Turns out, I love caramel. It's the icky artificial kinds with unpronounceable additives that I can't stand.
That realization opened up a whole new world of treat-making adventures for the kids and I. There is no reason that caramel has to be made with a long list of terrible ingredients! It can be made simply, with real ingredients like coconut oil and maple syrup. There's no reason good caramel can't be paleo.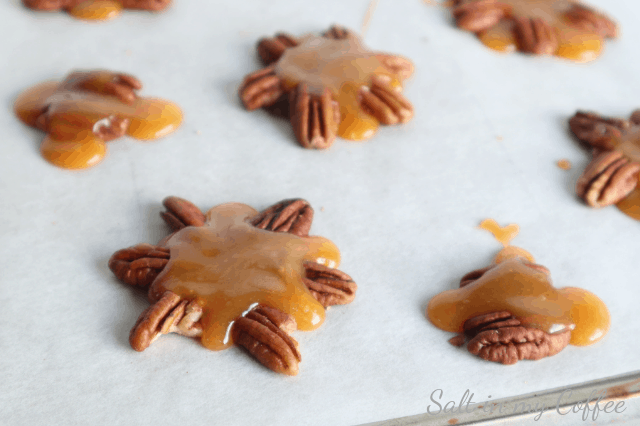 So we've been doing some experimenting, and a whole bunch of recipes for paleo caramel treats will be coming your way over the next few weeks. Paleo caramel, made with real honey and maple syrup, has truly become one of my favorite indulgences.
Of all the recipes we've been working on, this one here is my favorite, and the one I've been most excited to share!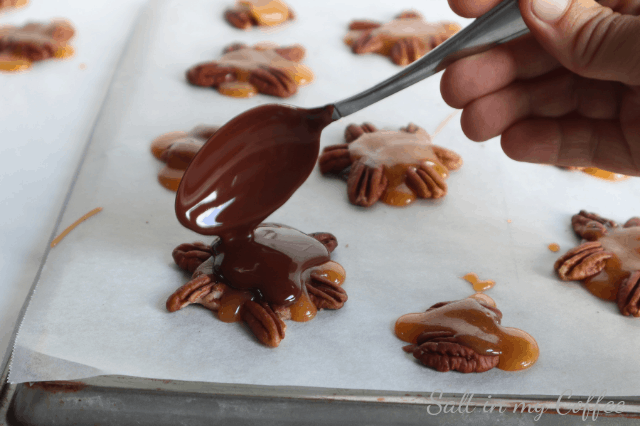 Everything about these little homemade caramel pecan turtles makes me just love them. From the deep nutty crunch of fresh pecans, to the soft maple sweetness of the caramel, to the smooth finish of dark chocolate. These are everything I could dream of in a candy.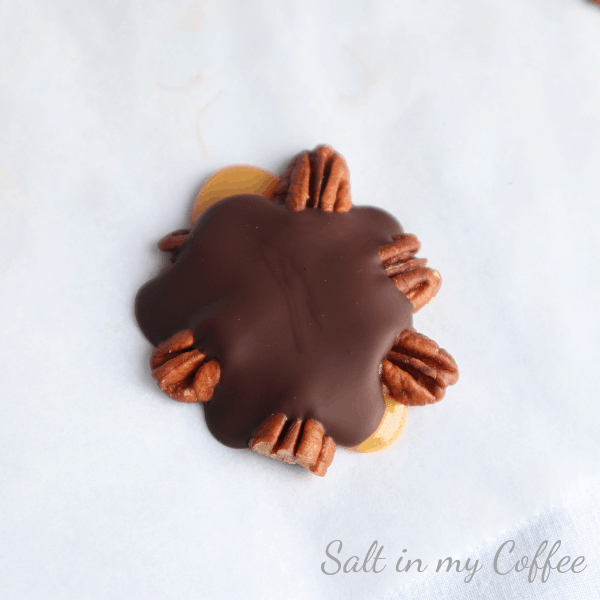 Making them is also a great family activity! Little hands love arranging the pecans in turtle shapes, while Mama whisks the caramel. It's fun coming up with other shapes too - there's honestly no reason they have to resemble the traditional turtle!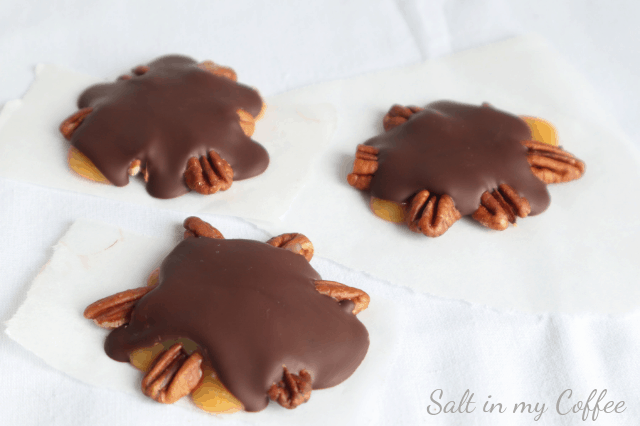 When I'm making these Paleo turtle candies, I mostly make them in the traditional size and shape - but I also try to include plenty of little ones. Clusters of just 2 or 3 small pecans covered with the caramel and chocolate, are a nice size for smaller appetites.
These turtle candies are a substantial treat, and even though they're paleo, they're still sweet. It's nice for folks who are watching their sugars to be able to sample these special treats without having to indulge in a whole one.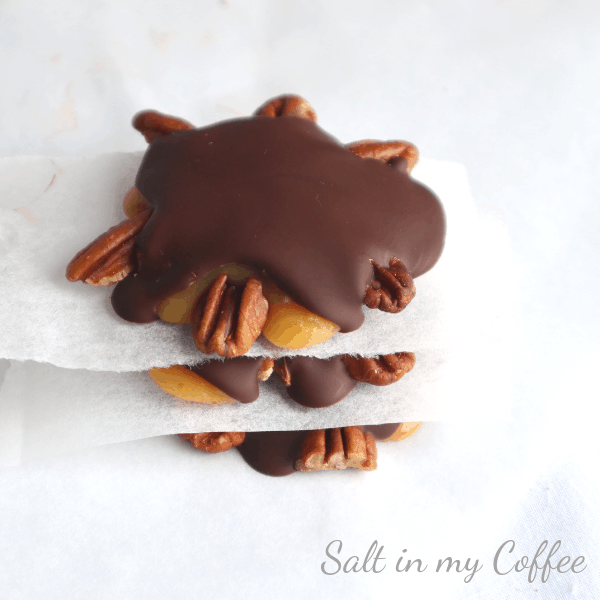 These paleo caramel pecan turtles are definitely going on our must-make Christmas candy list this year! I hope your family loves them as much as we do!
Bon Appétit!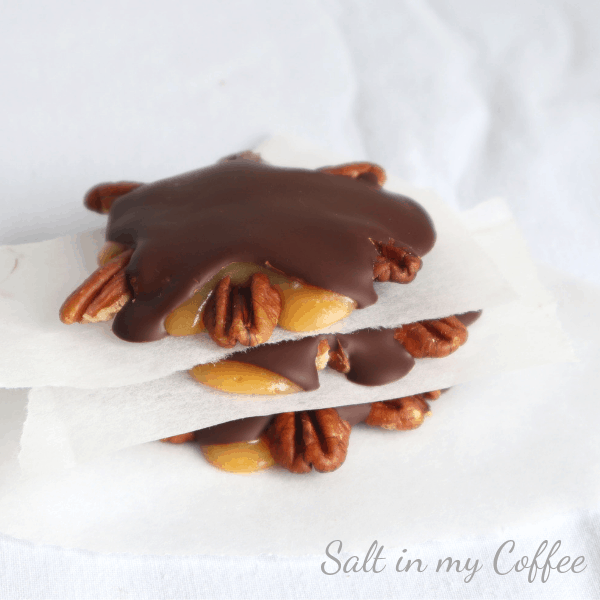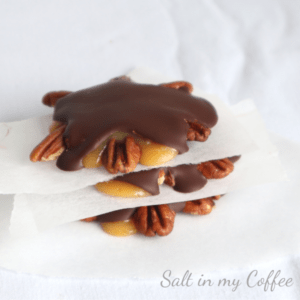 Paleo Maple Pecan Turtles
These Paleo Maple Caramel Pecan Turtles are made with real honey and maple syrup - a perfect paleo treat!
Print
Pin
Rate
Equipment
double boiler

Cookie sheets

parchment paper
Ingredients
1/2

cup

honey

1/3

cup

maple syrup

1/2

cup

coconut oil

(or 1/4c coconut oil & 1/4c grass-fed butter)

1/4

cup

water

8

ounces

pecan halves

8

ounces

dark chocolate
Instructions
Line cookie sheets with parchment paper. Arrange pecans in clusters on cookie sheets, with ample space between clusters. For the traditional "turtle" shape, put two large pecans end to end for the head and tail, with four small pecan for the legs.

Once pecans are all arranged, make the caramel. Add all honey, maple syrup, coconut oil, and water to the top of a double boiler. Bring to a simmer over medium-low heat.

Continue to simmer, stirring frequently. As the mixture cooks, you'll notice that it first darkens in color, and begins to "pull away" from the sides of the pan. You will
likely see an increase in the volume of bubbling right before this point. Soon after, the caramel will start to lighten in color a bit, and that's when you're going to want to pay very close attention - it means you're really just about done. Cooking the caramel takes some time - usually at least 20 minutes. Caramel can be cooked more quickly in a saucepan directly on a burner, but it's a bit easier to burn it, so I suggest using the double boiler.

Heat the caramel till it reaches 245 degrees on a candy thermometer.

You can also check for done-ness using the "cold water test": using a spoon, pour a drop of the mixture into a glass of cold water. Mixture should form a ball that stays together, but is still pliable. (We're going for just past the "soft ball" stage.)

If mixture strings out in the water rather than forming a ball, cook for a minute or two longer and try again.

Remove caramel from the heat, and let it rest for a few minutes before spooning it carefully onto the pecan clusters. It's easiest to work with when it's begun to cool just slightly.

Once you've spooned the caramel onto all of the pecan clusters, let it set while you melt the chocolate.

Melt the chocolate in a small pan over simmering water. Once melted, spoon on top of caramel-covered pecan clusters.

For best results, let turtle candies cool undisturbed at room temperature for about 30 minutes.

Store turtle candies between parchment paper in airtight containers. If the weather is warm, you may want to refrigerate them. I've stored these for up to 48 hours, and they've kept their flavor and texture perfectly.

While I've heard that homemade turtle candies can be successfully stored for up to two weeks, I can't imagine having that kind of self-restraint, so we're just going to have to speculate about that one.
Nutrition Facts
Paleo Maple Pecan Turtles
Amount Per Serving
Calories 130
Calories from Fat 90
% Daily Value*
Fat 10g15%
Cholesterol 1mg0%
Sodium 2mg0%
Potassium 80mg2%
Carbohydrates 10g3%
Protein 1g2%
Vitamin A 6IU0%
Vitamin C 1mg1%
Calcium 13mg1%
Iron 1mg6%
* Percent Daily Values are based on a 2000 calorie diet.
Notes
If you're not dairy-free Paleo, do try using half grass-fed butter and half coconut oil in this recipe. It's wonderful either way, but I feel the butter adds a dept and roundness to the caramel that's just a bit extra-special! Getting perfect caramel - I find the trick is to set aside plenty of time, and not rush it. While you can cook this recipe in a saucepan directly on a burner and have it come out fine, the faster cooking process leaves less margin for error with reaching the perfect temperature without exceeding it, and it can be possible to scorch the mixture if the burner is too hot. Using a double-burner is certainly slower, but allows a lot more forgiveness with reaching the perfect temperature and consistency.
Nutrition
Calories:
130
kcal
|
Carbohydrates:
10
g
|
Protein:
1
g
|
Fat:
10
g
|
Saturated Fat:
5
g
|
Cholesterol:
1
mg
|
Sodium:
2
mg
|
Potassium:
80
mg
|
Fiber:
1
g
|
Sugar:
7
g
|
Vitamin A:
6
IU
|
Vitamin C:
1
mg
|
Calcium:
13
mg
|
Iron:
1
mg
Looking for more seafood recipes? You might like:

✦ Grilled Salmon with Mango Lime Chutney
✦ Mediterranean Tuna Spring Rolls
✦ Keto Shrimp Tacos
✦Orange & Ginger Salmon with Tzatziki