If you've ever wondered about how to choose a good blacksmith hammer for your home forge, this post is for you! My husband Dan shares all about the different types of hammers, and how to select the right forging hammer for you, in this latest installment in our series on blacksmithing at home.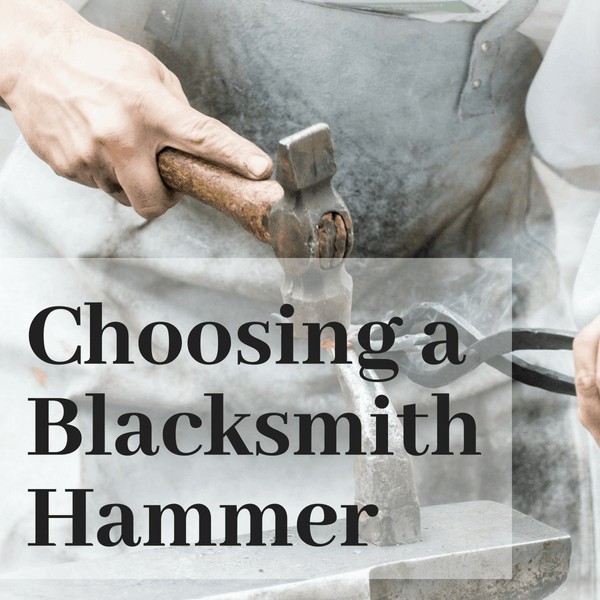 This article contains affiliate links. Click here to learn more.
The Most Important Piece of Equipment for a Smith – The Hammer
You can't be a blacksmith without having a hammer, and it is the tool that you will use the most. It will become a part of you - part of your blacksmithing soul - so choose wisely which one (or ones) you want to use, and this is the other area that you don't want to skimp on cost. Buy quality, because it will be with you for the rest of your life and save you a ton of frustration if you get the right kind and the right quality.
But isn't a hammer a hammer, you ask? The short answer is no. The longer answer is one that is learned through time at the forge.
Factors to consider in Selecting a Hammer:
There are many, many types of hammers you can choose from. From the shape to the weight to the geographic origin of the design, a hammer can be as varied as the kind of job you are doing. So let's look at the basics of what the hammer is for – after all, form follows function.
Weight
In hammers, size doesn't matter. Ok, ok, it matters a little, but not what you think. Don't go get the biggest, heaviest 10-pounder that you can find and think that you'll not only be a "real" blacksmith, but you'll get a real workout and 20-inch arms too. What matters most in smithing is skill, not force. Yes, there are times when you will need to flatten or move a large amount of material. For those times, it's ok to use a bigger hammer or a sledge, but most of your work will be forming hot metal of less than 2" in diameter at a time. To do that, and do it well, you will need CONTROL of the hammer. My instructor had us hammer on 2x4s for the first day of instruction. The reason? To teach us how to hit squarely and flatly on the metal. A forging hammer is only as good as the hand that wields it, and if you have a 10-pound juggernaut, how easily are you going to be able to control how and what angle it lands on? If you've starting smithing already, you know that doing it right the first time is immensely easier than trying to fix errors from misplaced hammer blows. Pick a weight that is comfortable to you and remember, you will likely be swinging it for 2-3 hours or more at a time. The weight of the blacksmith hammer will do the work for you, so don't imaging "hitting" the metal, as much as lifting and controlling the hammer as it rises and falls. Find a hammer that weighs enough to land with force, but doesn't tire your arm too much. Most hammers are weighted in grams – 1 gram is equal to 0.0022 pounds. So a 2,000 gram hammer weighs about 4.4 pounds. I chose a 1,000 gram hammer and it is honestly too heavy, but I like the feel of it and I've learned to use it well. I also have a 2,000 gram sledge with a very short handle, so I can move metal when I need to, and then use my main hammer to shape it. I honestly should have gone with an 800 gram hammer or even a 500 gram one, but after having used it these years now, I'm attached to it and it's a part of me. Hammers do that to you.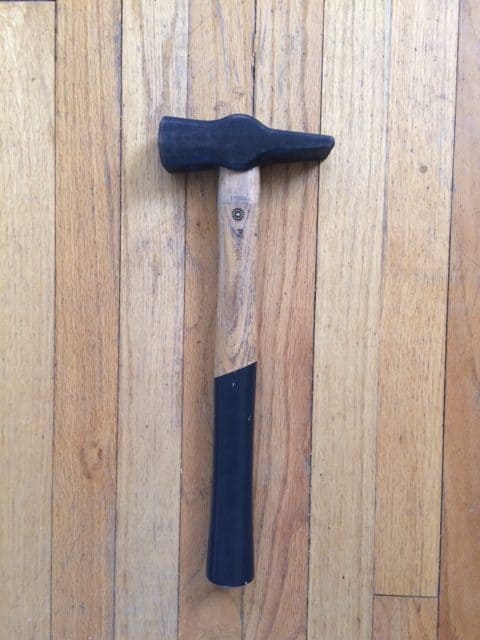 Type
There are a plethora of different types of blacksmith hammers to choose from. Ball peen, straight peen, cross peen, flatters, sledges, planishing, raising, chasing – the list is long and varied. But like all tools, form follows function. Ask yourself what kind of smithing are you mostly going to be doing. Is it fine decorative work? Is it bladesmithing? Is it farrier work? Each type of work can have its own specialty hammer. For the vast majority of work I do, I have a go-to hammer – my Swedish style cross peen hammer. I also have a 4.4lb. short handled sledge for when I want to move a lot of material or flatten stock quickly. Remember that the shape of the hammer impacts the final shape of the metal you hit with it. In other words, if you are going to need to spread out a metal form, you can either flatten the entire thing, or you can use a more specific straight or cross peen hammer. For delicate work, you want to have something that is more easily controlled than a sledge. And remember again, size doesn't necessarily matter. Yes, if you are planning on moving 2" diameter bar stock, you will need more than a planishing hammer, but don't forget that moving a 10 lbs. long handled sledge will take a lot of strength, and moreover, endurance. You can swing a large hammer, but for how long can you swing it with accuracy? An accurate strike that is done right is worth the half dozen or so blows you will have to strike to fix one wrongly placed strike.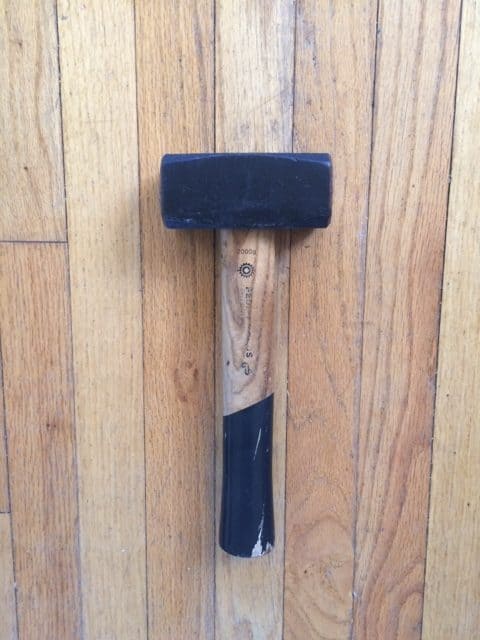 Style
The style of hammer depends entirely on your personal preference. Mostly by style here, I mean what origin it has and what it is shaped like. A typical blacksmith hammer will have a flat edge and a shaped edge. A German style cross peen hammer will have the cross peen in the middle of the back edge. A Swedish style one will have it in the center too, but the flat striking edge is tapered to a larger middle bulge and reduces the weight while keeping the size of the striking face, and French style one will have a segment curved up with a straight edge just below the top. A Japanese style hammer has only one true hitting face and has an off centered handle. Which is best? It's like asking which of your girlfriends was the prettiest. Don't ask, just pick the best one and go with it. In the end, the function will be largely the same, and the design is mostly to appeal to your own distinctive style. There are some reasons for the shape of these hammers, and their form does follow function, but for the vast majority of work, the way that a forging hammer fits and feels in your hand is more important than what it looks like. Choose the one that you like and hammer away.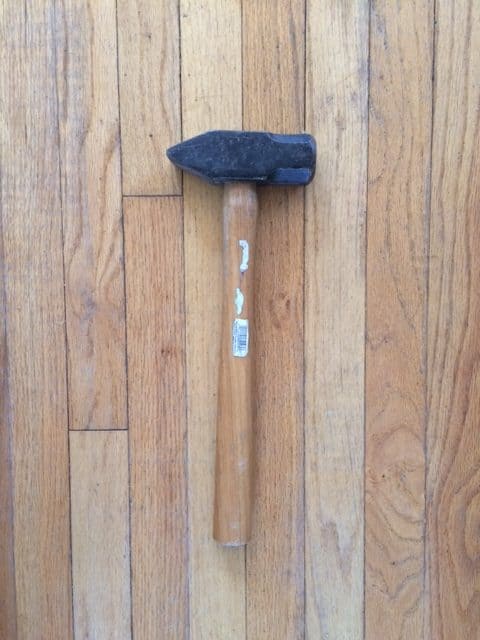 Manufacturer
There are a lot of manufacturers out there of hammers. Do yourself a favor and avoid the hardware store. Hammers are different based on what they are made of, and while tool steel is tool steel, the shape and fit of a true blacksmith-intended hammer is different. I can only tell you that when I hold a carpenters claw hammer and my Swedish cross peen, they are so completely different on the face and feel that I wouldn't ever consider using the carpenters hammer to hit metal with, even though they are both technically made of tool steel. Don't skimp on this area of your forge. Buy something from a blacksmith supply place or from a manufacturer that specializes in these. You can get a good Peddinghaus hammer on Amazon, or go to the supply places that you got your forge and bar stock from. I like Centaur Forge, Blacksmith Depot and Pieh Tool for my hammer suppliers, but there are others out there too. I prefer Peddinghaus, but Jim Burton, Big Blu or Picard would work fine too. Stay away from Chinese manufacturers or household carpentry companies – carpentry is one thing, but blacksmithing is specialized and you need to look at quality and function here, so go with a purpose made hammer for the forge, not something that can be found under the sink. The most important thing is that the hammer is under control and can land accurate strikes, while also doing the job without fatiguing you too quickly. Other than that, find whichever hammer strikes your fancy – pun intended.
Cost
A good quality blacksmith hammer will cost anywhere from $45-$145 dollars. I tend to go with a tried and true source, but not the cheapest either. While you could spend hundreds, I spent about $70 each on my hammers – a 1,000 gram Swedish style cross peen hammer and a 4.4 lb. short handled sledge, both from Peddinghaus. You can get used hammers for less, but see below before you buy from a garage sale or antique shop find.
Used Hammers
In some circumstances, you can find a good old-fashioned hammer with decades of use in it that is still smooth on the face and strong in its makeup. But these are honestly rare. The thing about hammers is this – they are made for impact. You never want to hit one hammer against another because the metal isn't meant to be struck that way. If some idiot bought a bunch of hammer 20 years ago and now is selling them in his garage sale, consider what said idiot may have done with them. Did he store them properly? Did he hit them on things he shouldn't have hit them on – like, say, his anvil without another piece of metal on it because he thought it would ring and sound cool. Hammers are tools, but they are also dangerous if they are starting to chip, crack or wear too much. The faces of these hammers can be very tough, but some used hammers can have a lot of marring on their faces. Even tool steel can be damaged. And also remember that an improperly placed hammer too close to the forge for a few moments too long can change its hardening. That tool steel hammer that is hardened improperly can shatter on impact if it was heated and quenched by someone who forgot to put their hammer on their shelf or anvil while heating a piece of metal in the forge, and instead put it too close to the fire so it got hot, they burned their hand or noticed it was starting to glow, and then quenched it to cool it down. Steel needs to be quenched and hardened properly to be able to hold up to the rigors of smithing. If you feel confident about its owner's ability to treat it properly, than go ahead and buy it if you really want to – I have a few used hammers in my collection too, but I would strongly suggest buying new from the factory for the safety factor. I may have three used hammers and two new ones on my shelf in my forge, but 99% of the time I use my new hammers anyway. So for safety, I recommend going new. It will last you decades and you can imprint yourself onto it through its use until it is truly, uniquely your own.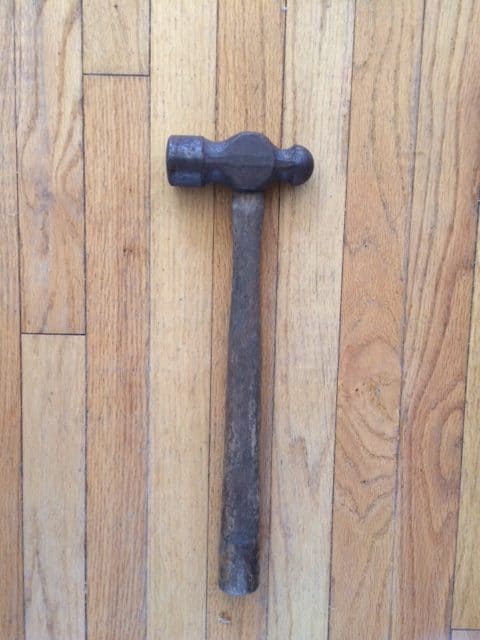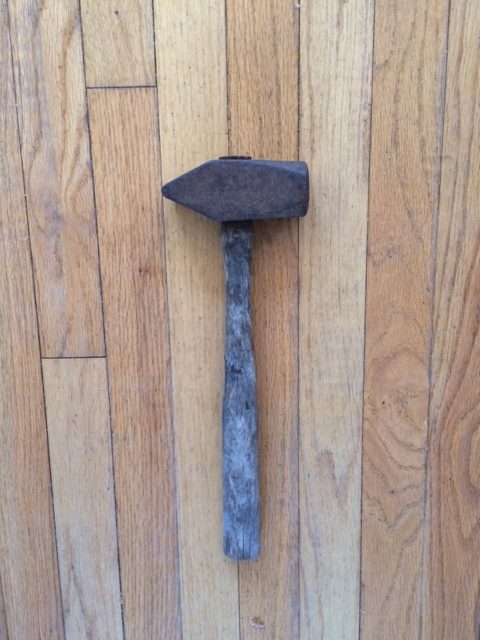 Suppliers
For some easy and readily accessible suppliers, try these:
Amazon – only buy brand name here, and from suppliers that are well rated. www.amazon.com
Pieh Tool Company – www.piehtoolco.com
Centaur Forge – www.centaurforge.com
Blacksmith Depot - www.blacksmithsdepot.com
I'll review some of the other tools you will need to use in your forge in my next post, but these can vary widely and many are not strictly necessary, except for tongs – which you can make with what you'll have up to this point. After that, we'll look at acquiring stock for forging and then start some projects with video demos.
Hammer on!
If you've missed any installments in our blacksmithing series, you can check them out here:
What Do You Need to Start Blacksmithing at Home?
How to Choose the Best Anvil For Your Forge
Blacksmith Tools to Complete Your Forge
Where to Source Steel for Blacksmithing
Pin for later: