Looking for ways to keep your forge well-stocked with steel? Check out these tips for buying and finding steel for blacksmithing, and which types to use for which projects.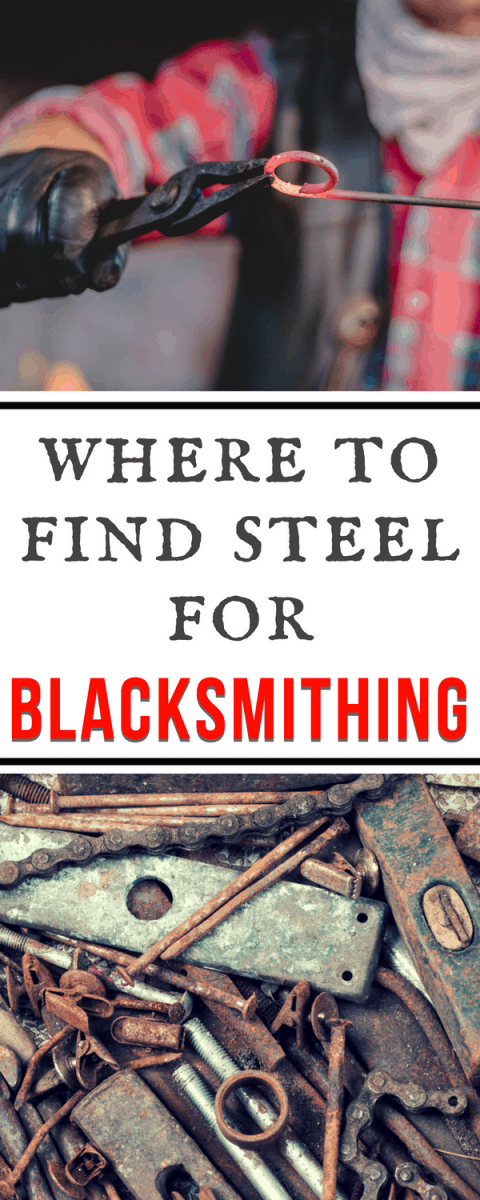 This article contains affiliate links. Click here to learn more.
Now that you've reviewed all of the tools and equipment necessary to start forging, you need one last thing: Steel.
As with all projects, the end result dictates the type of steel you want to find. For specific properties of metal, there is a lot of information out there, and the terms used can be a little overwhelming. For example, what is "1080", "O1", 12-gauge versus 20 gauge (no, it's not shotgun ammunition). So the first thing you need to ask yourself is, "what kind of project am I working on?"
Before we get too far into this, a word of warning: know what you are putting into your forge fire!
There are all sorts of pieces of metal out there, but you can't just grab an old painted shovel or a metal fence post and stick it in the fire. When you heat steel in your forge, you are burning at temperatures over 2,000 degrees. At those temperatures, metal can melt and burn releasing vapors. What kind of metal was blended with the core stock? Is the metal painted? Was there a rust-proofing or other treatment that may have been applied? All of these elements when added to metal can be burned off in the forge and turn into fumes. This can be VERY, VERY dangerous. One of the first lessons I learned from my master smithing instructor was to be aware of the metal's properties because of something he called "Forge Fever". Forge fever is a condition that you can get if you burn a toxic material in your fire and breathe in the fumes. He told me this warning: "If you get Forge Fever, you might live the first time you get it, but you absolutely will die the second time you get it." That warning stuck with me.
Sure things to avoid are any galvanized steels, blended metals with zinc or other non-ferrous metals in them, and anything that may have lead applied to it (like in old paint). When burned, these materials sometimes let off a colored flame or hiss and fizz. If you ever see a pink or fluorescent flame in your forge, pull the steel out and quench it in water or sand and get out of the forge. Don't breathe in at all while you are doing this. It's best not to try to mess with putting out your forge so if the material falls into the fire, or you can't get the piece of metal out of the fire, just get out into the open air and let the forge go out on its own. Also, if you have to do this, contact your fire department and don't let anyone near your forge or the air space around it.
Blacksmithing is fun, and it can be work, but it's never worth dying for. When in doubt, don't put anything in your forge that you don't know for sure is safe.
Now, back to the fun part.
You can get new or fresh steel from many suppliers, and this is often the best way to forge a quality piece, but as you get better at forging and as material costs increase, you'll find that you'll be looking for alternatives to buying fresh steel.
Steels for decorative blacksmithing will be very different than those used for tool making, blades, jewelry, etc. so find out what type of steel you need before you start a project. I recommend referencing a great book by Jim Hrisoulas called The Complete Bladesmith. Chapter 2 includes an extensive review of steels for different applications and the overall book is invaluable if you are looking at making blades. You can get a copy of it at Amazon for $29.99 here.
First determine what type of steel you want to use for your project, then find sources for it. If you are going to create a piece for resale that will need to be used for a purpose, be sure that you use the correct type of steel and don't try to pass off mild steel to an unsuspecting buyer as tool steel. It's unethical, and it will invariably comeback to haunt you. Be legit and ethical in all of your saleable pieces.
For most beginner projects, except knives and tools, mild steel will work just fine. Mild steel is easy to work, easy to cool (you don't need oil for it) and fairly easy to come by.
As a quick reference, here is a summary of the most commonly used steels:
O-1 – Knives and short blades, oil quenched
W-2 – General purpose uses for being able to harden the steel – water quench, but can oil quench as well.
1095 – Blades of all sorts including long blades, oil quenched.
5160 "Spring Steel" – Long blades and axes, good for impact, oil quenched
S-1 – Great for impact and hammers, oil quenched
1018 "Mild Steel" – best al-purpose steel and used in everything from hooks to chandeliers to tongs. Water quenched.
Where to find New or Fresh Steel
Most metal supply shops for welding or fabrication carry steel that you can use for your projects. You can even get steel shipped to you from Amazon. Blacksmithing suppliers also often carry new steel, but remember when you buy steel, it's heavy. You will have to pay for shipping, and while you might find great deals on individual or bulk steel orders, the cost of freight to deliver it to you may exceed the cost of the material itself. (If you have Amazon Prime and can find a supplier that includes free shipping, consider stocking up!) If you are going to be making a specialty blade or tool, or plan on selling your work, consider using fresh steel first – especially in circumstances where there is a danger of breaking or shattering. Not only will it be easier and safer for you to forge, but your customer will thank you too.
Suppliers - For some easy and readily accessible suppliers, try these:
Amazon – only by brand name here and from suppliers that are well rated. www.amazon.com
Pieh Tool Company – www.piehtoolco.com
Centaur Forge – www.centaurforge.com
Blacksmith Depot – www.blacksmithdepot.com
So, if you don't want to pay for fresh steel, where can you find safe used steel?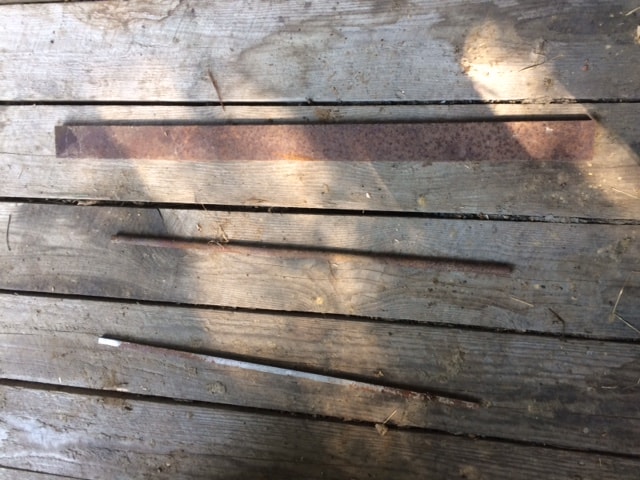 Where to Find Used or "Found" Steel
Some of the best steel for projects can be found from repurposed materials. They are usually fairly cheap, and you can pick them up yourself. Remember to look for paint or other signs of warning – remember Forge Fever – and check to make sure that the rust on them isn't too deep to deform its shape. Rust will almost certainly be on your steel if it's found steel. Rust is easy though – you can either grind it off, or just burn it in the forge if it isn't too thick. For sourcing used or "Found" steels, here are a few great options:

Files (W-2 Steel)
Old worn out files are a favorite of mine. Barn sales, yard sales and even some antique stores can be a great source for these gems. Files are made of very hard metal and while they can often be ground down and useless as files when you find them in barns, the metal that they are made from goes deeper than the ridges that are used in filing, and this hard steel is great for blades and other hardened metal projects.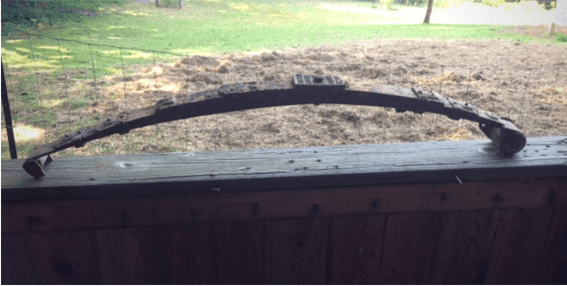 Leaf Springs (5160 Spring Steel)
The rear leaf spring suspension in automobiles is a great source for tough, blade-quality steel. The leafs in a leaf spring are hard, able to take a great sharp edge, and already in long, thin bars – perfect for swords or knives. You will need to cut the ends off the leaf spring and the binders that hold the leafs together, so be careful, but this is a great source of metal for those types of projects.
Saw Blades (L-6 Steel)
Old saw blades can be a good source of metal since there are a lot of old wood saws out there. However, they can be tricky to work with because they are so thin. You will either need to cut and forge weld them together into a billet or fold them over numerous times and forge weld them to form a bar.
Railroad Spikes (Mild Steel, usually)
These are good for a multiplicity of small projects and can be forged into knives, hooks and other small projects. They can be found in a variety of places, though they are not used as frequently in modern production, so barn sales and old antique shops might be a good place to source these. Due to their usually low carbon content, a railroad spike is not ideal for blades, but they can be used for practicing your forging techniques and are usually cheap and easy to find, depending on where you live.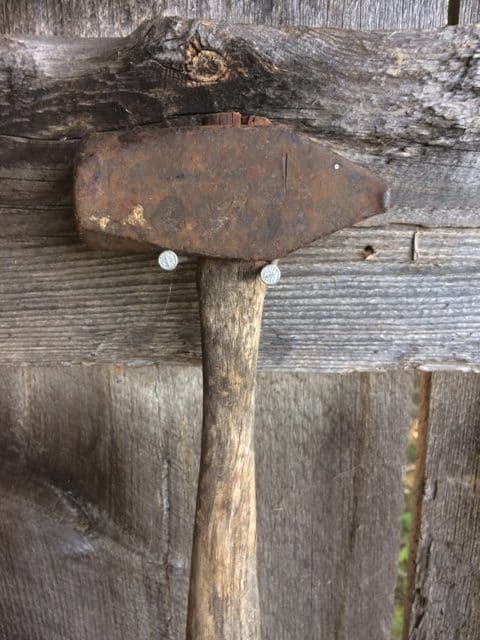 Old Tools
Hammers, old dull or broken knives, virtually any old or broken hand tool has great tool-steel that can be forged into tools, blades and even new hammers. Be careful again to avoid anything with chrome on it, or a blended metal, but most old hammers and knives are safe to use. Wrenches can be good too, but again, avoid blended metals or metals that have a chrome-like finish.
The main thing to remember when finding steel that was already used for something is that if it was forged for a purpose, and it's not a blended metal, it will likely work. (Yes, blended metal in and of itself is not a non-starter as some blended metals are necessary for advanced forging and make great blades and tools, but for safety, just go with the basics if you are using found steels). If there is paint on the steel, you can sometimes grind off the paint, but again, be aware that leaded paint is a big deal. If it was painted prior to 1990, it might be lead-based paint, so you might want to avoid it. If you do choose to remove the paint by grinding, make sure that you have a proper ventilator (those medical masks that people wear during flu season WILL NOT work to keep you safe). For this, you want full face mask and breather, or a ventilator that is equipped with the correct filter. This may be overkill, but hey, you don't want to inhale lead dust into your lungs. Whenever you grind, be aware that unless you have the proper Personal Protective Equipment (PPE), you risk ingesting the metal dust into your body and the horror stories out there about rust in your lungs will make your toes curl. Just be safe.
Once you find your steel, you may have to unharden them. In the case of hammers, this is critical as hitting a piece of hardened steel at any temperature may cause it to shatter. DO NOT DO THIS! There are a number of methods to temper the steel to remove its hardness, so I will get into that during another post or project. For the time being, if you are using a hardened steel, make sure that you heat it into the red-cherry range and then cool it in a dry sand bucket for a day or so to allow it to cool slowly and remove the hardness. This will make it safely forgeable.
There is also a method of testing the carbon content of found steel known as the grinder test. While this is good at determining if the metal has a high or low carbon content by the type of sparks it has, it can be a poor determinant of whether it is water or oil quenched, and what hardness or shock resistance it will have. So be careful if you want to use this test – there may be more to consider than just the carbon content.
Overall, find the best steel you can and err on the side of caution. No project is worth trading your safety or health for.
Next I'll take you on a quick tour of my forge, and then, we'll start techniques and projects!
Hammer on!
If you've missed any installments in our blacksmithing series, you can check them out here:
What Do You Need to Start Blacksmithing at Home?
How to Choose the Best Anvil For Your Forge
Blacksmith Tools to Complete Your Forge