Love the look of dried orange slices in garlands and other festive decorations? Here's how to dry orange slices perfectly every time!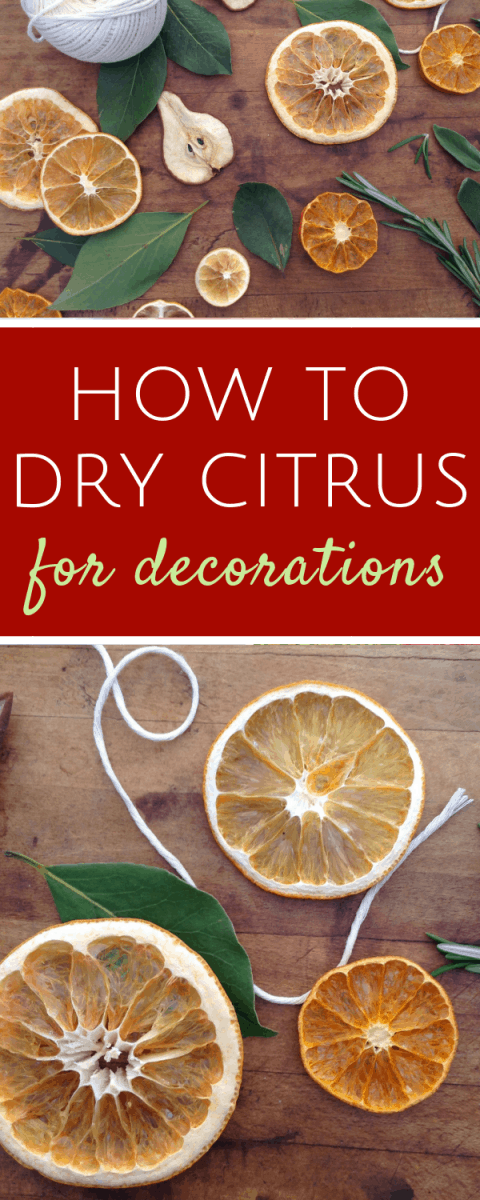 Originally published March 2019. Updated Sept. 2021.
This post contains affiliate links. Click here to learn more.
The first time I remember seeing dried citrus slices used in festive Christmas decorating, it was on a gorgeously lavish wreath on a historic building in Portsmouth, NH. I was smitten. It looked so decadent, but simple and wholesome at the same time. And so...historic.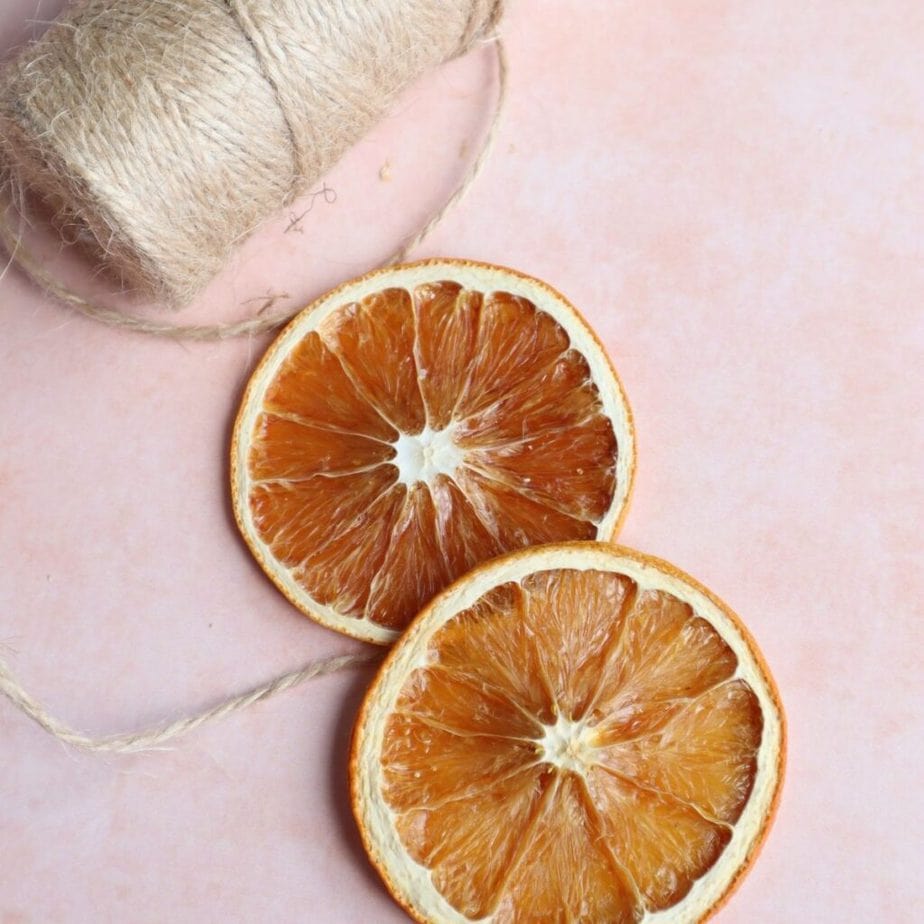 It wasn't until years later that I learned the actual history of decorating with citrus fruits is really quite recent. When those stately historic buildings were in their youth, folks would never have dreamed of putting something so precious as citrus fruit up for a decoration. It would be like you or I decorating with pieces of single-origin handcrafted chocolate.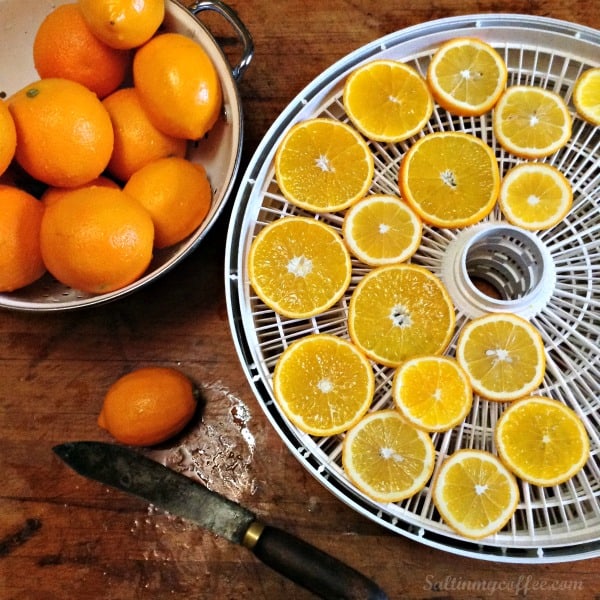 With the rise of early 20th century colonial revivalism though, some beautiful anachronisms worked their way into the earnest and enthusiastic decorating, and these have become lovely traditions in their own right. Dried citrus used in garlands, wreaths, and swags, is one such tradition.
Aside from the historic and wholesome appeal, one thing I love about decorating with dried citrus is that you can start EARLY. Unlike evergreen garlands that get droopy and brittle, and then start shedding vacuum-clogging needles, a citrus garland can go up before Thanksgiving, and still look (and smell) lovely right through January.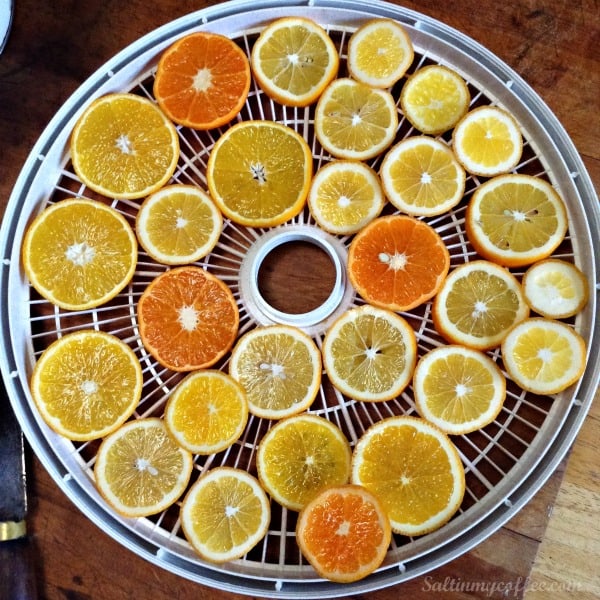 I've found the best way to make dried citrus slices is in a dehydrator. You can also dry them in the oven on your lowest-heat setting, but I find that a dehydrator better preserves the beautiful colors of the individual fruits.
(This is the inexpensive dehydrator I use, by the way. I put about 2,000 hours per year of use on it, and it's partway into its tenth year. The thing will not die.)
How to dry citrus slices for decoration
Start with firm, quality fruit. This really does make a difference in the beauty of the finished slices. I love using a variety of citrus fruits, since the different sizes and colors of the dried slices add such a wonderful variety and interest when used in decorating.
Wash your fruit well! Aesthetically, you want to wash it well so that no spray residue (organic or conventional) is left on the fruits - you don't want anything to inhibit the beauty of the peel color from really shining! Also, if fruits are not organic, I don't want to be breathing in any chemicals left from pesticide residue while my citrus slices are dehydrating.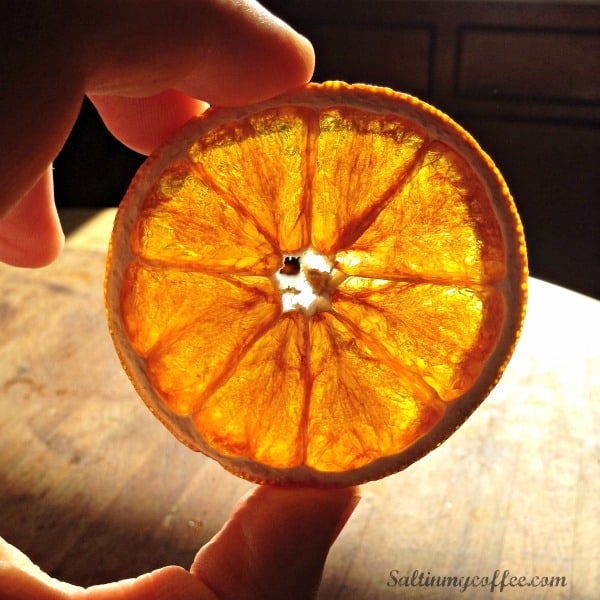 Using a sharp knife or mandoline (here's the one I use and LOVE), cut fruits into thin slices about 1/8 - 3/16 of an inch thick. I really like to keep slices thinner than 1/4 inch. I find that thinner slices dry more quickly, their colors remain more vivid, and their peels look delicate rather than heavy. I also get more slices out of each fruit when they're on the thinner side.
Don't toss the ends - you can still poke holes through them and use those in your decorations too! I dry every bit when I'm dehydrating citrus fruits.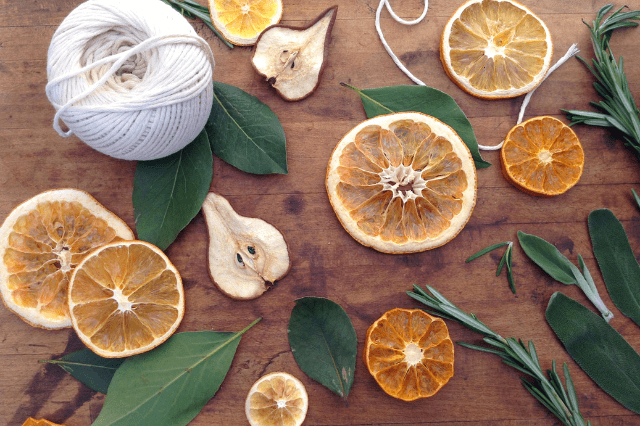 Place slices in a single layer on dehydrator trays. Because they're sliced from a round object, one side of your slice is going to be a little smaller, and one a little larger. I prefer to dry slices by placing the larger side down, and not turning fruit at all during the drying process. Because I generally use dried slices in a way that they'll be seen primarily from one side (on a garland, or in a wreath) I like to make that one side as beautiful as possible, and increase the amount of peel that shows. Drying with the small side up, and not turning, helps the peel to curl just a teeny bit upward.
The Meyer lemons in the picture below are a good example of this. (The Florida oranges are actually laying upside down, and my tangerine was overripe so the effect is not as pronounced.)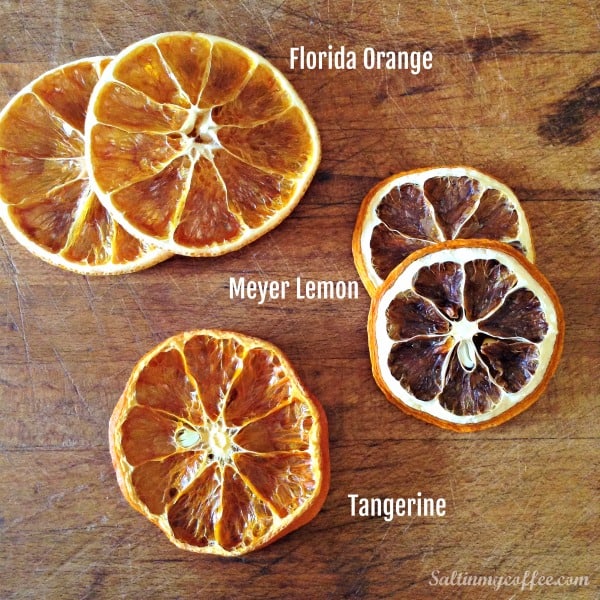 Anyway! Once your slices are placed on the dehydrator trays, dry them at 135 degrees until thoroughly dry - about 8 hours.
Yes, this is longer than most tutorials say. I really find that dried slices hold up best, and preserve their colors most beautifully, if they're left in the dehydrator until they are very good and dry, not just "leather dry".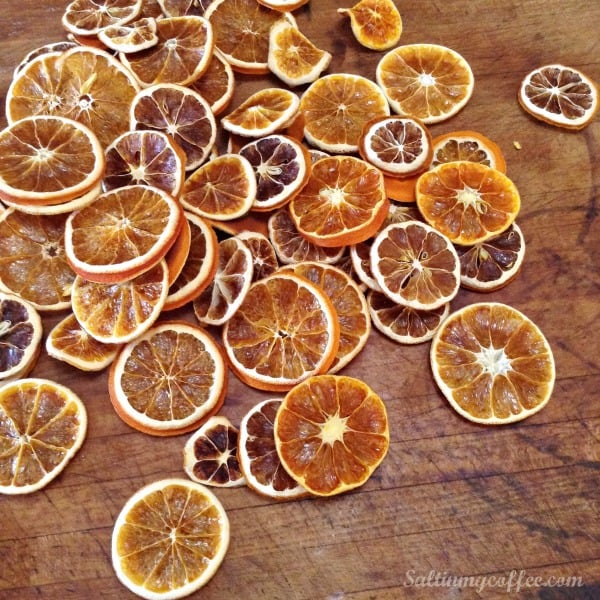 That's all there is to it!
They're all ready for making garlands, adding to wreaths, or dressing up gift wrapping. Don't forget you can actually eat them too, or even add one to a steaming mug of cider.
Now that you've dried orange slices, how about some decorative dried pear slices to round out your natural holiday decor?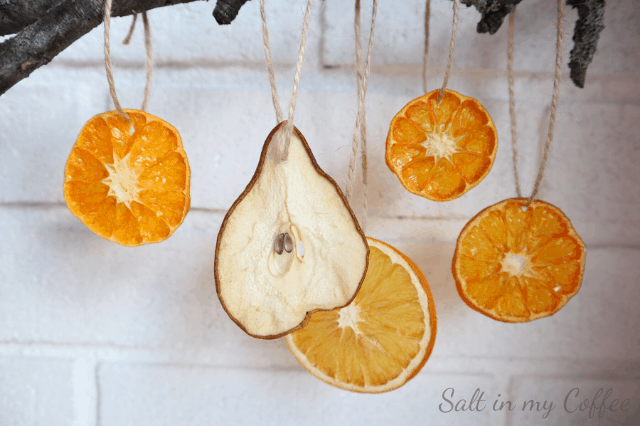 I'll be putting up a tutorial about garland-making later this week, so come back soon and I'll show you my favorite way to use all those beautiful dried orange slices. Don't forget to save some for a wreath too - they look amazing in a simple wreath with dried fruit and herbs. Most of all - have fun!
Happy decorating!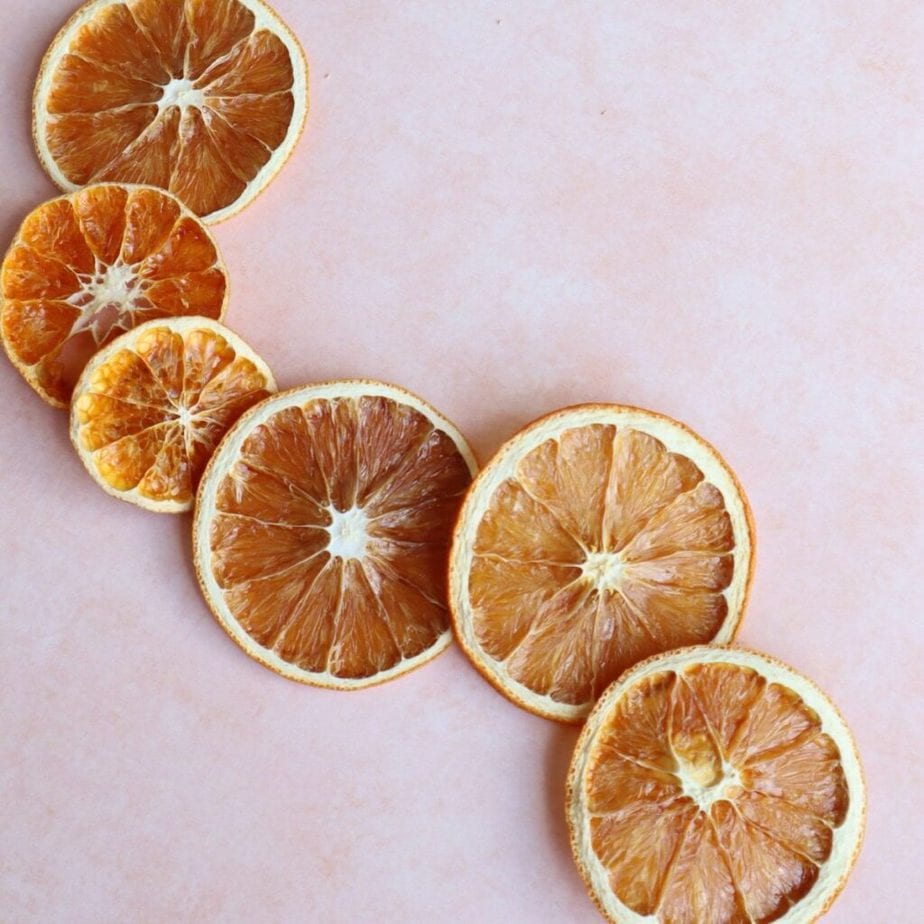 Save
Save
Save
Save