Wondering how to freeze blackberries for the best long-term storage? Here's my absolute favorite method, and the only way I freeze blackberries for my family!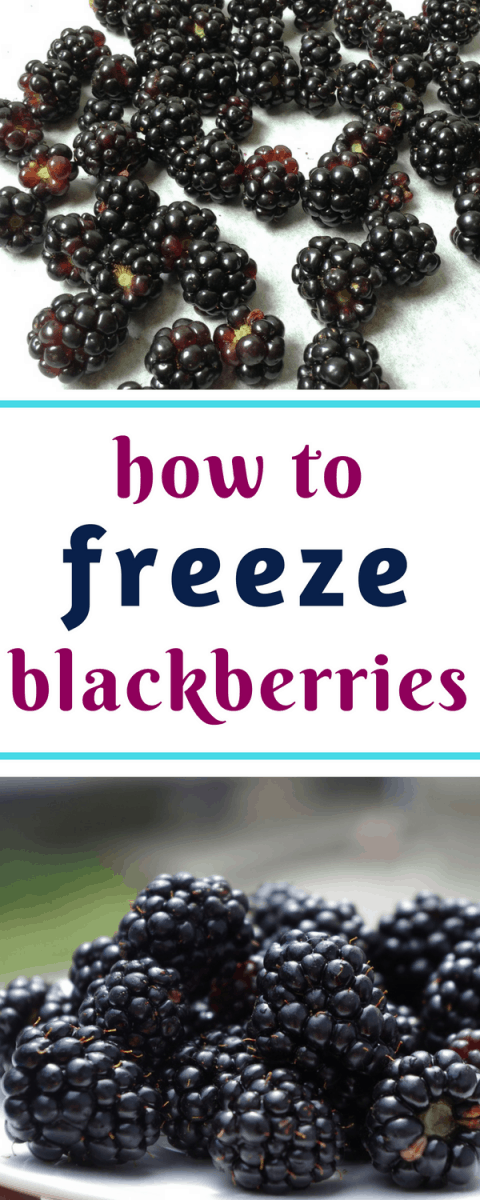 This article contains affiliate links. Click here to learn more.
We were really excited the first summer after moving into our home, to discover that we had blackberries on our property. So over the last few years, I've been carefully encouraging the patch to to expand, hoping to create a really sizable berry hedge.
I'm so happy that it's coming along nicely, and this year, we're actually getting more blackberries than my two little berry monsters can wolf down in a day. And those two can put away a lot of berries!
Each time we go out picking, I feel like little Sal's mother in Blueberries for Sal, "you run along and pick your own berries. Mother wants to take her berries home and can them for next winter." Or you know, freeze them.
Freezing is my favorite way to preserve berries, because they're handy for anything. They can be tossed in a smoothie, or a pie, or munched on by happy kiddos straight out of the freezer.
Here's the method I always follow when I'm freezing fresh blackberries. It works wonderfully, because I'm never stuck with a frozen block of berries - they're easy to separate, and I can just take out as many as I need for a recipe or snack.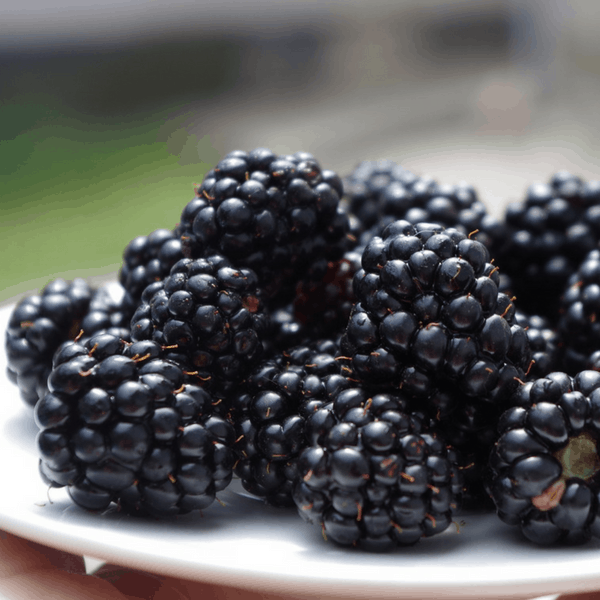 How to freeze blackberries
First, make sure your blackberries are clean.
Just about every tutorial you read for preserving berries starts with washing. However, I personally feel that berries which are already free of any dirt, and have not in any way been sprayed with pesticides, dog pee, or anything else nasty, are much better off being frozen as they are, without the rigors of being washed and dried.
If your berries are dirty, or you're unsure of their growing conditions, and want to reduce your family's exposure to chemicals or bacteria, the best way to clean them is with a soak in a 10% vinegar solution, then a good wash under running tap water. Spread them gently on a towel to dry before freezing.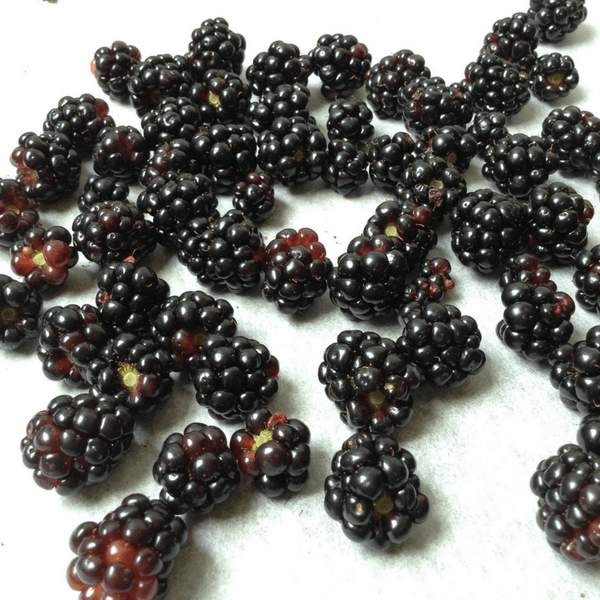 Then freeze your berries in a single layer.
Once your berries are clean and dry, line a baking sheet with parchment paper. Spread the berries in a single layer. It's fine if they're touching and spread thickly on the sheet. You just don't want a deep pile of berries, so they don't have weight mushing them into each other, making them freeze in a block.
The main point of doing it this way is so that each berry freezes separately. This makes it so you can take out just the amount you need at a time. It also means if you want to make something like a pie or a crisp, you can neatly spread the frozen berries in the pan or pie plate, without having to wait for a block o' berries to thaw.
Go ahead and put the sheet of berries in the freezer. I find that 2-3 hours is plenty of time for the berries to freeze good and solidly.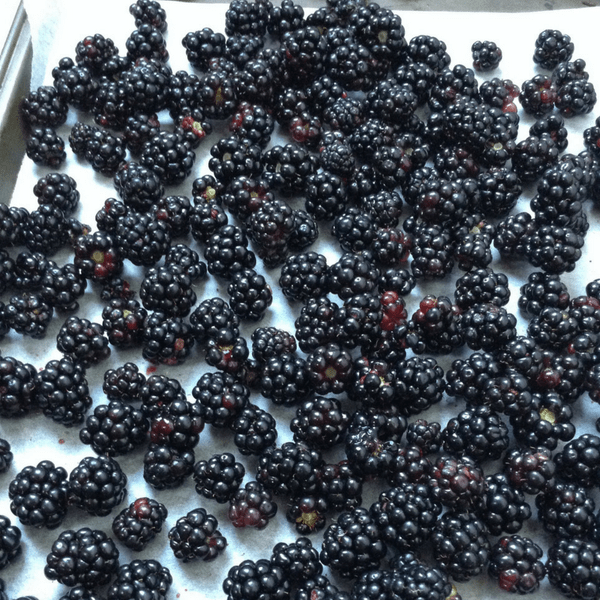 Transfer the frozen berries into storage containers.
My favorite way to freeze frozen berries is in vacuum sealed bags. The vacuum sealing makes it so the excellent quality of the frozen berries seems to last almost indefinitely. However, last week my vacuum sealer decided to give up the ghost, so for now I'm using regular ziploc-style freezer bags, which is what you'll see in my pictures.
You can also freeze blackberries in glass canning jars. Just be sure you're using ones that are ok for freezing - generally this includes wide mouth pint canning jars, and regular mouth half-pint canning jars. If it doesn't have "shoulders" like a regular mouth pint or quart jar, it's probably ok. However, it's always wise to check the manufacturer's guidelines.
When you take your berries out of the freezer to transfer them, you'll be amazed at how light-colored, and reddish purple they've turned. It's enough to make you wonder for a moment if they were ripe when you picked them!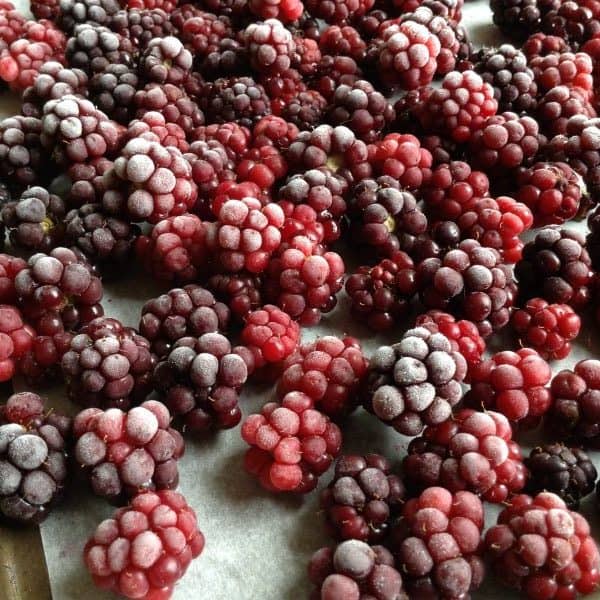 That's all there is to freezing blackberries perfectly at home! This is my absolute favorite method for how to freeze blackberries, and honestly for freezing any kid of soft berries. That said - it's worth noting that it's not the only way to freeze blackberries.
Since we avoid unnecessary sugar, I don't use methods that involve adding sugar, nor do I recommend them. But it can be helpful to know that there are other ways of putting up blackberries in the freezer, so I thought I'd share these additional methods as well.
Other ways to prepare blackberries for freezing:
According to the National Center for Home Food Preservation, you can also prepare blackberries for freezing with these methods:
Syrup Pack:
This method involves making a sugar syrup. You start by dissolving equal parts sugar and water to create a sugar syrup. Chill the syrup while you pack berries into containers, leaving the correct amount of headspace for your containers. Cover berries with the sugar syrup, then seal and freeze.
Sugar Pack:
To freeze berries this way, berries are mixed directly with sugar before being frozen. The National Center for Home Food Preservation recommends 3/4 cup sugar to each quart of berries. Fill your containers with the berry and sugar mixture, leaving 1/2" headspace. Seal and freeze.
Dry Pack:
This is simply dumping the berries into containers, leaving 1/2" headspace, and then sealing and freezing them. This is a pretty common way of freezing berries, and it's certainly a bit easier and faster than bothering to freeze them on a baking sheet first.
However, soft berries like blackberries really do tend to freeze themselves into a pretty solid block with this method. Because I much prefer using frozen blackberries that can be separated, poured, and measured while they're still frozen, I'm pretty devoted to the baking sheet method.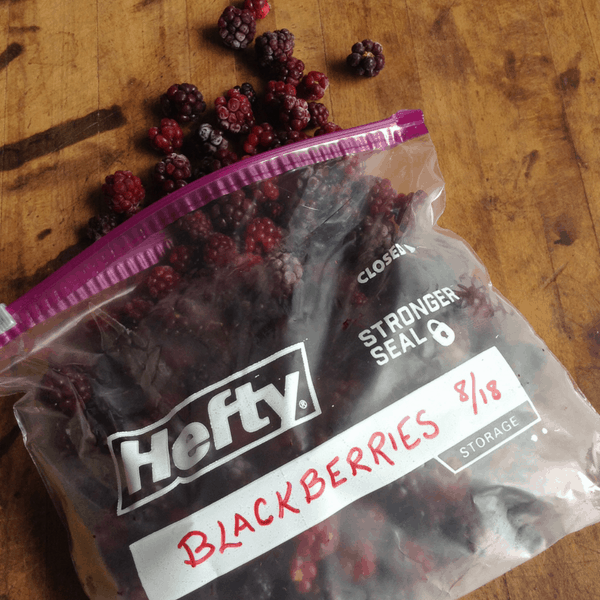 Some frequently asked questions about freezing blackberries:
These are some of the questions I get asked most frequently about working with frozen blackberries. Have a question I haven't answered here? Let me know in the comments!
How long do blackberries last in the freezer?
Properly stored, blackberries will last well in the freezer for 8-12 months. They'll still be safe after that, but may be inferior in flavor and quality. I personally find that vacuum sealing frozen berries helps to maintain excellent quality for as long as possible.
Can I bake a pie with frozen blackberries or do I have to thaw them first?
You can absolutely pop that pie in the oven while the berries are still frozen. No problem. You may find that you need to adjust your bake time a bit though. My friend Amber over at Dessert Now Dinner Later actually has a fantastic pie recipe that uses frozen berries on purpose!
What's the best way to wash berries before freezing them?
To reduce your family's exposure to chemicals or bacteria, the best way to clean berries or fruit is with a soak in a 10% vinegar solution, then a good wash under running tap water. Don't forget to gently dry your berries before before freezing.
Does this method work well for freezing any kind of berry?
You bet! This is how I freeze strawberries, raspberries...any kind of berry that we have enough to freeze!
Do you have a question I haven't answered? Or any favorite ways that you LOVE using frozen blackberries that you'd like to share? I'm all ears, leave me a comment below!