You CAN freeze eggs for long term storage. I tested every method for freezing eggs, and this is hands-down the method that gives me the best results.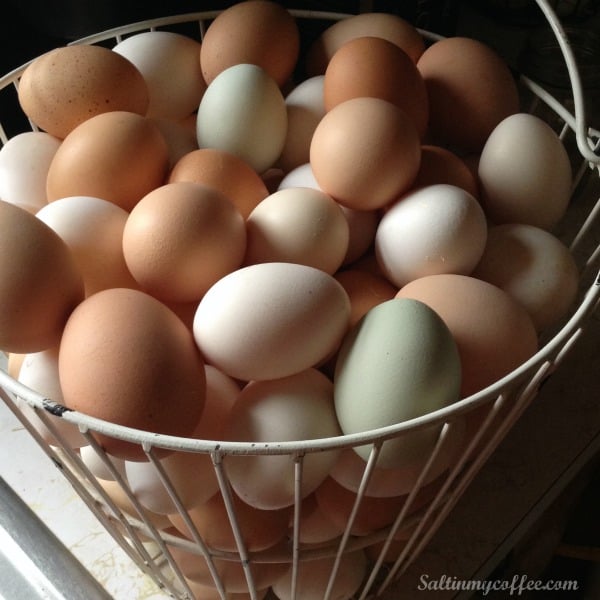 This article contains affiliate links. Click here to learn more.
Our youngest batch of chickens has just started laying eggs over the last couple of weeks. Finding those first cute little eggs (sometimes in the nesting boxes, but just as often on the coop floor or even in the middle of the yard!) is one of the joys of late summer that just never gets old.
This also means that suddenly, we've gone from barely getting enough eggs keep us supplied, to eggs coming out our ears.
I love it! We've been doing some extra baking, and having some fantastic frittatas and quiches for dinner. But even still - they're starting to pile up. Just a bit.
I could sell them - and I do sell a few dozen here and there. But the first thing I like to do when I get a surplus of eggs is to replenish my freezer stash.
Every now and again, we get to a point in the year where we just don't get enough eggs from our girls to quite meet our needs. In the late summer or early fall, the adult birds go through a molt, and stop laying for a while. Also, the darkest days of winter slow down production.
I've even had the girls go on "egg strike" for emotional reasons, like the time they had a particularly scary run-in with a hawk. It had flown right into the coop, and had my sweet little Eidelweiss in its talons. Even though I was able to rescue her (at a full 9-months pregnant, mind you! And no - the hawk wasn't hurt.) that little escapade put my poor babies in a tizzy for many, many days. No eggs for me.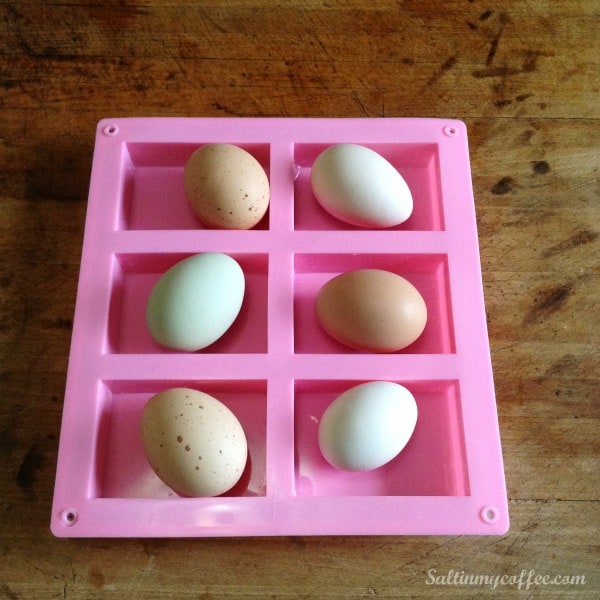 So now and again, even with 20 chickens - we find ourselves needing extra eggs.
Thankfully, I always have a good supply in the freezer, so we never run out. They thaw beautifully, and cook up nicely. We usually scramble them, or use them in baking. For those purposes, I find it almost impossible to tell the difference between fresh and frozen eggs.
The only way I can tell the difference is if I cook them over easy. The yolk is a tad more sturdy - not exactly rubbery, but...different. It's not terribly off-putting, but I can definitely tell the egg has been frozen. For scrambled eggs though - total perfection.
I find that they maintain their quality for a very long time when properly frozen. The "powers-that-be" say that eggs can be frozen for up to 6 months. But, especially when vacuum-sealed, I find they last very well, and I'd be hard-pressed to tell the difference between an egg that's been frozen for one week or one year.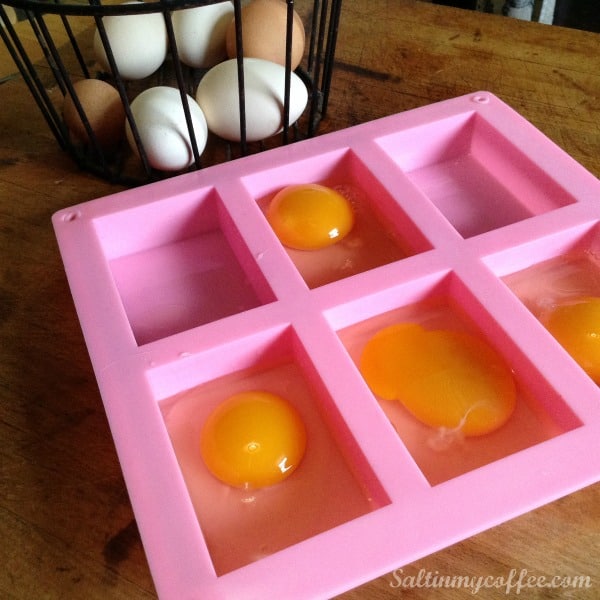 How to freeze eggs
So here's my method for freezing eggs.
I far prefer freezing raw whole eggs individually, so that I can just take out however many I need at a time. I do that by using this heavenly little silicone soap mold. It costs about $6, and it might be the best $6 I've ever spent on kitchen tools. It gets used for a lot of things, but this is what I use it for most - freezing eggs.
Crack one egg into each space in the mold. Slide a flat cutting board or cookie sheet underneath, so you can easily move it to the freezer.
Can you use an ice cube tray for freezing eggs?
You bet! While I far prefer the dimensions, and easy use of the silicone mold, you can absolutely use an ice cube tray. Most standard ice cube trays have small enough sections that you'll need to separate each egg, in order for them to fit without spilling over. (Freeze the egg whites in half of the cubes, and the egg yolks in the other.)
If you're using a hard plastic ice cube tray without much flexibility, you may want to spray your tray with cooking spray before adding the eggs. A silicone tray will very easily release the frozen eggs without the need of any slick coating, but releasing frozen eggs from a stiff ice cube tray can be a little trickier.
A major benefit to using either a silicone mold, or a jumbo ice cube tray, is that you can freeze whole eggs without having to divide them. For the way I cook, this is something I find I really prefer.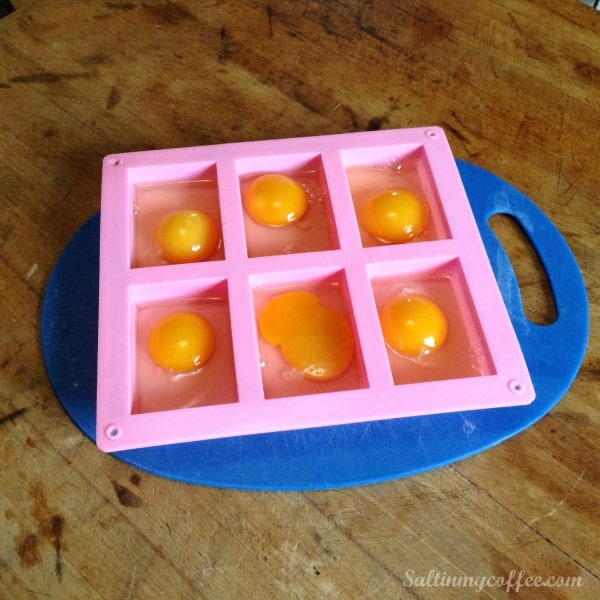 Once the mold (or ice cube tray) is filled, slip the whole mold onto a shelf in your freezer, and let the eggs freeze until hard. Freezing the eggs in a single layer works better than stacking molds on top of each other. I find that 4 hours is usually plenty of time for the eggs to solidly freeze.
Once they're frozen, just pop them out, and place into freezer bags.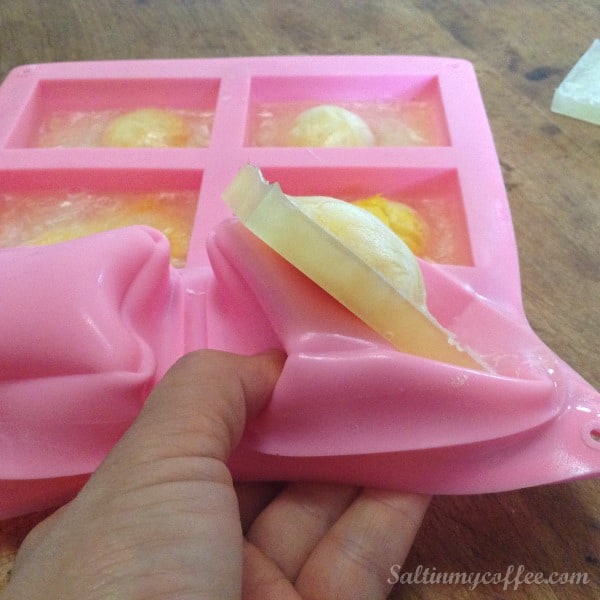 Packaging eggs for short term storage
If I'm just doing a few at a time, I'll sometimes use regular ziploc sandwich bags. 4 eggs fit nicely.
You can also store them in any freezer-safe container, and that works just fine if you're planning to store eggs for only a month or two.
Packaging frozen eggs for best results with long term storage
Usually, if I'm freezing eggs, I keep two molds going constantly for a couple of days, and I freeze a LOT of eggs all at once. I put them into vacuum sealer bags - 8 in the quart size, and 12 in the gallon size (I've linked the kind I use - sturdy and not prone to leaking, but cheaper than the name brand).
I seal them up, using my vacuum sealer. (This is the one I have. Don't buy it. It works, but you'll wish you bought a better one - pinky swear.)
Don't forget to label the bags of frozen eggs
Then I stack them flat, one on top of the other, in a corner of my big old chest freezer in the basement. It's an amazingly space-efficient way of fitting a LOT of frozen eggs into a fairly small, organized space.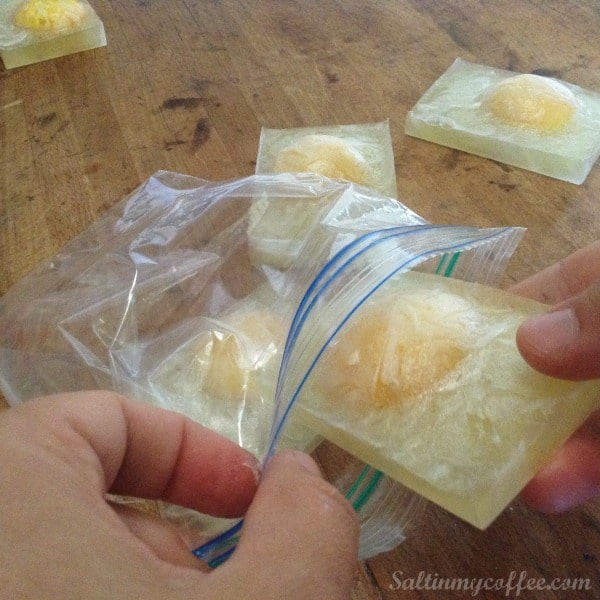 If you don't have a silicone mold, and don't want to get one - you can also hack it with a muffin tin. Use it just like the silicone mold, breaking one egg into each space, and freezing until solid. To un-mold the individually frozen eggs, turn upside down over a cookie sheet, then set something warm over the bottom of the muffin tin. A hot water bottle works well. You want to thaw the bottom of the eggs just enough to easily pop them out, then place them in freezer bags, just like the instructions above.
HOW TO THAW FROZEN EGGS FOR COOKING
To use frozen eggs, just pull out the number of eggs you need. Thaw for a few hours (or overnight) in a bowl, in the refrigerator.
This is important. Thawing the frozen eggs slowly in a refrigerator, rather than quickly at room temperature, is really key for not getting egg yolks with a rubbery texture.
If you're making up a big quiche or another large egg dish, and are going to use a whole package of eggs, just let them thaw right in the freezer bag, in the fridge. When you're ready to use them, snip a corner off the bag, and pour them into your mixing bowl. So easy. So tidy.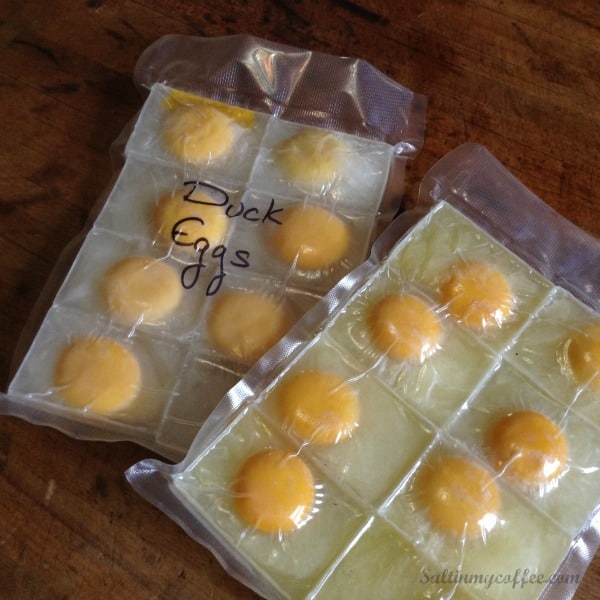 Best recipes for cooking with frozen eggs
Previously frozen eggs work better in some recipes than others. For example, if you're looking to make something like Eggs in Purgatory, or Eggs Benedict, where a smooth and delicate texture of the yolk is really important to the finished quality of the meal, you may want to opt for fresh eggs instead.
However, frozen eggs work wonderfully in baked goods, and almost any egg dishes where you'd beat the eggs before cooking. Some recipe that work especially well with thawed frozen eggs are:
Any type of quiche
Scrambled eggs
Breakfast burritos
Fritattas
Frequently asked questions about storing eggs
Should I add salt or sugar when freezing eggs?
Over the last couple of years it's become very popular for bloggers to suggest adding a teaspoon of salt to each cup of eggs to be used for savory recipes, or a teaspoon of sugar to each cup of eggs destined for sweet dishes. Other say to add a pinch of salt to each egg. Or to add salt to each cup of yolks, if you're separating whites from yolks.
I have tried these methods. In my opinion, beating the eggs and adding salt or sugar does not result in a better texture once the eggs thaw. It does throw off the flavoring of the recipes that I make with frozen eggs. And it does limit my options for what I can make with the eggs left in my freezer stash. Using sweetened eggs in a savory quiche is just never a good thing.
Long story short - I've tried adding salt or sugar, and I personally DO NOT prefer the results.
Help! I froze my eggs all beaten together. How can measure out one egg's worth?
No problem. If you're working with chicken eggs and they were frozen all beaten together, just measure out 3 tablespoons of the thawed egg mixture, for each egg that you need. If you're working with frozen duck eggs, 4 tablespoons should be just about right.
Can I freeze cooked eggs?
It depends on what kind of cooked eggs you're talking about.
Scrambled eggs freeze wonderfully.
This is a great way to prep easy morning meals, like breakfast burritos.
Can you freeze hard boiled eggs?
Unfortunately, cooked egg whites really never thaw well after being frozen. Cooked egg yolks on the other hand, really do. You can save the yolks from hard boiled eggs to freeze for garnishes, to crumble into salads, or even to whisk into dressings or sauces.
You can also cook egg yolks individually for freezing, by simmering them gently in a saucepan with enough water to completely cover them, for about 10 minutes. Remove from the water with a slotted spoon, let them drain, and then place into freezer bags or containers.
Can I freeze egg-based dishes like quiche?
Absolutely. Wrap quiche or other egg-based dish very well with plastic wrap, and freeze. To use, start by thawing overnight in the fridge, then re-heat in the oven or microwave like usual. For even better results, or to store longer than a few weeks, try freezing quiche on a tray until solid. Then place in a vacuum sealer bag, and vacuum seal to remove all possible air. Frozen this way, egg dishes like quiche can last very well for several months, and make great prep-ahead freezer meals!
---
This method of freezing whole raw eggs has very strategically streamlined my system for long-term egg storage.
It's made it so I never have to buy eggs - and I never dread using frozen ones, since these are easy to use, and not a big yellowish frozen lump, that needs to be thawed and then measured out into portions.
I hope this method works as well for you as it does for me!
Read Next: My 10 Favorite Ways to Use Extra Eggs
Pin it for Later:
Save
Save
Save
Save
Save
Save