This quick and easy recipe features sweet, succulent spot prawns, complemented with the savory umami of crisped prosciutto, all mingled on a comforting bowl of fresh linguini.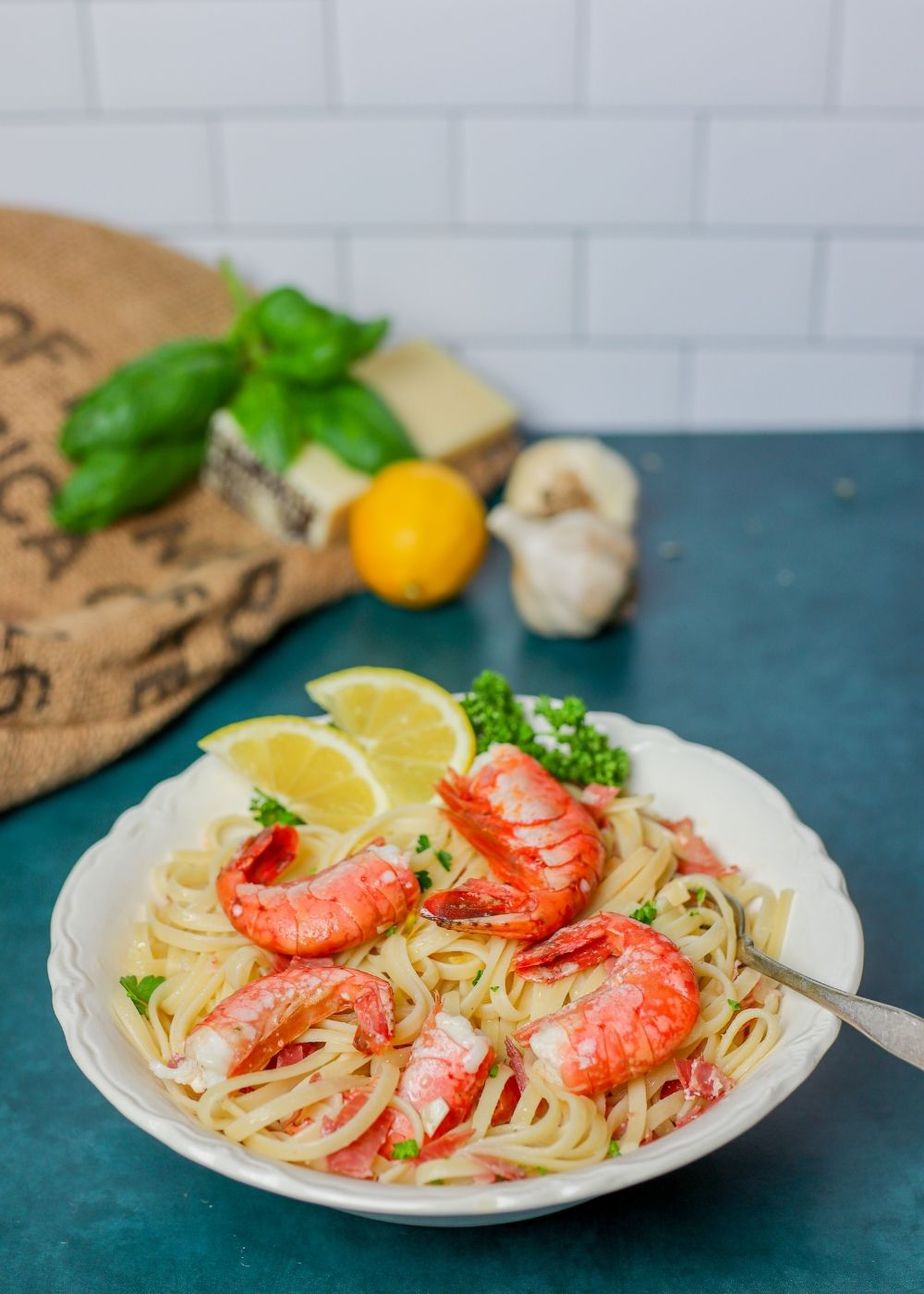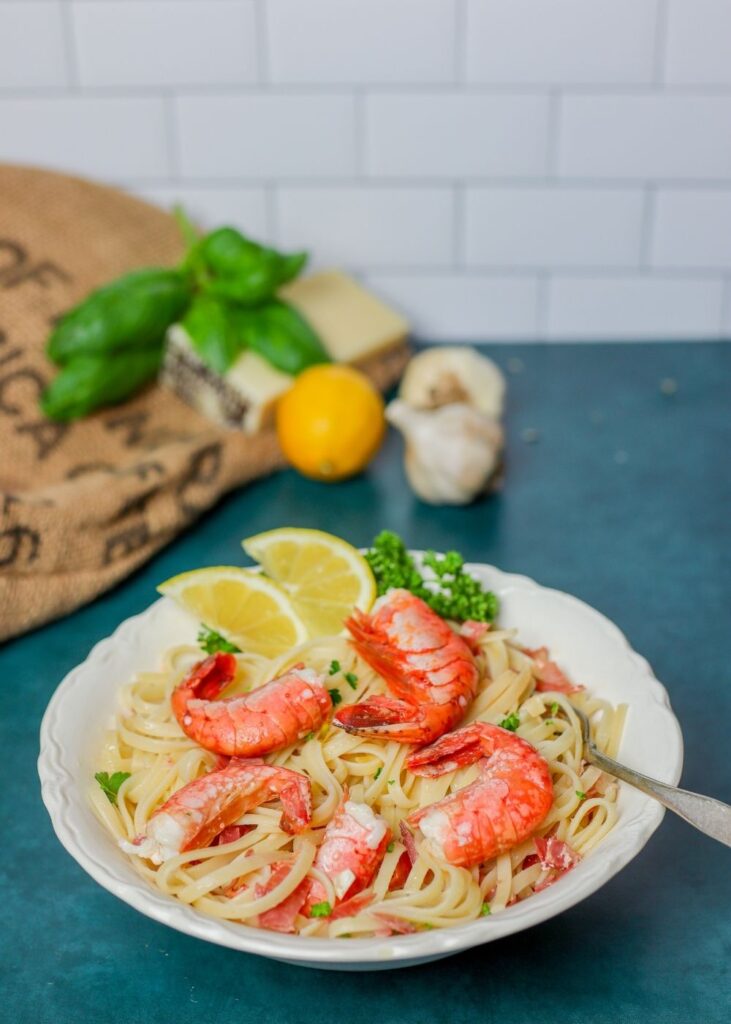 This article contains affiliate links. Click here to learn more.
Recently, I shared how I was sent a big box of gorgeous seafood to try, from Catch Sitka Seafoods. They're a boat-to-table seafood company up in Alaska, that is family-run, community-focused, and that prioritizes sustainable fishing practices.
Out of all the lovely seafood in that box, what I was most excited to try, were some absolutely beautiful spot prawns.
One doesn't just come upon lovingly-handled, sustainably-caught spot prawns every day.
If you know me, you know I talk to myself and the good Lord pretty much constantly.
I get this from my grandmother. So as I was thinking about how to cook them, I'm pretty sure I whispered, "Lord let me do these justice", more than once.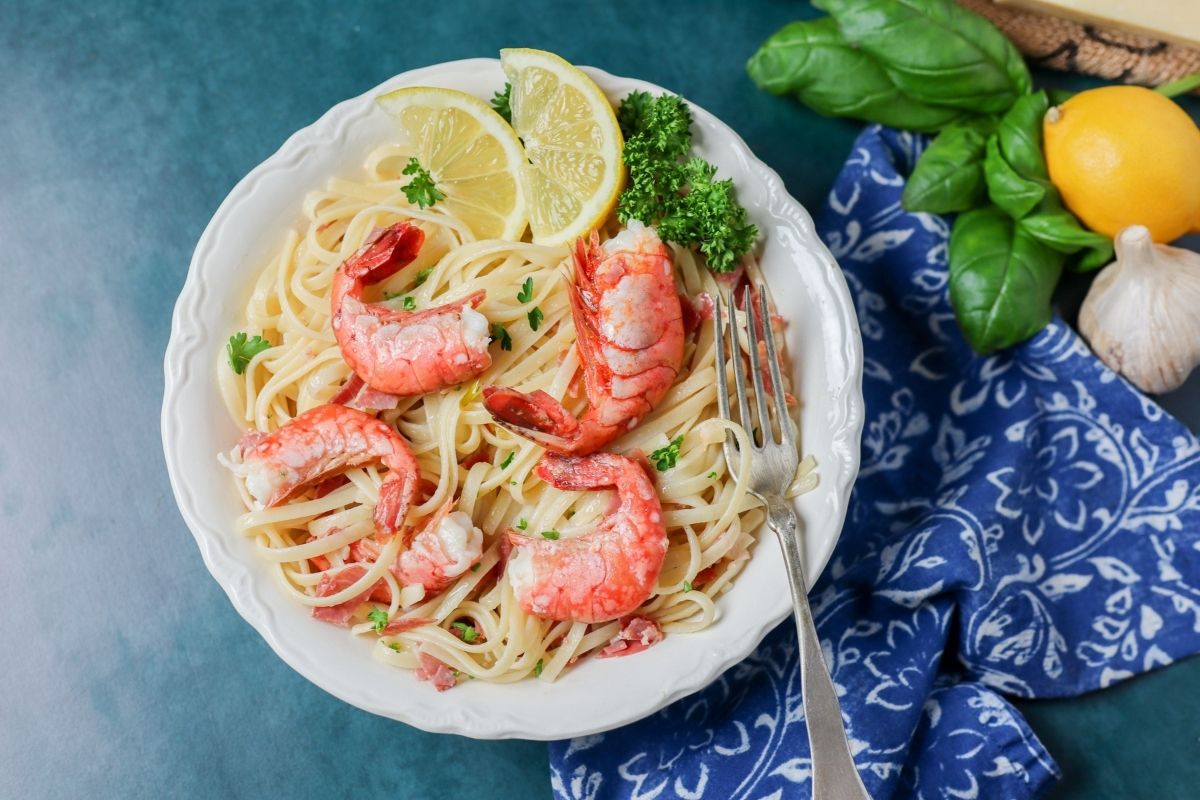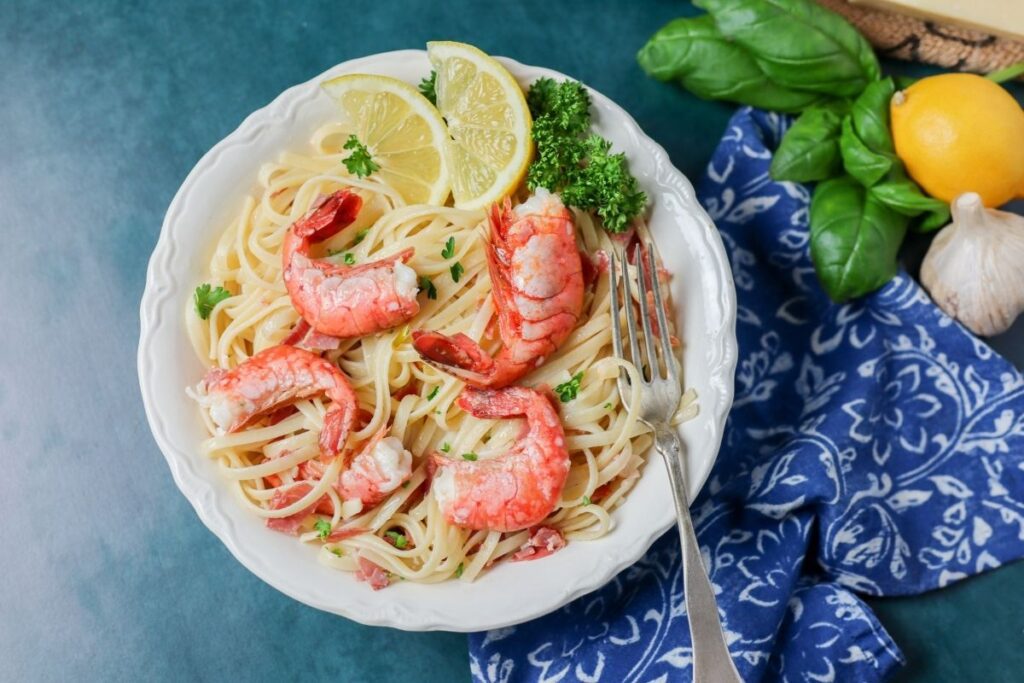 This really easy linguini recipe turned out to be everything I hoped.
It's flavorful, comes together start-to-finish in less than 30 minutes, and feels both decadent and comforting at the same time.
Feel free to skip right down to the recipe, if you're in a hurry! But if you're like me and are new to cooking with spot prawns, here are some things you might want to know about these flavorful crustaceans:
What are spot prawns?
Spot prawns are actually in the shrimp family, and are smaller, more tender, and succulent than larger tiger prawns.
They're wild-caught along the west coast of North America, and sustainable fishing practices are extremely important for maintaining the population of these delicious crustaceans.
Their flavor more closely resembles the taste of delicate lobster tail meat, than that of the common shrimp we find everywhere.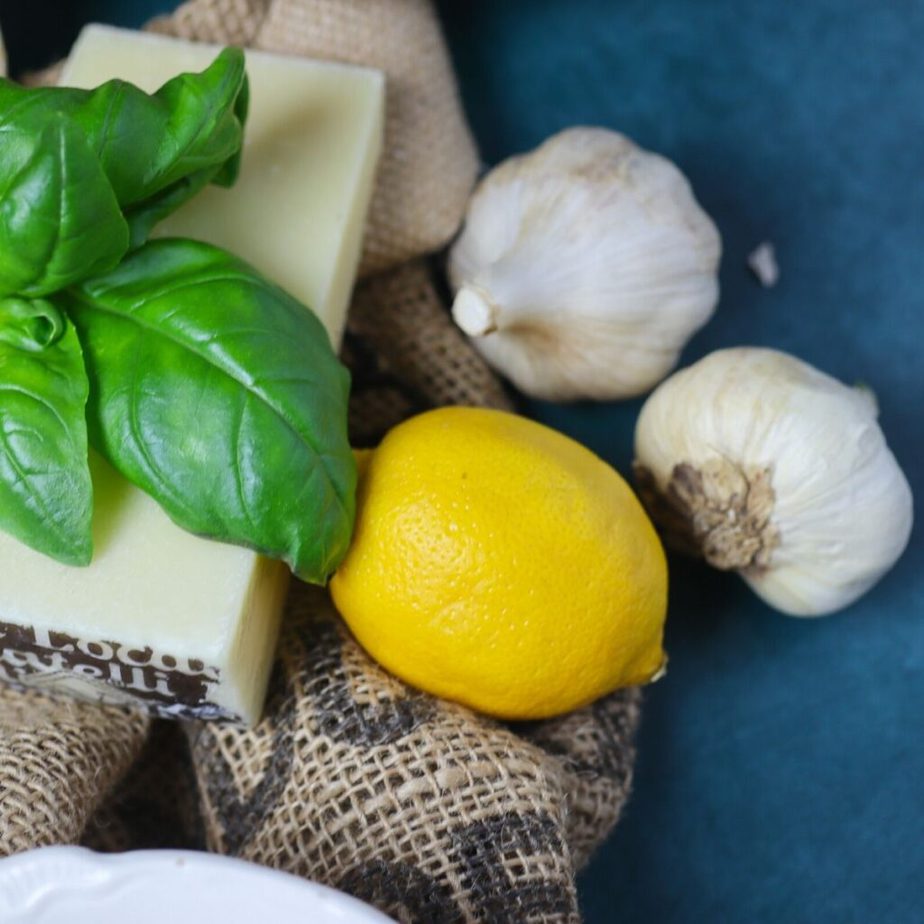 Where do you buy spot prawns?
If you're lucky enough to live by a fantastic fishmonger, you may be able to find good spot prawns there.
For those of us not so fortunate, we're still in luck - they can be ordered right online. These spot prawns came from Catch Sitka Seafoods, and they were just amazing.
Yes, they're pricey. I'm not going to pretend they're not. But spot prawns are special, and they're a reason these are a delicacy.
Each prawn is harvested by hand from individual shrimp pots, in the icy waters off the Alaskan coast. They're then flash-frozen on board the the fishing boat, to maintain the best possible flavor and texture.
TAKE 15% OFF YOUR FIRST ORDER!

Use the code COFFEE15 to take 15% off
your first order of $125 or more, from Catch Sitka Seafoods!
Are spot prawns available year-round?
Because spot prawns are a wild-caught, rather than farmed, regulations are in place to ensure the continued sustainability of the wild spot prawn population.
As the folks at Catch Sitka Seafoods shared with me, part of their mission is to protect their local ecosystem - which means really safeguarding the level of harvesting for spot prawns throughout the year.
November-December are the easiest months to "spot" these prawns, is what I'm told. SO, much like wild smelts or other seasonally-available specialty fish, you'll want to jump on these beauties when you see them available.
Even if you're purchasing frozen spot prawns, like these from Catch Sitka Seafoods, the supply isn't guaranteed to last until the next fishing season.
The lesson here: Get 'em while you can!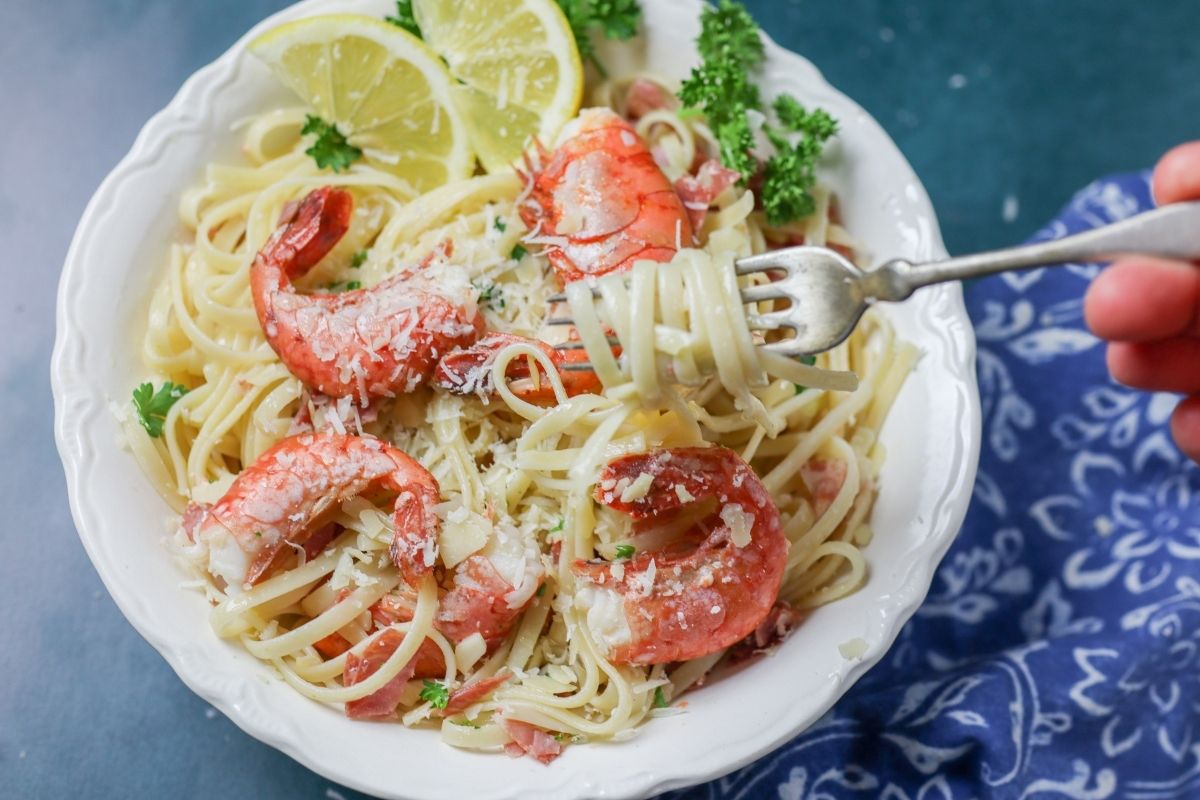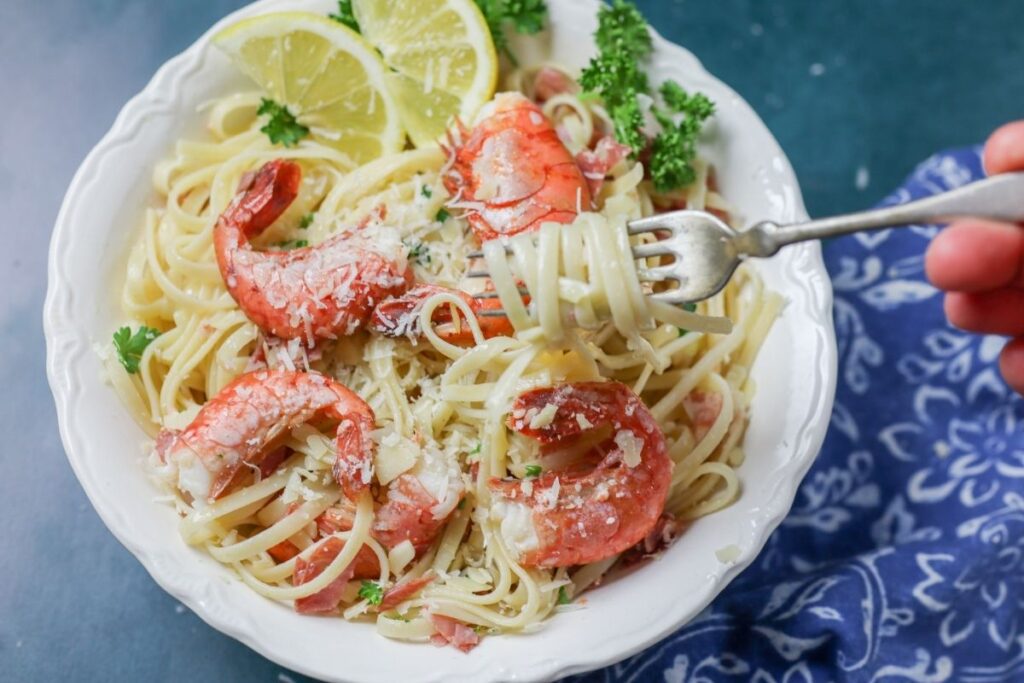 Can I substitute tiger prawns for spot prawns?
Well, yes. Tiger prawns are generally much larger than spot prawns, and have a firmer texture, with a flavor that's not quite as delicately lobster-like as spot prawns. BUT, if that's what you have available, go for it! Keep in mind that you'll need to cook tiger prawns a little longer than these smaller spot prawns.
Can I substitute regular shrimp for spot prawns?
Absolutely. The spot prawns in this recipe are 16/20 size, and substituting the same sized shrimp will work just fine, and take about the same amount of time to cook.
It won't have that same flavor that leaves you wondering how a lobster and shrimp had magical babies that taste better than either - but it will still be delicious.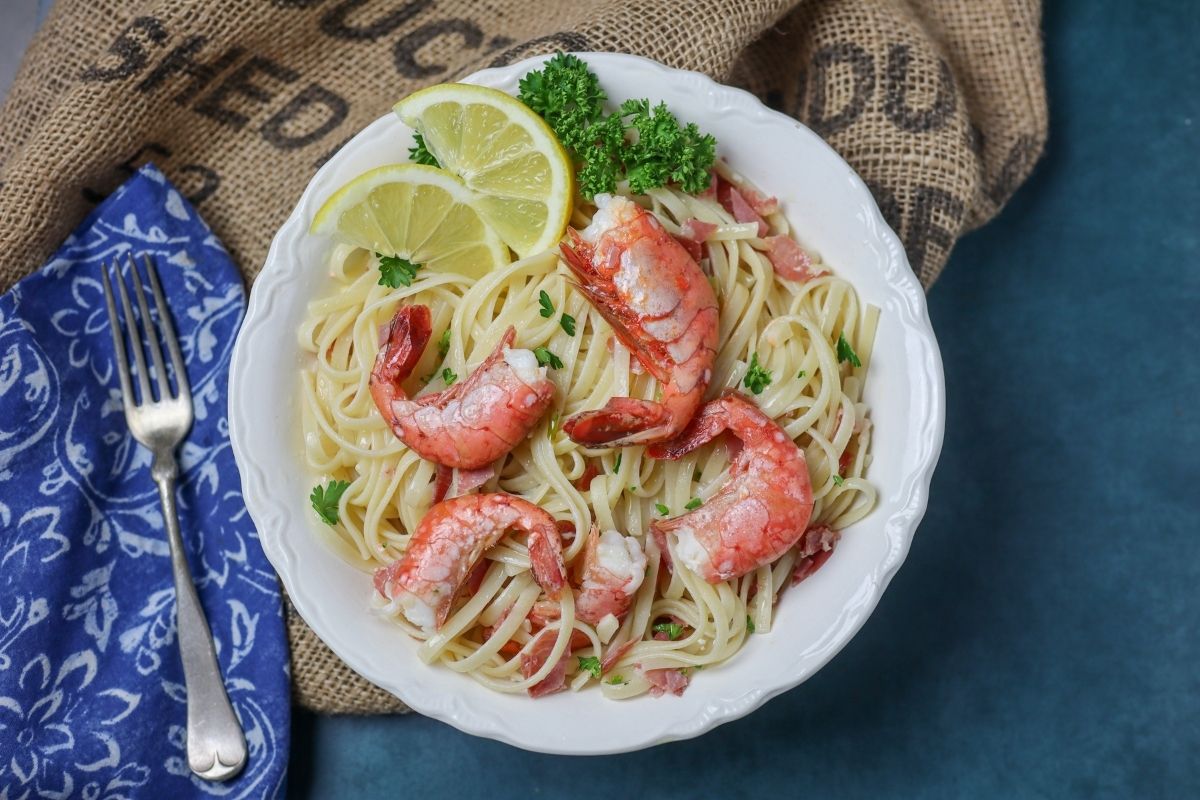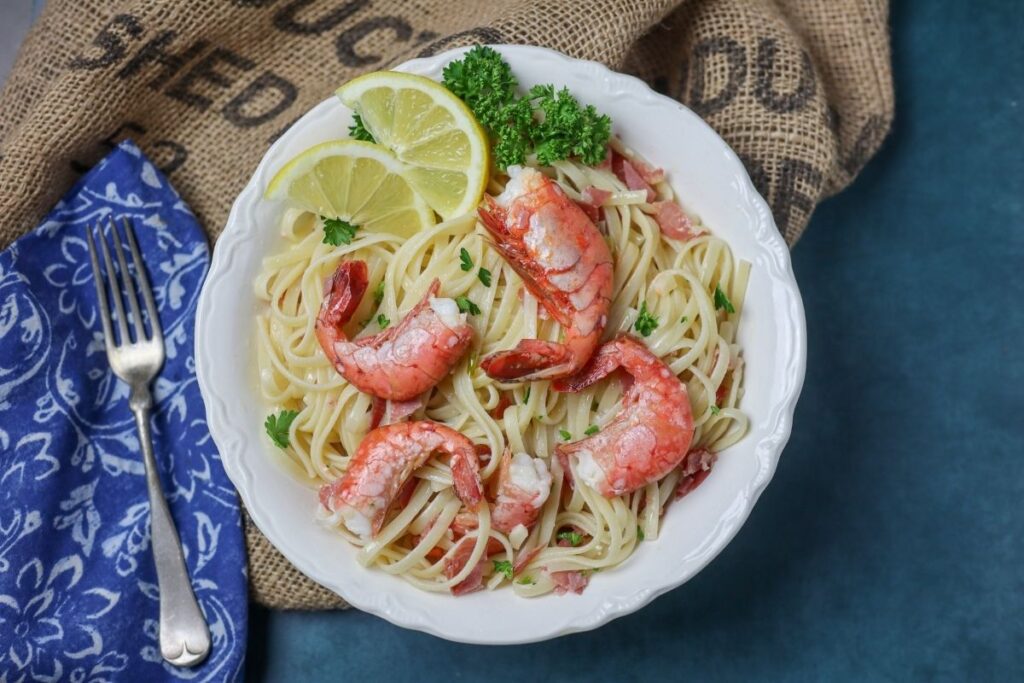 Can this recipe be made dairy-free?
You bet! Just substitute extra olive oil for the 3T of butter in the recipe, and eliminate the grated Pecorino Romano as you garnish the dish.
There's roe on my prawn. Is it safe to eat?
Definitely. For sustainability's sake, it's generally desirable for prawns with roe (eggs) to be tossed back into the sea so those eggs can hatch. However, it's not at all unusual for some prawns with roe to be frozen and included with the others that you buy.
If you get a prawn with roe attached, it will look like a slightly sticky glob of bright orange that's attached to the lower belly and tail of the prawn. Upon closer inspection, you'll see that it's made up of teeny tiny little orange dots--eggs.
Go ahead and enjoy it for the delicacy that it is. Prawn roe has a salty, buttery, melt-in-your-mouth quality that's just heavenly. Let it stay attached to the prawn and cook and serve as is.
OR--scrape off the roe and reserve it, then add it to the prosciutto mixture right before tossing with the linguini, so that everyone gets blessed with a little taste of that bright, flavor-packed goodness.
---
Have any other questions about spot prawns that I haven't answered? Or questions about preparing this linguini with prosciutto and spot prawns recipe? Ask away in the comments below, and I'll be glad to help!
Enjoy cooking with prawns! (And if you need to order some, don't forget to use the code COFFEE15 when you check out. Catch Sitka Seafoods will give you 15% off your first order over $125.)
Bon Appétit!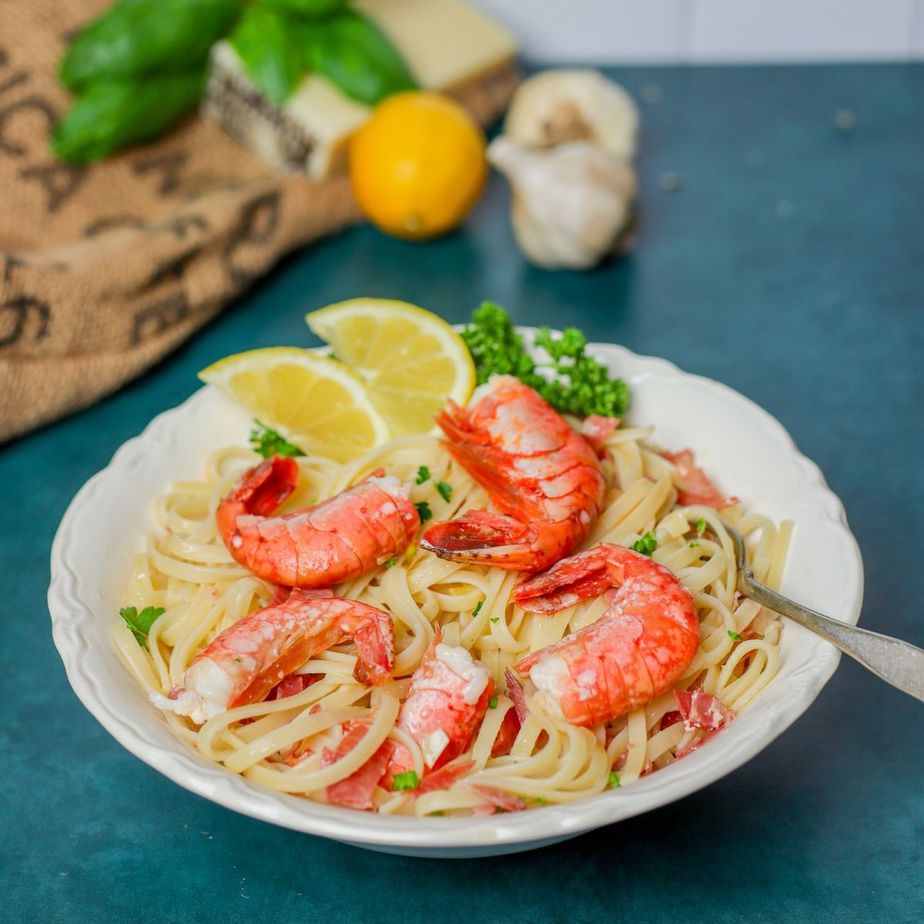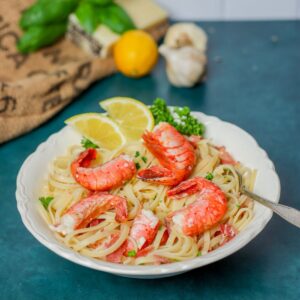 Linguini with Prosciutto and Spot Prawns
This quick and easy recipe features sweet, succulent spot prawns, complemented with the savory umami of crisped prosciutto, all mingled on a comforting bowl of fresh linguini.
Print
Pin
Rate
Ingredients
1

lb

spot prawns

1

lb

linguini, fresh or dried

2

cloves

fresh garlic, minced

1

medium lemon

3

ounces

proscuitto, chopped

6

tbsp

olive oil, divided

3

tbsp

butter, salted

2

ounces

peccorini romano (optional)

3

tbsp

fresh parsley, chopped (optional)
Instructions
Start by getting the water boiling for the linguini. (You'll want the water ready to go, so that the linguini and spot prawns finish cooking about the same time.)

In 3 tbsp of the olive oil, saute the chopped prosciutto and minced garlic until the garlic is translucent and the prosciutto is beginning to crisp up.

Add pasta to the boiling water, and cook according to directions, while you finish cooking the prawns and prosciutto.

Now, to the prosciutto and garlic, add the juice of the lemon, the 3 remaining tablespoons of olive oil, and the 3 tablespoons of butter. Stir over low heat, until butter is fully melted.

Add spot prawns to the mixture in the saute pan, and cook just until pink and opaque to the center, flipping the prawns halfway through. This only takes about 3-4 minutes on each side, depending on the size of your spot prawns.

You don't want to overcook these beauties.

Gently remove the spot prawns from the prosciutto mixture, to separate plate.

Lightly toss the cooked and drained linguini with the prosciutto and olive oil mixture, until the linguini is well coated and prosciutto evenly distributed.

Plate the linguini in individual pasta bowls, placing spot prawns on top.

Or, bring to the table family-style--in a large serving dish, with spot prawns arranged on top.

Garnish with fresh parsley, and freshly-grated peccorini romano to taste.
Nutrition Facts
Linguini with Prosciutto and Spot Prawns
Amount Per Serving
Calories 933
Calories from Fat 396
% Daily Value*
Fat 44g68%
Cholesterol 234mg78%
Sodium 530mg22%
Potassium 669mg19%
Carbohydrates 89g30%
Protein 45g90%
Vitamin A 588IU12%
Vitamin C 19mg23%
Calcium 265mg27%
Iron 3mg17%
* Percent Daily Values are based on a 2000 calorie diet.
Nutrition
Calories:
933
kcal
|
Carbohydrates:
89
g
|
Protein:
45
g
|
Fat:
44
g
|
Saturated Fat:
14
g
|
Polyunsaturated Fat:
5
g
|
Monounsaturated Fat:
23
g
|
Trans Fat:
1
g
|
Cholesterol:
234
mg
|
Sodium:
530
mg
|
Potassium:
669
mg
|
Fiber:
5
g
|
Sugar:
4
g
|
Vitamin A:
588
IU
|
Vitamin C:
19
mg
|
Calcium:
265
mg
|
Iron:
3
mg
Looking for more seafood recipes? You might like:

✦ Grilled Salmon with Mango Lime Chutney
✦ Mediterranean Tuna Spring Rolls
✦ Keto Shrimp Tacos
✦Orange & Ginger Salmon with Tzatziki
Pin it for later: