This paleo maple caramel sauce recipe is made with simple, real ingredients including honey and maple syrup. It isn't complicated or hard to make, and it's absolutely delicious!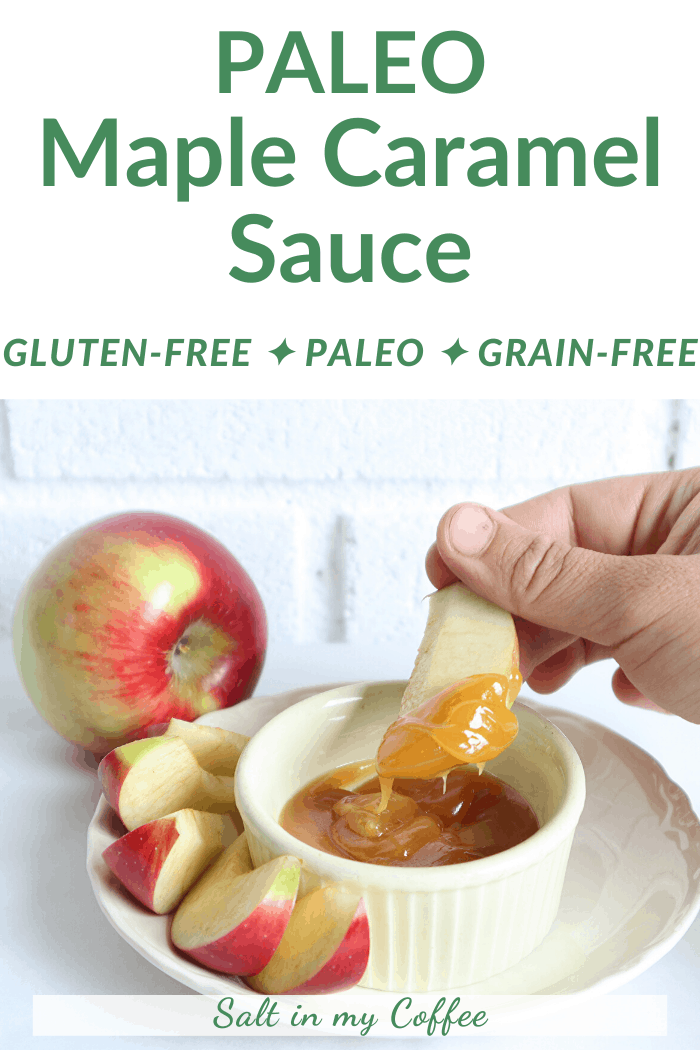 This article contains affiliate links. Click here to learn more.
I have to be honest. When it comes to sweet sauces, I will choose chocolate absolutely every time, without exception. My husband on the hand? He's a true caramel lover, through and through.
From caramel turtle candies, to caramel apples, to caramel caramels...it's all his favorite.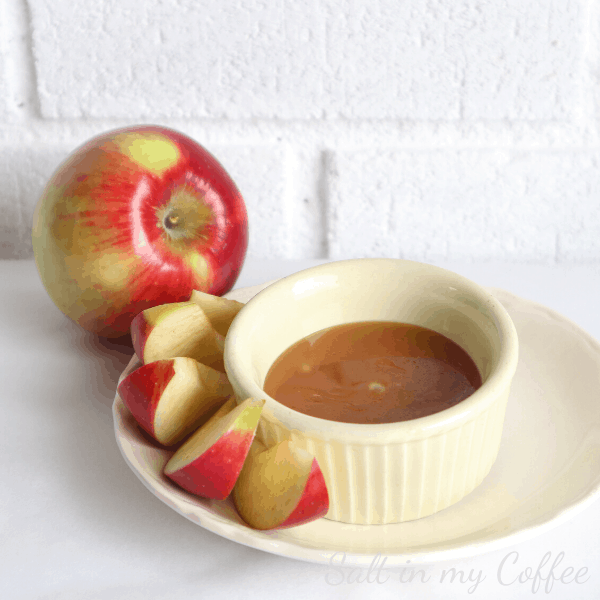 So this recipe is one that I created specifically with him in mind. He's not the biggest fruit and vegetable fan, but pair a little caramel with those apples? Bring it on.
Most homemade caramel recipes call for corn syrup or sweetened condensed milk - ingredients that I never want to feed my family, even as a treat.
This recipe uses only pure honey and maple syrup for sweetening, and while it might require a little more of a watchful eye in the cooking process than recipes with processed and artificial additives, it's really not difficult or complicated to make.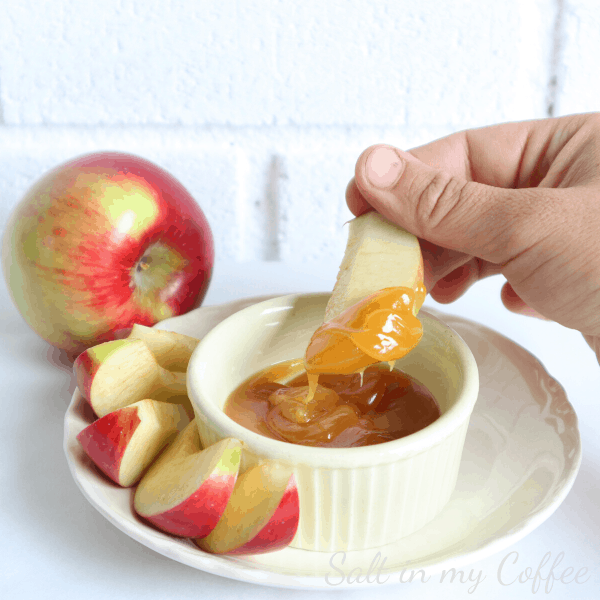 If you opt for coconut oil rather than butter, this recipe is also dairy free. I generally make it with half grass-fed butter, and half coconut oi, but the sauce comes out wonderfully both ways, with just a subtle flavor difference between the two variations.
This paleo maple caramel sauce travels well, and makes a special lunch box treat, along with a sliced apple, pear, or even some pretzels. I haven't owned a microwave in many years, so I can't vouch for the ability to reheat this sauce in the microwave, but it does reheat well on the stove.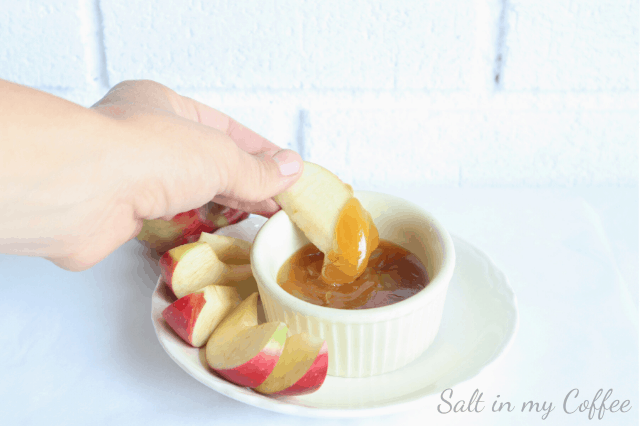 If there's any left, it stores well in a tightly-covered container in the fridge. I've stored it for up to a week, without noticing any crystalization or loss of flavor.
Read Next: Easy Dark Chocolate Orange & Almond Bark
I hope you and your family enjoy this paleo maple caramel sauce as much as my husband does!
Bon Appétit!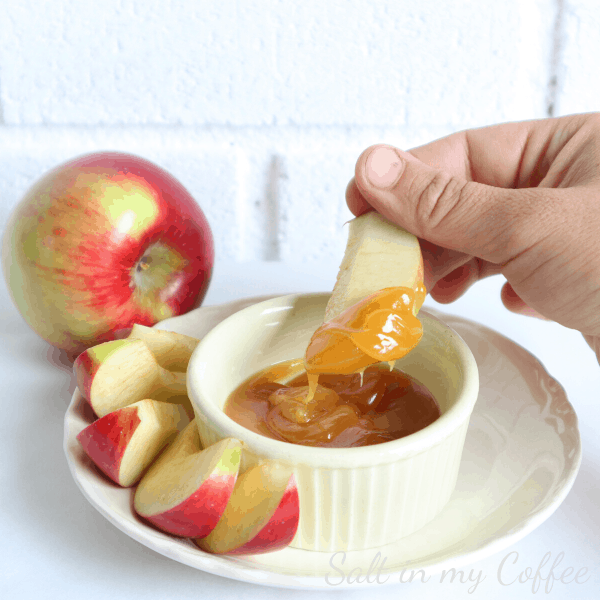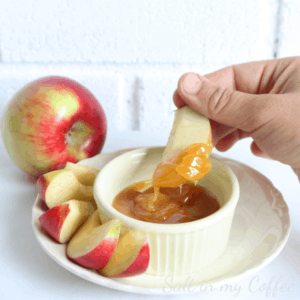 Paleo Maple Caramel Sauce
This paleo maple caramel sauce recipe isn't complicated or hard to make, and it's absolutely delicious!
Print
Pin
Rate
Instructions
Add all honey, maple syrup, coconut oil, and water to the top of a double boiler. Bring to a simmer over medium-low heat.

Continue to simmer, stirring frequently. As the mixture cooks, you'll notice that it first darkens in color, and begins to "pull away" from the sides of the pan. You will
likely see an increase in the volume of bubbling right before this point. Soon after, the caramel will start to lighten in color a bit, and that's when your sauce is just about done. Cooking the caramel takes some time - usually at least 20 minutes. Caramel can be cooked more quickly in a saucepan directly on a burner, but it's a bit easier to burn it, so I suggest using the double boiler.

Heat the caramel till it reaches 230 degrees on a candy thermometer, or the mixture thickens if you cool a bit on a spoon.

You can also check for done-ness using the "cold water test": using a spoon, pour a drop of the mixture into a glass of cold water. Mixture should mostly stay together and form a soft clump in the water (you're shooting for just shy of the "soft ball" stage, for a nice thick caramel sauce).

Remove caramel from the heat, and let it rest for a few minutes before serving warm.

Unused caramel can be stored tightly covered in the refrigerator. Warm gently in a double-boiler to reheat.
Nutrition Facts
Paleo Maple Caramel Sauce
Amount Per Serving
Calories 218
Calories from Fat 126
% Daily Value*
Fat 14g22%
Sodium 2mg0%
Potassium 41mg1%
Carbohydrates 26g9%
Protein 1g2%
Vitamin C 1mg1%
Calcium 16mg2%
Iron 1mg6%
* Percent Daily Values are based on a 2000 calorie diet.
Notes
If you're not dairy-free Paleo, do try using half grass-fed butter and half coconut oil in this recipe. It's wonderful either way, but I feel the butter adds a deph and roundness to the caramel that's just a bit extra-special! Getting perfect caramel - I find the trick is to set aside plenty of time, and not rush it. While you can cook this recipe in a saucepan directly on a burner and have it come out fine, the faster cooking process leaves less margin for error with reaching the perfect temperature without exceeding it, and it can be possible to scorch the mixture if the burner is too hot. Using a double-burner is certainly slower, but allows a lot more forgiveness with reaching the perfect temperature and consistency.
Nutrition
Calories:
218
kcal
|
Carbohydrates:
26
g
|
Protein:
1
g
|
Fat:
14
g
|
Saturated Fat:
12
g
|
Sodium:
2
mg
|
Potassium:
41
mg
|
Fiber:
1
g
|
Sugar:
25
g
|
Vitamin C:
1
mg
|
Calcium:
16
mg
|
Iron:
1
mg