If you've been following me for a while, you probably know how much I love to dye things with plants. It's addictive, and SO much fun!
One question that comes up often around this time of year, is whether dye stuffs that are ready for gathering mid-summer, can be dried for use over the quiet winter months.
For some plants, like indigo, this is certainly the case. In fact, I have a huge stash of dried Polygonum tinctorium taunting me from my "dried stuff" stash right now. But between canning season, and gardening, and raising out turkeys...it's going to be October at least, before I have time to pull out the dye pot and get my hands blue.
I know the same is true for many of us! It's no wonder that we're looking for ways to squirrel away all these valuable dye stuffs for a more peaceful season.
So, how about goldenrod?
Can you dry goldenrod to use for dye?
The short answer is no. Drying goldenrod renders it useless for dyeing. If you try to dye with dried goldenrod, it gives a very light muddy brown--not the sunny yellow that we get from fresh blossoms.
However, there's hope! There ARE ways you can put away goldenrod for use as a natural dye. Drying just isn't one of them.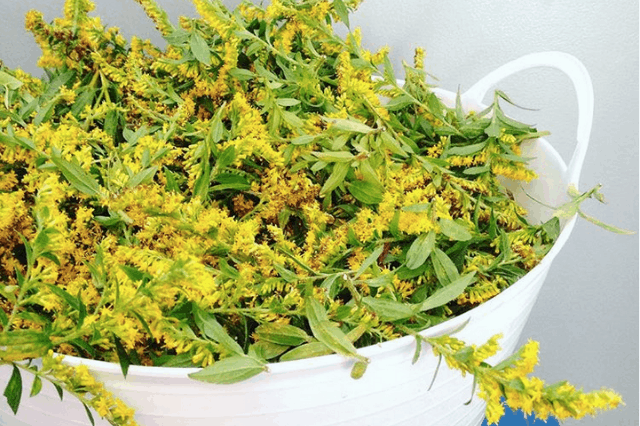 Preserving goldenrod for dyeing
Method 1: Freezing the blossoms in water
This is the quickest and easiest way to stash goldenrod away for later use. Simply get a big freezer bag, and stuff it full of goldenrod blossoms while they're at their peak.
(It's ok to really cram those blossoms in there! Just leave room for them to get fully covered with water.)
Then fill the bag with water so the blossoms are fully covered, zip it shut (might find it helpful to do this over a sink!), and put it in the freezer to work with later.
When you're ready to dye with the goldenrod, go ahead and use the water it was frozen in as part of your water for the dye bath.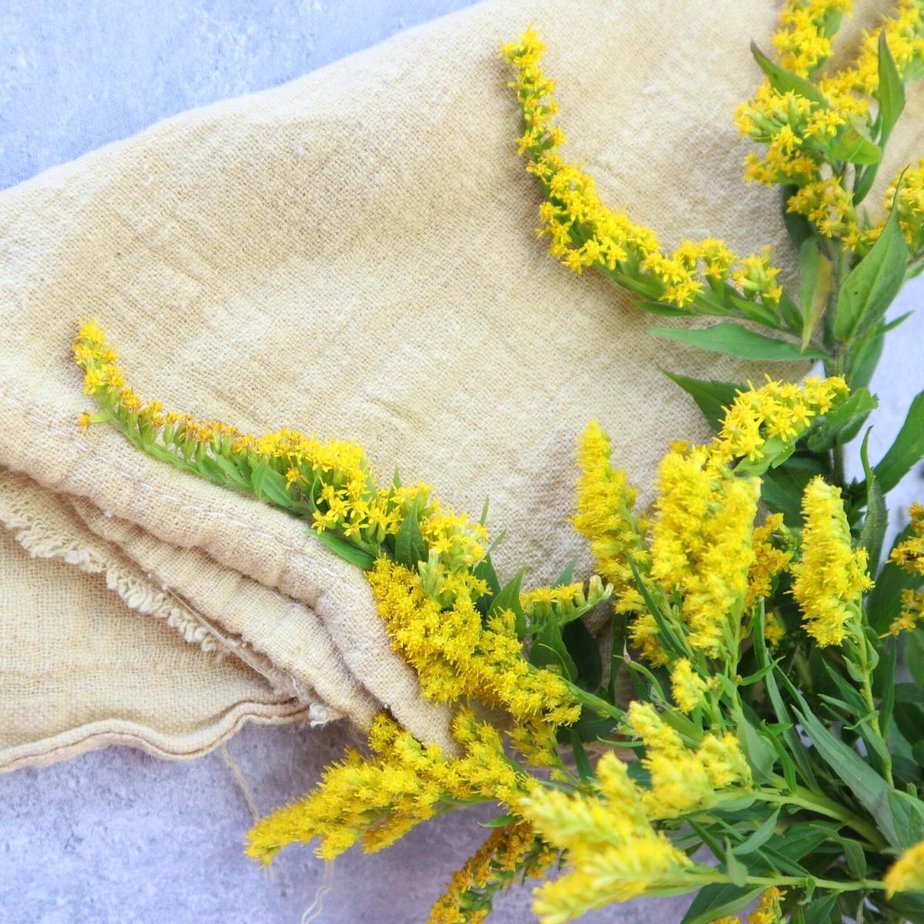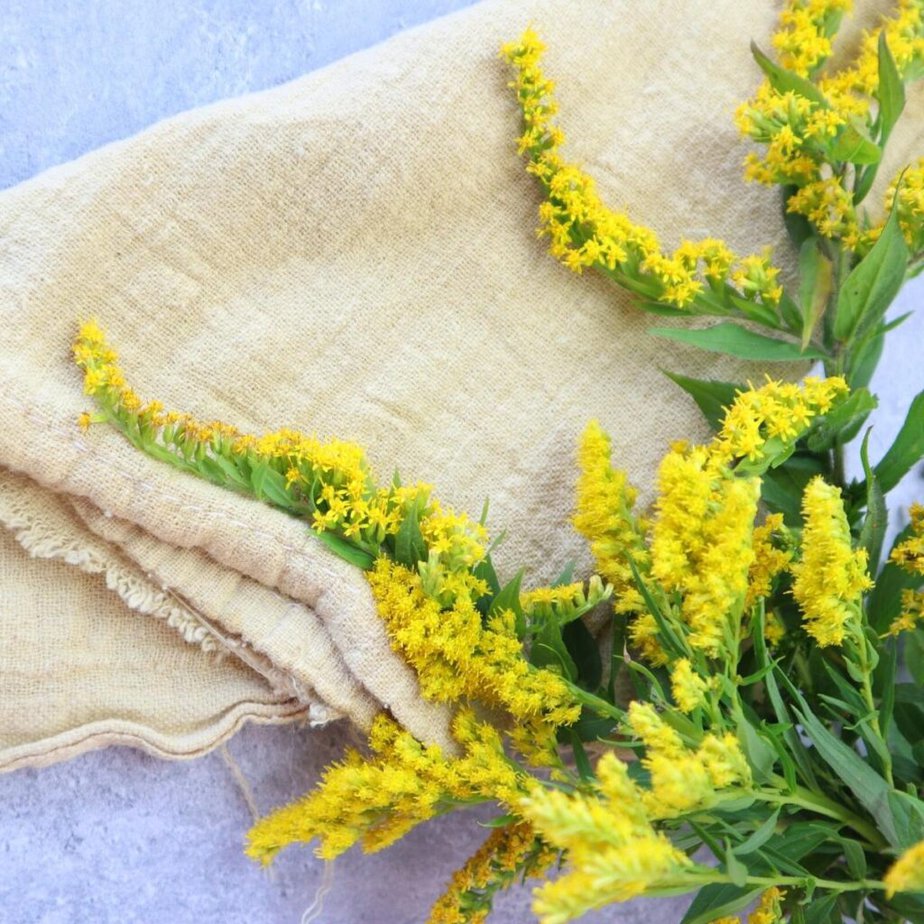 Method 2: Prepare the dye bath now, then freeze it for later
This works well also! If do you have time to prepare the dye bath now, but aren't ready to work with it, you can actually freeze the dye bath with good results.
I've been asked WHY anyone would bother with this. If they have time to make the dye bath, why not just use it now?
There are a few reasons you might want to do this! If, for example, you don't have on hand the materials that you want to dye (e.g. maybe your alpaca yarn isn't back from the mill yet), this would be a situation where you might want to delay using a prepared dye bath.
Or perhaps you're planning to keep materials in the dye bath for a couple of days and don't have time for that right now. There are definitely situations where freezing a dye bath can come in handy, and the good news is, it works.
Go ahead and pour the dye bath into freezer bags, or freezer-proof mason jars (don't forget to under-fill them so they can expand). Then freeze until you're ready to work with it.
When you're ready, thaw the dye bath and use it as normal.
I personally feel that previously frozen dye bath takes slightly longer to set color, than dye bath that hasn't been frozen, but there are always variations from one batch of dye to another anyway, so I don't have a hard or fast rule on this.
I generally err on the side of long dye times, and especially for goldenrod (a dye stuff that's not a paragon of lightfastness), I find that allowing extended dye times, and fully drying the dyed fiber before rinsing, helps to drastically increase the longevity of color in the finished product.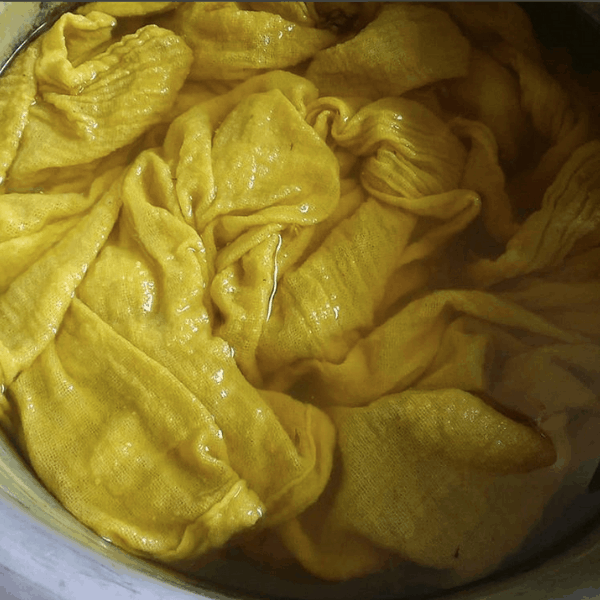 UNTESTED THEORY: Canning goldenrod for dyeing
If I have time this summer, I'd like to give this crazy theory of mine a go. Can you CAN goldenrod blossoms for use as dye?
The reason I think this might be helpful to some natural dye enthusiasts, is that many off-grid homesteaders don't maintain a freezer. Instead, they focus on canning and drying food for winter, so that it's shelf-stable without the need for electricity.
I usually use a fairly gentle heat with my dye baths, so in a best case scenario, would expect that the high heat of canning would give a darker (rather than brighter) color from the goldenrod.
But...I do LOVE a good experiment, and this seems like a plausible one. If anybody beats me to it, please do let me know how it goes!
Read Next: Dye Plants to Forage in Fall
---
Much like the way many of us stuff ripe tomatoes in our freezers, knowing they'll stay good until we have time to turn them into sauce and can them, freezing goldenrod is one of those hacks that can help even out the busy and less-busy seasons of homesteading.
I hope you find this trick helpful, and wish you lots of joy in your natural dye adventures.
Happy dyeing!
Save this tip to your NATURAL DYE board: