Even once cold weather has set in, there are still so many wonderful dye plants to forage in fall - you just have to know what to look for! This post will share suggestions to help keep your dye pot going, right through Autumn.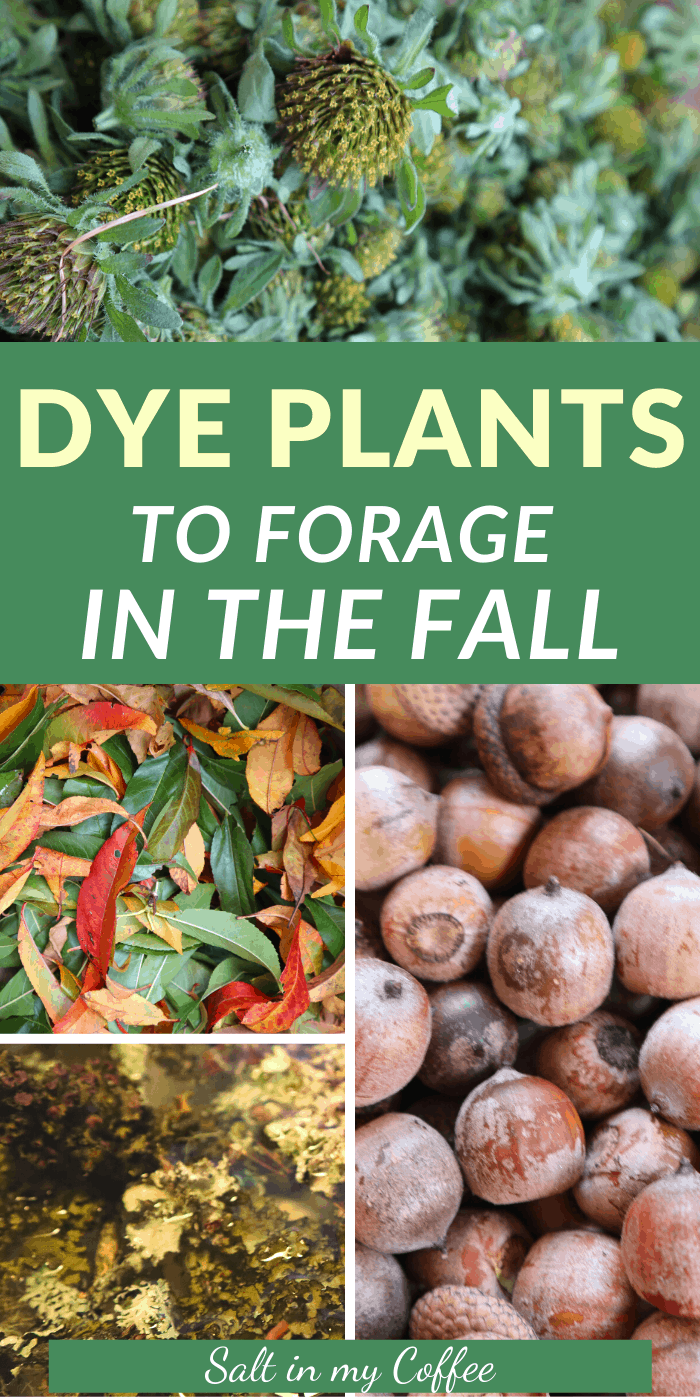 Summer is such a time of abundance. Everywhere you go, you're almost certain to be surrounded by plants that would make a good natural dye. I think Summertime plant dyeing is made even more joyful by the fact that you can do your foraging in short sleeves, and can even set up your dye pot and stove outside if you like!
After Summer's busyness and constant bounty, it's easy to feel the season for natural dyeing slipping away, as the cold winds of Autumn start to blow. But the truth is that "dye-stuff" materials continue to abound, if you know what to look for. I very frequently get asked about the potential of drying or freezing various summer dye plants for winter, so that there will be "something to use in the winter when there's nothing to dye with."
While many plants can be dried and stored with good results, I felt a post was needed to encourage us all that it's entirely possible to keep our dye pots supplied year-round, just from our daily walks and foraging trips!
Even without squirreling away dye-stuffs from the warmer days of summer, there is always something to dye with in the fall and winter.
What follows is a list of common dye-stuffs that most of us probably have nearby, throughout the fall months.
Dye plants you can forage in Autumn
Acorns
A neat thing about dyeing with acorns, is that they are rich in tannins, which means they don't require an added mordant to help set the color. Used by themselves, they produce a pleasant, warm brown. With the addition of iron, the color deepens to a dark charcoal color.
I LOVE dyeing with acorns partly because they're just so much fun to gather! Is there anything more fun than scrambling through a carpet of freshly-fallen leaves with a couple of happy kids, as they scurry to see who can fill their bucket first? Good fall fun, right there! Another reason acorns are a favorite is that the whole time they're simmering, they make the house smell like maple syrup. It's a little weird - but heavenly.
This post has excellent tips for getting started dyeing with acorns, and is filled with beautiful photos of the whole process.
Birch Bark
I haven't yet tried dyeing with birch bark myself, but I'm eager to try it over the coming weeks. One of my favorite 1800's housekeeping manuals, The American Frugal Housewife, says this about dyeing with birch bark:
A very beautiful nankin color may likewise be obtained from birch-bark, set with alum. The bark should be covered with water, and boiled thoroughly in brass or tin. A bit of alum half as big as a hen's egg is sufficient. If copperas be used instead of alum, slate color will be produced.
When harvesting birch bark for dyeing, do be sure to gather bark from trees that have already fallen, or bark that has already separated from the tree. If you heat with wood, you may find plenty of birch bark right in your pile of cordwood as you stack it for winter! This post from Jenny Dean, author of the book Wild Color, has some tips for getting started dyeing with birch bark.
Curly dock seeds
Here's another plant that I have in abundance, but have somehow ignored as a possible dye plant until this year. I'm especially inspired to try it, by the lovely pink results Leena Riihelä shares on her blog Riihivilla, from dyeing with dock seeds. Her site is in Finnish and is quite well translated. I find myself popping over there often to be awed and inspired by whatever dye project she's currently up to!
For a more step-by-step post in English, this one does a lovely job of walking through the process of dying with curly dock seeds.
Devil's Beggartick
This rather invasive plant has surprised me by becoming one of my absolute favorite fall dye materials. The color is a vibrant, warm golden-amber color, and it's proving to be very light fast. The shirts I dyed with devil's beggartick last month have now been through the wash several times, tossed right in with the regular laundry (hot wash, cold rinse, Seventh Generation laundry tabs) - and their color has not noticeably diminished at all. Hand dyed materials don't get special treatment in my house, so truly colorfast natural dyes are dear to my heart!
Depending on where you live, the various Beggartick varieties may be more of a summer plant, but for us here in Maine, the flower heads are perfect for working with in mid-September.
I have a whole post on dyeing with devil's beggartick, if you'd like to give it a try!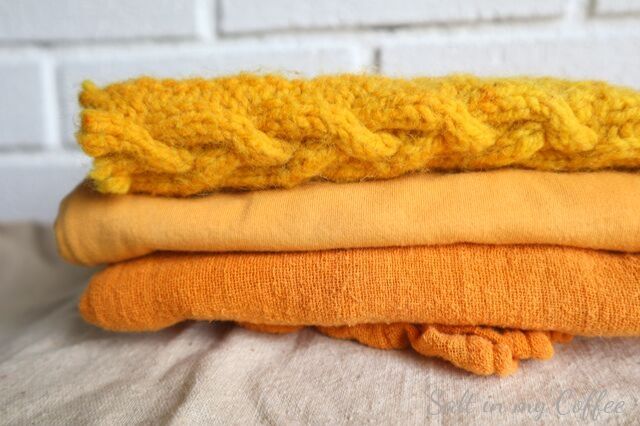 Elderberries
The colors that some fiber artists have achieved from using elderberries is just beautiful! I've always considered the berries too precious as a medicinal ingredient to "waste" them on dyeing, but this year I have a little stash saved in the freezer that I'm going to try using. Here in Maine, elderberries ripen in late September or even early October.
For inspiration and how-to, check out this post about dyeing with elderberries. I also found this one about a medieval method of dyeing leather with elderberries to be fascinating!
Goldenrod
Goldenrod blossoms produce a lovely lemony-yellow dye that when mordanted with alum. With the addition of iron, they give a warm greyish tone that's still very pretty.
Depending on where you live, goldenrod may be a faded memory by the time fall comes around, but here in Maine the majority of my goldenrod plants flower in mid-late September.
For step by step instructions, read this post on dyeing with goldenrod.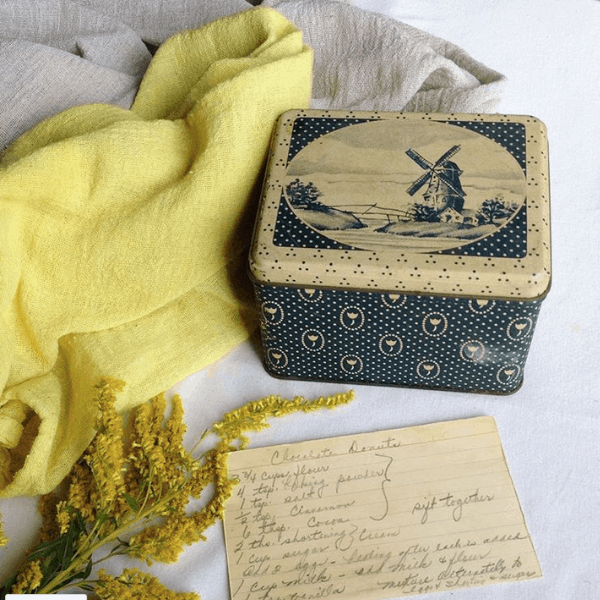 Lichens
Many lichens can be used for achieving wonderful dye colors - some of which are difficult shades to obtain from other plant materials. I find that as the blustery fall weather starts to move in, the first few storms of the season seem to blow down an unusual abundance of tree-growing lichens.
Since lichens can be eradicated from an area by over-harvesting, I wait for the ones that are blown down by storms so that I'm using something that would have otherwise just decayed, and I know I'm not doing anything that might jeopardize the local population of that species. Right now I have a big jar of lichen dye bath sitting in my basement to mature for a few months. I can hardly wait to see what color I'll get from it.
I think this article is one of the best places to start, if you're interested in dyeing with lichens.
Peach Leaves
This was the first year I've tried using leaves from my peach tree for dyeing, and it won't be the last! On wool, paper, and cotton, the colors I achieved were varied bright shades of yellow - much more vivid than what I've achieved from dyeing with goldenrod. So far, it also seems to me a more colorfast yellow than many other plant dyes, though the items I dyed have only been through the wash a couple of times, so I'll have to keep you posted about how they hold up over time!
If you'd like to try it, I have a whole post here about dyeing with peach leaves. It's really one of my new favorite plant dyes!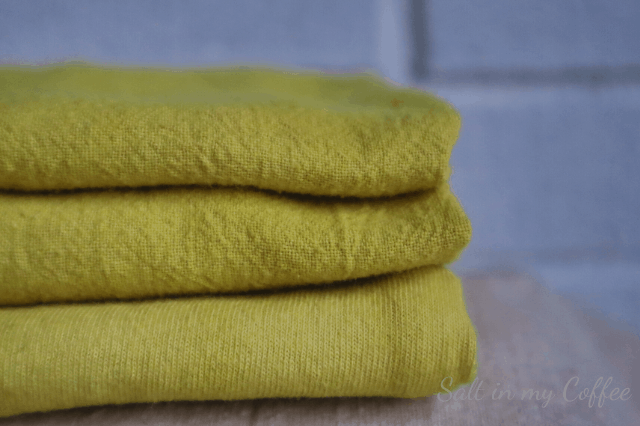 Pokeweed Berries
I'm on a mission to eradicate any sign of pokeweed from our property, since it's toxic and I have small children. That said - many folks are huge fans of working with the ripe berries for dyeing purposes, and the colors they achieve are just lovely. Check out the AMAZING colors my friend Janet, over at Timber Creek Farmer, gets from dyeing wool with pokeberries! Her post does a thorough and beautiful job of walking you through the whole process.
Rose Mallow
Here in Maine, our rose mallow plants wait until October before they finally bloom. I always have my doubts whether they'll actually blossom before being killed off by the hard frosts, but they're pretty resilient, and they do bloom for me every year.
I haven't had enough to work with for dyeing purposes yet, but I'm hopeful that as my patch of rose mallow plants expands, that I'll be able to try it! I keep hearing promises of a "dark, near-black dye" that can be obtained from them, but have yet to find a good tutorial for the process, so the color from this one may be elusive. They are in the hibiscus family, which does have a history as a dye plant, so it seems worth a try. In spite of the lack of tutorials, I've included it in the list here since it's one I want to try, and you may feel adventuresome as well!
Staghorn Sumac
All parts of the sumac plant have been used for dyeing, but the large red fruit clusters produce particularly attractive shades, ranging from brick red, to pink, to deep lavender, depending on the process used. For the brighter reddish pink colors from dyeing with sumac berries, I found this post especially helpful. For the more muted lavender-grey colors obtained from sumac berry dye with iron after-bath, I found this post very helpful.
Walnut Shells
Walnut shells are readily abundant in the fall, and make the most wonderful brown dyes! This post has excellent photos, and walks through the whole process of dying with crushed walnut shells.
If you happen to have black walnuts available, these are even more potent as a dye material, and are easy to obtain a strong dye from. This post has a good tutorial on how to dye with black walnuts.
I hope you feel encouraged about the bounty of dye materials just waiting to be gathered, even as the days grow cold. This is just a list of plant materials that you can forage outside, but don't forget all the possibilities of "foraging" in your own kitchen! Onion skins, avocado skins and pits, pomegranite rinds, and dozens of other food scraps can also keep your dye pot supplied all winter long.
I'm sure there are many other plants that could be added to this list of dye plants to forage in fall! What plant materials do you like to use for natural dyeing in the fall? Let me know in the comments (with a link to your tutorial if you have one!), and I'll add them to the list!
Happy dyeing!