Peach leaves give a wonderful yellow dye that's more colorfast than goldenrod or onion skin. Dyeing with peach leaves is easy, and this post will talk you through it!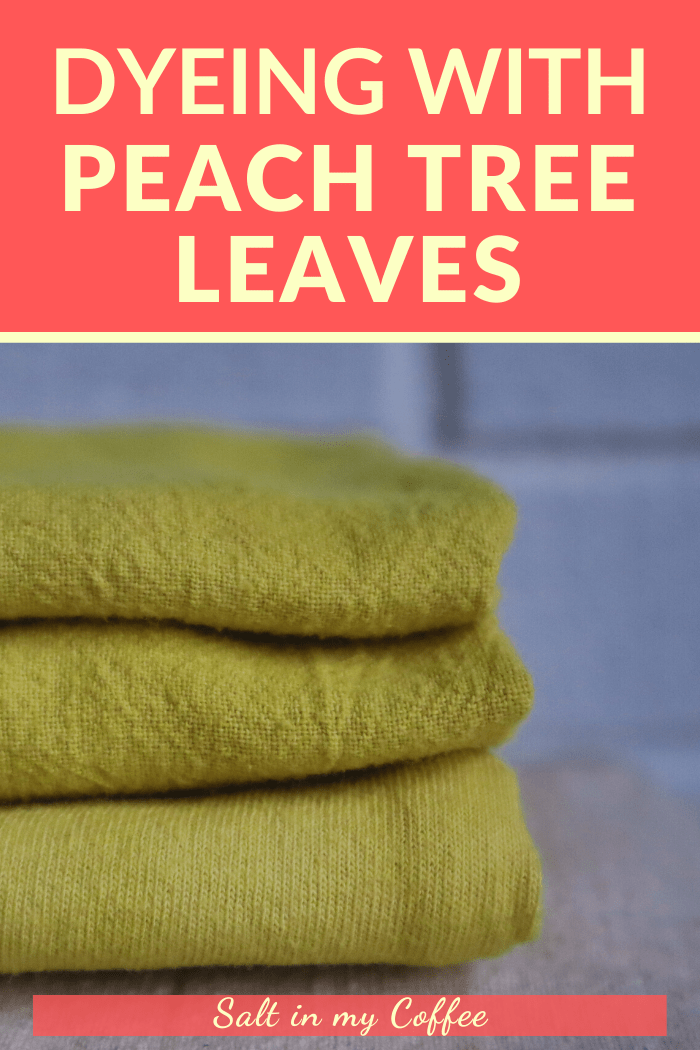 This was the first year I've used peach leaves for dyeing, and I absolutely love the results! Until this year, I had no idea that the leaves my peach tree sheds by the bushel each fall could actually provide a beautiful yellow natural dye.
Then I stumbled on an 1800's method of dyeing with peach leaves, and just had to try it!
I used leaves that had just fallen from the tree, while they were still fresh, and before they had begun to dry. I suspect that peach leaves gathered during any part of the year would work for dye purposes, but it does seem most gentle to use leaves that the tree has voluntarily shed already.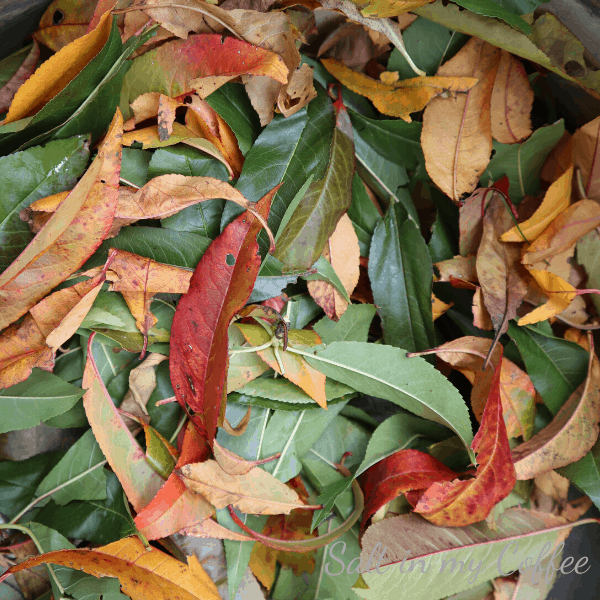 The kids and I started by gathering a heaping peck of the fallen peach leaves. I simmered them in my aluminum dye pot, along with 1 Tablespoon of alum for an hour, and then allowed the dye bath to sit for about 24 hours before adding fabric.
I then added the pre-dampened fabric, and let it sit in the dye bath for two days, stirring every time I walked by.
After about 48 hours in the dye pot, I squeezed out the fabric, and let it dry for 4 days before thoroughly rinsing in cold water, using the cold/cold cycle on my washing machine.
On wool, paper, and cotton, the colors were varied bright shades of yellow, that had a far greater vibrance than what I've achieved from dyeing with goldenrod.
So far, it also seems to me a more colorfast dye than goldenrod or onion skins, though the articles I dyed have only been through the wash a couple of times, so I'll have to keep you posted about how they hold up over time.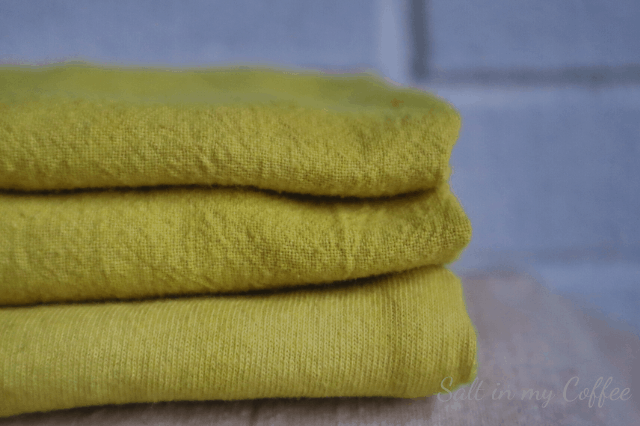 In the photo above, the two cotton fabric pieces on top had been pre-mordanted with alum, the bottom piece had not. You can see there really wasn't a huge difference in the color obtained.
Peach leaves are one of the easiest dye plants I've worked with so far. They're easy to gather, and easily release a beautiful yellow dye, that is more colorfast than many other plant dyes. Now that I know this, I doubt another Autumn will go by, without me filling at least one dye pot with "peach leaf yellow"!
Happy Dyeing!
Read Next: Dye Plants to Forage in Fall
If you liked this post, you may also enjoy:
✦ DIY Felted Wool French Press Cozy
✦ Dyeing With Goldenrod
✦ Dyeing With Devil's Beggartick
✦ Handmade Grapefruit Lip Balm
✦ DIY Wood-Rejuvenating Spoon Butter