This fiddlehead frittata is a great way to showcase fiddleheads while they're in season. Flavored with shallots, bacon, and creamy goat cheese, it works well for dinner or brunch!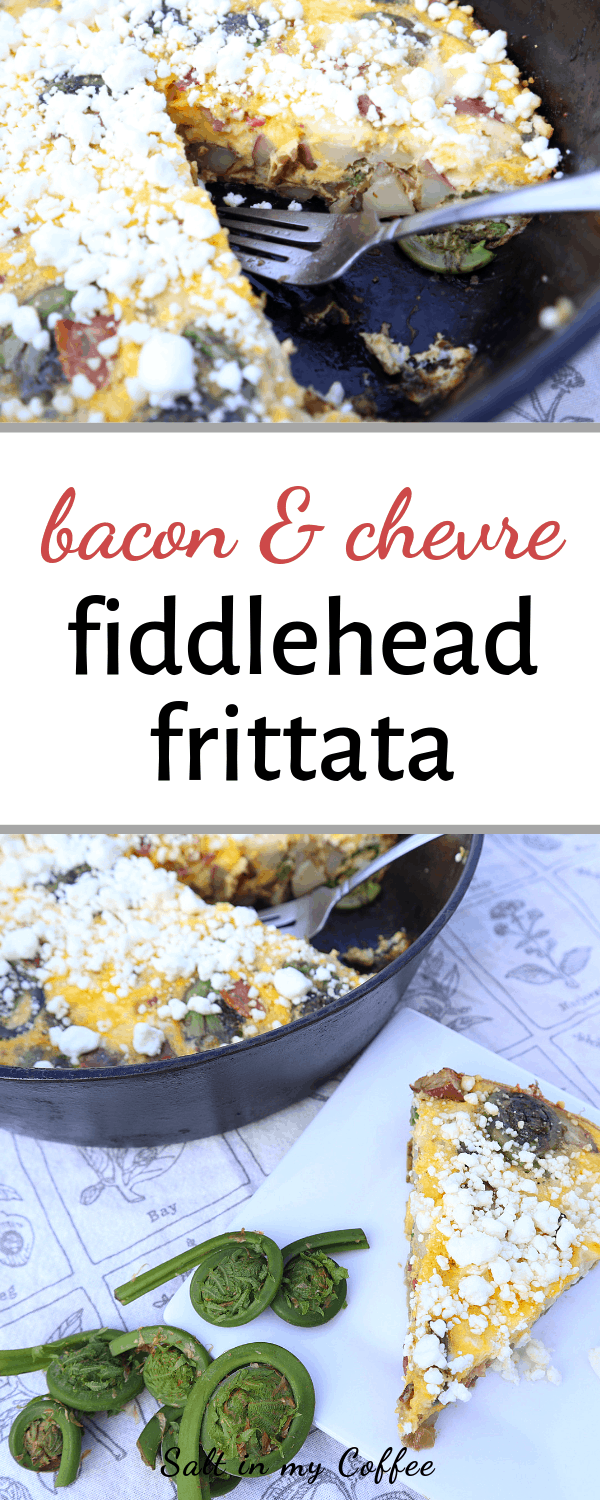 This article contains affiliate links. Click here to learn more.
Last week, I was gifted a huge batch of fiddleheads. Considering how short the fiddlehead season is, and the care that goes into sustainably foraging them, that's sort of like being handed a bag of gold. What a gift!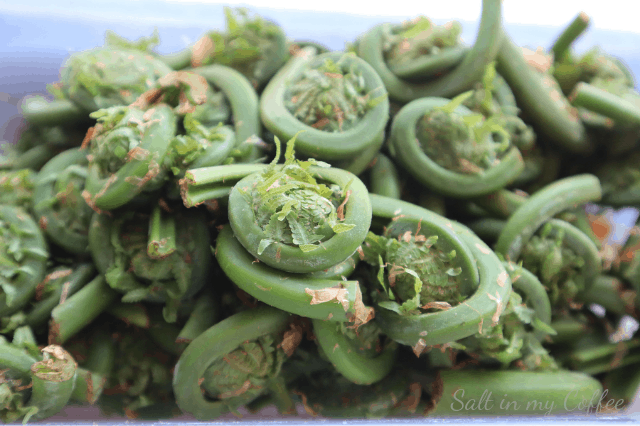 When my parents came up to visit a couple days later, I was eager to share the bounty with them. They blew my mind when they suggested adding fiddleheads to an egg dish. HOW had I never thought of this before?
Turns out, during last year's fiddlehead season, they'd enjoyed an amazing egg breakfast scramble at a hip little restaurant, and it had fiddleheads in it. Much like with spinach, it turns out that fiddleheads and eggs make quite the heavenly match!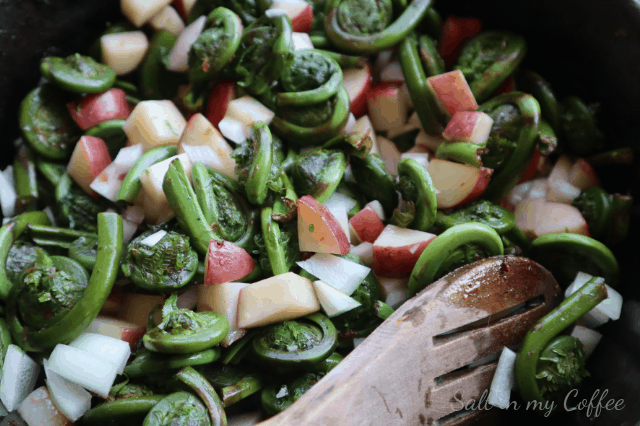 I added some fiddleheads to our breakfast that morning, but that got me thinking of ways to elevate the fiddlehead and egg combination even further.
Then it came to me. FRITTATA. That was it. The rest of my fiddlehead stash was begging to be turned into a savory, cheesy, bacon-y frittata.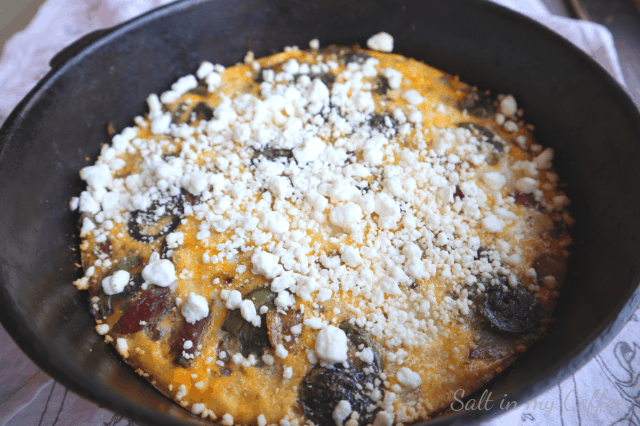 I honestly don't think another fiddlehead season will ever go by without me making this recipe at least once.
Even my husband, who usually eschews all green things, went back for seconds. Twice.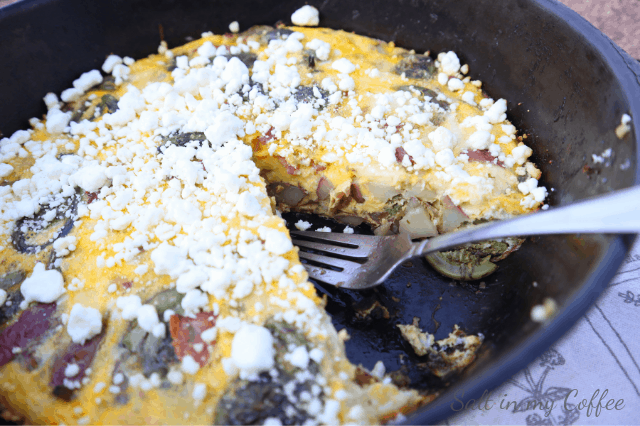 The other nifty thing about this recipe is that it can be a one-dish meal. The entire thing can be prepped and baked right in one big cast iron pan. For a busy mama who hates washing dishes, that's a huge plus.
Don't have a big old cast iron pan? That's ok - an "everyday" pan like this one can substitute just fine, or you can saute the fiddleheads, potatoes, and shallots, then put the whole thing together in a casserole dish to bake. Don't let not having a cast-iron pan stop you from making this!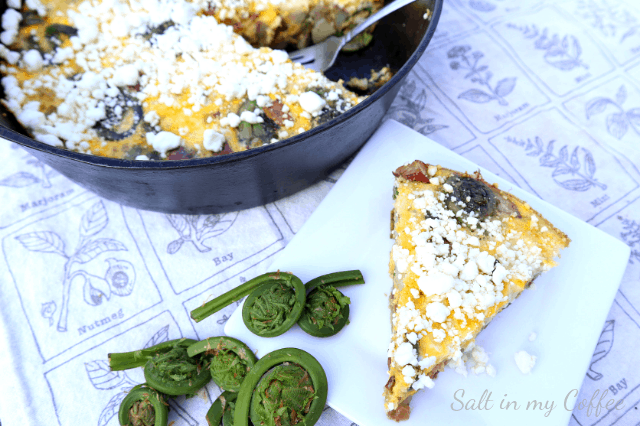 I hope you enjoy this quick and easy recipe as much as we do. It's easy enough to whip together for a weeknight dinner, but I think it's special enough for a company brunch.
Bon appétit!
Read Next: Fiddlead Recipes You HAVE To Try!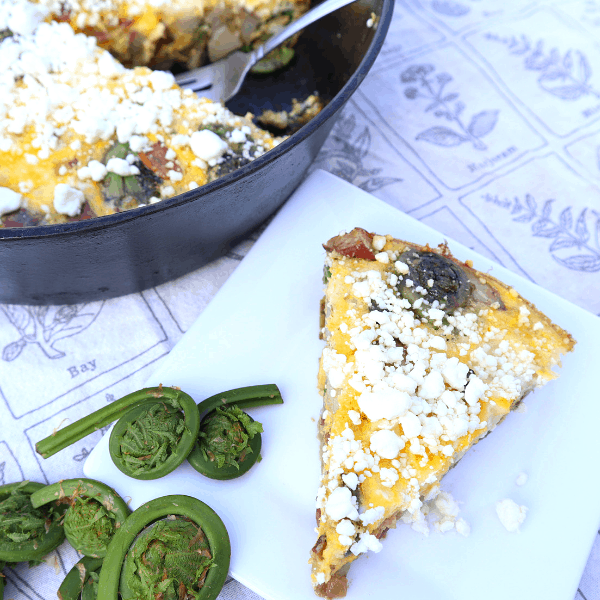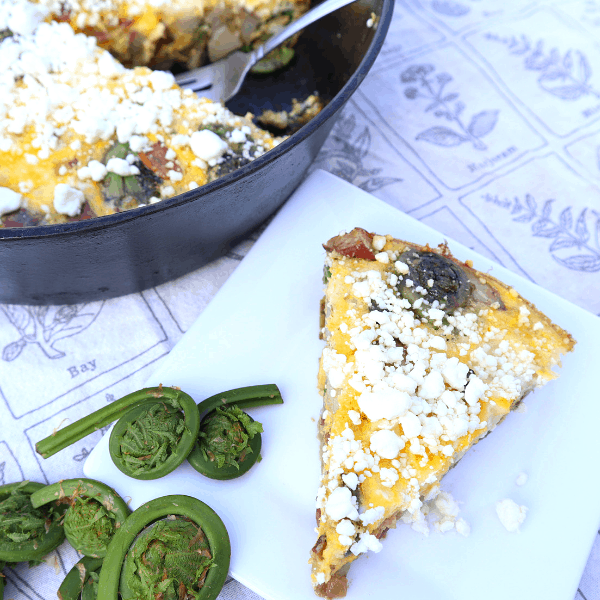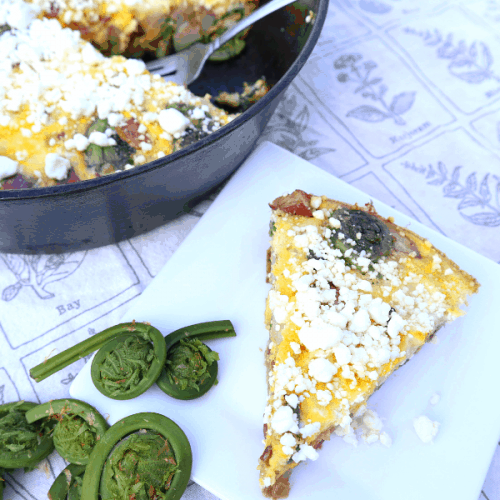 Fiddlehead Frittata with Bacon & Chevre
A savory fritatta packed with delicate fiddleheads, flavored with bacon and shallots, and topped with crumbled chevre.
Print
Pin
Rate
Ingredients
1

lb

organic red potatoes, chopped

12

ounces

fiddleheads, cleaned

4

shallots (or one medium onion)

12

large eggs (or 10 duck eggs)

4

slices thick-cut bacon, cooked and crumbled

8

ounces

chopped or shredded cheddar cheese

4

ounces

crumbled chevre

olive oil, butter, or bacon fat for frying
Instructions
Preheat oven to 375 degrees.

In a deep cast iron pan, saute fiddleheads, chopped potatoes, and diced shallots, in a generous amount of butter, olive oil, or bacon fat. Cook over medium-low heat until fiddleheads are fiddleheads and potatoes are tender, and shallots are getting translucent - about 15-20 minutes.

Whisk together eggs and cheese in a large bowl, then add to the pan with the fiddlehead mixture. If you'd like to skip dirtying a bowl, just add the cheese and eggs directly to the pan, mixing vigorously as you crack in each egg.

Stir everything well so that it's thoroughly mixed, then put the whole thing in the oven. Bake until the center is set, and frittata is golden brown - about 35 minutes.

Cool slightly, and serve.
If you liked this post, you may enjoy:
✦ Bacon Wrapped Quail with a Butter Pesto Sauce
✦ Fresh Strawberry Breakfast Ideas
✦ Duck Egg Mayonnaise
✦ Salted Maple Honey Caramels
✦ 18 Amazing Fruit Leather Recipes