This quick and easy foraged winter wreath is made from foraged plant materials that you can gather on a walk or hike. Here's how I made mine, and suggestions for foraging great wreath-making materials in the winter!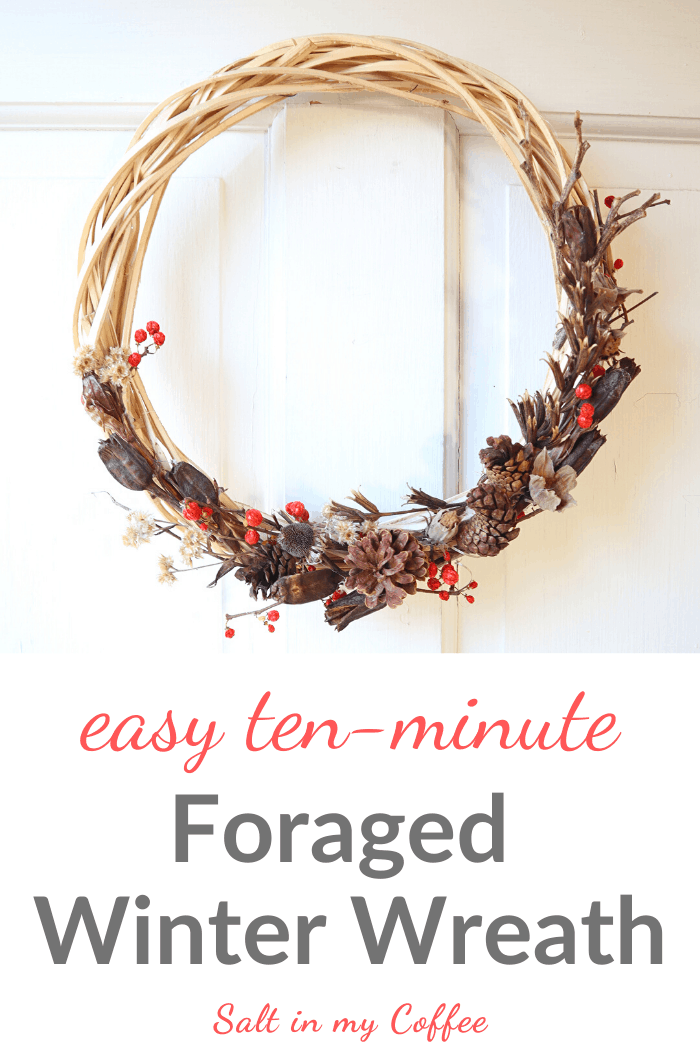 This article contains affiliate links. Click here to learn more.
This wreath is so quick and easy to put together, it will probably take you longer to read this post than to make one of your own!
Almost every year, I make a traditional evergreen wreath for the front door. It looks, feels, and smells like Christmas, and since wreath-making is a tradition that's been passed down through at least 5 generations of women in my family, it's also a sentimental part of the holiday decorating.
But this year, I just felt like doing something a little different. Deep snow hasn't yet arrived, so I've been enjoying tromping over the frozen yard and gardens and woods, marveling at the beauty of dried and dead "stuff".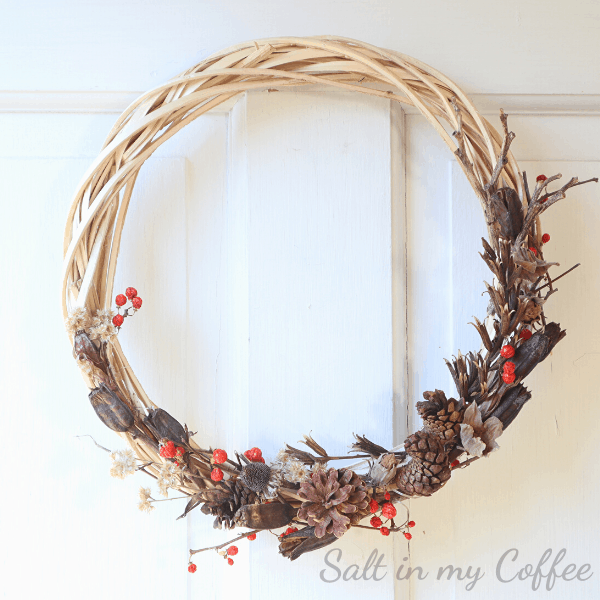 Have you ever noticed how lovely the dried pods of irises and daylilies are? I keep stopping to marvel at them - their strong three-part husks that peep open at the top, with just hint of glistening black seeds inside, waiting to be shaken loose by some rugged winter wind that will come howling through during one of our December storms.
The field that I let lie fallow this year, and was an ocean of wildflowers in July, is now a dry and bristly wonderland of stalks and canes and seed pods. Odd bits of plant fluff blow in the wind and get stuck in the gnarly raspberry bushes. I could spend all afternoon in that field.
Finally, I decided to start bringing my gathering basket with me on my cold winter wanderings, and let myself bring in some wonderfully untidy basketfuls of dried plant materials that were just begging to be used for something or another.
So the next time my five year old asked to do a special craft project with me, I brought out the hot glue gun, a wreath form I'd picked up at the dollar store this spring, and my baskets full of the odds and ends I've been gathering.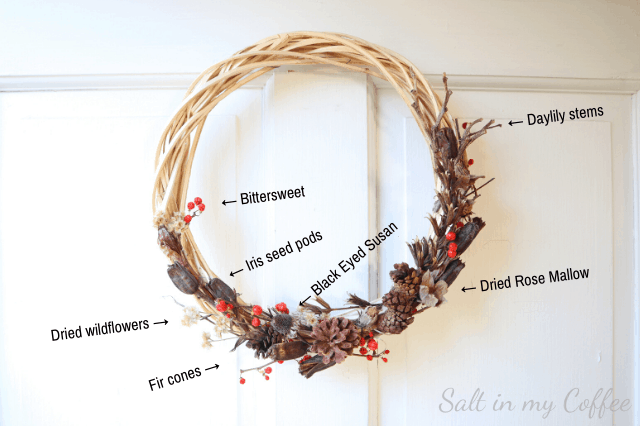 While Izzy and I worked together on the wreath, three-year-old Duncan delighted in pawing through the baskets. He spread everything out on the table, lovingly sorting it into piles that were meticulously grouped according to some very specific and totally mysterious classification system.
Every now and again, he'd hand me an artifact that he deemed wreath-worthy and we'd add it to our wreath. It was a delightfully haphazard team effort that kept us all happy for the better part of a blustery winter afternoon. (Without little helpers, this would honestly be a 5-10 minute project, minus the foraging time.)
In fact, this project is so easy, this can hardly be called a "how-to" post. But I do have a few tips to share, if you'd like to make your own foraged winter wreath.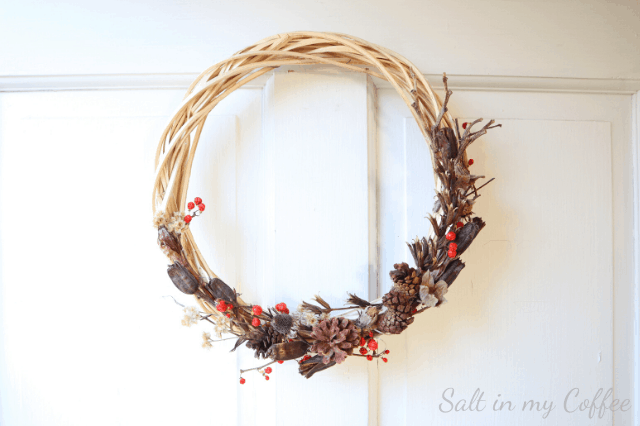 Foraging for dried wreath material
My biggest tip is to always bring something with you for collecting plant material, whenever you're out for a walk. You never know when you might find something especially delightful!
Look for varying textures - hard, smooth, delicate, feathery, bristly - you get the idea! Since there's a lot of dried material in a winter wreath, texture is one thing that will add variety and beauty to your finished project.
Forage responsibly - keep in mind the continuing cycle represented by the seed pods, cones, and other seed-bearing relics you might be gathering. Consider whether it might be best to shake out any seeds in the area where the plant is growing (for example, with irises), or whether it might be best to carefully gather an invasive species like bittersweet in a way that avoids spreading the plant. In the case of bittersweet, it's best to avoid shaking berries loose that might grow into new plants, and to dispose of them in the trash when you're done with them.
Choosing a wreath form
For a wreath that's made primarily of dried materials, I like to use a fairly dense wreath form that's light in color (this is the one I used). While grapevine wreaths are lovely, you can tell that the dark color wouldn't allow things like dried seed pods and fir cones to really stand out.
Consider a light colored woven wood form, or even a couple of similarly-sized bamboo quilting hoops nested together.
Creating the wreath
I find that hot glue works best for fastening dried plant materials to a wreath. Liberally dab glue on the part of the material that you want anchored to the wreath, and then hold it in place for a moment until the glue hardens.
Avoid getting glue on thin and delicate plant materials like dried leaves and the dried sepals from flower stems, since they easily darken in color from the hot glue.
Hanging the finished wreath
I like to affix a wire for hanging after I've finished making the wreath. It does make attaching the wire a bit of a more delicate process than if you did this step before adding the plant material, but I never know exactly how my wreaths are going to turn out - it's hard to know exactly what part of the wreath should be up, until the wreath is completed.
Holding the wreath with one hand, with the part I've decided should be up pointing up, I take a 6 inch piece of floral wire, and twist first one end, then the other, into the wreath form, creating a small loop at the top for hanging the wreath from a hook or nail.
That's really all there is to it! A wreath like this is one of the fastest, cheapest decorations you can make, and it lasts all winter long! I hope you have as much fun making yours, as the kids and I did with ours!
Happy wreath making!
Read Next: Dye Plants to Forage in Fall