Learn to make DIY vintage botanical prints on canvas that look expensive - but cost less than $2 each! These easy instructions will walk you through putting vintage botanical images onto canvas.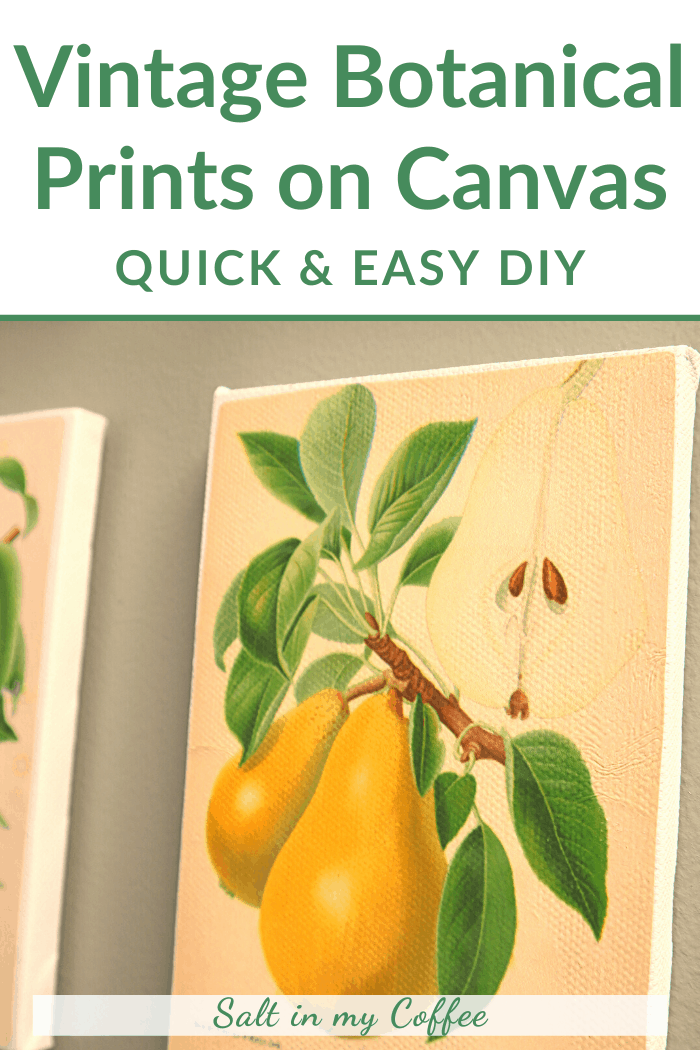 This article contains affiliate links. Click here to learn more.
When we first bought our 1970's home a few years ago, the downstairs bathroom had yellow-ish walls, with blue everything: blue tub, blue toilet, blue marbled countertop, blue sinks, and a giant blue-rimmed mirror.
Whew. It was a lot of blue. Honestly, it still is, since I've yet to replace or refinish the toilet, tub, and sinks. BUT - I've done a lot of updating that downplays the blue, and makes the room feel more like a coastal farmhouse. More like us.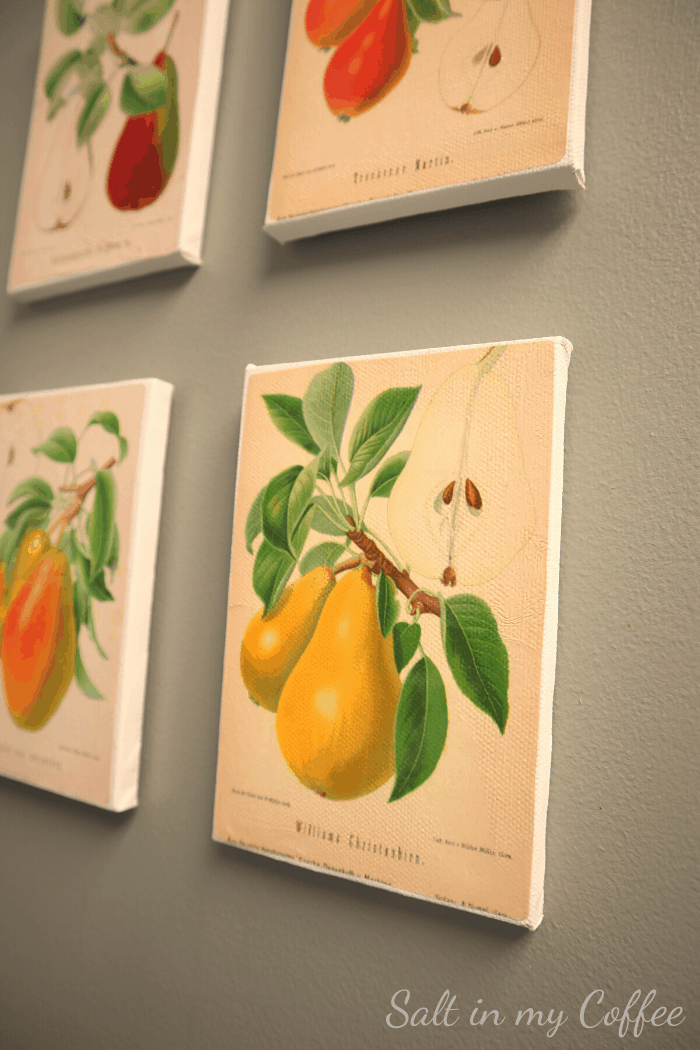 I adore the grey paint I chose for the walls (Brampton Gray, by Behr), and all of the bathroom trim is now a nice bright white. It's a much more bright and fresh-looking space.
Once I'd finished painting the walls and trim though, I realized that now I needed a pop of color to punctuate the grey and white. I settled on the idea of putting some bright vintage botanical images on canvas, and loved how they turned out. They're also very easy to make!
How to put vintage botanical images on canvas
Putting vintage botanical images onto stretched canvas is easy, quick, and cheap! Here are the steps I followed to make mine.
Download Your Public Domain Vintage Image
Since I recently discovered that many museums are making their collection of antique, public-domain images available to the public, my mind went immediately to a collection of botanical pear images from an 1800's German book, that I'd seen in the Biodiversity Heritage Library's Flickr collection.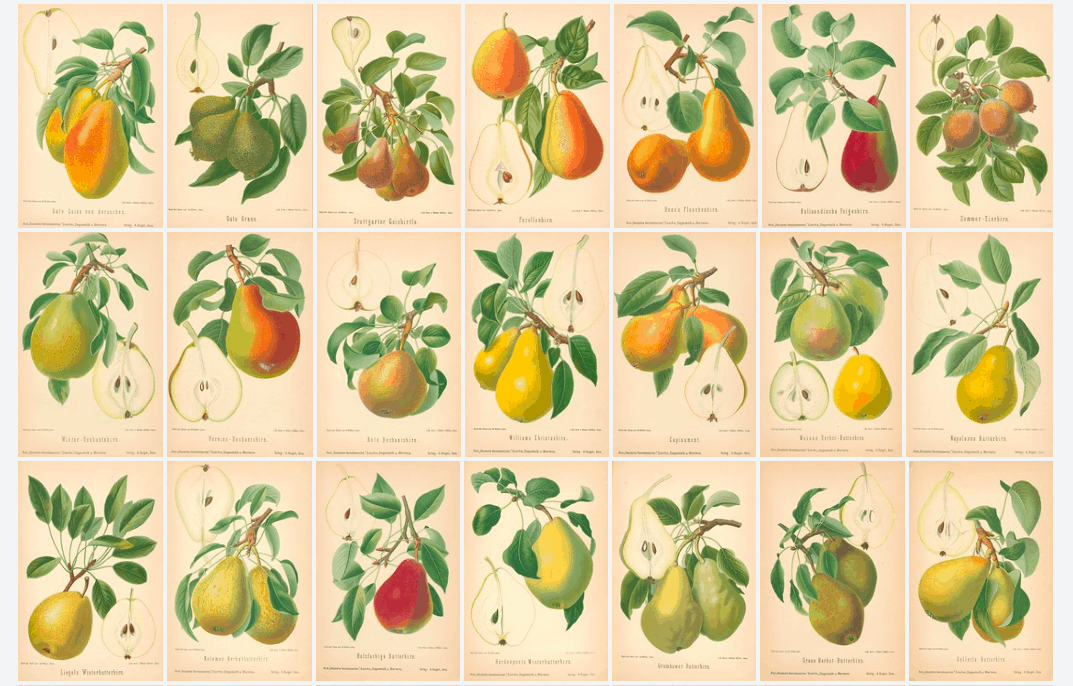 How gorgeous are all these vintage illustrations? I just fell in love with them as soon as I stumbled onto the album! ALL of these beautiful illustrations are in the public domain, which means it's totally ok to download and use them. The images are available in various resolutions, including very hi-res files, so you can print them at quite a large size if you need to.
Where can you find public domain vintage botanical images?
Many museums and universities are digitizing their collections and making historic, public domain images available to the public using Flickr. Here are some of my favorite collections:
Below, I've included a screenshot of what you'll see when you click on one of the images in a museum or library collection on Flickr. Downloading an image for use is easy. First, double check that your image is ok to use by looking for the words "public domain" - you'll see it in blue text at the lower right corner of the screen.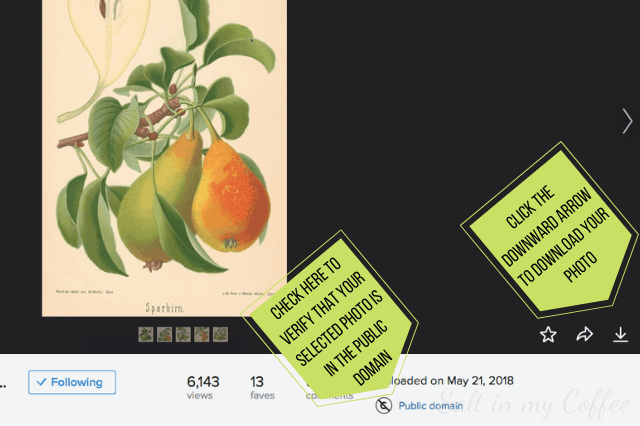 Then, click the downward-pointing arrow to download your image. For my purposes, I was envisioning a grouping of smaller 4x6 panels, so went with the "large" size.
Most professionally scanned images in these collections can also be downloaded in "extra-large" resolution, and you can always choose "original" if you want the largest file size possible.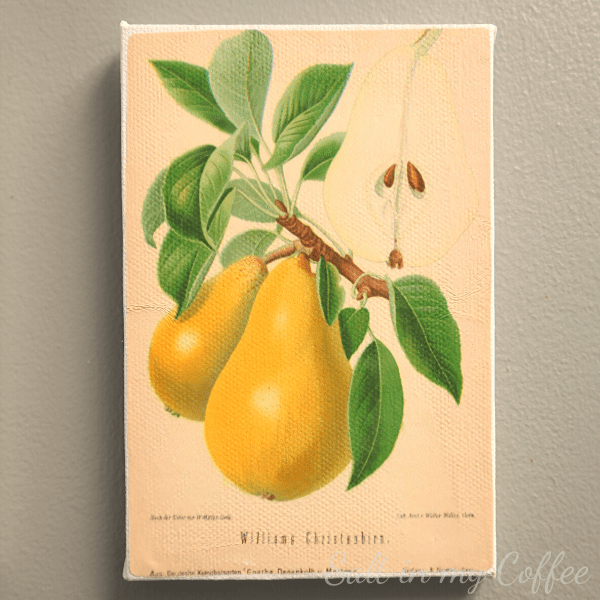 Choose your canvas
I didn't really want to print and frame the images, since I was looking to introduce more organic-feeling texture in the bathroom, and the idea of glass and picture frames just didn't feel right.
Stretched canvas however, seemed like just the thing to complement our small bathroom in the way I was looking for.
These particular canvasses are size 4x6, and I've always been thankful that our local Dollar Tree carries stretched canvasses in many sizes for just $1. You can also order stretched canvas in any size quite cheaply on Amazon.
This project also works well on flat canvas panels, if you're looking for an option that's easy to frame!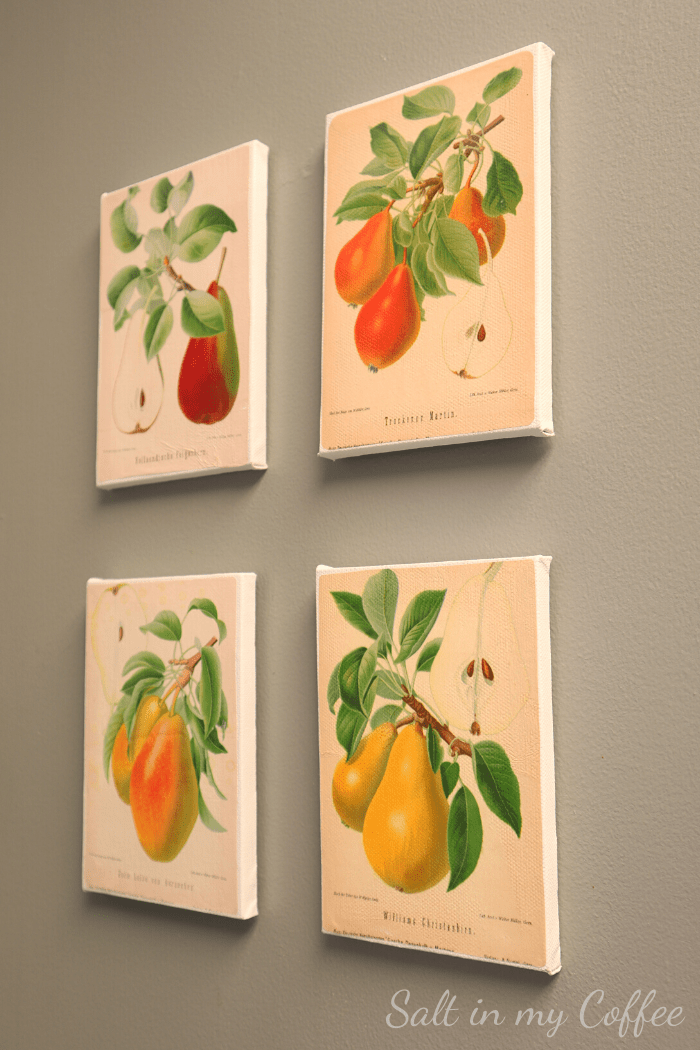 Print your downloaded image on transfer paper
To put the images onto the canvas, I used iron-on printable transfer paper - specifically, Avery Transfer Paper for DARK Fabrics. I like working with dark fabric transfer paper because it's easy to work with, and doesn't require flipping the images the way most "light fabric" transfer papers do. I also feel the final image looks brighter and has a better finish than with the light fabric transfer papers.
Print your image in the correct size for your canvas. I like using the free online image editor Canva to save images at my desired size.
Once your image is printed, let it dry for a few minutes while you set up your ironing station.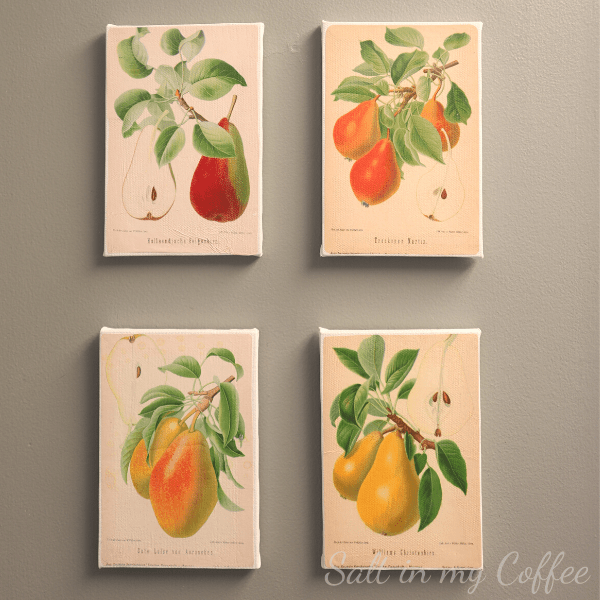 Iron your printed image onto the canvas
To iron your image onto the canvas, you'll want to start by trimming around the edges of the printed image so that it will fit perfectly on your canvas.
Make a place to do your ironing that's a little firmer than most ironing boards. A wooden table with a towel over it is perfect.
Make sure there is no water in your iron, and that the "steam" setting is OFF.
Set your iron to 375 degrees. If your iron is like mine and doesn't specify temperature, you're looking for the "rayon" setting. (No rayon setting, aim for halfway between the wool and cotton settings, a little closer to cotton than wool.)
Since a stretched canvas is hollow behind the frame, the first few times I did this project, I stuffed the back of the frame with scrap fabric to provide a firmer ironing surface. The last time I did this, I tried ironing the transfer onto the canvas without stuffing the back first. Both ways came out just fine. You may find it easier to work with the firmer surface that can be provided by stuffing the back of the canvas, but do make sure that the canvas lies flat, rather than mounded, before you begin ironing.
Carefully peel the backing off your printed and trimmed transfer. Place it right side up on your canvas.
Cover the transfer with a piece of the thin protective paper that comes with your package of transfer paper. Iron the transfer onto the canvas spending about 15 seconds in each spot. Lightly move the iron from one area of the transfer to another, being careful not to stretch or pull the transfer as you're moving the iron. While the transfer is hot, it's very easy to wrinkle or tear it.
When you're done ironing, allow the canvas to cool for a few minutes before removing the protective paper. If you find that your transfer hasn't fully adhered in any area, you can repeat the ironing process as necessary.
Once your canvas is fully cool, it's sturdy and ready to hang!
If you liked this post, you may also enjoy:
✦ DIY Felted Wool French Press Cozy
✦ Dyeing With Goldenrod
✦ Dyeing With Devil's Beggartick
✦ Handmade Grapefruit Lip Balm
✦ DIY Wood-Rejuvenating Spoon Butter