This delicious Einkorn Brioche loaf is made with nutritious Einkorn flour, and has a light buttery texture with just the right amount of sweetness.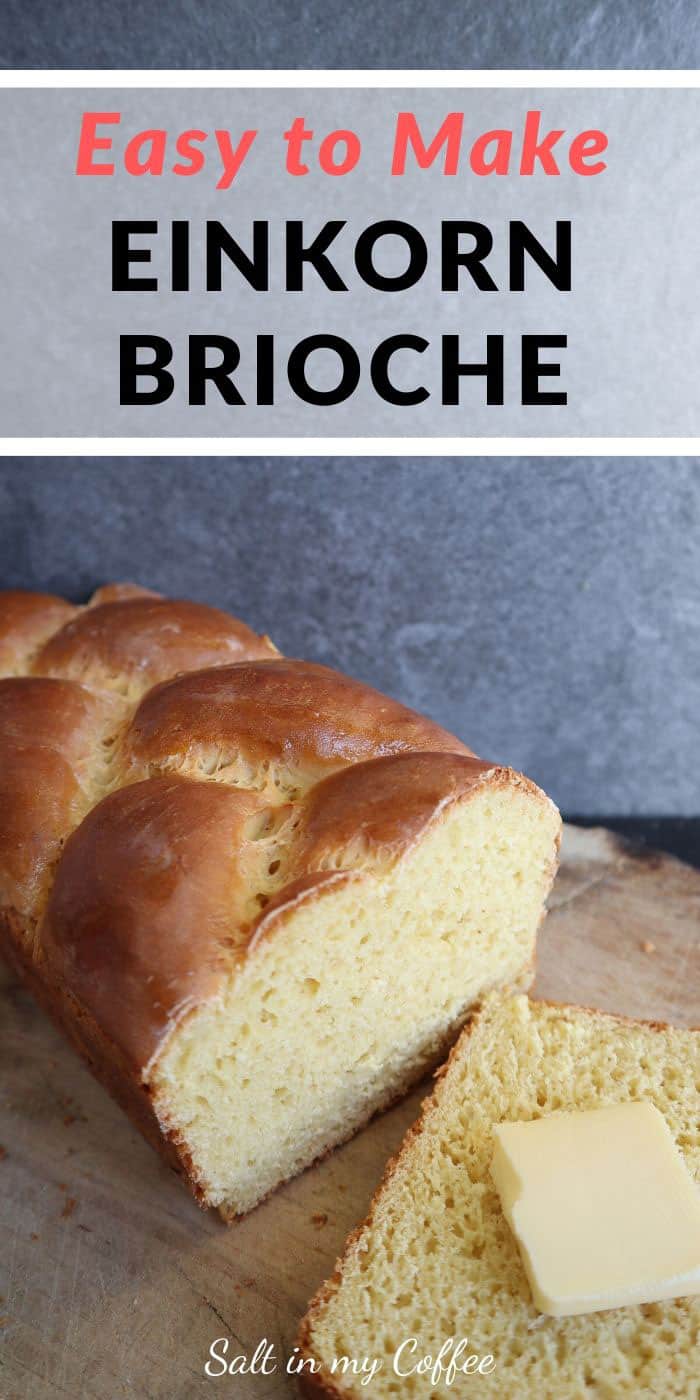 Wednesdays are our baking days around here, and especially in these cold winter months, we all look forward to the house filling with the hot, yeasty scent of homemade bread.
My usual routine involves sourdough - I bake all of our bread with Einkorn flour, using a sourdough levain that I started with organic apple peels last fall.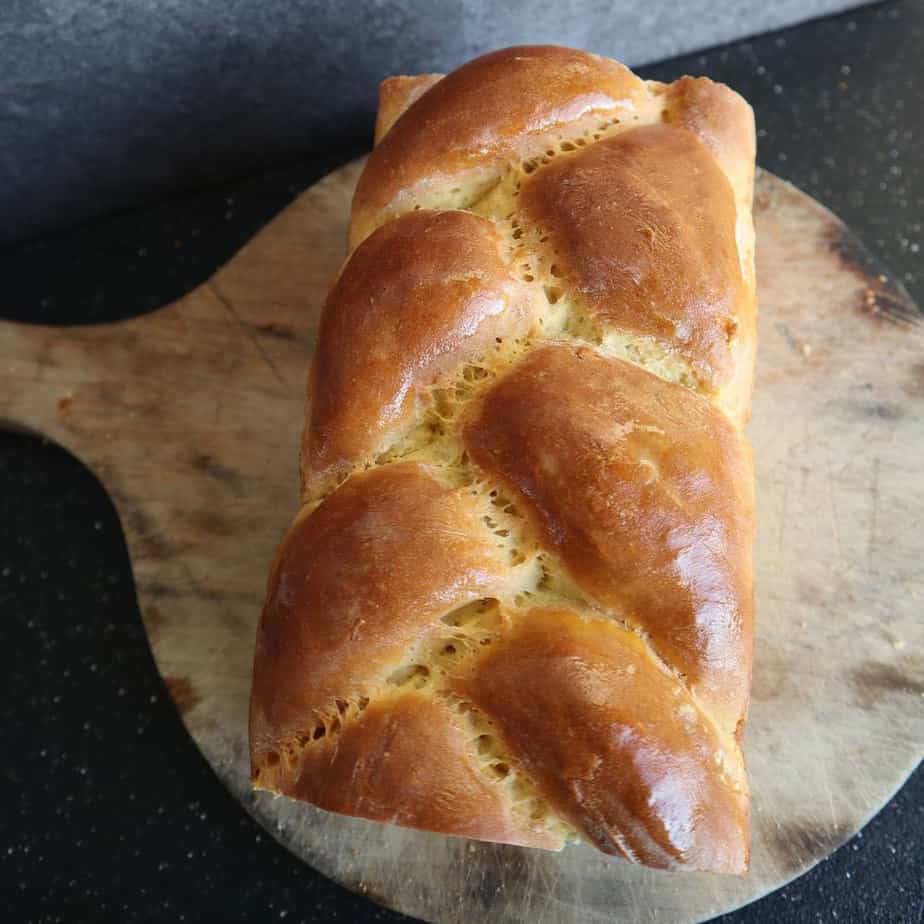 This week, however, I'd neglected my poor perfect starter, and it wasn't ready for the usual Wednesday baking session.
I do however, have a sneaky backup jar of commercial "active dry yeast" in the fridge though, so we decided to make a loaf of brioche to hold us over while I rehabilitate my sourdough for a day or two.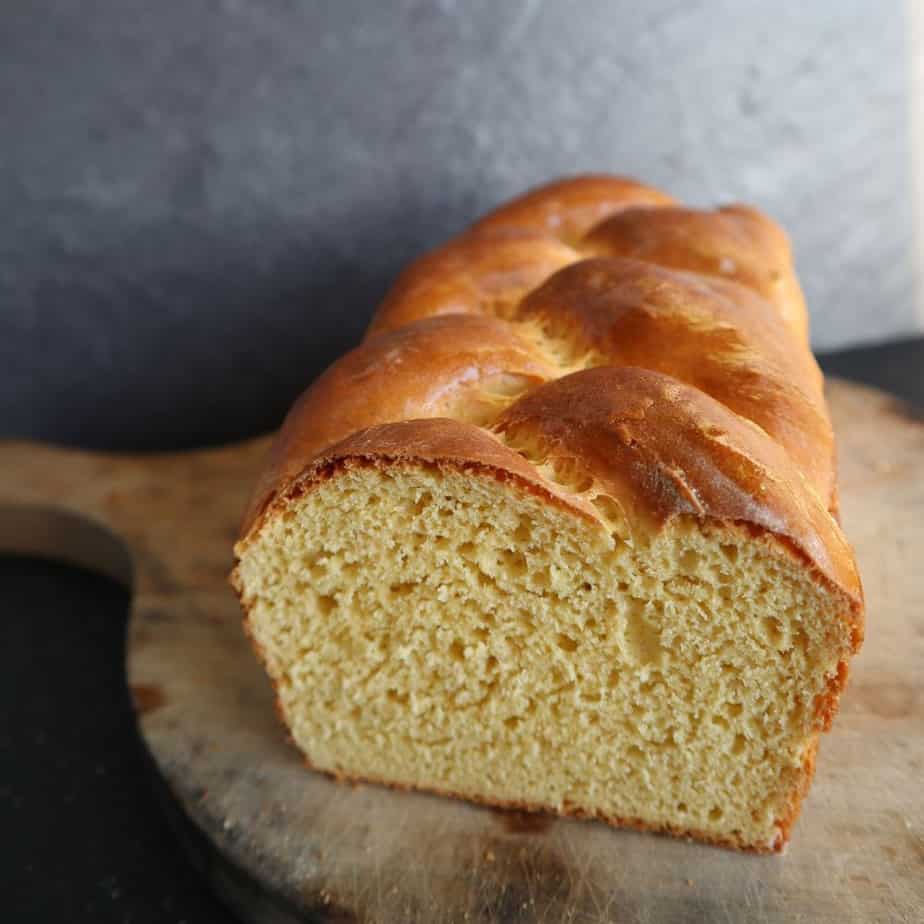 As yeast breads go, this Einkorn Brioche is a quick and easy recipe that doesn't take a lot of work, and only rises once. The result is light and buttery, with just a light sweetness that makes it feel like a treat, but is still neutral enough to pair with savory ingredients.
One of my absolute favorite ways to enjoy this brioche is sliced thin and lightly toasted and buttered, then turned into a breakfast sandwich (duck egg, with bacon and few shreds of gruyere is a combo fit for royalty!)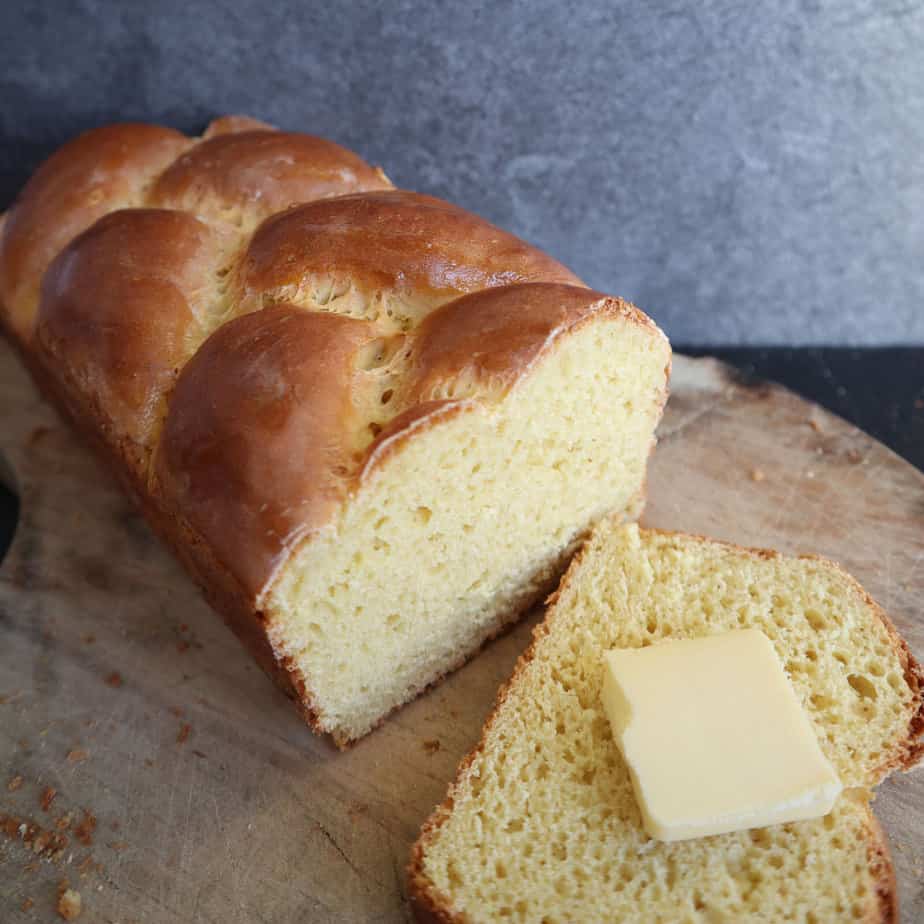 This is an easy, forgiving bread recipe that doesn't need a lot of fussing. If you have a stand mixer and dough hook, go ahead and use that instead of kneading by hand. I've done that several times, and it works just fine.
I usually knead by hand simply because I enjoy it and the kids love taking turns kneading the dough with me. But - if I'm making this first thing when I get up at 5:30 and intend to have it with breakfast, it's the stand mixer all the way, baby.
Also - no harm done if you forget the egg yolk glaze. You can see I did that with this loaf in the picture below, and while the crust is missing that classic "brioche" sheen, it's still delicious.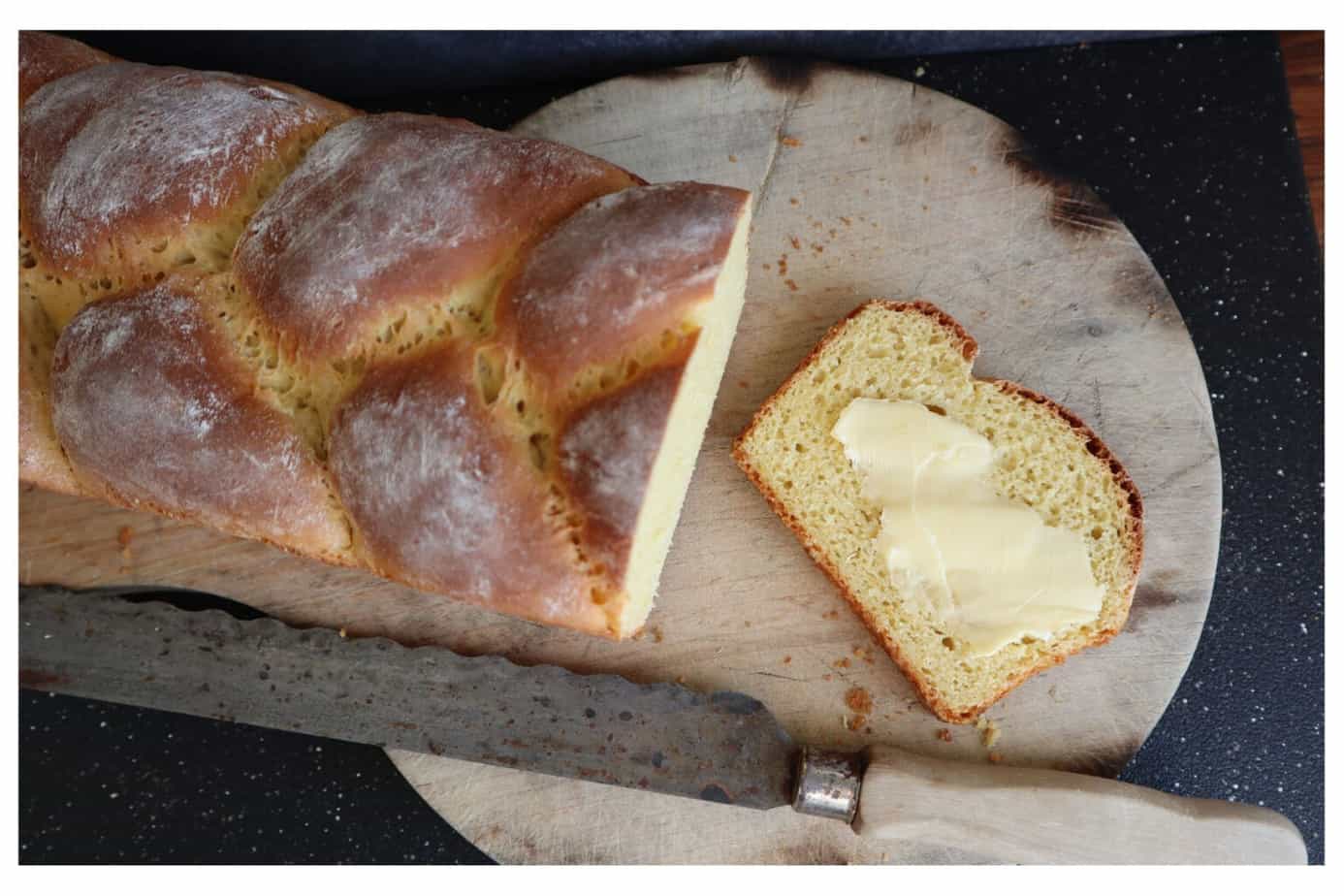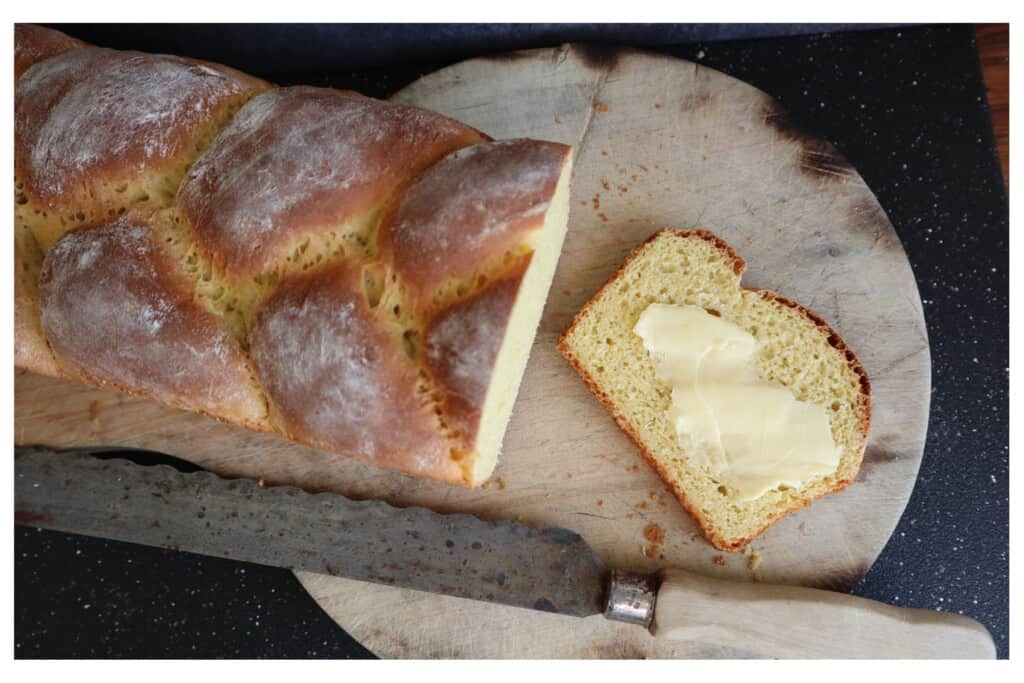 Can you use regular wheat flour in place of the Einkorn?
You bet! I use only organic Einkorn in my family's baking, but you can absolutely use this recipe with regular wheat flour. Add the same amount of flour (3 cups) when mixing the dough, then as you're kneading it, just be prepared that it may take a few tablespoons more flour than the recipe calls for, to make a smooth and elastic dough that's not sticky. Just work in a bit at a time, and it will turn out great!
I hope your family enjoys this easy Einkorn Brioche as much as my family does! It's really one of our favorite bread recipes!
Bon Appétit!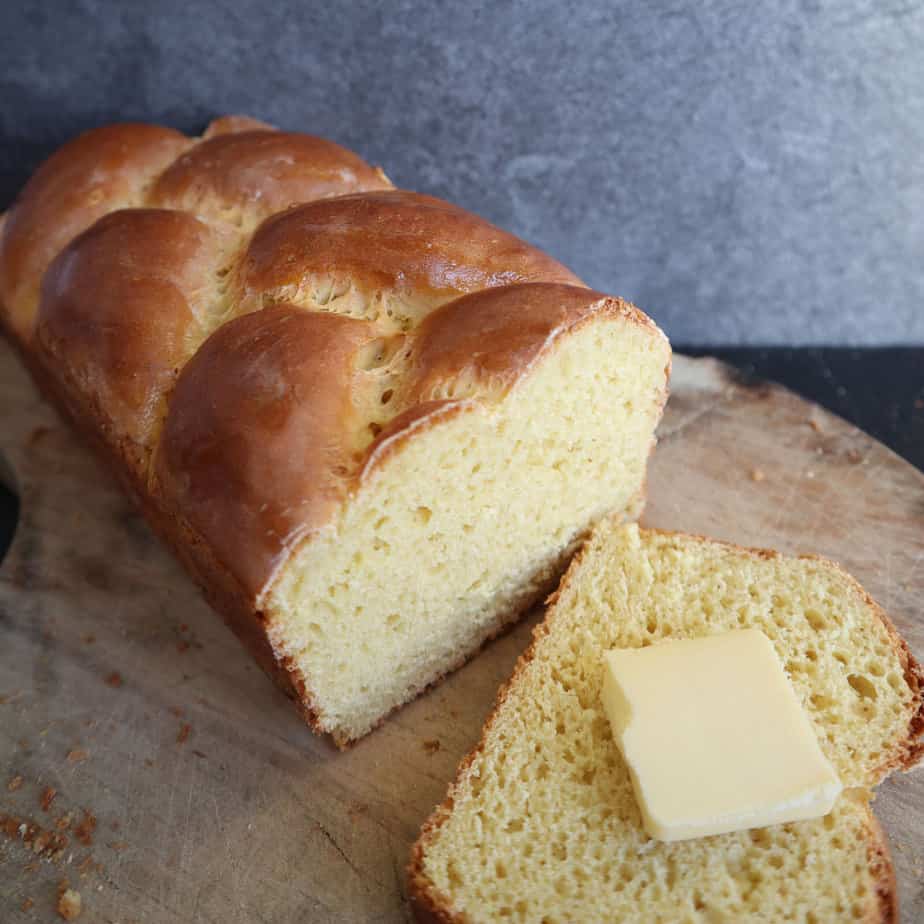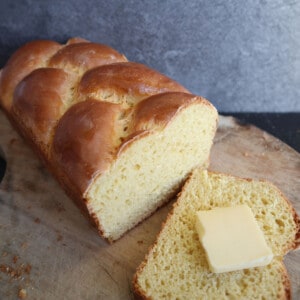 Easy Einkorn Brioche Loaf
This delicious Brioche loaf is made with nutritious Einkorn flour, and has a light buttery texture with just the right amount of sweetness.
Print
Pin
Rate
Ingredients
1/2

cup

Water

1/2

cup

Milk

2.25

tsp

Active Dry Yeast

(or one packet)

4

T

Unsalted Butter, melted

3

T

Honey

2

Eggs (divided)

1/2

tsp

Salt

3.5-4

cups

Einkorn Flour
Instructions
To a large mixing bowl, add water and milk.

Sprinkle the yeast over the top, and let rest for a moment, then whisk into the liquid to incorporate.

Add melted butter, honey, and one egg, plus the white from the second egg (reserve yolk for later.) Mix ingredients well.

Add 3 cups of the flour and the salt, then mix thouroughly to form a soft, pliable dough.

Sprinkle 1/2 cup flour on a work surface, then turn the dough onto the floured surface to knead. Knead until smooth and elastic - about 10 minutes. If dough seems wet and sticky, add additional flour to the work surface, and keep incorporating as you knead, until dough is smooth. Form into a ball and let rest for 10 minutes.

Meanwhile, generously grease a standard-sized loaf pan.

To form braided loaf: Roll dough into a log about 1.5 times the length of your bread pan. With a long sharp knife, slice lengthwise twice, leaving one end of the log intact. You should have three long "arms" of dough, joined at one end of the loaf. Carefully braid the three arms of dough until you get to the ends and have a braided loaf. Gather the three ends together, give them a little squish, and tuck them under the very end of the loaf.

Place the braided loaf into the greased pan, and let rise for an hour at room temperature, until double.

Toward the end of the rising time, heat the oven to 400°.

Whisk the reserved egg yolk in a small bowl with a teaspoon of water to thin it out, then brush very gently over the whole loaf to lightly coat. (You might not use the whole egg yolk, and that's ok.)

Place carefully in 400° oven, and bake 25-27 minutes, until rich golden brown. Loaf should sound hollow if gently "rapped" with a finger.

Let cool for a few minutes, then gently remove from bread pan, and allow to finish cooling.
Nutrition Facts
Easy Einkorn Brioche Loaf
Amount Per Serving
Calories 154
Calories from Fat 36
% Daily Value*
Fat 4g6%
Cholesterol 29mg10%
Sodium 86mg4%
Potassium 61mg2%
Carbohydrates 24g8%
Protein 5g10%
Vitamin A 130IU3%
Calcium 17mg2%
Iron 1mg6%
* Percent Daily Values are based on a 2000 calorie diet.
Notes
If your house is quite warm, it may actually take a little less than an hour for your bread to fully rise. In an especially cold house, it could take as much as two.
Nutrition
Calories:
154
kcal
|
Carbohydrates:
24
g
|
Protein:
5
g
|
Fat:
4
g
|
Saturated Fat:
2
g
|
Cholesterol:
29
mg
|
Sodium:
86
mg
|
Potassium:
61
mg
|
Fiber:
1
g
|
Sugar:
4
g
|
Vitamin A:
130
IU
|
Calcium:
17
mg
|
Iron:
1
mg
Looking for more seafood recipes? You might like:

✦ Grilled Salmon with Mango Lime Chutney
✦ Mediterranean Tuna Spring Rolls
✦ Keto Shrimp Tacos
✦Orange & Ginger Salmon with Tzatziki