This list of 100+ FREE holiday activity ideas will keep you having fun as a family all season long - without spending money!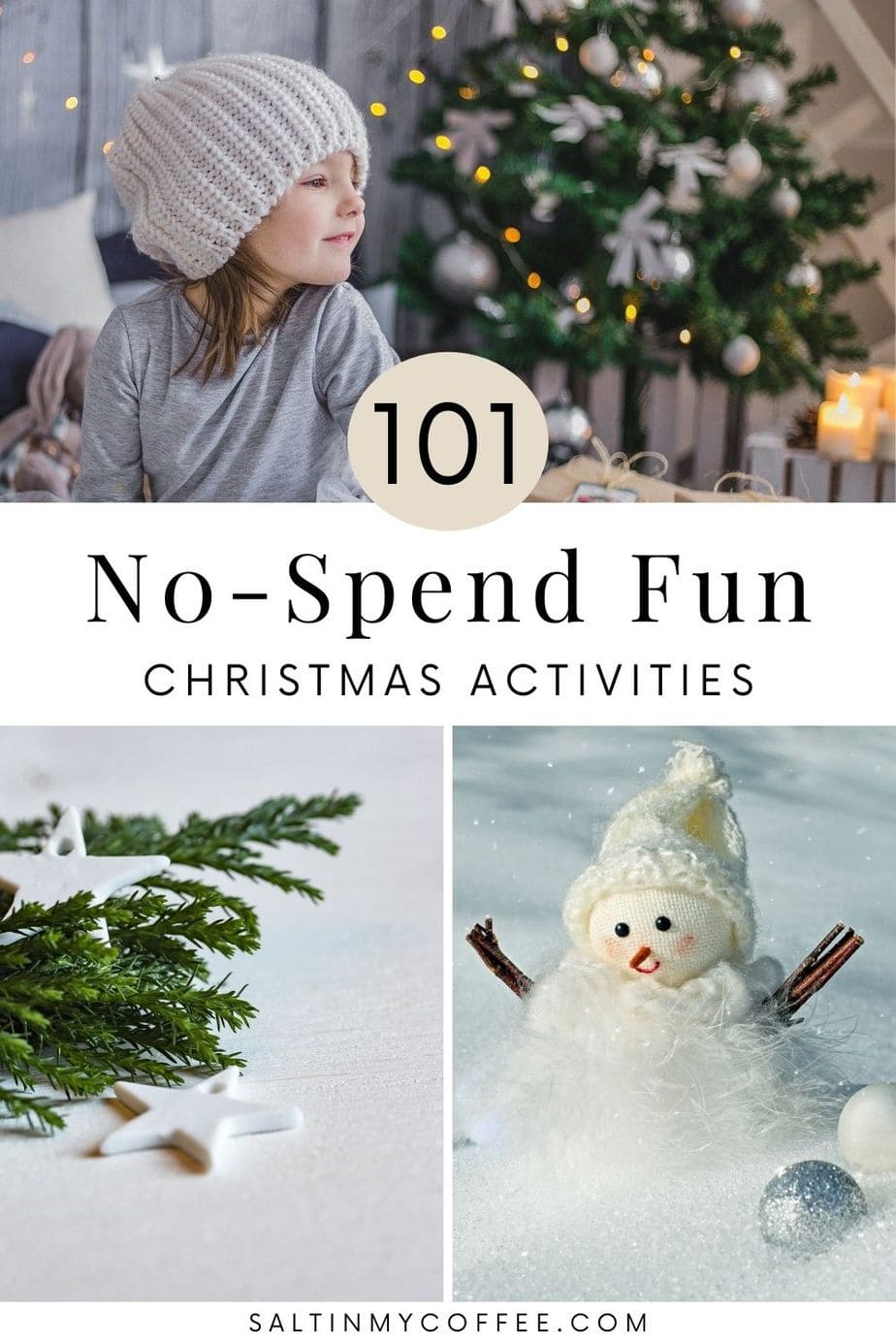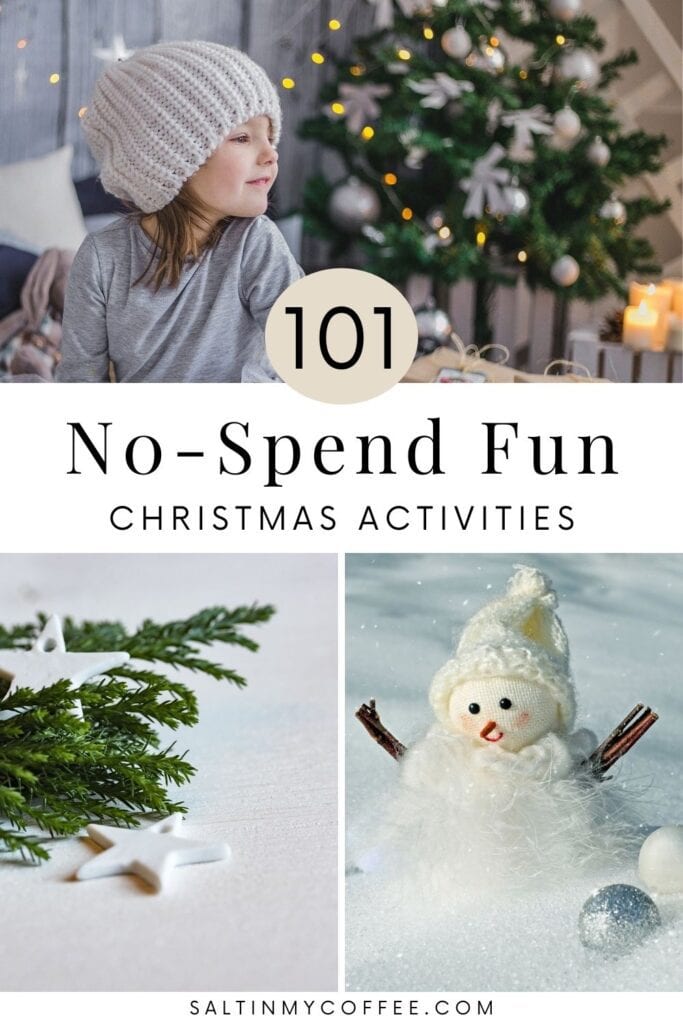 This has been a tough year for so, so many of us. From lost jobs, to lost loved ones, 2020 has been a doozy. If you're facing a tight holiday season without funds to do a lot of the usual Christmas activities, don't despair. There are SO many ways to fully, thoroughly enjoy the season, without spending money you don't have!
Below are 100+ no-spend Christmas fun ideas, that the whole family can enjoy. From crafts, to outdoor fun, to frugal ways of getting festive in the kitchen, I hope this list gives you some ideas that brighten the whole season.
101 may be big list, but I know this is just scratching the surface! Have ideas that you don't see on here? I hope you'll add them to the comments below!
DECK THOSE HALLS!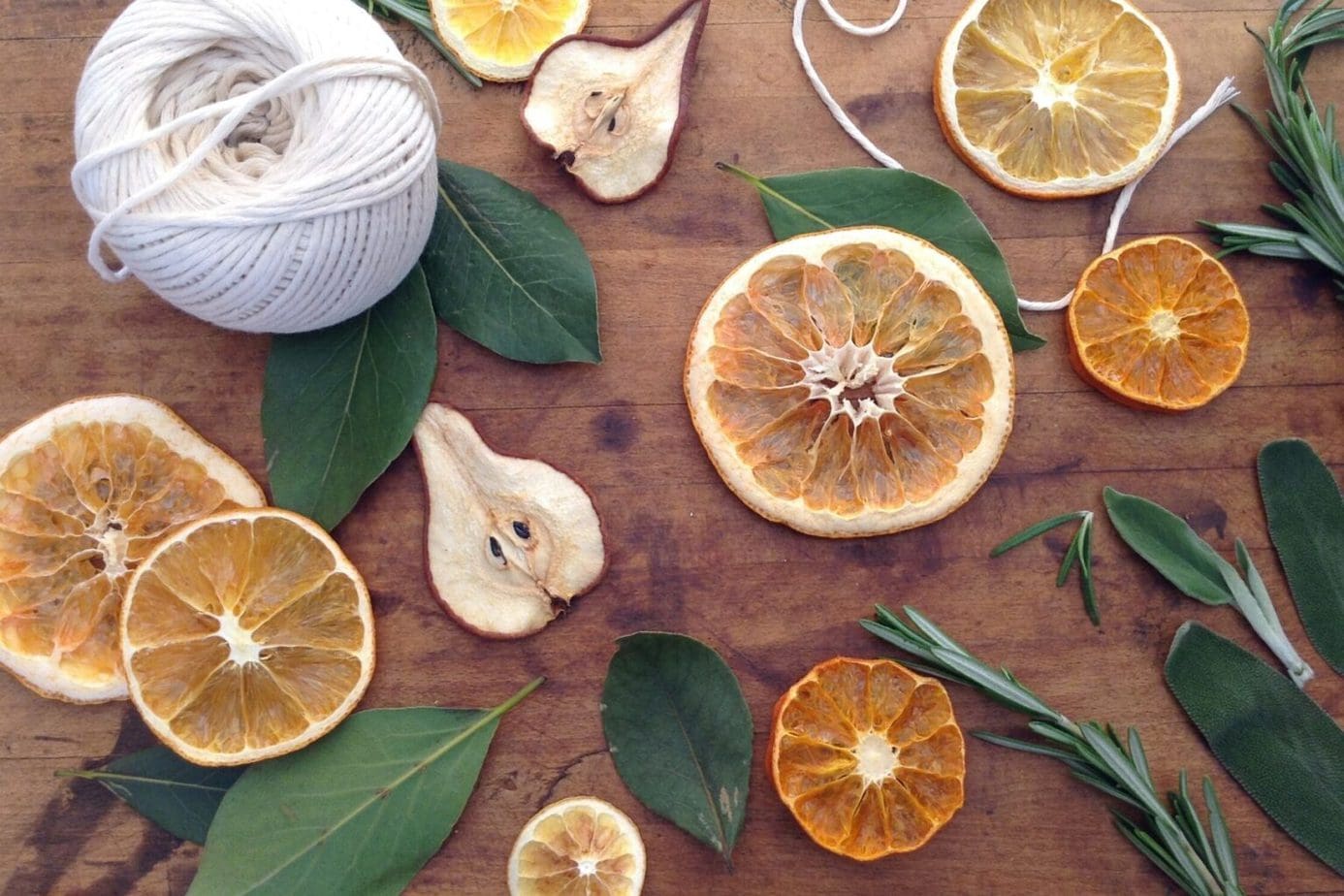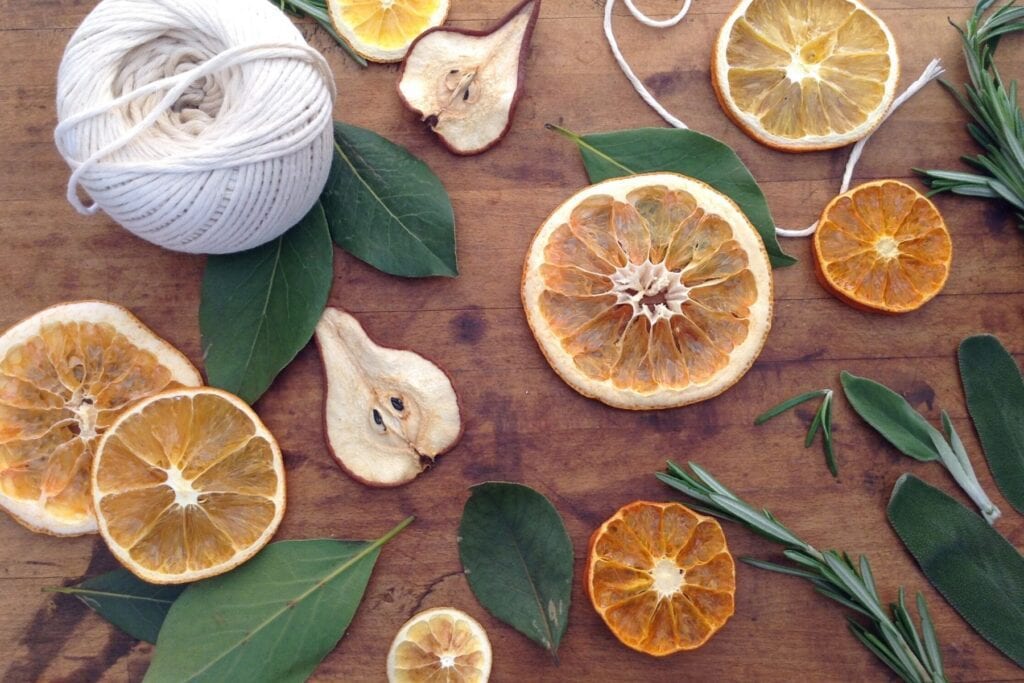 Decorate with nature
Some of the most beautiful holiday decorations are totally free, and literally grow on trees. Try putting a few fir tips and some pine cones on the mantle, or gather an armful of balsam boughs and tuck them into an old crock for instant farmhouse charm (and a house that smells amazing!)
Make new Christmas stockings for everyone
Get out the scrap fabric, and make a new batch of homemade Christmas stockings. I like this free printable Christmas stocking pattern.
Dig out your old camping lantern and put it on display
Lanterns just lend themselves to holiday decorating so well. If you have an old lantern kicking around, dig it out, and dress it up with a few pine cones, a bit of twine, and some fir tips. Pinterest has tons of inspiration for easy Christmas decorating ideas using lanterns.
Do a tabletop tree
If you ever go on walks in the woods, chances are you pass dozens of adorable baby evergreens on your way. I love digging up a little fir tree before the holiday season, and treating it like a house plant through the winter. Decorate the little darling for Christmas, and then plant it back outside when spring comes!
Decorate a houseplant
Don't want to dig up a tree, but love the live tabletop idea? Try decorating one of your larger houseplants! I used to have a little avocado tree that I'd grown from seed, and every year, I'd decorate the little cutie with tiny ornaments. It was adorable!
Draw on the bathroom mirror with dry-erase markers
This may feel a little reminiscent of college dorm life, but I love getting out the dry erase markers and decorating our large bathroom mirror during the holidays. It's a fun way to add some Christmas cheer to the morning shower and tooth-brushing routine!
Make ornaments together
There are SO many adorable handmade ornament ideas that can be made without spending a cent! If you do a search on Pinterest for handmade ornament ideas, you'll be met with countless tutorials and ideas! One free ornament I love making with the kids, is these little bird ornaments made out of birch bark - they're so cute!
Make a wreath together
I love making an evergreen wreath for the front door each year, and it's even more fun if the whole family joins in! This is a good step-by-step tutorial for making an evergreen wreath, but keep in mind you can do this without spending a cent. Instead of a wreath frame, just bend a wire coat hanger into a circle. If you don't have floral wire, just use whatever twine you have and tie it tightly - I've been here, done this, and it totally works!
Make a Christmas table runner
Grab your fabric scrap stash, and make an easy table runner. I think this one is so cute!
Turn a lost sock into an adorable snowman!
If you have a clean old white sock without a mate, turn it into the cutest little snowman ever!
Make Christmas luminaries
If you have some Epsom salt, kosher salt, or fake snow, and any kind of white glue or mod podge, than you can totally make these beautiful snowy jars. Just save a glass jar from some peanut butter or salsa, thin out the glue (it doesn't have to be Mod Podge), and use what you have for flakey white stuff - any one of these materials works great!
Gussy up your quilting hoop - they make great wreaths!
If you have a quilting hoop, get it out and dress it up for the holiday. Tie on a few evergreen branches with some twine, and add a few berries or pine cones if you have them, and done! For inspiration, check out this tutorial. But remember - you don't have to sacrifice your embroidery hoop, just tie on the greens with twine, and you can remove them after the holiday!
Make your own tree topper
Get creative and make your own angel or star - once again, Pinterest is so full of ideas!
Dig up a few bulbs from the flower garden and force them for Christmas
Can't spend money on Paperwhite bulbs this year? Try digging up a few daffodil bulbs from the garden, and force those instead. They'll be just as beautiful and festive!
Make some DIY mistletoe
Make a sprig of homemade "mistletoe" and hang it where you'll be sure to trap your loved ones! This post has so many idea for DIY mistletoe sprigs, you're sure to have materials on hand for one of these cute options!
Weave a simple Christmas star out of twigs
Follow these steps from Tanya, over at Lovely Greens, to make a delightful little star out of twigs!
Make a Christmas pickle, and hide it.
The first year I was married, my husband surprised me a with a tradition I'd never heard of before - hiding the Christmas pickle. It's a thing, it turns out. And while it may not be German in origin, as many believe, it's still a cute idea. Make a little pickle out of something you have, like construction paper, and hide it on the tree. Whoever finds it, gets to open the first gift on Christmas morning!
Make a Christmas stamp
If you have a potato you can spare, make a cute Christmas stamp that you can use for stamping Christmas cards or making your own wrapping paper.
Decorate with your seashell collection – wreath, tree, ornaments
Get out your collection of seashells, and some glue, to turn your seaside finds into a homemade shell wreath, a little tabletop Christmas tree, or even just simple ornaments for the tree.
Melt down a bar of soap and re-mold it into Christmas shapes
This is a fun one to do if you happen to have a Christmas themed silicone mold (the dollar store usually has several options each year, including gingerbread men, candy canes, and Christmas bells). Use a double boiler or microwave to melt your soap, and remold it following these simple directions.
GET OUT OF THE HOUSE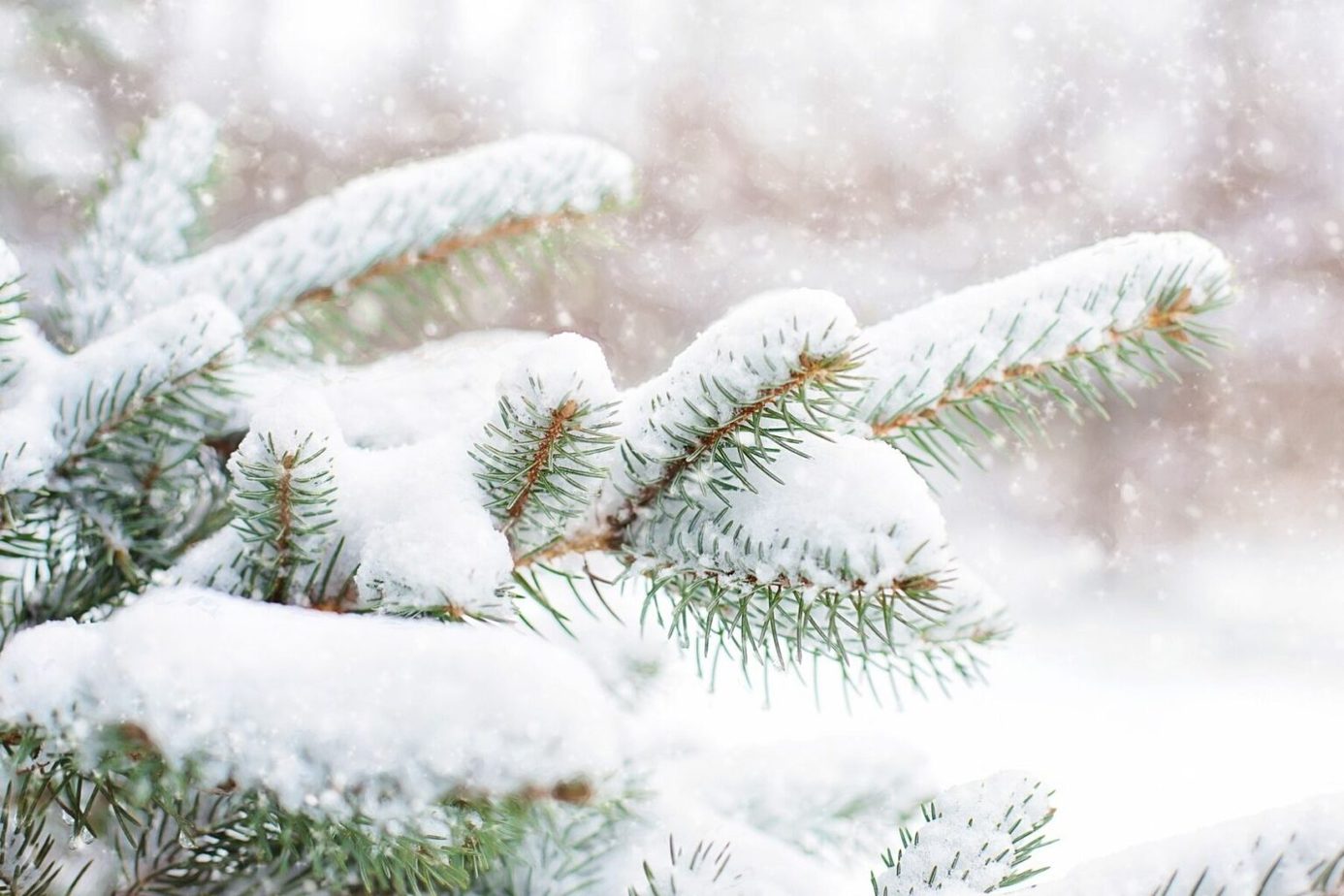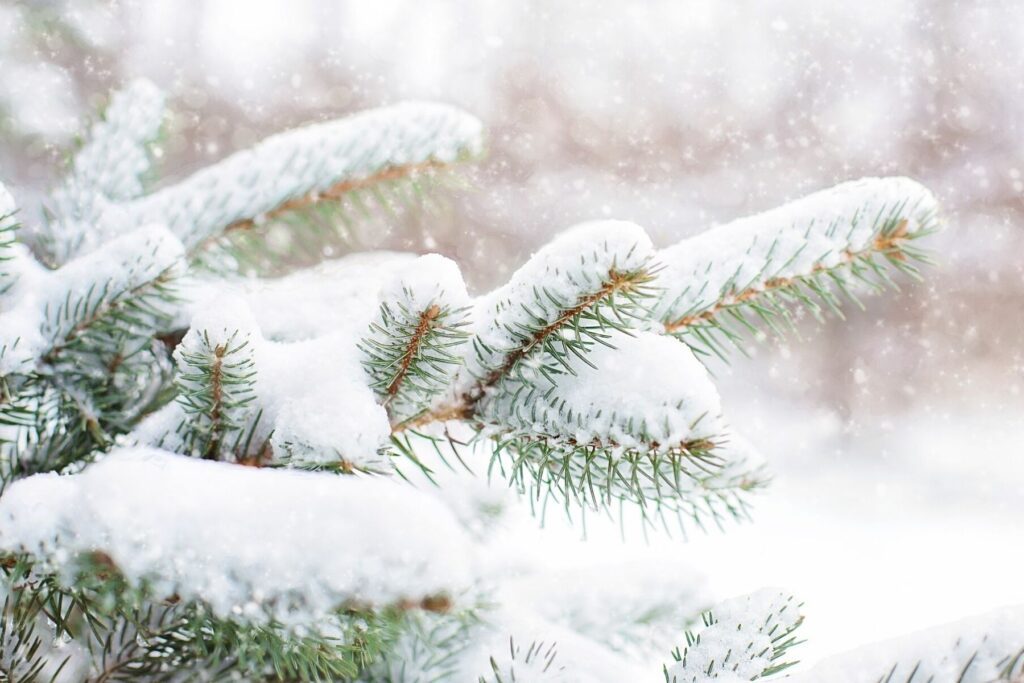 Go for a walk or drive to look at the decorated houses
Cut down a free Christmas tree together
If you don't have land with fir trees to spare, you may very well know someone who does!
Go sledding
Gather greens to make a wreath or swag for the front door
Take the whole family on a long walk, and bring some bags and pruning shears to gather a stash of greenery for wreath-making and decorating!
Decorate an outside tree – electricity not required
When we think of decorating an outdoor tree, yards and yards of electric lights usually come to mind. But if the cost of lights (and electricity!!) is prohibitive, don't let that keep you from decorating! Using natural items or waterproof ornaments, decorate a tree in your yard just like you would the indoor tree - you'll smile every time you see it!
Watch a parade
Most communities have some kind of holiday parade, and very often the fire department will drive through the streets of town with a "Santa" who waves or even throws candy. Check your town's website for updates on any free community activities you might enjoy!
Have a snow sculpture contest
If you have lots of snow, get outside and challenge your family members to a snow sculpting contest. If your kids are young, pair them up into Mom's team and Dad's team, and see who can make the most amazing snow sculpture in an hour or less!
GET MUSICAL
Learn a new Christmas song, and sing it as a family
If your kids are older, really go to town and have part of the family sing harmony. After you've mastered your new song, don't forget to call and sing it for Grandma and Grandpa!
Make a special Christmas playlist
Rather than just listen to a holiday station on Pandora, or Amazon music, why not make a music playlist that really gets you in the holiday mood? I've made a "Christmas Instrumental Favorites" playlist that I could listen to all day long, and it really lifts my spirits!
"Go caroling" by video chat
Dig out the Christmas records
I bet there are a lot of us who have record players and an old stack of records collecting dust somewhere. What better time than Christmas to dig them out, and get that vinyl spinning again?
Learn to play a Christmas song on an instrument you already have
You don't have to be proficient on an instrument to learn how to play a simple carol. If there's a piano or guitar sitting unused in the house, why not dig it out and learn how to "fake it" for an easy Christmas song or two? There are lots of YouTube videos that can coach you through it!
MAKE YOUR HOUSE SMELL LIKE CHRISTMAS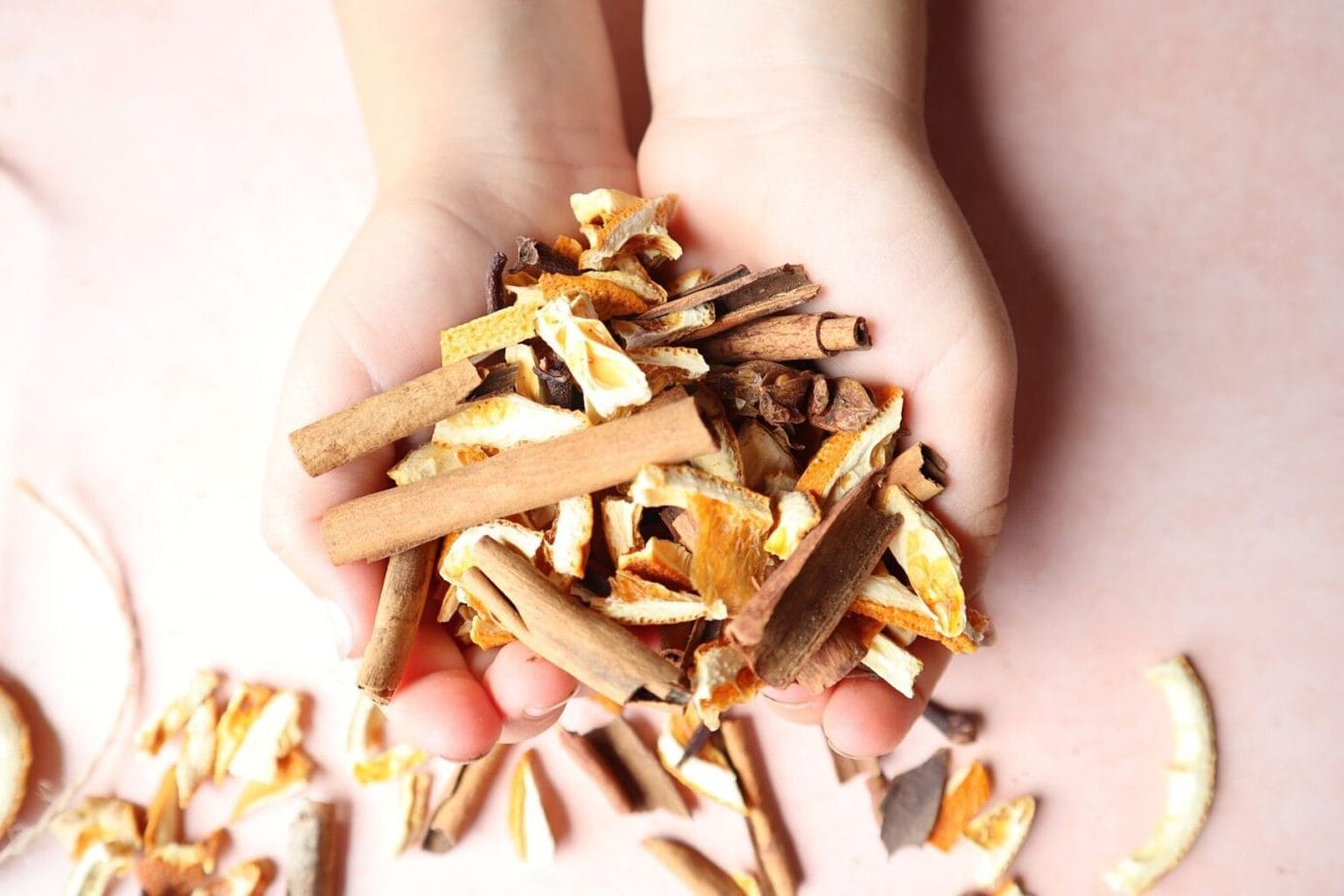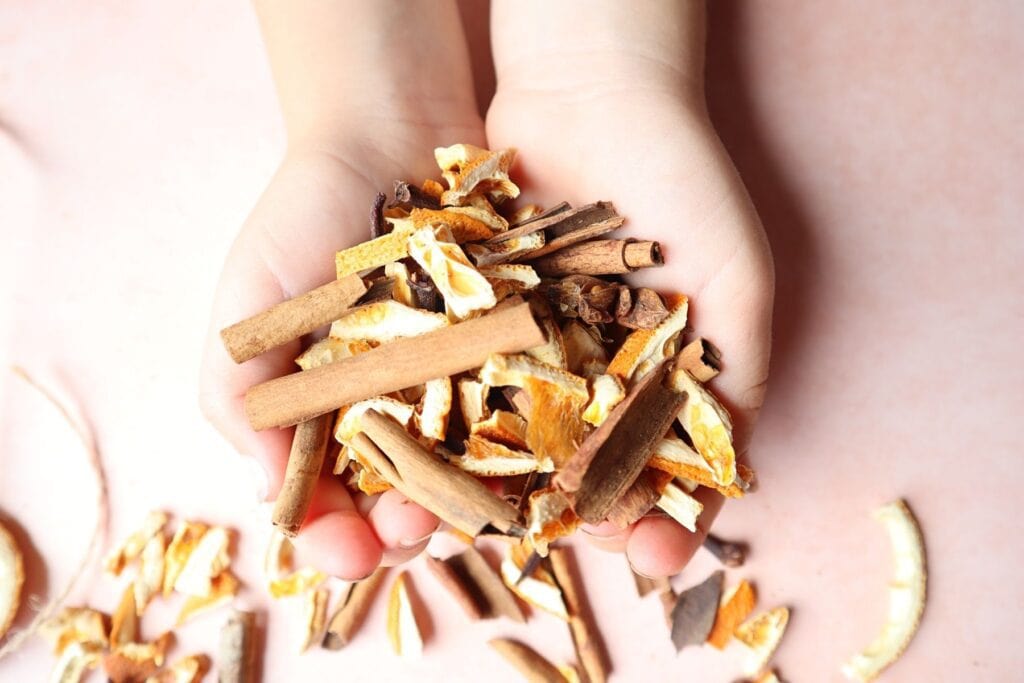 Make potpourri
Between what you already have in your kitchen, and free fragrant items that can be found outside, chances are you have all you need to create a heavenly batch of potpourri. I really like this easy orange spice version!
Do a "simmer pot" on the woodstove
If you heat with wood, it's easier than ever to keep the good smells going in your home. Get a little heat-safe pot, and put a handful of fragrant fir tips in there. Add a few citrus peels if you have some, and even a few spices like whole cloves if you can spare them. It's a great free way to make your home smell wonderful, all day long!
Use fir needles to make a household cleaner that smells like the holidays
Another great way to keep the house smelling like Christmas is to use an evergreen-scented cleaner. However, most commercial cleaners are packed with harmful chemicals and artificial scents. If you have white vinegar and access to some evergreen branches, you can make a batch of this homemade pine scented cleaner that costs almost nothing and smells naturally wonderful to boot!
CELEBRATE IN THE KITCHEN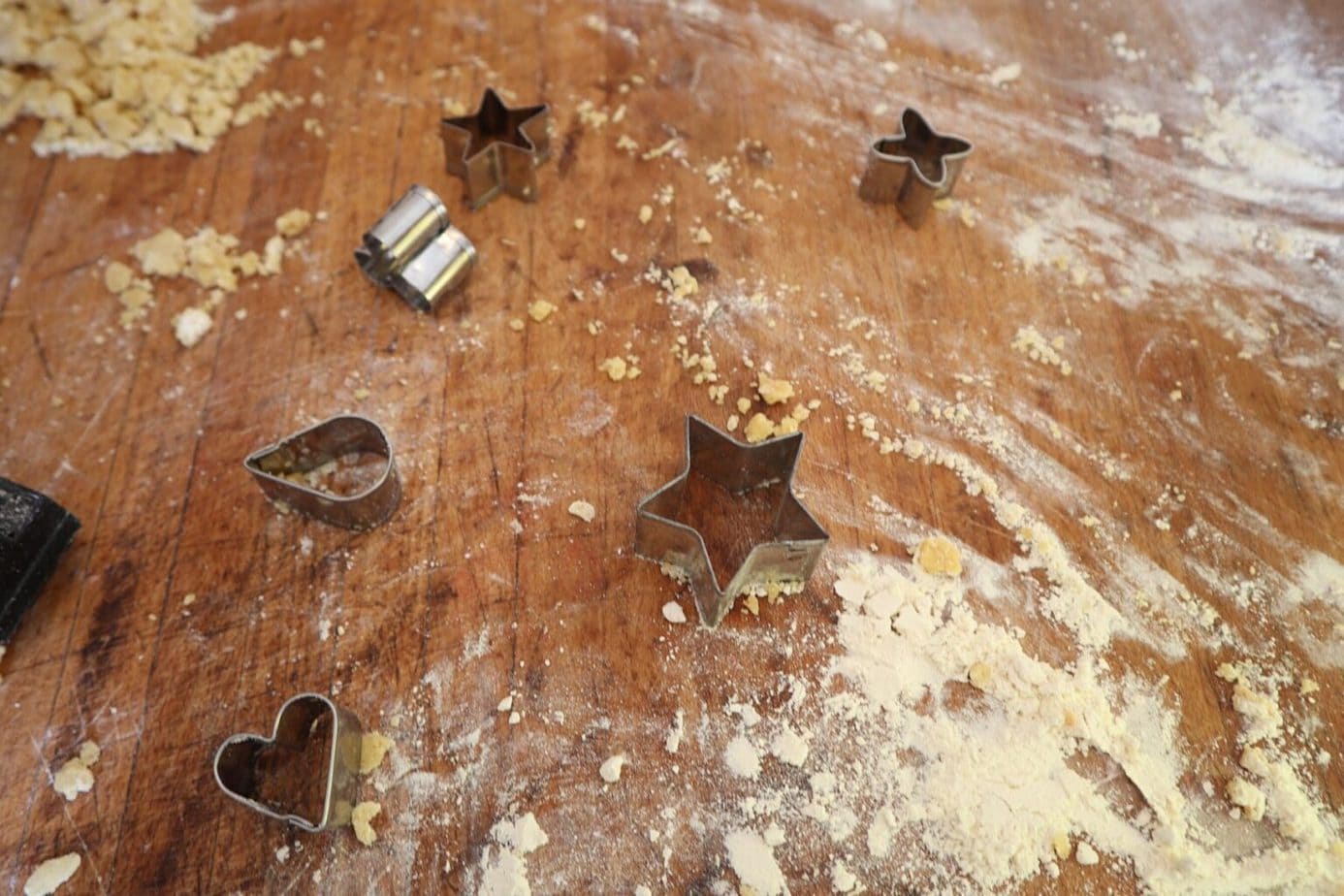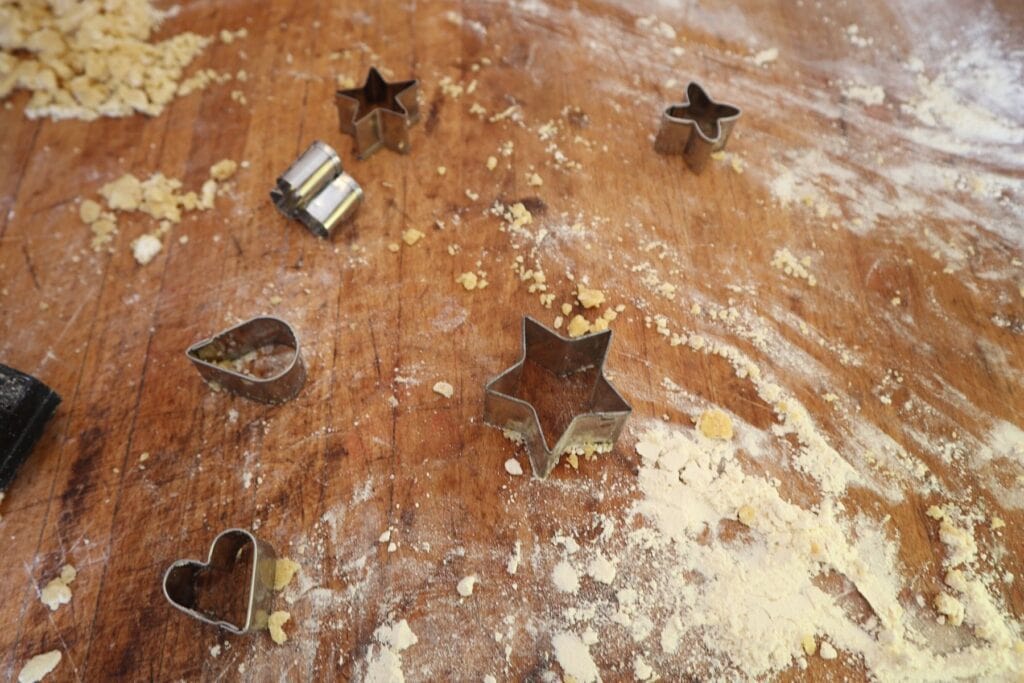 Create a signature holiday drink
I don't mean getting out the booze, I mean rummaging in the tea and spice drawers, and coming up with something new and festive. Check out this list of spices to try in your tea. You might come up with a new favorite you'll want to sip all winter long!
Put cinnamon in your hot chocolate
If you already have hot chocolate, try enjoying it with a little sprinkle of cinnamon. To me, a little spice is way more exciting than marshmallow or other sugary inclusions - and it really does taste like Christmas!
Make a Christmas treat with ingredients you already have
I completely know what it's like to feel that things are so tight this year, you just can't even afford the usual holiday baking. I have been there. But friend, before you hang up your apron, take a look in the cabinets at what you do have. There are so many frugal, but delicious treats that can be made with very few ingredients.
If you're in this boat, I really recommend reading through the comments on this post over at Money Saving Mom. It's just full of frugal holiday treat recipes that are shared by other readers who are in exactly the same boat. Plus, it's a great reminder that you're not alone!!
Use your Christmas cookie cutters to make lunchtime special
Making PB&J for lunch? Get out the cookie cutter stash and turn them into holiday finger sandwiches!
Make a "Blenny stew" from Olaf's Frozen Adventure
If you don't have small children, this one might not make sense. There's an adorable short film called "Olaf's Frozen Adventure" that's a follow-up to the original Frozen movie, and it's adorable. At one point, this stew gets a little screen time as one of Kristoff's holiday traditions - and it's an easy one to recreate.
It doesn't take any extra ingredients to turn regular old beef stew into a festive "Blenny stew" - just a little extra care with the presentation. (And maybe leave out the lichen!)
Decorate your food
Right now my parsley patch is still in full swing, so I have an easy supply of greenery with which to embellish our plates at meal time. If you have a rosemary or parsley plant, try adding a little sprig to each plate for a festive touch. Have a few cherry tomatoes? Jackpot! Slice one up and add a little red "berry" to each green sprig, and you have an instant "holly branch" garnish.
Assemble a family Christmas cookbook
This is a fun one! If you have a little blank book, copy or paste all your favorite Christmas recipes into one little book that you pull out every holiday season. It's sure to become a family treasure as the years go by!
Rediscover the joy of popcorn balls
While not exactly free, popcorn is so cheap I think it just about counts. Popcorn balls may be the ultimate frugal Christmas treat, because they're fun, festive, and so inexpensive to make. They've also gone remarkably out of fashion, but I think it's time to change that! Here's an old-fashioned, corn syrup-free version that I like.
Start mealtimes by singing a Christmas carol together
Make fruit roll ups, and cut them into Christmas shapes
If you have applesauce, you can make fruit rolls ups! Here's tutorial that will walk you through making fruit leather - no dehydrator needed. Take it a step further by using your holiday cookie cutters to cut it into pieces, when the time comes!
Get out the good plates
If you have a set of holiday plates that see the light of day only on Christmas, Thanksgiving, and Easter - try giving them a little extra exercise this season. Unless your kids are really little, eating off the good plates makes any meal special, and helps the whole season feel festive!
Create a festive centerpiece
This can be done with nothing more than an empty can, a bit of burlap or scrap fabric, and some evergreen branches. Check Pinterest for ideas!
Dig out the candle stash - and use them
What's more festive than eating by candlelight during the holidays? Don't just save the candles for date night, the whole family will enjoy the fancy atmosphere!
BE A LITTLE SENTIMENTAL
Create a Christmas memory book
Grab a blank book, and start writing down special Christmas memories from your childhood. Call the parents and Grandparents, and ask them for some special Christmas memories too!
Display sentimental keepsakes
Christmas is a time of year when I love pulling out special keepsakes and putting them on display. There's an old cow bell that belonged to my grandfather, a butter paddle that belonged to my great-grandmother. Some of these things tend to sit in safe, out-of-the-way places during the year, but this is a fun season for getting them out and enjoying them!
Go through old Christmas pictures and make a holiday album
Display old Christmas cards
I don't save every Christmas card, but each year there are a couple that are special, and they go in a floppy-sided old cardboard box. If you're like me, dig out that box and find some of your favorites. When you're done shedding a few sentimental tears (I can't help myself!) pull out some favorites, and put them on display!
GET CRAFTY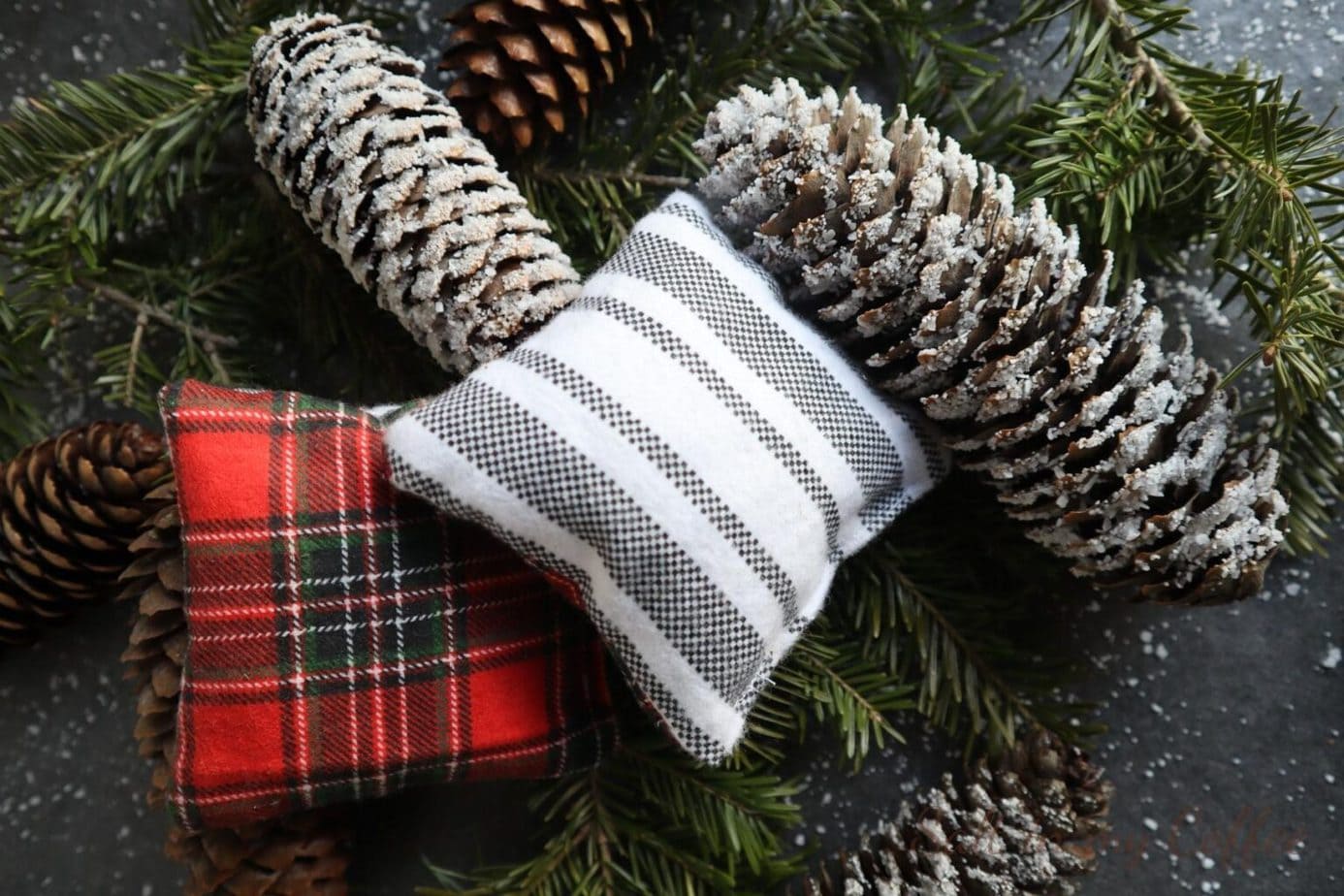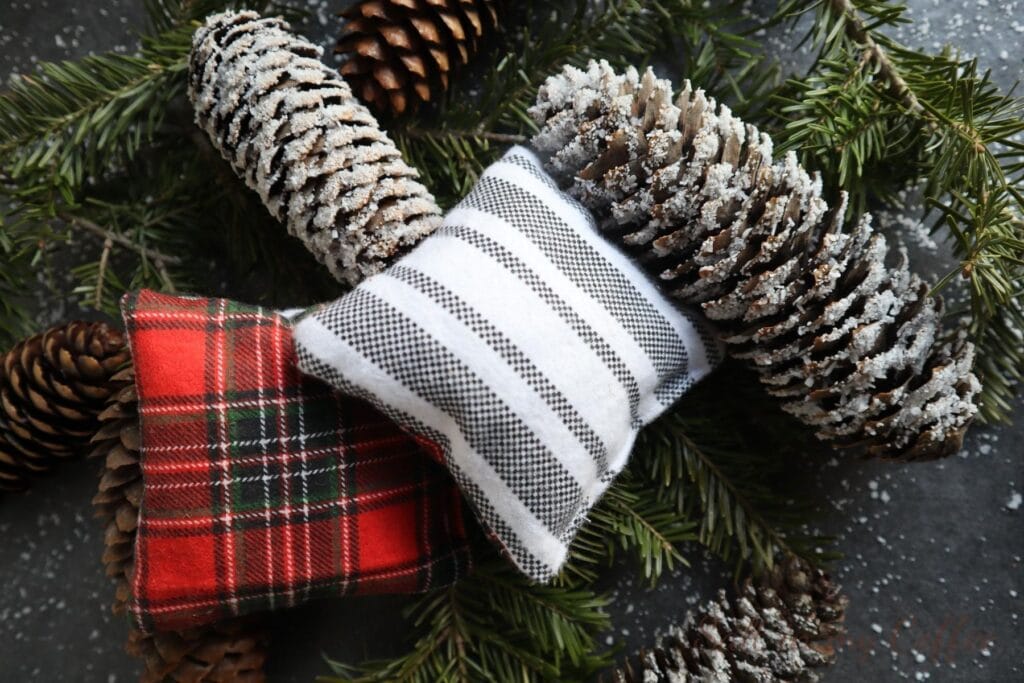 Cut paper snowflakes
This is one of the first holiday activities the kids and I do together each year, and it's not unusual for us to start decorating the windows with oversized snowflakes in early November!
Make an advent calendar from scrap fabric
Making an advent calendar from scrap fabric is so easy, and it gives tons of joy each morning as you count down the days until Christmas!
Make Christmas Cards
If you have paper, you can make Christmas cards, and the handmade card ideas are just about endless! Get thyself to Pinterest and start scrolling through the ideas, and you'll be filled with inspiration in no time!
Make balsam fir pillows with scrap fabric
Making balsam fir pillows is a 10 minute diy that costs nothing if you have some scraps of fabric, and it makes the whole house smell amazing! These also make wonderful handmade gifts!
Make a Christmas Stencil
With a sharp blade, and a piece of plastic from a lettuce tub, you can create an easy stencil to use again and again. Once you have your stencil made, you'll think of all kinds of ways to use it! Try stenciling your Christmas design on plain packing paper to create unique wrapping paper - it's fun and addictive!
Make a driftwood Christmas tree
If you have a stash of driftwood, or live by the water, a driftwood Christmas tree is fun to make! Just glue the pieces in a spiral, putting the largest pieces on the bottom, and working toward the smallest on top. Voila! A coastal farmhouse style holiday centerpiece!
Make a chain of paper angels
Cut a festive chain of paper angels, using nothing more than a piece of paper and a pair of scissors. They're so cute!
Make a Christmas tree forest from paper
There are so many ways to make stand-up Christmas trees using just scrap paper, and Pinterest is full of ideas, I especially like this folded version!
Melt down old candle ends to make some new Christmas candles
Here's a great step-by-step for turning your old candle ends into some fresh new candles for the holiday.
Make a Christmas pillow cover
Follow these easy steps to make a 10-minute pillow cover. Cut a Christmas tree or reindeer shape from scrap fabric and stitch or glue it on for an instant holiday touch.
EMBRACE YOUR INNER BOOKWORM
Read a holiday classic
A Christmas Carol is really hard to beat, but if you're read that one too many times, try one of these fantastic Christmas reads.
Learn about Christmas traditions in other countries
Your library almost certainly has books about Christmas in other cultures. Try studying the holiday traditions of a few countries that most interest your family, and see if there are some you'd like to try this year!
Write and illustrate a Christmas story for your kids
Ok, this idea may not be for everyone, but it's seriously not as daunting as you might think. Almost anyone can come up with a cute little story line, and I genuinely believe that anyone can draw well enough to capture the interest of a child. If you don't believe me, just check out the children's section of your local library!
It's become a tradition of mine to write and illustrate a short kid's story each year, based on a classic Christmas carol. Just grab some paper, and give yourself permission to create something that's not a masterpiece. You'll probably surprise yourself, and will certainly delight your kids!
Learn a historic Christmas prayer
Borrow some new Christmas books from the Library
Try asking your library for a few Christmas books that they think are just great! Sometimes trying a title you never would have found on your own, can be a great way to discover a new favorite!
Memorize Christmas readings, and have an old-fashioned recitation night
Of all the 19th Century traditions that have fallen by the wayside, I think that old-fashioned recitation nights are one worth bringing back. Have each member of the family memorize a passage with a holiday theme. Make it be just long enough that it's really a good challenge, but not so long that it's not fun anymore. Put a "recitation night" on the family calendar, and work with the kids to get comfortable reciting in front of the family.
Then make some treats, and hot drinks, and enjoy cheering each other on as you recite your memorized passages.
GET COZY!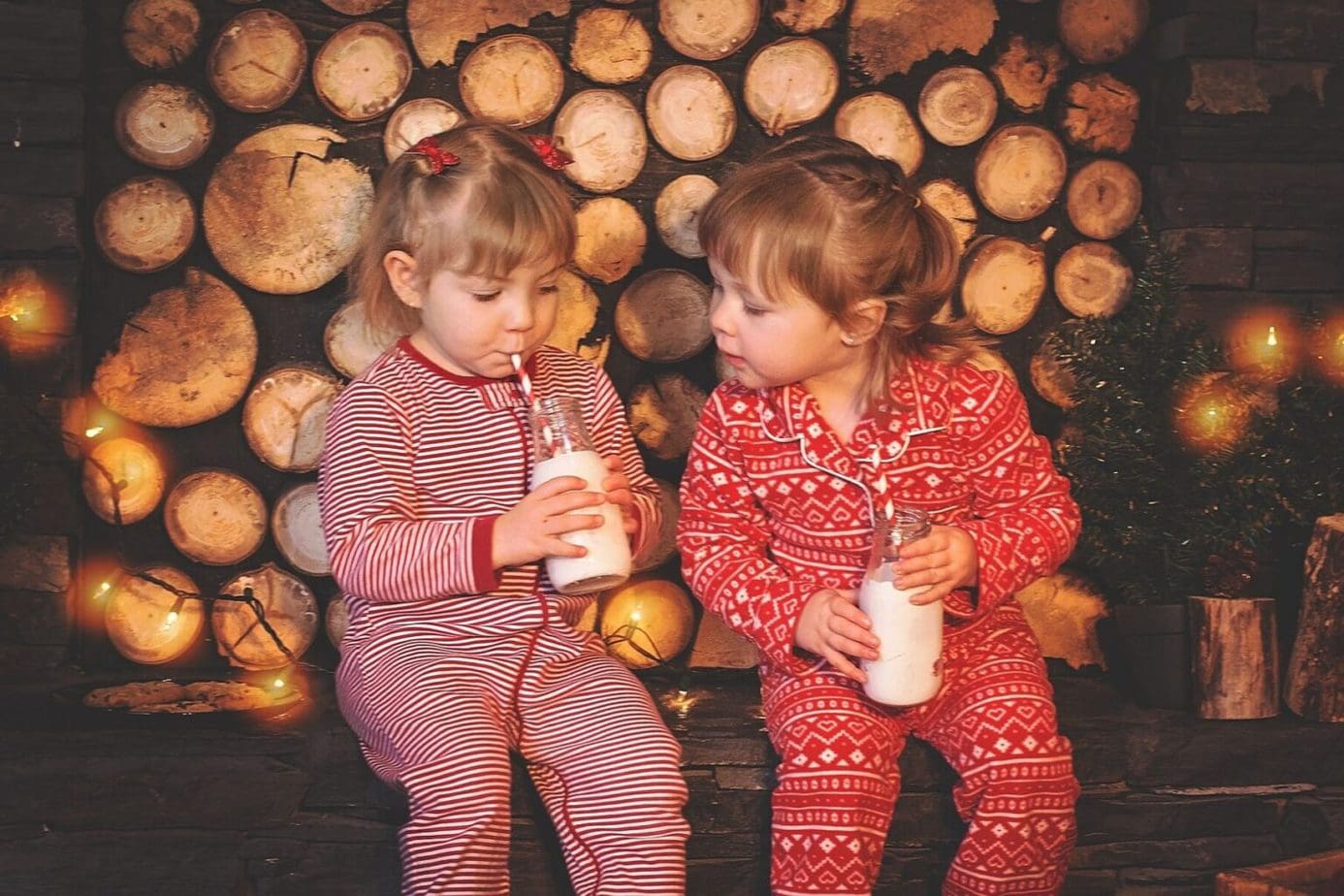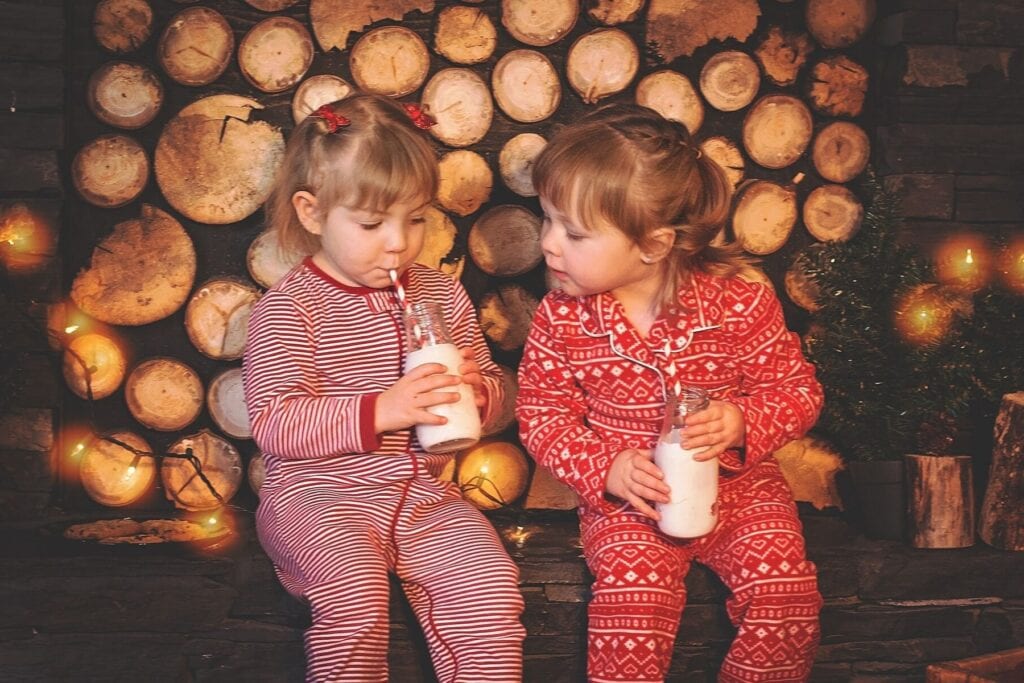 Read a Christmas story by lamplight
Sew a cozy cuddle blanket
If you have two pieces of cozy fabric that are big enough for a throw blanket, this is so easy.
Make up a cute Christmas story and tell it to your kids
If you're not used to storytelling, give it a whirl! It doesn't have to be any big deal. Try telling the Christmas story in your own words, or make up a cute and silly story about the time Mrs. Claus burned the Christmas cookies! Just get started, and wing it!
Call the grandparents and ask them to tell a Christmas memory from their childhood
Cuddle up by a fire with some hot cocoa and a cuddle blanket, then get one of the grandparents on video chat. If you ask, I'll bet they almost certainly can come up with some holiday memories you may never have heard!
Have a Christmas tree slumber party
Get out the sleeping bags and have a family slumber party by the light of the Christmas tree!
Make a family Christmas bucket list
Cuddle up with the family and big piece of paper. Make a list of all the fun things you want to do together this holiday season. Try asking things like "what's one holiday treat you most want to make this year? What outside activity feels most festive to you?"
Make some fun plans for the new year
While you "dream by the fire", as the old song goes - why not dream together about next year? What are some things you'd like to do or accomplish as a family?
Have a themed Christmas movie night
It's easy to just add "watch some Christmas movies" to a list of holiday ideas, but why not take it a step further? Create a special evening around one of your favorite holiday films. Are there foods featured in the film that you could try? How about dressing up as characters from the film?
If you need movie ideas, check out this great list of Christmas movies you can watch on Disney+, from my friend Lisa. Her whole blog is just full of helpful ideas for keeping Christmas stress-free!
Borrow a Christmas movie you've never seen from the library
There are SO many Christmas movies I love, that it can be hard to even fit watching all of the old favorites into one holiday season. But trying something new can be fun! If you're stuck for ideas, try this list of Christmas movies you've probably never seen. My favorite lesser-known holiday film? Emmet Otter's Jug Band Christmas!
SPREAD THE LOVE
Send a Christmas card to a nursing home resident
Ok, this one actually does cost the price of a stamp, so it's not quite free. But as one of my favorite frugal Christmas ideas, I couldn't leave it off this list. There are SO many lonely elderly people in nursing homes, many of whom are lonelier than ever this year, because of social distancing restrictions.
My family is making Christmas cards and sending them to elderly strangers through this organization - it's well organized, and easy to do!
Create your own holiday wrapping paper, with things you already have
Save the paper from any packages that arrive during the holidays, and use it to create your own unique wrapping paper. Use a stencil or stamp like suggested above, or just get out the markers or crayons and doodle away!
Drop off one of your homemade decorations to a neighbor or friend
If you've gone down the Pinterest rabbit hole, and made a bunch of holiday crafts with materials you already have, you may have more lovely centerpieces and other decorations than you need. Why not swing by and drop one off for a friend or neighbor?
Record a fun family video Christmas card.
It's easy to spend what feels like a fortune on stamps, when sending traditional Christmas cards. But sharing a Christmas video greeting - that's totally free! Try a free holiday video card-maker like this one, and send a special message to friends and relatives!
DON'T FORGET THE CRITTERS
Use an old feed bag to make stockings for your pets or chickens
If you have chickens, save a few feedbags and use them to make adorable Christmas stockings for your pets. I like this tutorial for making them!
Make a special treat for the cat or dog
It doesn't take many ingredients to make a tiny batch of special homemade treats for the cat or dog. Here's a frugal recipe for peanut butter dog treats that's easy to make!
Dress your pet for the holidays
It doesn't take much fabric at all to make a little bandana for the pooch! Follow this easy tutorial to make one. Or make a quick and easy no-sew bow tie for the cat's collar!
Make a treat for the birds or chipmunks
If you happen to have bird seed and tallow, these bird seed ornaments are adorable. But if not, don't despair. Check out this list of non-birdseed food items that you can share with your feathered guests!
DRESS FESTIVELY
Make new Christmas mittens from an old sweater
If you have some old wool sweaters you don't wear, there are SO many wonderful things you can do with them. One of my favorites is using them to make new mittens. And is there anything more festive than a wooly new pair of mittens?
Make Christmas pajamas
New matching family jams may not be in the budget this year, but if you have fabric floating around, you can still make cozy new PJs for everyone. Even a worn-out sheet or old men's shirt can do the trick! Here's a treasure trove of free patterns for making pajamas with fabric you already have!
Wear your ugly Christmas sweaters!
If you've got 'em, wear 'em!! Get your Christmas on with all the ugly old sweaters you don't usually wear. It might make you smile, and is almost certain to make everyone else smile!
Make a pair of new slippers from an old sweater
You can make cozy slippers from an old sweater too! There are many styles and patterns online, but I've used this one and liked it!
Knit a hat from scraps of yarn
This is an awesome list of knitting patterns for hats that can be made with just scrappy ends of yarn. What a great way to use up odds and end from the yarn stash!
PLAY GAMES
Play Christmas-themed charades
Here are the rules for classic Charades, along with lists of Christmas-themed words to act out.
Use Christmas-themed words, and hold a family spelling bee
There are many Christmas-themed spelling lists out there, that can be used for this. Try using a grade-appropriate list for each child, or a general list of Christmas words like this one.
Have a family talent show night
There's a scene from the movie Dan in Real Life that I especially enjoy, where the whole family gathers to have a family talent show. I think this is the sweetest idea, and as my kids get older, it's something I'd like to implement as one of our holiday traditions.
Christmas themed bingo night
Here are 11 sets of free printable Christmas Bingo cards to use for a fun holiday family Bingo night!
Play the game "Simile" like they do in A Christmas Carol
Do you remember in the George C. Scott version of A Christmas Carol, where they play a game of Similes as part of their parlour games? "As tight as...", asks Fred, and the answer is supposed to be "a drum", as Scrooge observes with frustration.
It's a wonderful scene, and really a fun game to play, especially for the bookish among us. Download this list of similes, to play it at home!
ENJOY A LITTLE SILLINESS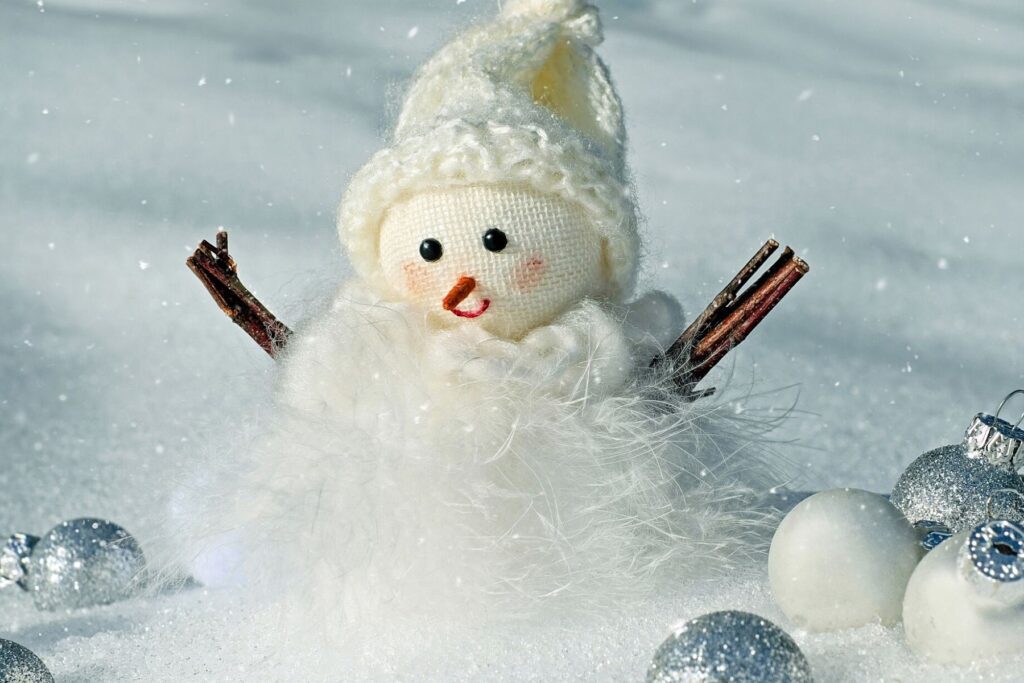 Play "make believe feast" and enjoy all kids of festive Christmas foods
Ok, this is one of those fun games that I think is the best, and my husband thinks is totally depressing. My kids and I LOVE playing "pretend feast", and at Christmas time, it's fun to play this with holiday themed foods that we've seen or read about.
There's nothing to it - just get a fancy little plate and spoon, and takes turns "serving." When it's your turn, pretend there's something wonderful (like a flaming plum pudding!) on the plate, and take turns passing it around, exclaiming about how delicious it is, sharing tweaks we might make the "recipe" next time, and describing the wonderful subtleties of flavor in our make-believe delicacies.
Izzy and I love this game so much, we keep a tiny tin cup on her nightstand, and play this every night as part of our cozy bedtime routine!
Name your ornaments
If your tree is anything like ours, there are probably dozens of little birds, reindeer, snowmen, and elves on there - all of which are clearly in need of endearing names. Have fun coming up with adorable names for all of the cute ornaments on your tree!
HAVE SOME FAMILY ART TIME
Sketch a winter scene using Charcoal
If you heat with wood, you have everything you need for this right at your fingertips. Fish a few nice little pieces of charcoal out of the cold ashes some morning, and grab some paper, then sketch away!
Drawing with charcoal is a blast, and using "found" charcoal instead of the store bought stuff is just fun, as well as free. Need a little inspiration? Check out this post on drawing nativity scenes with kids, using charcoal.
Make a nativity scene together out of clay or salt dough
If you have clay or play dough, why not work together as a family to make a lovely nativity scene? If you don't have clay, but do have salt and flour that you can spare, mix up a batch of salt dough, and let the figures harden, for a keepsake nativity scene that you can treasure for years to come!
Color printable Christmas coloring pages together
There are countless, countless sites for downloading free printable coloring pages, which makes it easy to have a family coloring party! I like this collection from Crayola, since it's ad-free, and doesn't contain stolen images, like many other sites can. I love coloring the same, simple scenes that my kids do, but if you're looking for something more challenging, here's a site that has more complex Christmas coloring pages for adults!
Make an old-fashioned Christmas scrap book
My mother fondly remembers keeping a scrapbook as a child. Her mother would let her cut out pictures she liked from catalogs or magazines, and glue them into it using a paste made with nothing more than flour and water.
It's such a lovely, old-fashioned pastime for kids or adults, and one that I enjoy doing with my kids today. I like to skip the plastic-toy-filled catalogs, and instead supply my kids with old homemaking magazines and LL Bean catalogs. We enjoy cutting out seasonal things like sleds, snowy Christmas trees, roaring fires, and adorable puppies, to make cozy holiday collages!
Can you believe that's 101 festive and fun ideas, that won't break the bank? And we're just getting started - I bet you've got other great ideas that belong on this list, and I'd love to hear them! Please share all your favorite frugal holiday activity ideas in the comments below, and I'll add them to the list!