If I had a dollar for every time we've said "where are Izzy's mittens?", I could buy many pounds of really good chocolate. Or really good coffee. Maybe both.
Point is, until being a parent, I thought one or two pairs of mittens were enough for anybody. Not so, my friends. Apparently, when it comes to toddlers, there are NEVER enough mittens.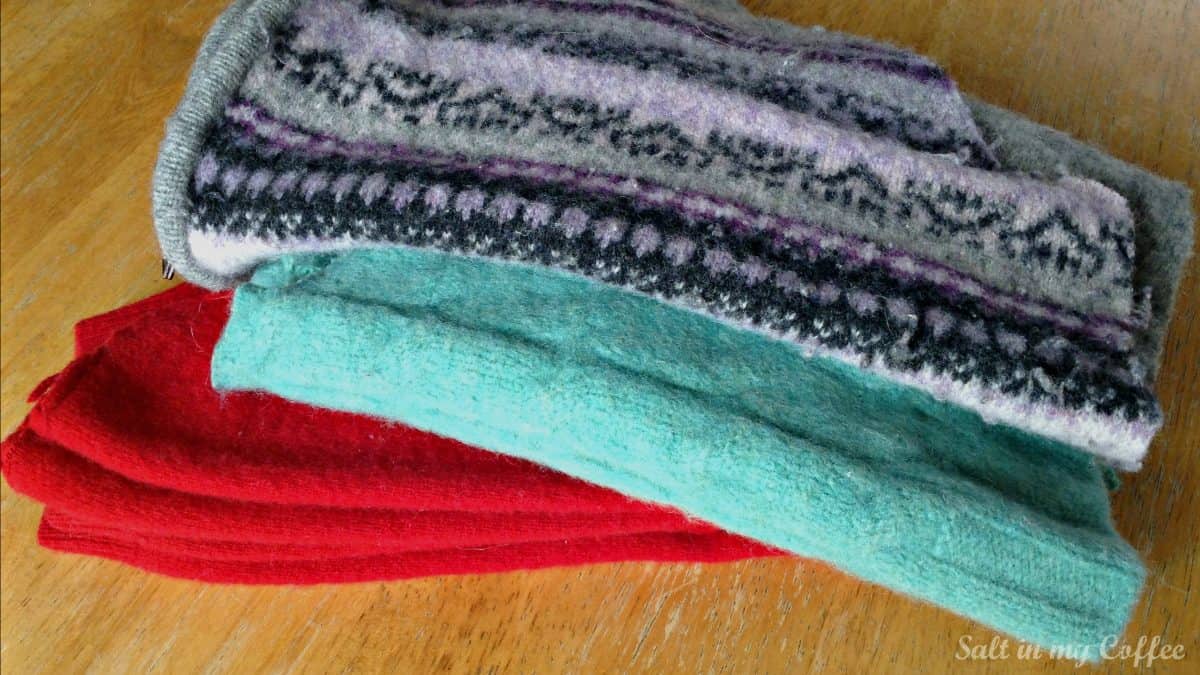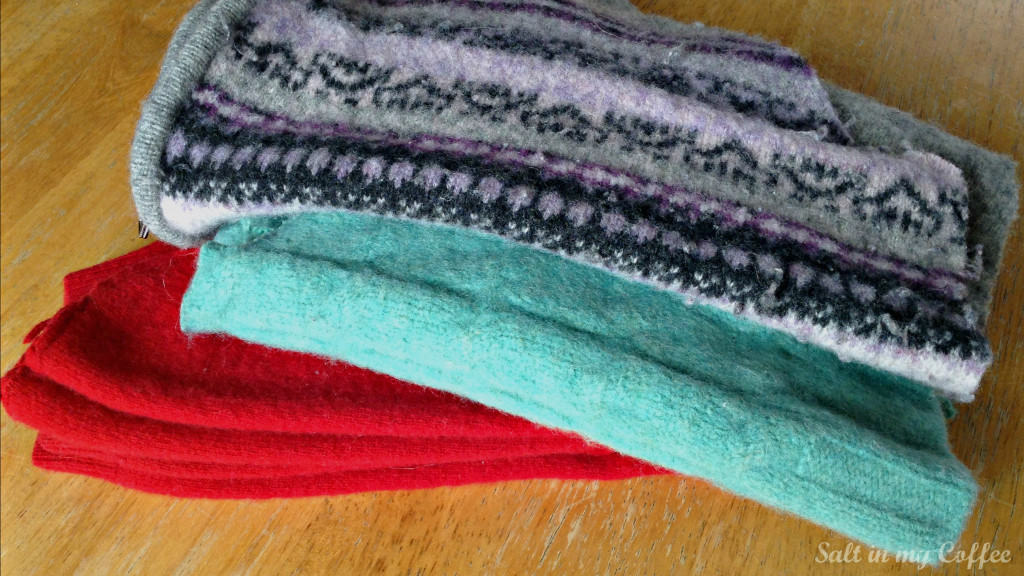 Thankfully, it's a cheap and easy fix. I have a huge stash of old felted sweaters, just wanting to be used, and that good wool felt makes fantastic mittens. I'll show you how I make them, and set you up with a printable pattern for sweater mittens.
First things first though - if you don't already have a stash of felted up sweaters, we need to remedy that. 100% wool felts best, but any sweater that's at least 80% wool or so will work perfectly well. Chances are you have a few hanging around that haven't been worn in years.
You know the ones. They lurk in our closets as shriveled testaments to distracted laundry days...days we forgot to pull the sweaters out of the wash, before tossing everything in the dryer. Or maybe, they've been victims of a few ardent moths - and though we have great intentions of mending those holes, we never have, and know we probably never will.
Dig those puppies out and throw them in with your next three or four loads of laundry. And each time, put them in the dryer. On purpose. The result will be wonderfully thick, squishy wool felt. If you haven't worked with felted sweaters before, you're going to get hooked. You may find yourself stopping at thrift stores, for no other reason than to check out the sweater section and snap up all the good wool ones.
I digress. Now that you have some felted wool, we're ready to make those mittens.
How to Make Sweater Mittens
First, you need to print and cut out a pattern.
Option A. You can download my pattern here (It includes both toddler and child sizes). To make sure the size is a good fit, compare it to a mitten that fits your child well. The mitten should fit inside the pattern with a little extra space all around. Chances are, one of those pattern sizes should be just about right, but if it's a little too big or small, just scale it up or down a bit with a copier.
Option B. Trace your own - hunt down a mitten that fits your child well (you only need one, so any mate-less old favorite from the bottom of the mitten box will work fine.) Trace it, leaving a 1/4" seam allowance on all sides. Whichever method you choose, cut out your pattern and lay it down on the felted sweater, lining up the bottom of the cuffs with the bottom hem of the sweater. Pin the pattern down and cut it out, right through both front and back of the sweater. Scissors work just fine, but a rotary cutter really makes this super easy. Un-pin the paper pattern, flip it over, and cut another set of mitten pieces, again cutting through both front and back of the sweater. Flip each set of mitten pieces, so that right sides, instead of wrong sides, are now facing each other.
Pin mitten pieces, making sure right sides are together. Sew all around, from one edge of the cuff to the other, leaving a 1/4" seam allowance.
Remove pins, and turn mitten right side out. Repeat pinning and sewing with the other mitten. That's it! Tuck those woolies onto some little hands, and send her out to play. Wooly mittens are great for collecting eggs. And holding hands.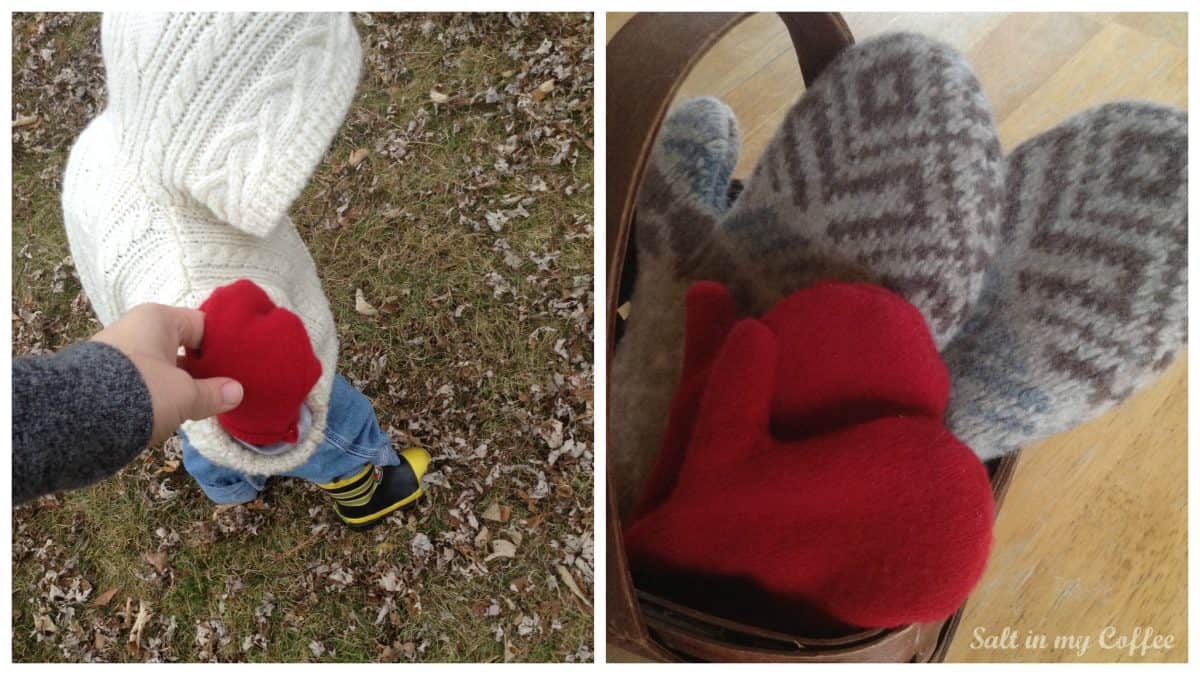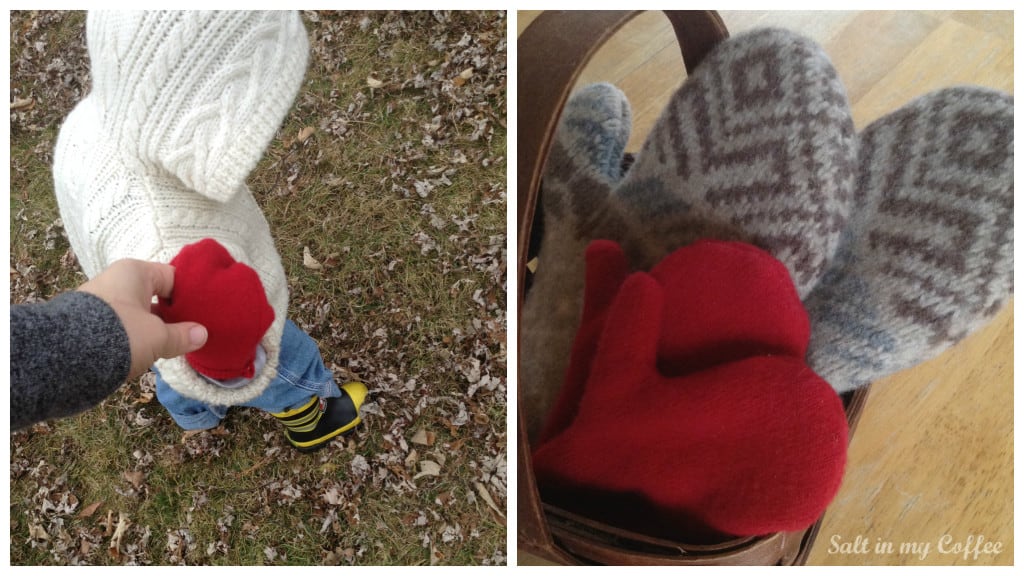 Once you've remedied the toddler mitten shortage, you're going to want to make yourself a pair too! Here's my pattern for adults. I also think these mittens make a delightful and heirloom-worthy gift, when made from an old sweater of Grandma or Grandpa's!
Have some cute little sweater mittens you've made? I want to see them! Drop me a line and let me see what you came up with!
Happy sewing!
Read Next: Handmade Herbal Heating Packs
If you liked this post, you may also enjoy:
✦ DIY Felted Wool French Press Cozy
✦ Dyeing With Goldenrod
✦ Dyeing With Devil's Beggartick
✦ Handmade Grapefruit Lip Balm
✦ DIY Wood-Rejuvenating Spoon Butter

Pin for later: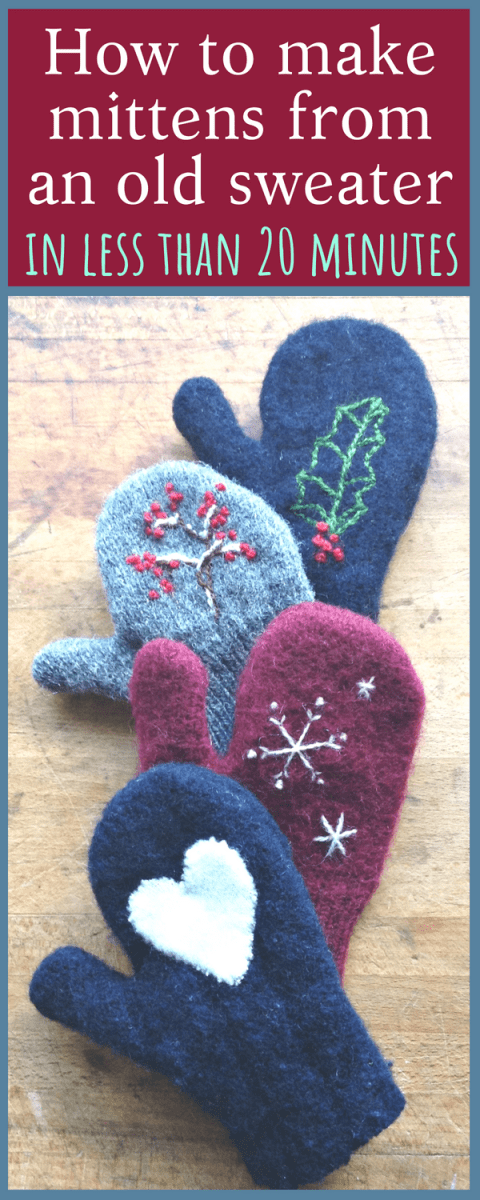 Save
Save
Save
Save
Save
Save
Save