Herbal heating packs are easy to make, and can be used hundreds of times. They make a thoughtful handmade gift, and can be made from upcycled materials that might otherwise be wasted. Learn how to whip up a quick heating pack of your own!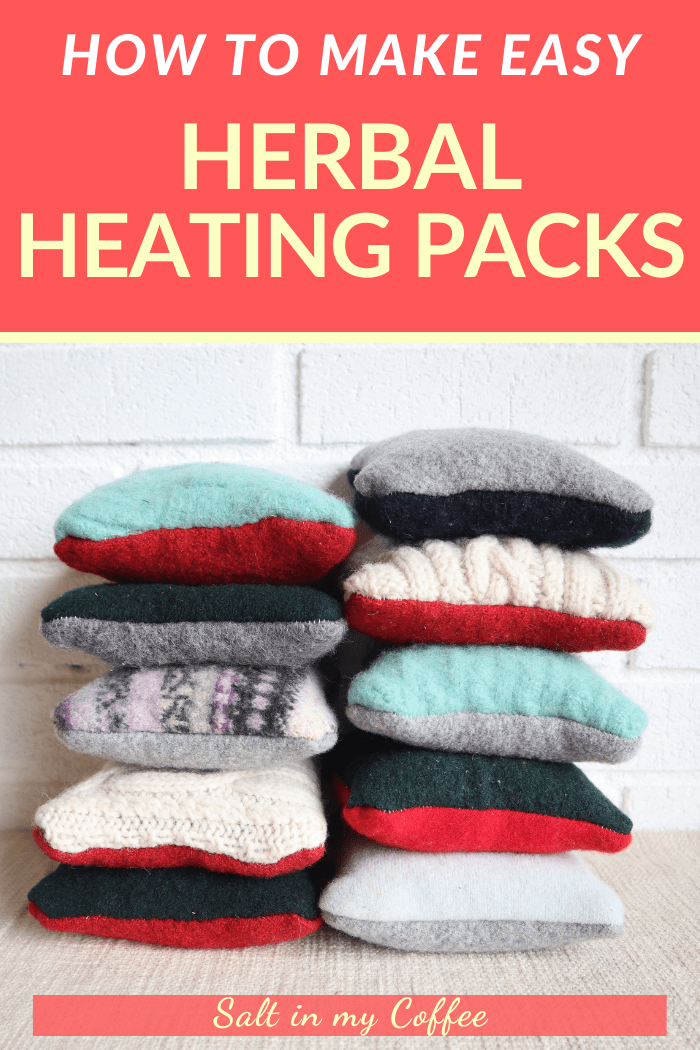 As the colder days of fall set in, I always find myself rushing about in a last-minute surge of outdoor projects. Garlic needs to be planted, bushes and trees transplanted before the ground freezes, window boxes must be put away, and there are always five beautiful cords of wood that need stacking.
I work like a crazy little bee until suddenly a day comes, when it feels like we're finally ready for winter. And then the indoor fun starts. My neglected sewing machine gets tuned up and starts humming again. Postponed painting projects finally get finished. It's crafting time.
The first things I make, once crafting time begins every fall, are a new pair of felted wool mittens for everyone, and a winter's worth of heating packs. We live in Maine, and heat with wood, so our bedrooms stay fairly chilly in the winter. Reusable heating packs make for a much toastier and cozier bedtime, and we use them every day.
Making them is a fast and easy project, and if you have little ones, it's a GREAT first sewing project! My five year old felt like an old pro making them this year, but it was my 3 year old's first time at the sewing machine with me, and he was so elated. He couldn't be prouder of his first heating pack that we made together!
How to make an easy Herbal Heating Pack
First, choose a material:
Almost any natural fabric can be used for creating a heating pack. Some great choices are:
Felted wool
Denim
Thick flannel
Cotton uphostery-weight fabric
Those are some of my favorites, but almost any cotton or wool fabric will work just fine. Avoid synthetic fabrics like polyester or acrylic, since they're made with chemicals which may be released when they're heated.
Last year I made my heating packs from soft denim that I'd salvaged from worn-out jeans. This year, I decided to make them extra cozy, by using some of my felted wool stash.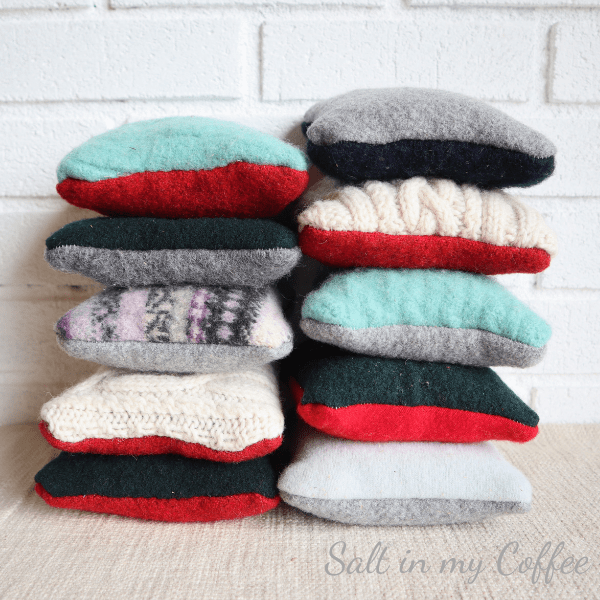 Choose a filler for your heating packs
There are many things you can use to fill a heating pack:
Dried field corn
Dried beans
Rice
Cherry stones
Small smooth river stone
Buckwheat Hulls
I've actually experimented with using all of these. Cherry stones are my absolute favorite, because they have a lovely weight to them and retain heat extremely well.
Dried corn is generally the cheapest option, if you're making a large number of heating bags, since a 50lb bag of feed corn can usually be bought for well under $10.
If you're making up just a few heating packs, a big bag of rice from the dollar store is a very economical option.
River pebbles are heavy, and very hard on the material and stitching of the heating pack, but it's an option that allows the most weight to be applied to a sore area, and it has (in my experience) unparalleled heat retention ability.
Dried beans work just fine, but I do feel they tend to have an odd odor when heated - they're not my favorite.
Buckwheat hulls don't hold onto heat as long as cherry stones or field corn, but they make for a very lightweight heating pack, which can be wonderful when you need heat on a sensitive area - like seeking relief from a headache or migraine.
Buckwheat hulls also work especially well if you're adding herbs to your heating packs, since lightweight herbs mingle evenly with the lightweight hulls. You can, however, add soothing herbs to heating packs made with any of these fillers, and it will work just fine.
Select dried herbs for your herbal heating packs
There are SO many wonderful plants that can work well for creating a soothing herbal heating pack. Some great options include:
Lavender
Chamomile
Mint
Rosemary
Lemongrass
Lemon Balm
I went with chamomile and mint this time, since both have wonderful relaxation properties that make them great herbs for bedtime.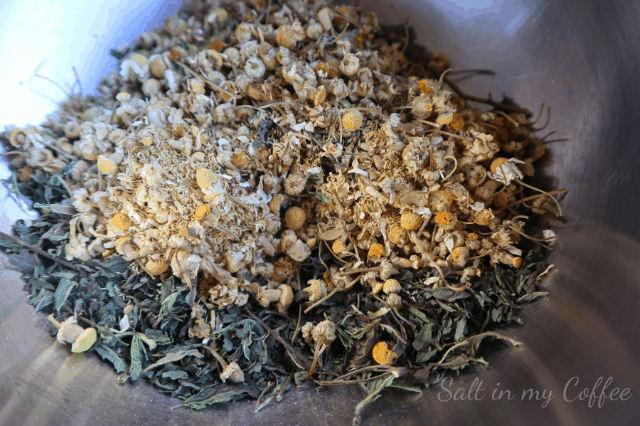 Cut your fabric
You'll need two pieces of fabric for your heating pack. They can be different materials, they just need to match in shape and size.
I often whip up bags in a hurry without measuring. it's perfectly fine to lay your two pieces of fabric one on top of the other, and cut both together in a size and shape that's pleasing to you.
If you prefer to have a template, you can either print one, or use something you have readily available. For a printable pattern, I think 7" square is really a perfect size for these herbal heating packs, and you can print a 7" pattern here.
Or, try just using an object that you have handy. Using a CD case makes for a very nice "pocket-sized" heating pack. A paper-back novel makes a great mid-sized pack, and a sheet of printer paper makes a heating pack that's about the largest size I'd recommend.
These are all things most folks have lying around. You can trace around them onto your fabric, and then cut out your pattern.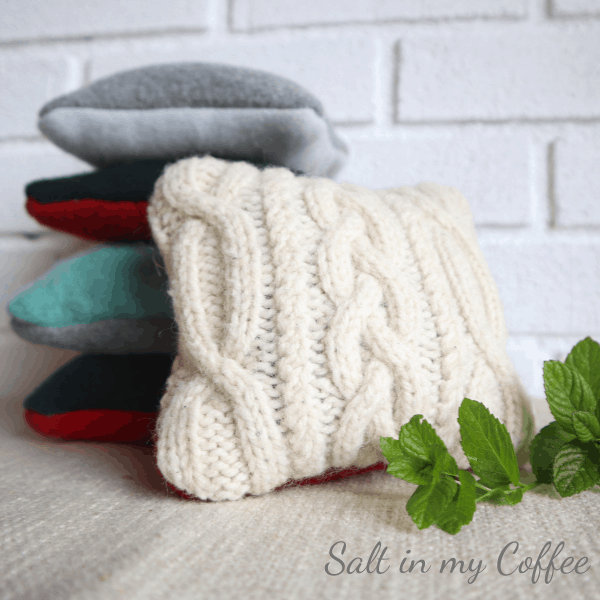 Sew your seams
Place your two fabric pieces with right sides together. I don't generally pin my fabric pieces, since I usually make a simple small square or rectangle shape, and don't find the need to. But if you're making a shape with rounded edges or curves like a heart, you might want to pin your fabric.
Stitch around your fabric, leaving a 3" opening.
Through the 3" opening, turn your heating pack right side out. You're now ready to add your herbs and the filler of your choice.
Stuff the heating pack with filler and herbs
I find it's easiest to first add the herbs to my heating packs. Since I grow most of my herbs, or buy them inexpensively by the pound, I'm liberal in my use of them and put in 1/4-1/3 cup in each bag.
However, if you have just smaller amount of herbs that you've purchased at grocery store prices, that may feel cost-prohibitive. Even 1 or 2 Tablespoons of herb in a heating pack will create a soothing aroma when the pack is heated.
If you're making many heating packs, and are working with one of the lighter fillers like buckwheat hulls or rice, you may want to mix your herb right in with the filler, so you can quickly fill each heating pack one right after the other. (This really only works with lightweight fillers, since the herbs won't stay well mingled.)
Once your herbs are in, add filler until the pack is nicely filled, but allows room for stitching the opening shut.
Stitch your herbal heating pack closed
If you're working with thin fabric, like cotton twill, flannel, or even well-worn denim, you may be able to machine-stitch your opening shut. With raw edged tucked in, sew a straight seam over all four layers near the edge, being sure to back stitch the ends of your seam.
Chances are though, your fabric may be thick enough that you'll want to just hand-stitch the opening shut. I prefer using a "blind stitch", but you can also just use a quick whip stitch. Both are easy and fast.
Once you've sewed the opening shut, your heating pack is done, and ready to use!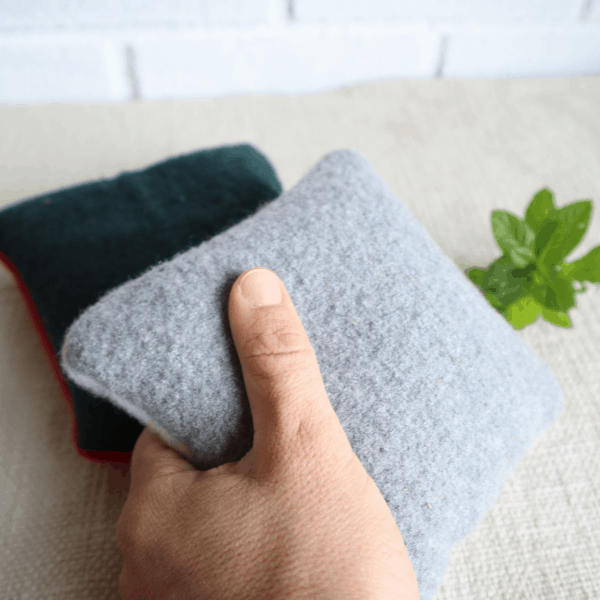 How to use your herbal heating pack
I haven't used a microwave in over a decade now, but for most folks, that's probably the fastest and easiest way of warming up your heating pack. The first time you warm it, I would start with 90 seconds and then add time as necessary to make it as warm as you like. You'll find the length of heating time that works best for your heating pack and microwave. If a pack is heated too long, the filling can scorch, and that smell will be anything but soothing!
To heat an herbal warming pack without a microwave, there are several ways you do this:
Place it in a warming drawer, if your oven has one.
Warm it inside the oven on the lowest possible setting
Place them near your woodstove, turning them a couple of times so they heat evenly.
I've also heard of folks heating them in a crockpot, though I've not tried this personally.
Read Next: How to Make Mittens From an Old Sweater
How to care for your herbal heating pack
Between uses, you'll want to store your heating pack somewhere that mice can't possibly get to it. I found out the hard way that mice have an uncanny ability to find heating packs that are made with corn or rice!
Be sure that your heating pack doesn't get wet, or it can easily get musty and mildewy inside.
Handmade herbal heating packs are fast and easy to whip up, and with proper care, they can be used hundreds of times. If you're anything like me, once you make one, you'll want to make a dozen!
Happy sewing!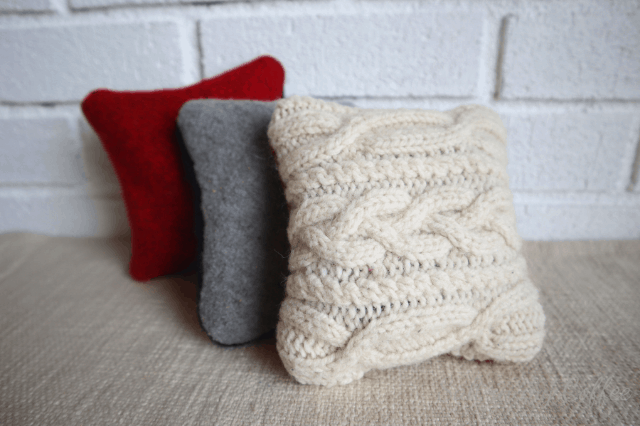 If you liked this post, you may enjoy:
✦ Simple Dried Fruit & Herb Wreath
✦ Felted French Press Cozy
✦ Dyeing with Goldenrod
✦ Dyeing with Devil's Beggartick
✦ DIY Wood-Rejuvenating Spoon Butter