In a time when homemade masks are better than no mask at all, many of us are striving to help fill desperate needs of hospitals and healthcare workers by stitching as many face masks as we can. Here are some practical tips I've learned from my first week of sewing face masks for hospitals, at home.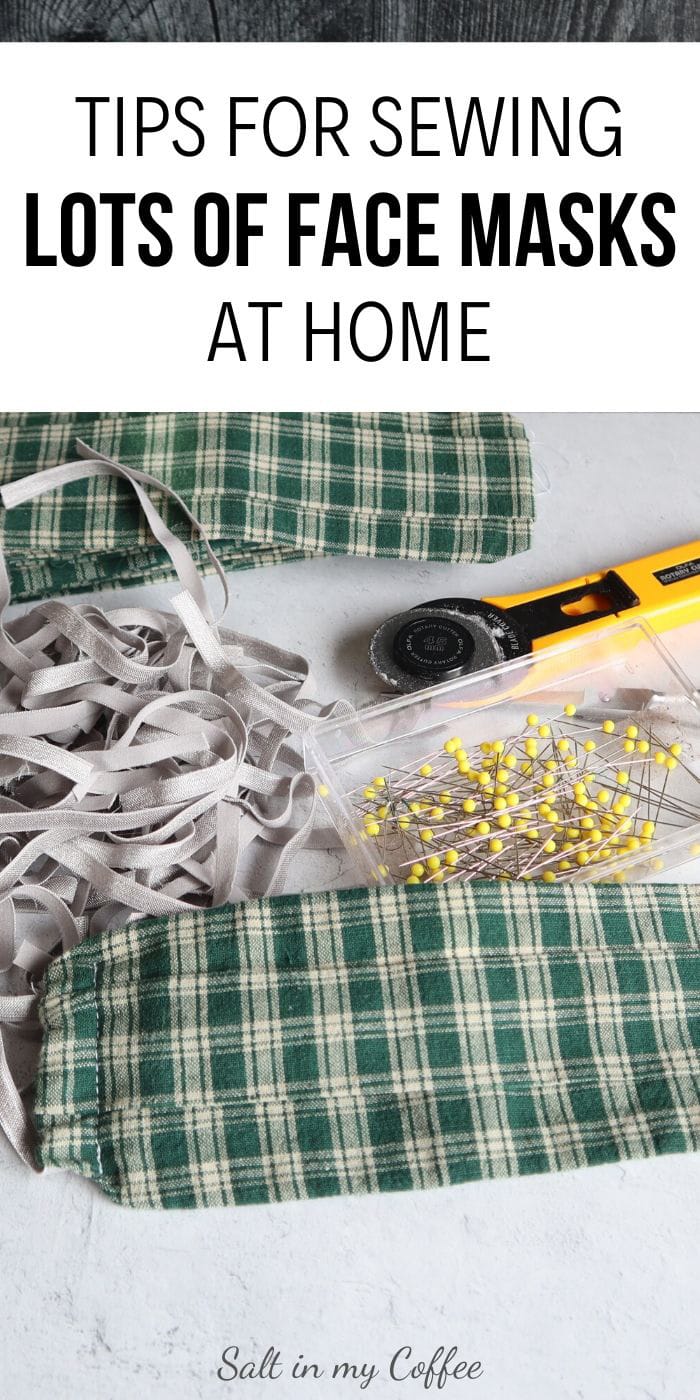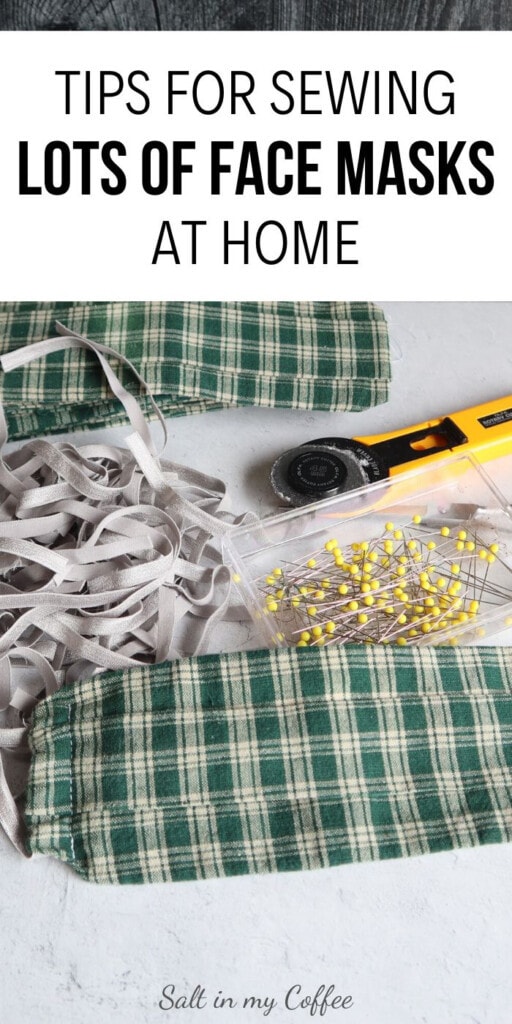 Tips for efficiently making lots of homemade face masks
1. Choose your homemade mask pattern carefully
Not all homemade mask patterns are equal. Some offer much, much better coverage than others. Many of the best patterns feature either a filter layer, or a pocket to hold a filter.
If you're creating these masks for a hospital, or a loved one who is a medical professional, I urge you to not choose your pattern based on which looks cutest to you, or seems easiest to sew. Choose your sewing pattern based on the needs and preference of the people you're creating them for. Ask if they have a preferred pattern (they probably already do!), and if they don't, show them pictures of a few different designs, so they can choose one they feel will give them the most protection.
In my case, my beloved Sister-In-Law works at a hospital where they don't have enough masks. She's had to finish long shifts with no mask at all, and they are desperate. The hospital has a preference for this certain mask pattern with a filter pocket, so that's the pattern I'm making.
Is it my favorite sewing project ever? Soooo not. Box pleats aren't my thang. But you can bet I am sewing every stitch of these masks with love, and a prayer in my heart, and I will keep on sewing them every day until this need has passed.
In this unthinkably make-do situation, if we can give some peace of mind by sewing the pattern our recipient healthcare workers feel provides the best protection, let's do that.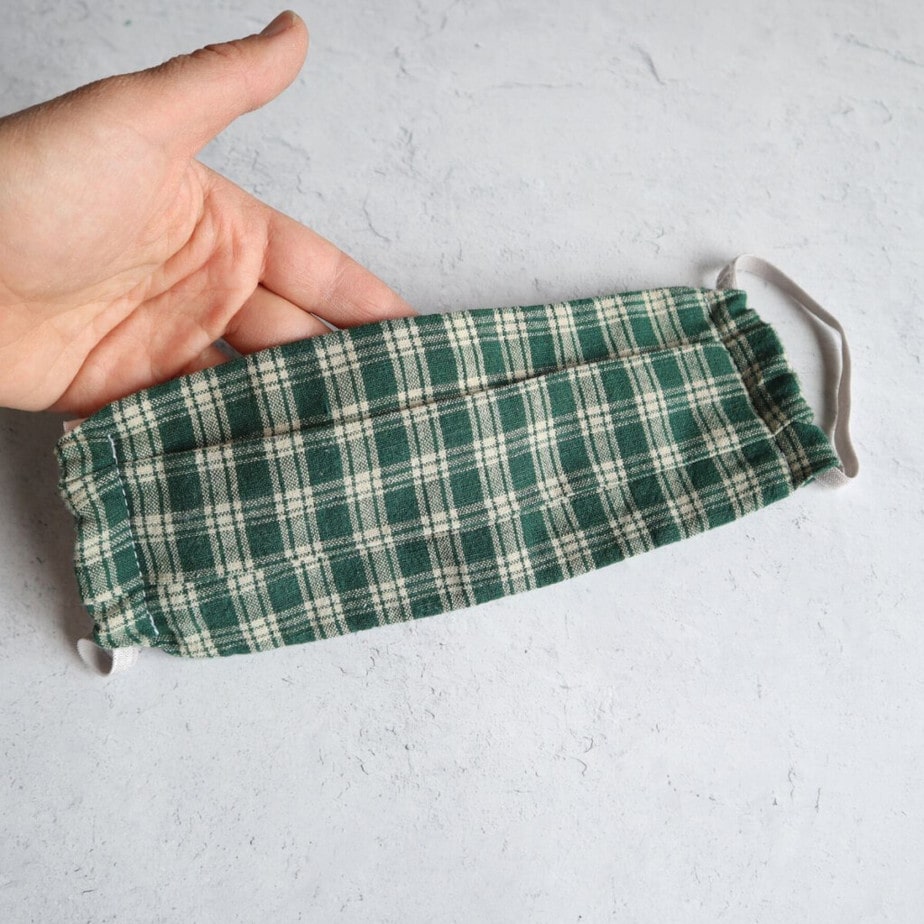 2. Source your materials
Once you have your pattern selected, you'll know what you need for materials. Finding those materials can actually be the trickiest part of the whole endeavor. With so many people making masks and buying up materials, just sourcing something like 1/4" elastic can be a job!
If possible, work with materials you already have, or order them, so you can stay home and skip a trip to the store. Remember that social distancing is still the most important life-saving effort we can make right now.
As of right now, Joann Fabrics is still giving away materials for sewing masks to donate, and they have free curbside pickup.
If you're having a hard time finding availability for materials, consider asking for help with sourcing each item. Divide and conquer. I ended up asking my mother to be in charge of finding elastic and ordering it, so that I could hunt for material and start cutting out masks.
In the end, the best we could find that would arrive quickly, was 5/8" fold-over elastic, which I'm cutting in half lengthwise. It's working just fine. You may have to get creative with finding workaround solutions. As you're placing your order, don't forget to double check the delivery date. There are many, many items on Amazon and other retail sites now, which allow you to place an order for items that are back-ordered until May or June. Make sure you're ordering an item that can be shipped right away.
3. Create an assembly line
Unless you're desperate to have one or two masks right away, don't make your masks one at a time. Even if you're a one-woman show, create an assembly-line process for yourself. This is a vastly faster and more efficient way of getting a lot of masks made as quickly as possible.
For me, I found it most helpful to start by making one mask from my pattern, from start to finish. This makes it easier to fully understand the entire process, including what tools and utensils will be most helpful, and which parts of the process take longest. Then break it down into steps. Do all the cutting at once. Then sew all the first seams, etc.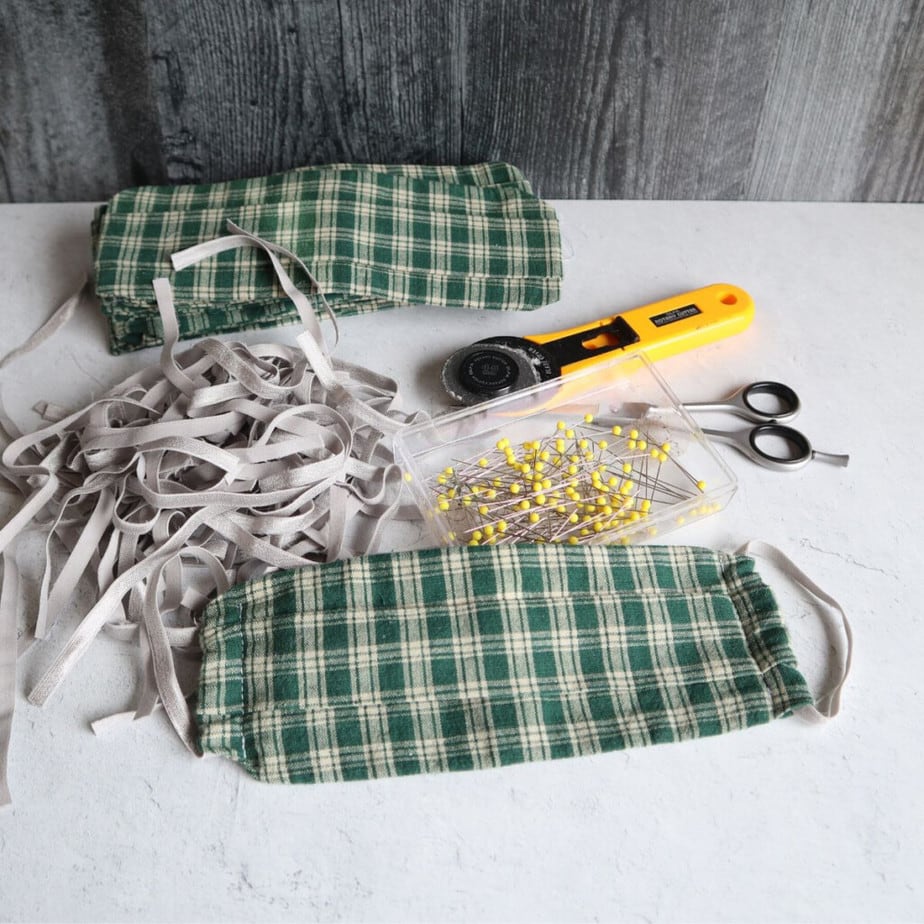 4. Work in batches
If you're really making a lot of masks, you may find that you don't want to cut out 100 or 500 masks all at once. It does help keep you motivated to feel a sense of completion by finishing a batch of masks in short time frame. Working in batches can help a huge ongoing project feel do-able.
I've found that batches of 15-20 are an amount that works well for me. Still work in an assembly-line process, but when you've cut out the first 20, give yourself permission to move on to the next step with that batch. So for me, I'll cut them all at once, then iron, sew, and iron and sew again, and finally string all of my earpiece elastics.
As you learn how long the process takes, you may find it works well to do batches of a size that allows you to complete a full batch in one day's work session.
5. Be patient with yourself and your equipment. It's not a race.
I'm putting this last point in here for me, because I need to hear it. When I first learned that my sister and her co-workers were in desperate need of masks, I thought "Oh, I am gonna make 100 masks, and they're going to be cute, and I'll have them done the day after tomorrow!"
But this is real life, and things have gone differently. My machine has stopped working on me three times. I'm not going to a repair shop right now, so I've learned to fix it and keep it going myself. I pictured making adorable masks with whimsical patterns, but I'm not going to the fabric shop, so I'm working with good, appropriate material that I already had - but it's circa 1995 "country" themed plaid. I do not feel like Betsy Ross right now.
This project has humbled me, and I've shed more than one tear along the way. I say this, because if you find yourself in the same boat, discouraged, and frustrated, please know that I am right there with you. And I also know that in spite of it, we'll keep on stitching.
We'll keep on stitching, even if we're not whipping them out as fast as we envisioned. Even if they're not cute. Even if we can see every flaw where our sewing machine hiccuped and played dead, and screwed up our perfect top stitching.
In a time when homemade masks are better than no mask at all, each mask that we finish has the potential to protect someone we love. Or someone that somebody else loves. Until the supply of certified medical masks meets the demand, every mask we make matters. Your sewing matters. So does mine. And so we "keep calm, and sew on", to paraphrase the old British war posters.
With love, A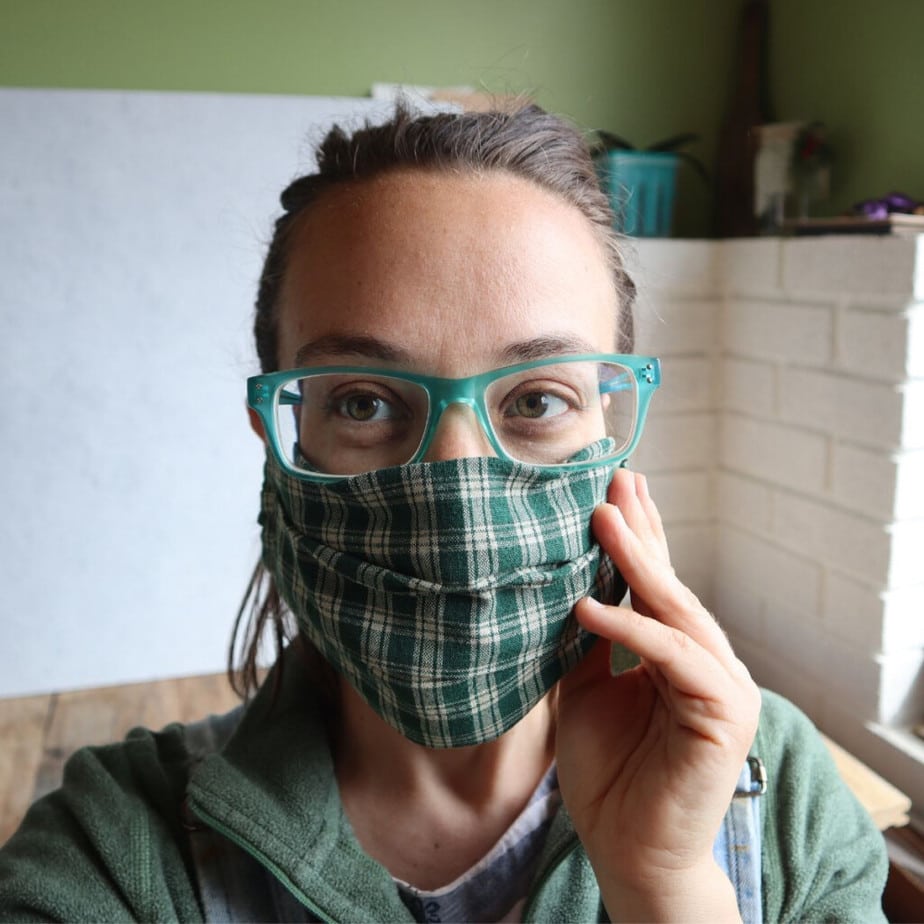 Join the conversation! Are you making masks for hospitals or healthcare workers? Do you have tips to share with us, for efficiently making them? PLEASE SHARE in the comments below!
Read Next: Our Favorite Online Workouts for Kids