Making your own Christmas Potpourri is easy! For this heavenly Orange Spice version, all you need are some oranges, a few spices, and little time. Here's how!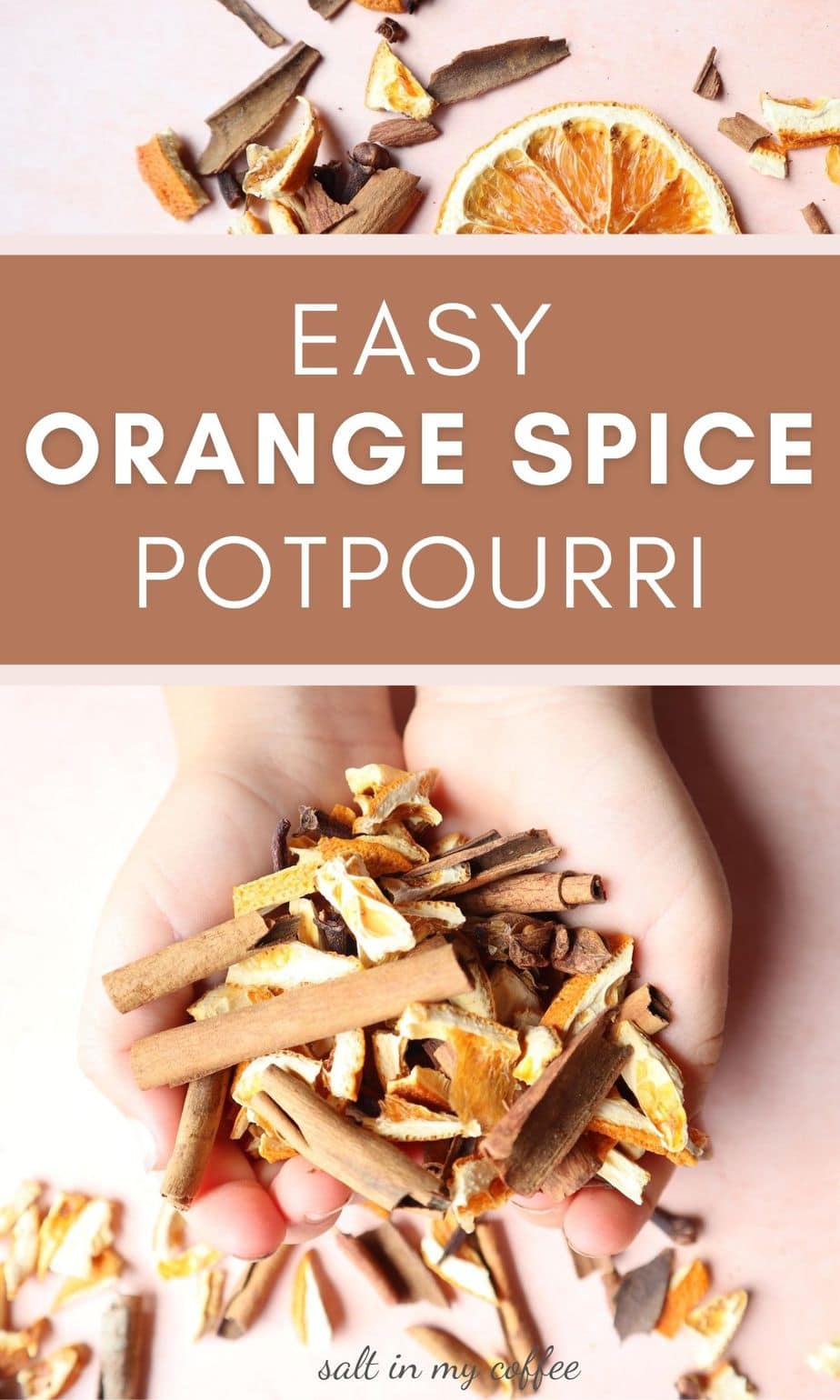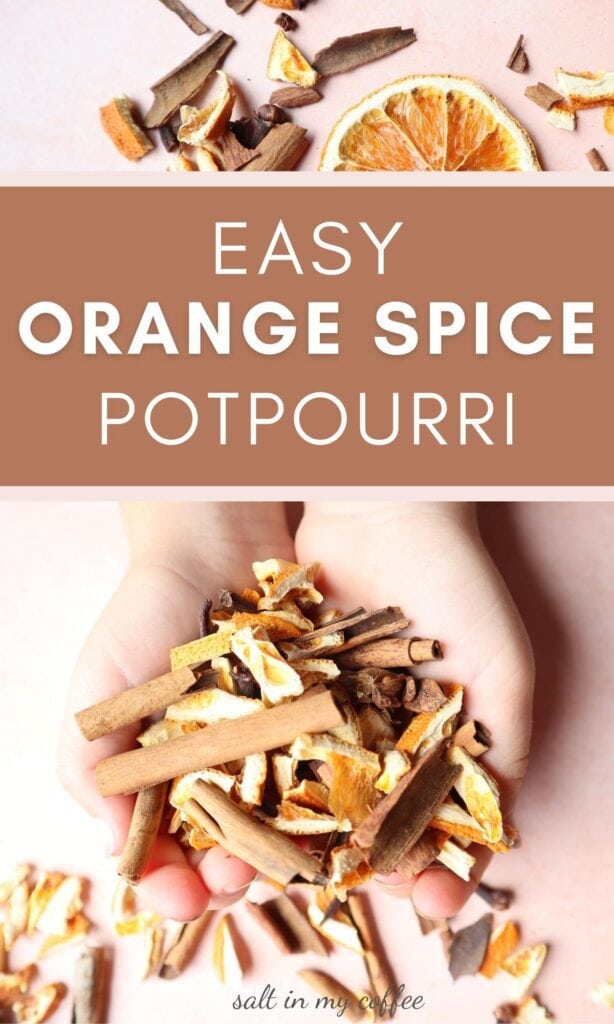 This article contains affiliate links. Click here to learn more.
Having a home that always smells amazing is one of my favorite parts of the Christmas season.
From Thanksgiving until New Year's, I really love being surrounded by scents that make it feel like holiday time. Maybe it's because we so often had a potpourri burner going during the holidays when I was growing up. I remember carefully unpacking the beautiful ceramic burner, and placing the little tea light underneath.
My bother and I would get to take turns - one of us choosing from the powerfully scented collection of potpourri packets, and the other getting to light the candle. That was holiday magic right there.
As a mom, I still love the tradition of holiday potpourri. But with all of the science that now shows how damaging artificial scents are to the human body (especially little growing bodies!), I won't let chemically-laden store-bought potpourri into my house.
Instead, we have the joy of making our own. Thankfully, it's so easy.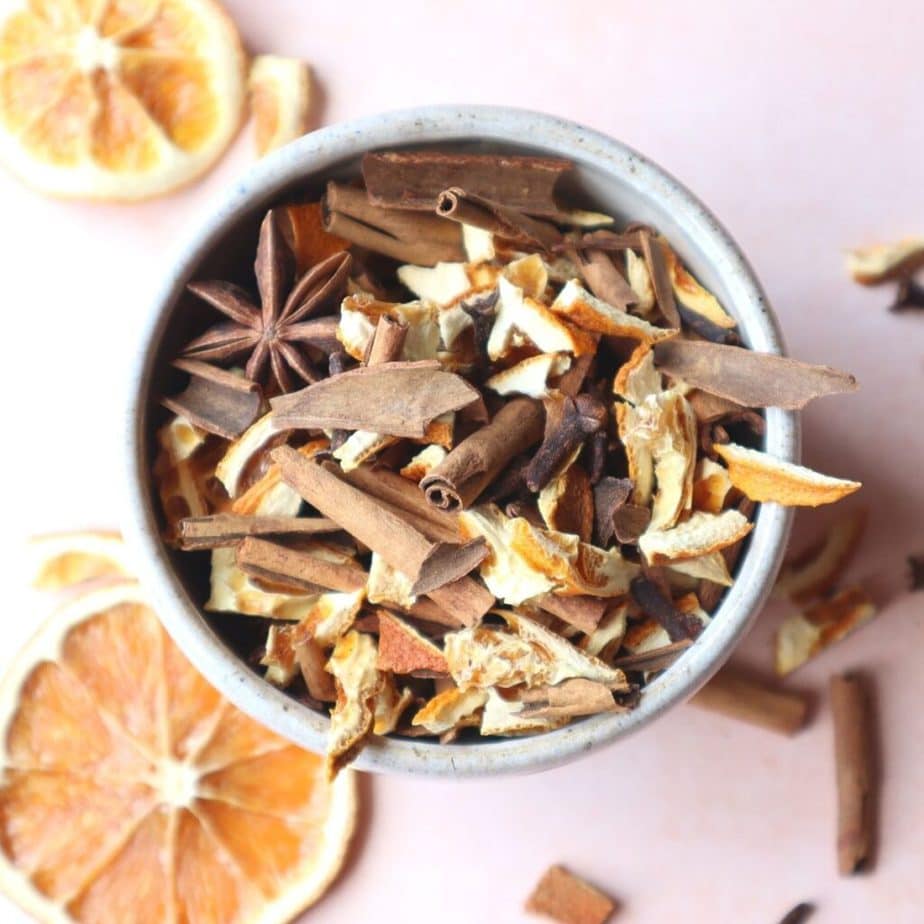 Making Orange Spice Christmas Potpourri
To whip up a batch of homemade orange spice potpourri, you really only need a few things - dried oranges, and some spices.
You'll notice that this post is more of a method than a recipe. For a good blend of orange and spice scents, you'll want about 1/3 to 1/2 of your mixture to be dried oranges. The rest is a mix of clove, cinnamon, and whatever spices you love and have on hand.
There's no hard and fast rule when it comes to choosing spices for your potpourri mix. Chances are, you already have ingredients in your cabinet that could make a great potpourri. Here's a run-down of what I like to include in mine:
Dried Oranges
Drying some orange slices is truly the only time-consuming part of this project. If you already have some dried oranges, you're ready to go! If not, follow this tutorial to dry some orange slices.
Even just a couple of oranges or tangerines will make a good little batch of potpourri, so if you don't have a huge bagful of oranges, don't let that stop you! It's ok if the slices break - you're going to be breaking them in pieces once they're dried, anyway.
Dried whole cloves, or clove pieces
Any dried cloves that you'd use for cooking will work well for this project! I often save the broken leftovers from making pomander balls, and add them to my potpourri stash.
Cinnamon Sticks
Potpourri is a wonderful use for cinnamon sticks that are broken, ugly, or just too big to be used as mulled wine stirrers. Any cinnamon pieces will do, just avoid any sold as "decorative cinnamon sticks", since they likely have artificial cinnamon scent added to them, which can both overpower your natural potpourri, and introduce unwelcome toxins to your home.
Additional Spices
Even if you only have dried, oranges, cloves, and some cinnamon, your potpourri will still smell wonderful. Try rounding out the bouquet of spice by one or more of these spices to your mix:
Dried flakes of ginger root
You can make dried ginger root flakes by using a vegetable peeler on a fresh knob of ginger. Let the flakes dry at room temperature for a day or two, or add them to the dehydrator when you're drying orange slices.
Dried juniper berries
You can gather your own juniper berries and dry them, or purchase some online. (My other favorite use for juniper berries is in brining chicken, turkey or duck, so while not a common kitchen staple, I usually have some in my spice drawer.)
Whole allspice
Whole allspice is another wonderful scent that can really add character to you your Orange Spice potpourri.
Whole or broken pieces of star anise
This is one of my favorite additions to any spicy Christmas potpourri, because star anise just looks so beautiful. I like to look at the reviews when I'm ordering star anise online, to find a supply that's likely to include mostly whole, unbroken anise. I've had good luck with this one.
Once you have your ingredients, just break them all up into pieces, and mix them together!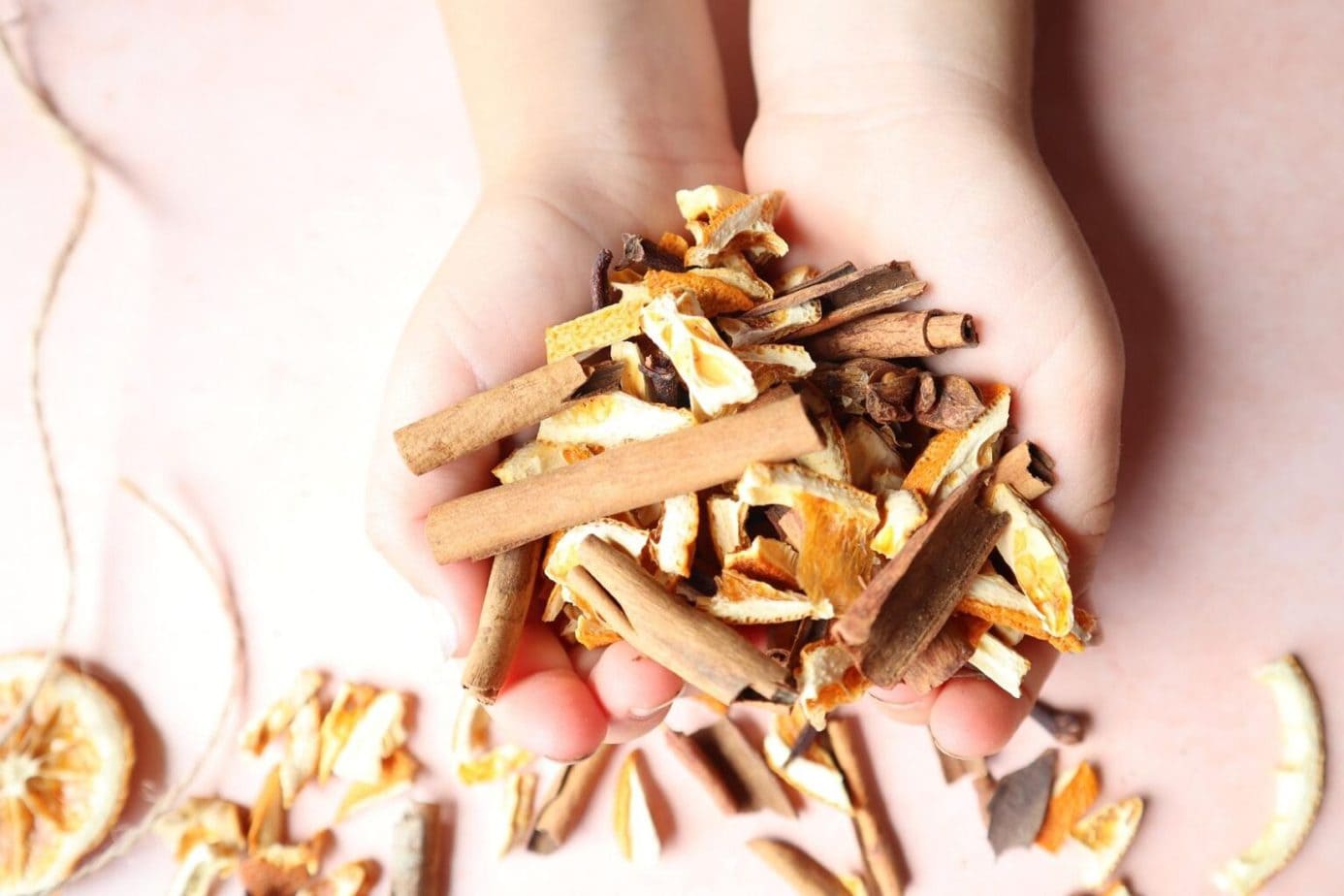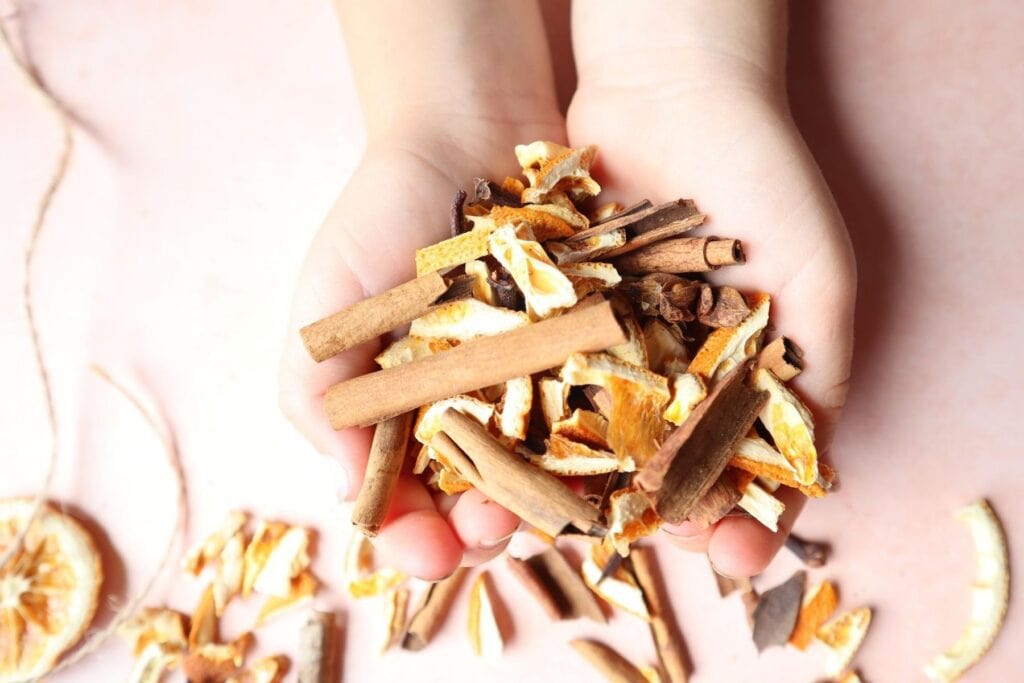 How to use homemade potpourri
Use DIY potpourri in any potpourri burner
Just as with any store-bought potpourri mix, you can add a small amount to any potpourri burner designed for simmering dried potpourri. Add a tablespoon of potpourri and some water to the upper bowl, light the candle underneath, and you're good to go!
Display it in a bowl
The scent of your potpourri won't be as strong if you're just displaying it, rather than simmering - but it will last all season, and can really make a small room smell heavenly! Try placing a bowl of this potpourri in a bathroom or small guest room, and you'll be delighted with the warm and bright scent it can impart to a small room.
Simmer your homemade Christmas potpourri on the stove or in a crock pot
If you don't have a potpourri burner, but really want to make your house smell amazing quickly, put 1/2 cup of your homemade orange spice potpourri in a small pan with a few inches of water, and let it simmer slowly on your lowest heat setting. This is a great trick for making your house smell like Christmas quickly, and without chemicals!
You can also do this in the crock pot. For best result, fill the crock pot about 2/3 of the way with water, and use more potpourri - about a cup. Set the crock pot on high until the water really gets hot, and then you can lower it. Don't forget to leave the lid of the crock pot off, so the wonderful scent can disperse!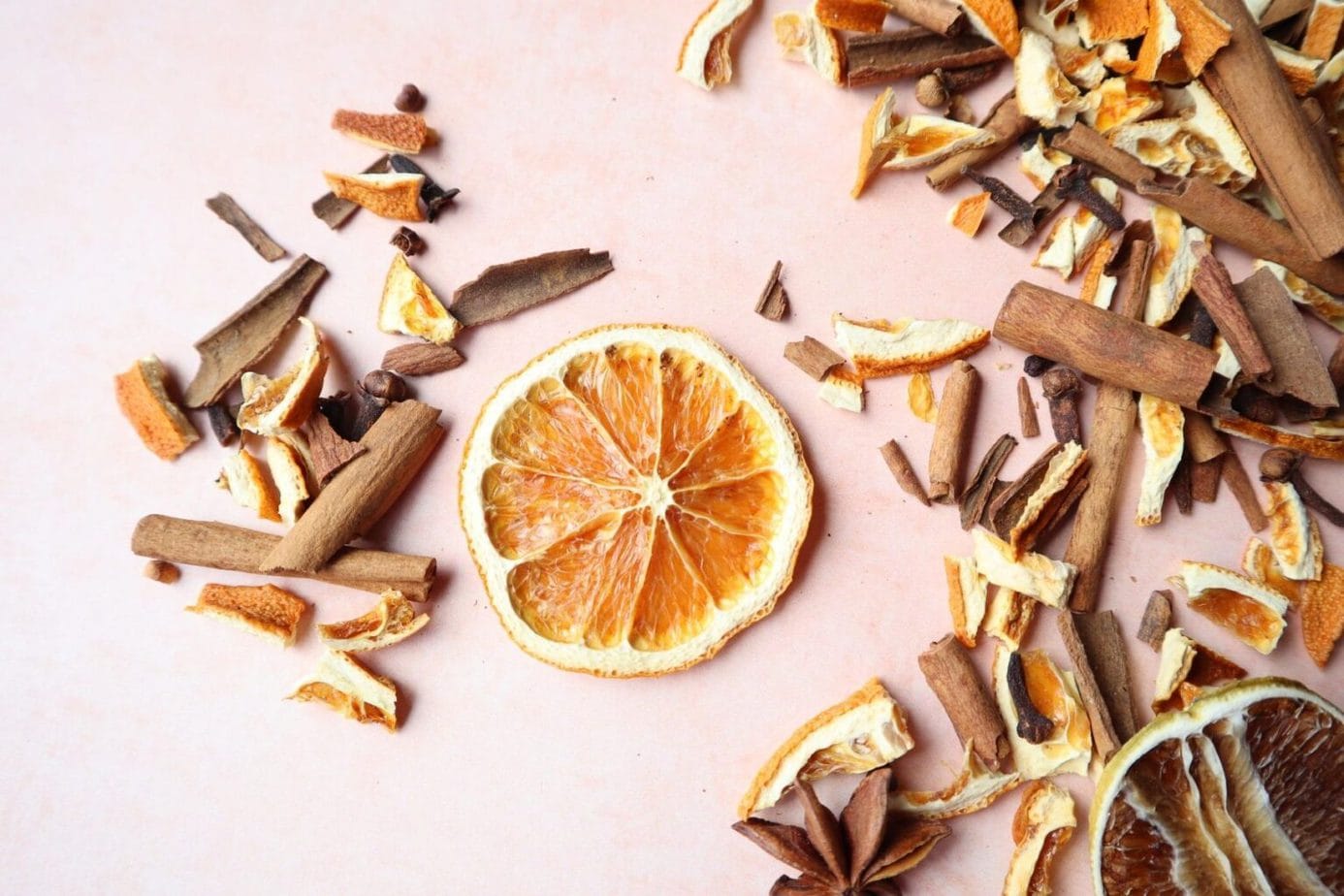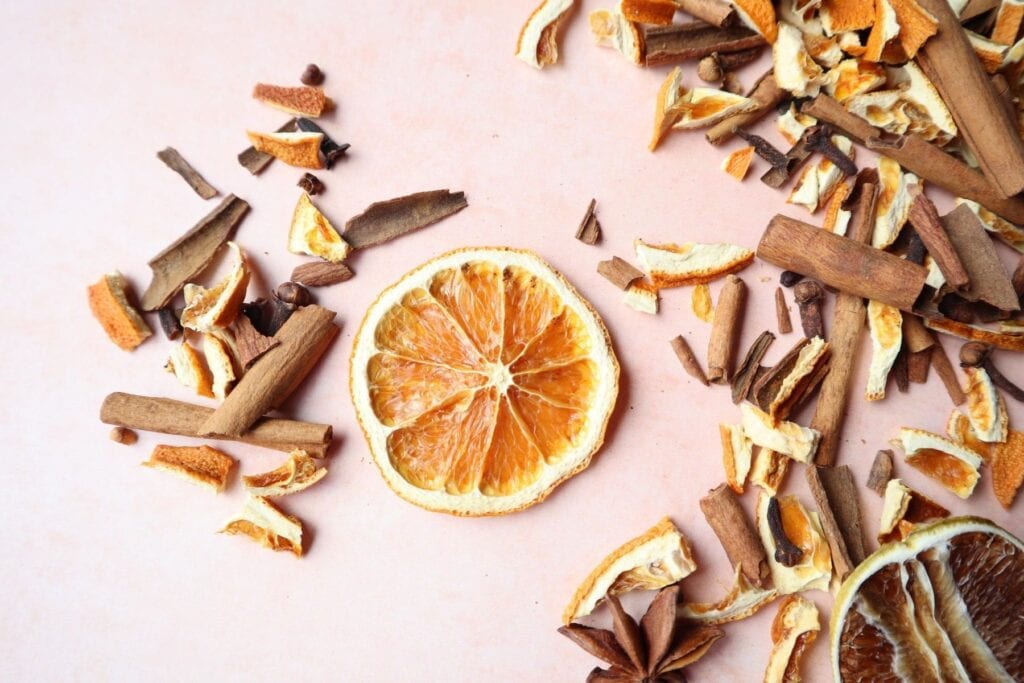 How to store homemade potpourri
Dry potpourri lasts a long time. Make sure all of the ingredients are really good and dry, then store in an airtight container, in a cool place that's out of direct sunlight. If you all "orange-spiced" out by New Year's, there's no reason you can't seal up any leftover potpourri in an airtight container, and pack it away with the Christmas things. In my experience, it'll still be good next Christmas. (And maybe better than ever, since the scents really get a good long chance to mingle.)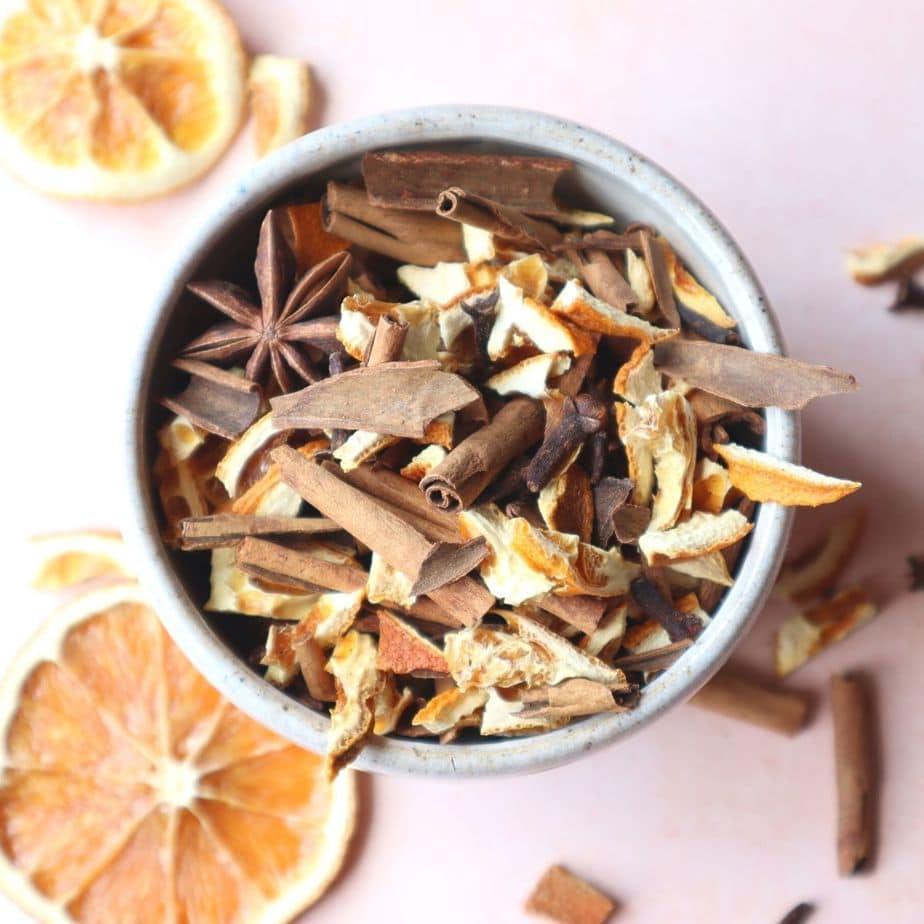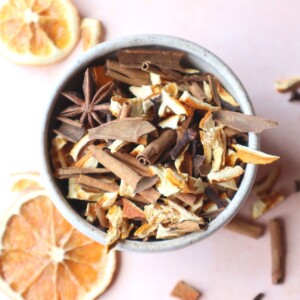 Easy Orange Spice Potpourri
Homemade Christmas potpourri is easy to make! This heavenly orange spice version will fill your home with the warm and bright scents of spice and citrus - and it makes a great DIY gift!
Print
Pin
Rate
Ingredients
dried orange slices

dried whole cloves

cinnamon sticks (broken odds & ends are fine!)

star anise

(optional)

whole allspice

(optional)

whole dried juniper berries

(optional)

dried chopped ginger root

(optional)
Instructions
Break all orange pieces and cinnamon sticks into small pieces - the size of a nickel or smaller works well.

Add cloves, and any additional spices. (Try choosing two or more from the optional list above!)

Mix all orange pieces and spices thoroughly.
To Use Homemade Potpourri:
- Use in place of store-bought dry potpourri in the bowl of a potpourri burner (don't for get to include water!)

- Display dry homemade potpourri in a small bowl.

- Simmer with water in a small pan on the stovetop, or with plenty of water in a crockpot (don't forget to leave the lid off!).
To Store Christmas Potpourri
Make sure all ingredients are throroughly dry. Store in an airtight container, in a cool place out of direct sunlight. Dry potpourri lasts a very long time if properly stored.
That's all there is to whipping up a quick batch of homemade Orange Spice Christmas Potpourri! I hope it brings as much holiday cheer to your home as it does to mine each year.
If you liked this post, you may also enjoy:
✦ DIY Felted Wool French Press Cozy
✦ Easy DIY Crayon Ornaments
✦ Adorable Birdseed Ornaments
✦ Handmade Grapefruit Lip Balm
✦ DIY Wood-Rejuvenating Spoon Butter