Rendering suet into tallow for bird treats, cooking fat, and soap making, isn't difficult. It can be done on the stove, in an Instant Pot, in your slow cooker, or even in the oven. Here's how to render tallow that's smooth, white, and perfect for making suet cakes and ornaments to feed wild birds!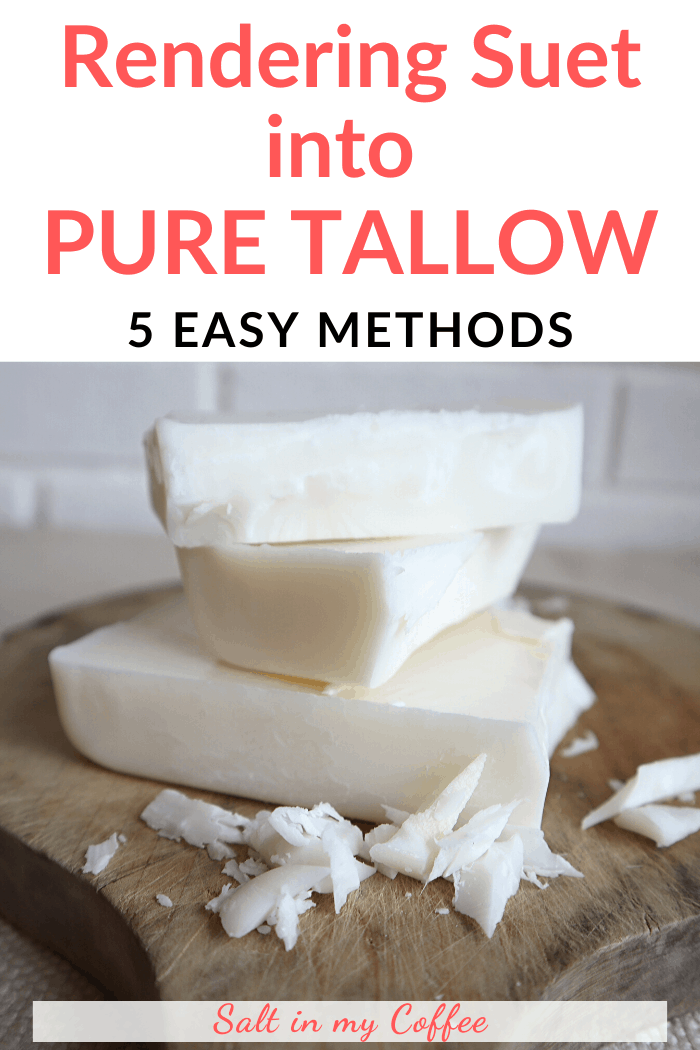 This article contains affiliate links. Click here to learn more.
We're all familiar with "suet cakes" that are popular for feeding wild birds. But did you know that these "suet" cakes would more correctly be called "tallow" cakes? Before we talk rendering methods, here's the deal with suet vs. tallow:
First of all: what is suet?
Put very simply, suet is the raw fat from beef or mutton, that's found around the kidneys and the loins. It's similar to leaf lard from pork.
When heated to the "rendering point", suet melts, and forms a clear liquid, separating from any meat bits that may have been mixed in with the fat. Once rendered, suet is called tallow.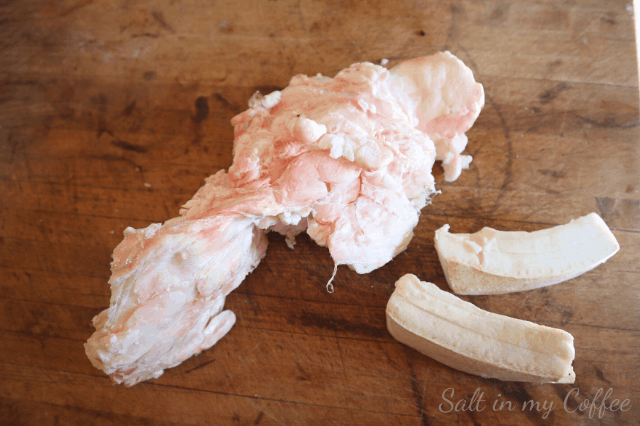 Like lard, rendered tallow is white, hard, and stores well. It's used in many of the same ways as lard. It does have a different and slightly less-neutral character though, and so tends to be more often used in making candles, soap, and bird food, while leaf lard is more likely to star in the kitchen both as a cooking fat and in delicate pastries.
Tallow from grass-fed cows is a great fat to have on hand. Hopefully we'll see it making a comeback as we learn more about the benefits of using heritage fats. Rendering suet into tallow is easy, and can be done right in your kitchen, with whatever you have available. Here are five different ways that you can successfully render suet into tallow, with whatever equipment you have in your kitchen.
If you happen to have a meat grinder:
Consider yourself blessed! It's worth taking the time to run your raw suet through the meat grinder, since it's faster than chopping by hand, and the resulting little fat pellets will render very quickly! If you use fat that's been ground in a meat grinder, follow any of these methods, and just know that your fat will render more quickly because of the fine grind. Only one of these methods (Using the SAUTE feature on the Instant Pot) relies on having the fat ground very small like this.
From feedback to my post about rendering lard in an Instant Pot, I know that most of you don't have access to meat grinder, and I hear ya. This post IS for you, no meat grinder needed. Just a sharp knife, and you're good to go!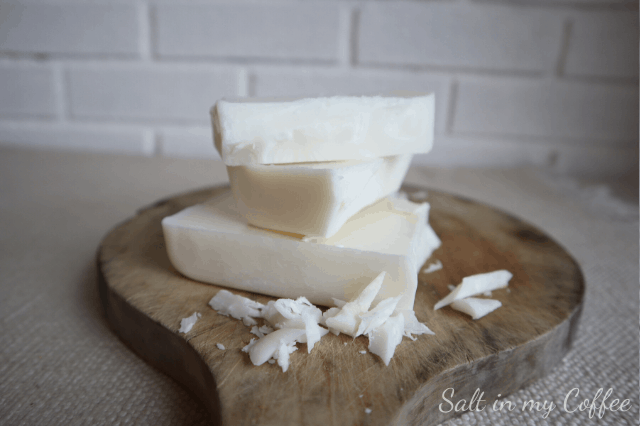 Rendering Suet on the Stove
Suet can very easily be rendered on the stove. Chop suet finely, and add to a large, heavy pan. Using thin cookware makes it easier to scorch the suet, or end up with hard bits stuck firmly on the bottom of the pan.
Add 1/2 cup of water. While not strictly necessary, adding a bit of water really helps to speed up and even out the rendering process. It steams off in the process of rendering, so you won't end up with water in your suet, I promise!
Cook over medium-low heat, stirring occasionally, until all suet is melted. There should be lots of clear, melted fat, with some brown crispy bits floating around. If you've diced your suet quite small, this whole process can happen pretty quickly, in about 25 minutes or so.
Strain the suet through cheesecloth, and allow to fully cool.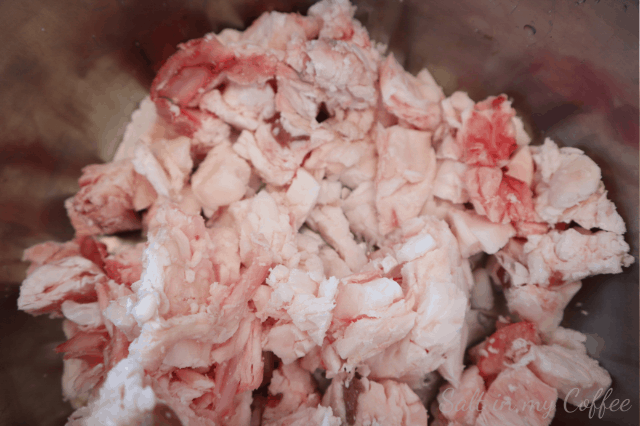 Rendering Suet in an Instant Pot
Option 1: Using the Pressure Cook Setting
This is my favorite way to render suet! It's not honestly much faster than on the stove top, but there's no stirring, virtually no odor, and you really can just walk away until the whole process is done for you!
To render suet in an instant pot, start by finely chopping the suet. While you really can render it just roughly chopped, it takes much longer to render than when it's chopped more finely - so I always feel it's worth the extra minute or two to chop the suet pieces quite small. In my experience, suet that is chopped into larger pieces takes about 90 minutes to fully render in an Instant Pot. Diced suet takes about 45 minutes to fully render.
Add the suet to the instant pot. If have a large amount of suet to render, you can fill your Instant Pot up to the 2/3 mark.
Add 1/4 cup of water - this will help keep the suet from scorching until enough of it renders into liquid, and it helps prevent the Instant Pot's "overheat" alert from being triggered.
Toggle the vent into the closed position. Set the Instant Pot to pressure cook on high, for 45 minutes.
When the cycle is complete, allow the Instant Pot to de-pressurize, either naturally or with the quick-release.
Open the Instant Pot, and strain the liquid suet through cheesecloth. Allow to fully cool.
Option 2: Using the Sauté setting
This is the one method that just really works best if you do have a meat grinder (or have had your butcher grind the suet for you).
Add the ground suet a few cups at a time to the Instant Pot, and turn on the "saute" function. Leave the lid off, and stir the fat frequently with a wooden spoon. It's going to render up pretty quickly, so stay near the Instant Pot.
As the fat renders, it will lose volume. Continue adding the finely-ground suet pellets, stirring as the fat melts, until all your suet is rendered or the Instant Pot has filled to the 2/3 mark with melted tallow. If you're working your way through a huge batch of suet, take a quick break to pour out and strain the tallow that you've already rendered, then return the inner pot to your Instant Pot and keep on rendering. It's a really quick process this way, and you can render many pounds of suet in a short time with this method!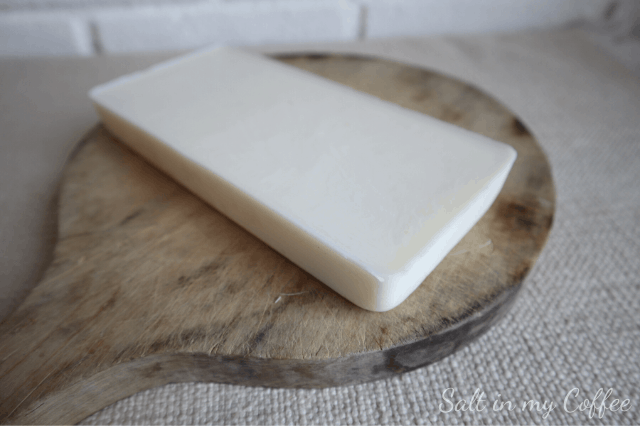 Rendering Suet in a Slow Cooker
This is the "low and slow" method of rendering suet. It takes longer, but works just fine.
Dice suet and add to slow cooker. Cook on low setting, until suet is fully rendered - about 4 hours. While you can speed up the process by cooking on the high setting, I find that it requires more frequent stirring to prevent bits of suet from burning onto the bottom of the crock.
When suet is rendered, carefully remove rendered suet and strain through cheesecloth. Allow to fully cool.
Rendering Suet in the Oven
This is another "low and slow" method of rendering suet. It takes longer than stove top or the instant pot, but works just fine.
Dice suet into a large baking dish. Cook in a very low oven (about 200 degrees, or as low as your oven will go), until suet is fully rendered - about 4 hours. Cooking at a low temperature helps to prevent this from being a very smokey project, so I really don't recommend trying to speed the process by raising the oven temperature for this.
When it's done, carefully remove rendered suet and strain through cheesecloth. Allow to fully cool.
How do you store tallow?
Tallow lasts a very long time when stored in a refrigerator or freezer. Wrap tightly or seal in an airtight container before storing. If you're using your tallow for human consumption - for cooking with, or as an ingredient in recipes, definitely go with the fridge or freezer for storage.
Tallow can also be stored up to a month, in cool basement storage. Do be aware though, that mice love suet and tallow, so if you choose to put your rendered tallow on the shelf for any amount of time, you'll want to store it in a sturdy, air-tight container.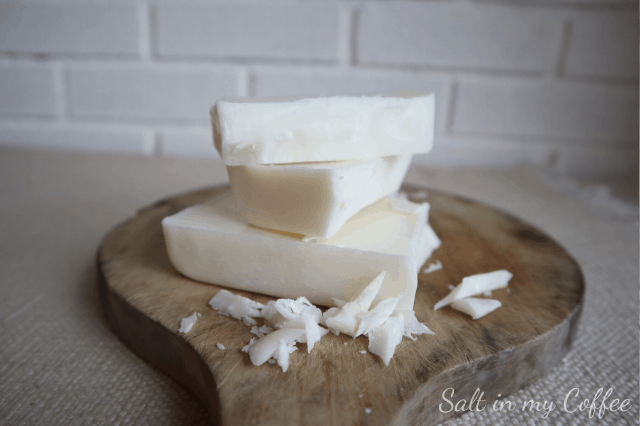 How do you use tallow?
Homemade replacement seed cakes for suet feeders. Mix melted tallow and bird seed, then pour into the bottom of a milk carton to harden. Better yet, save the plastic tray from a store-bought suet cake, and use that to mold a suet cake just the right size for your suet cage. They also sell silicone molds for making suet cakes just the perfect size.
Homemade suet ornament treats for the birds. Mix melted tallow with bird seed, and press the mixture into cookie cutters. Allow to cool, then carefully remove and hang.
Tallow can also be used as a cooking fat. Tallow isn't just for the birds! It has a long history an important kitchen fat, and is still used in cooking today.
Personally, I'd only use tallow from hormone-free, grass-fed animals for cooking purposes. If you're able to get your hands on some, it can be a great addition to your pantry! Try using it in a crust for savory pies.
A slightly less-neutral fat than lard, tallow also imparts a subtle "meaty" flavor to foods that are cooked in it, which can be a heavenly thing, as with these Cajun Burgers!
Tallow is a wonderful fat for handmade soaps. It's also extremely economical for soap making, since home-rendered tallow can be much cheaper than buying oils for making soap. Try this tallow soap recipe from Jill at the Prairie Homestead!
Read HERE for More Money-Saving Soap Making Tips
Tallow is a nourishing ingredient in lotion and skin balm recipes! I LOVE working with tallow because of how wonderfully soft my hands feel afterward. Tallow is an excellent moisturizer. To turn it into a nice (and totally gift-able!) hand cream, try this Tallow Balm recipe from Heather at Mommypotamus.
I know this post has been a long one, but I hope it's helped make the process of rendering suet into tallow seem as easy and simple as it really is! Still have any questions about rendering tallow? Leave them in the comments below and I'll do my best to help!
If you liked this post, you may also enjoy:
✦ DIY Felted Wool French Press Cozy
✦ Dyeing With Goldenrod
✦ Dyeing With Devil's Beggartick
✦ Handmade Grapefruit Lip Balm
✦ DIY Wood-Rejuvenating Spoon Butter