The other day, I got asked a great question. "If a new gardener wanted to try growing just 5 kinds of plants for their first garden, AND wanted to put away as much food as possible for the winter - what 5 vegetables would you recommend?"
I had to think about that one for a minute, because man...just five? But if I had to choose only one fistful of plants that could help a family get the biggest start toward food self-sufficiency, I think it would be these five in my list below.
Here they are, along with a few thoughts about why they're such great bets for new homestead gardeners, my favorite varieties of each plant, and most importantly - some resources for the best ways to store each vegetable so they actually feed your family through the winter.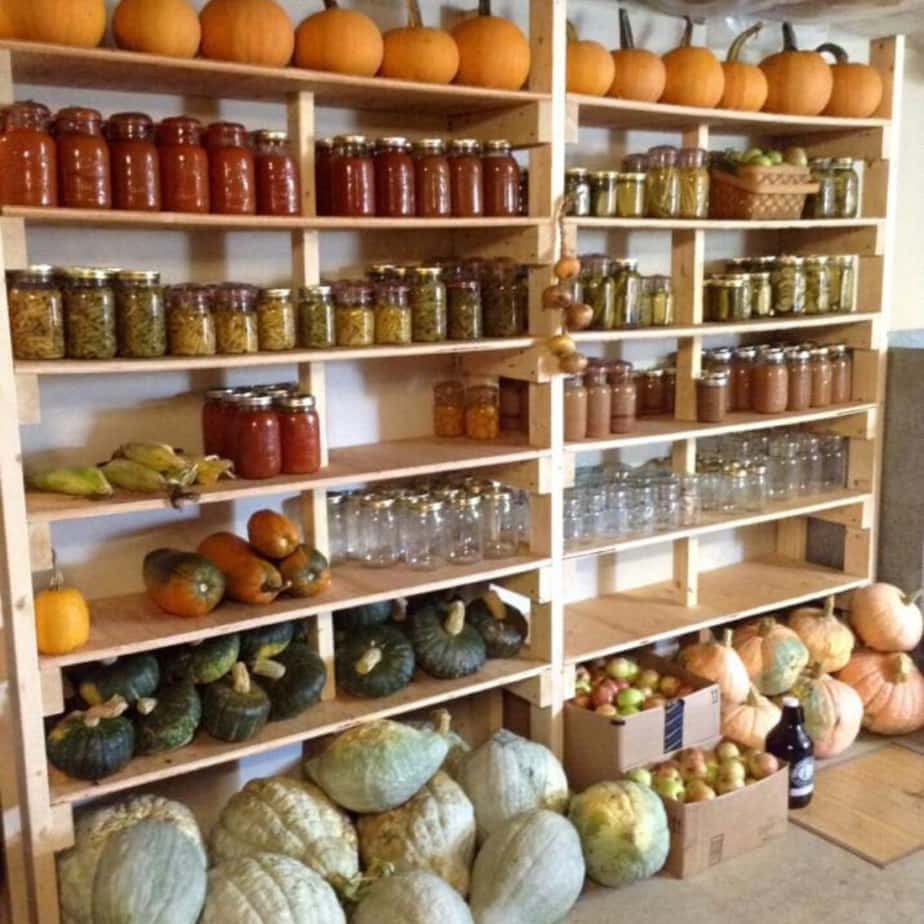 Easy-to-grow vegetables for self-sufficiency
1. Tomatoes
Not only are tomatoes one of my absolute favorite vegetables to grow, they're also a real power-house when it comes to producing a huge amount of food in a relatively small space.
Depending on the variety, even just 5 plants can provide enough tomatoes for a small family to enjoy over the summer, put away for winter, and still have extras to send home with the neighbors.
I recommend growing several different varieties to help spread out the harvest season, and take advantage of the different qualities of some great heirlooms.
Tomato varieties to plant:
I adore tomatoes so much I have a whole post about my favorite heirloom tomato varieties, but - if I had to pick just a few that would really pull their weight for winter storage, these 4 would be good bets:
Opalka (one of the best paste tomatoes - the flavor is great)
Oregon Spring (the very earliest reliable multi-purpose tomato that I grow)
Oxheart (another paste type - HUGE, and flavorful)
Aosta or Principe Borghese - both are just tops for sun-drying!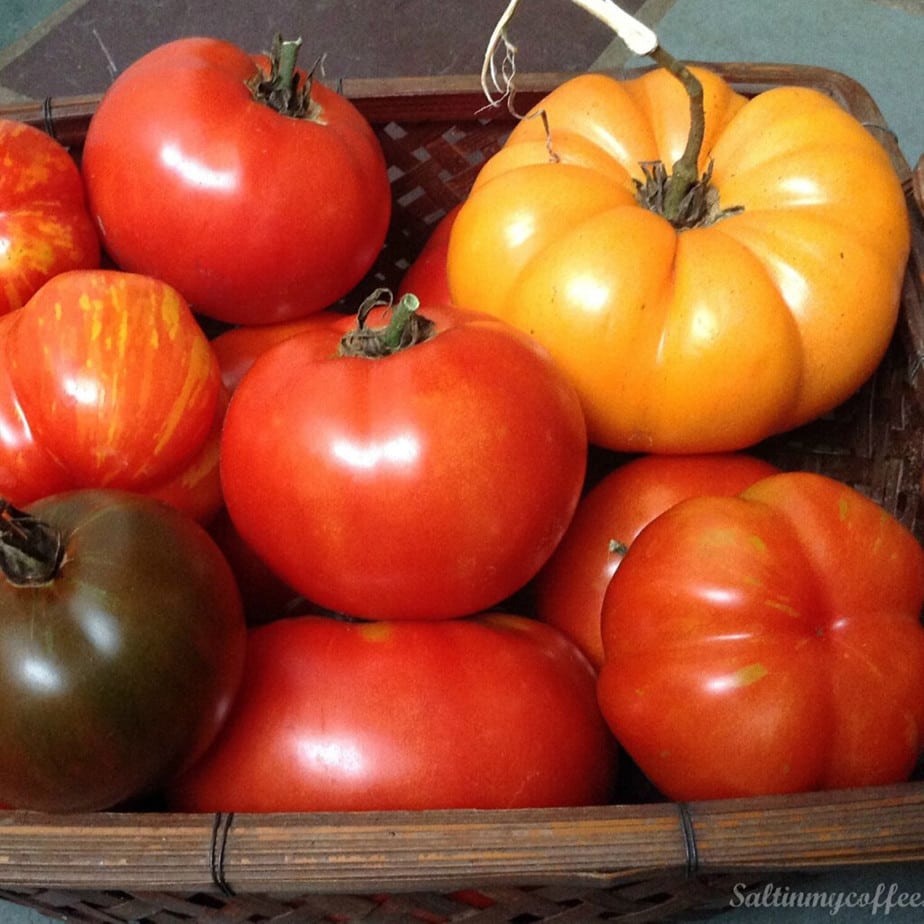 Helpful tomato growing guide:
The Old Farmers' Almanac has a good growing guide that will walk you through every step of planting and growing tomatoes.
How to put tomatoes away for winter:
Tomatoes are one of those wonderful vegetables that do well being canned, frozen, or dried. I really like using every one of those methods for putting up tomatoes for winter.
Canning: I like to put away tomatoes in jars as tomato sauce, stewed tomatoes, ketchup, and barbeque sauce.
Freezing: My big chest freezer starts the winter about 1/4 of the way filled with tomatoes. Basically, any that I don't have time to can or dry right away get frozen.
Drying ("sun-dried" tomatoes): This post will walk you through making sun-dried tomatoes. They're so delicious and snackable this way!
2. Green Beans
Green beans will ALWAYS be near top of my list, when it comes to producing a lot of food in a small space.
Green beans are also really easy to can, and they preserve their quality well, so a home-canned jar of green beans is an easy vegetable that goes with almost any meal. You can also sneak green beans into SO many different recipes, that they're a good multi-purpose vegetable.
Green bean varieties to plant:
It's hard to beat Provider when it comes to ease of growing, and sheer productivity. I also really like growing Maxibel, and Jade. For purple beans (which still turn green when you can them) try Royal Burgundy, and for yellow, Gold Rush is a good bet.
Helpful green bean growing tips:
This growing guide from Savvy Gardening is a good basic primer on growing green beans.
Storing green beans for winter:
Canning is the best way to put away green beans for long term storage, and this guide from Simply Canning will walk you through it. If you need to freeze green beans instead of canning them, you can do that too, though they don't keep their quality well for many months, in my opinion. This post from An Oregon Cottage is a good one about freezing green beans.
3. Winter Squash & Pumpkins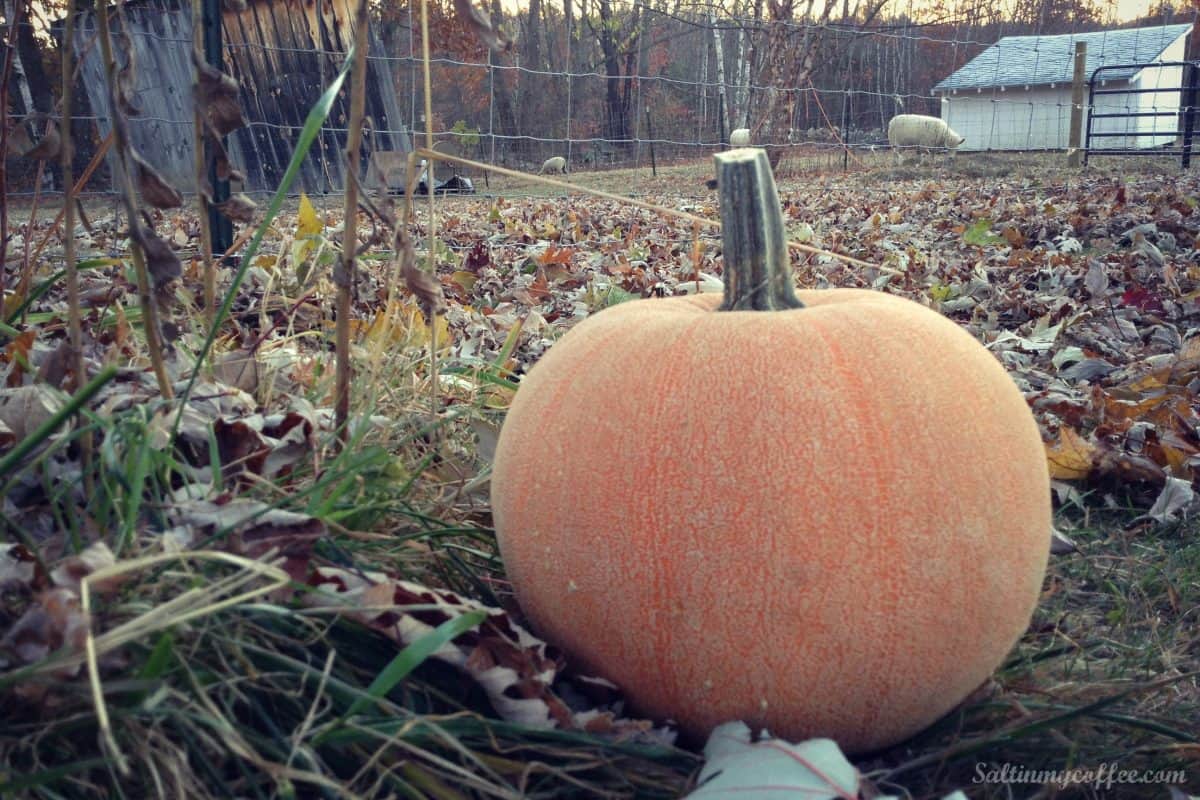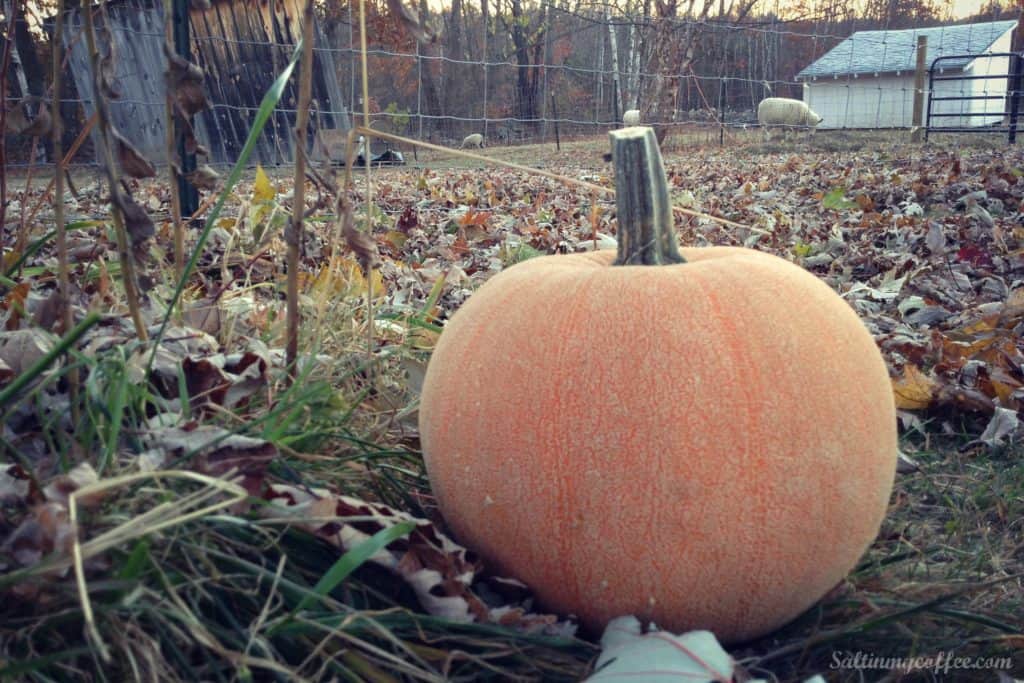 I know, it seems like I'm cheating here by squeaking in two vegetables instead of one. But winter squash and pumpkins are all in the same family, and share the same growing requirements and storage qualities, so I'm going with it!
The wonderful thing about Winter Squash is that many of them just continue improving in flavor, as you store them over the winter. I have a shelf full of Uncle David's Dakota Dessert Squash that tastes better right now in March than it did when I harvested it. We'll still be feasting on last year's crop when I'm out planting this year's seeds. Now that's a true storage vegetable!
Some pumpkins are excellent keepers as well, though many aren't. However, both pumpkin and winter squash can also be easily preserved by canning, freezing, and drying - so whatever variety you grow, it's easy to put away a winter's worth of food from just a small number of plants.
Winter squash & pumpkin varieties to grow:
For pumpkins, I especially love Winter Luxury (a poor keeper, but makes the best pies!), and Connecticut Field (just a great, very productive pumpkin.)
For winter squash, I'll never go a year without planting Uncle David's Dakota Dessert Squash - they're my family's favorite. Blue Hubbard squash are HUGE, with wonderful flavor, and amazing longevity in cool storage. And Butternut are a popular winter squash that happen to be my parents' favorite.
Pumpkin and winter squash growing tips:
Follow these tips from the University of Minnesota Extension, and you'll have a good, solid crop of squash and pumpkins to put away for winter.
How to preserve them for winter:
Please note: while many people do can pumpkin puree, and there are lots of people sharing tutorials on how to do it, there are currently NO methods for canning mashed or pureed pumpkin that are recognized by the National Center for Home Preservation as safe.
4. Chard & Kale
Ok, I'm doing it again. Chard and kale are similar...but yes, they're two different plants. Both are EXTREMELY productive, and cold hardy - the plants last well into the fall even here in Maine. Both are easily stored by freezing or canning, and can be cooked in many versatile ways. You can put away a winter's worth of cooking greens from a pretty small patch of either of these.
If I had to pick one...please don't make me. Chard is wonderful for its thick, meaty stems, and resilience to wild swings of temperature. Kale is heavenly for its complex, almost-salty flavor. Grow them both, you won't be sorry.
Favorite varieties of chard and kale:
I find it hard to beat the "bright lights" chard mix - with those bright, almost neon, stems, it's such a joy to grow and pick. I have to dig back through my summer photos and find one for you - it's really stunning. For kale, my all-time favorite is Red Russian, though I also love mingling some Dwarf Blue or Lacinato kale.
Chard and Kale growing tips:
I like this post about growing chard and kale, and enjoy the notes about all the wonderful nutrients and minerals they both contain!
Putting away kale and chard for the winter:
I love storing kale and chard both in the freezer, and in jars on my pantry shelves.
5. Sweet Corn
While I also love growing flint corn (for delicious cornbread!), and popcorn, a big patch of sweet corn is a great way grow plenty of a good storage vegetable that everyone loves.
Growing up, we used to plant several rows of corn in our little 40x40 garden. I can remember cutting the kernels off ear after ear after ear of corn, and packing them into little square tubs to freeze them for winter. Every year we put away an amazing amount of corn, and it was a great way to keep good organic vegetables on the table for our little family.
Sweet corn varieties to grow:
Ambrosia, Sparkler, and the classic Silver Queen are some of my favorites, for flavor, productivity, and reliability even in variable weather conditions.
Sweet corn growing tips:
The University of Minnesota Extension has a nice growing guide for raising a good harvest of sweet corn in a home garden.
How to put away sweet corn for the winter:
The two usual ways to put up sweet corn for the winter are canning and freezing. While you can dehydrate the kernels for tossing into soups through the winter, I don't like what it does to the texture of the corn and don't really recommend it.
Whichever method you use, you're going to want one of these for removing the kernels from the cob - it's so much easier than with a knife!
Canning: This is a good straightforward tutorial for pressure canning sweet corn.
Freezing: Sharon over at Simply Canning has a good tutorial for freezing corn. As she notes in this post, frozen corn off the cob is great. Frozen corn on the cob, while technically it's possible - is just icky. I don't recommend wasting good corn by trying it.
SO - those are my top 5 picks for easy to grow vegetables that can really provide a lot of food for the winter.
How about you? What would you plant if you could only pick 5? Leave a comment and tell us what, and why!
Pin it to your gardening board: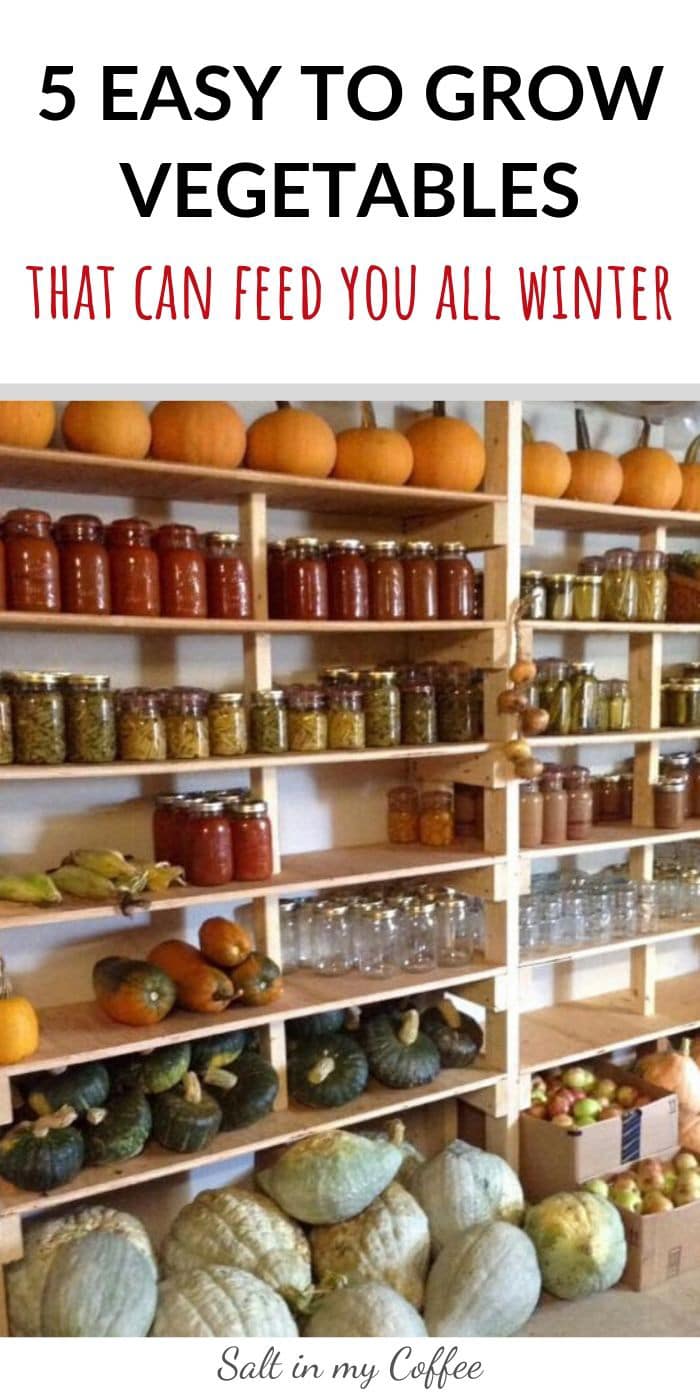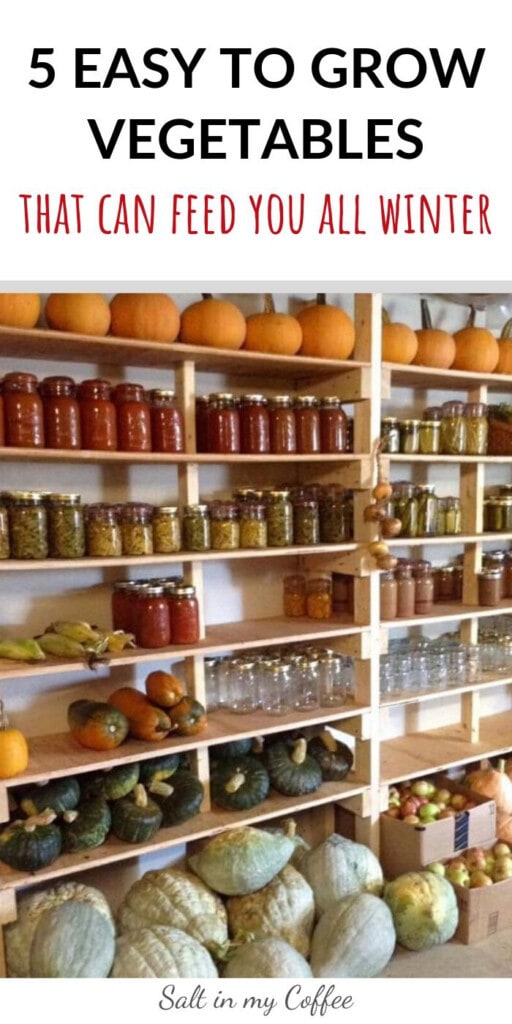 If you liked this post, you may enjoy:
✦ Wood-Burned Twig Plant Markers
✦ Growing Asparagus From Seed
✦ Free Printable Seed Packet Template
✦ How to Prune Blackberry Bushes
✦ My Favorite Way to Organize Garden Seeds