Looking for an easy and inexpensive system to keep your garden seeds organized? Here's a peek into my 3-ring binder storage system for seed packets. It's my hands-down favorite way to organize garden seeds!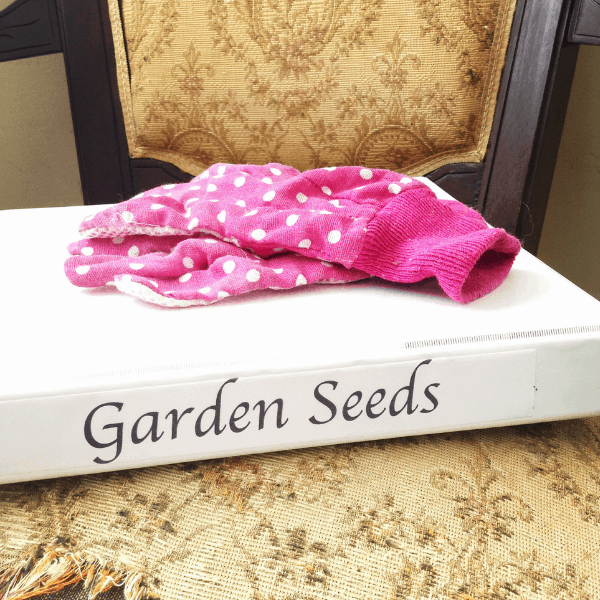 This article contains affiliate links. Click here to learn more.
If you've ever found yourself rummaging through a box of half-used seed packets, trying to see what types of tomato seeds you already have, and telling yourself that one of these days you're going to find a better system...this post is for you.
Over the years I've tried a few different seed storage and organization methods. I've used shoe boxes with cardstock dividers, ziplock bags organized by seed type, and plastic containers with different comparments. But none of them really worked wonderfully. They all had downfalls of one sort or another, and while I've always loved pulling out my seed stash, every time I just felt "there has to be a better way."
How to use a 3-ring binder to organize garden seeds
You guys, this is the system that finally made me feel organized. It's nothing more than a 3-ring binder with photo sleeves, and clear dividers.
It's easy, cheap, and when you pull out a packet to plant a few seeds - it's mindlessly easy to pop that packet right back where it belongs. And because it's so easy to pull out and find exactly the seeds I'm looking for, I'm more likely to grab it when I see an empty garden spot that could be filled with a few basil seeds or a bit of cilantro.
See how ANY of these varieties can help squeak in a second crop, even in Maine
Now, if you've been keeping your seeds in a shoebox, you might be thinking "There's no way I could ever fit my huge stash into one binder! Nope, no way."
That was my thought too. ('Cuz we all know I can't plant less than 25 tomato varieties!) When I first had the idea to try using a binder for organizing seeds, I was curious how many I'd be able to fit. I had a 1" binder on hand, and thought at most I might get half of my seed stash filed in there.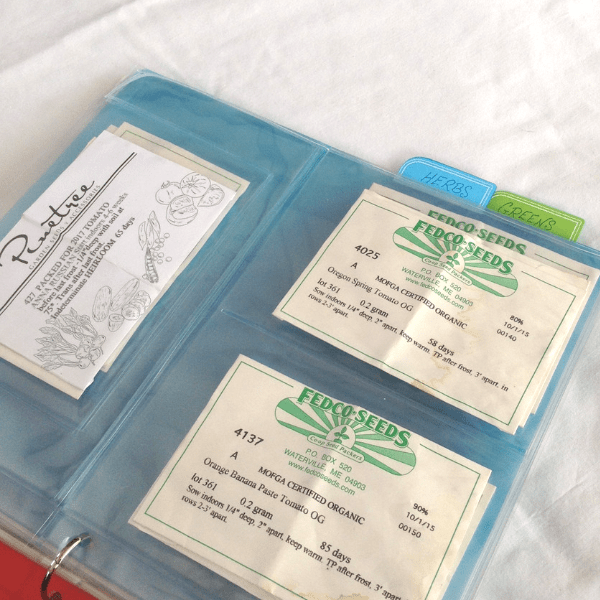 Every last packet fit, with room to spare. You can really fit a lot of seed packets into a slim space when they're organized this way!
Most seed packets are 3.25" x 4.5" in size, so photo sleeves designed for 3.5" x 5.25" photos work best. Almost all seed packets will work well in this size.
That said - there are some companies that sell seeds in larger packets, and a very full packet of bulky seeds like pea or blue hubbard seeds can be a bit of a squeeze. I found it helpful to get a few sleeves for 4" x 6" photos to accommodate my pea and squash seeds. (That's the sleeve you see in the photo above.)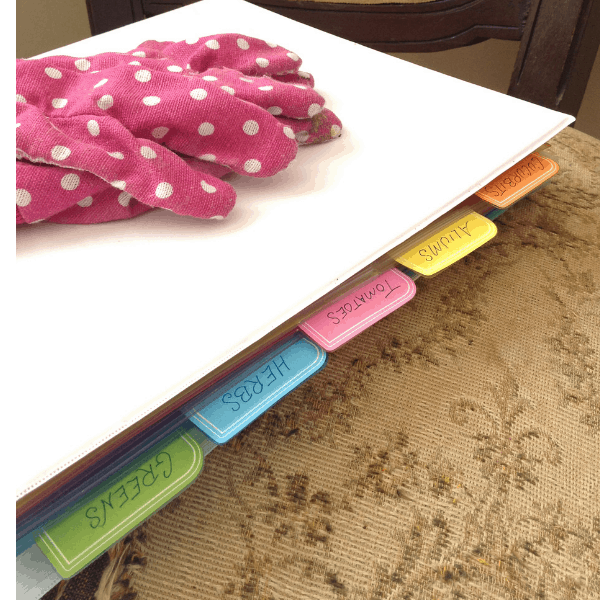 To organize seeds by type, a set or two of tabbed dividers for 3-ring binders is helpful.
This year I'm working us toward a less-complicated garden rotation system based on the one Jean Martin Fortier (author of The Market Gardener) uses at Les Jardins de la Grelinette. It's based on 5 groupings of vegetable types, and as I adopt a similar rotation here, I'll be re-labeling the dividers in my seed binder to reflect those rotation groups.
There are SO many ways to organize seeds. I hope this peek into my seed binder has been helpful, and would LOVE to hear about the seed organization hacks that work best for you! Let me know in the comments below!
Happy planting!
Read Next: Free Printable Seed Catalog Scavenger Hunt
Pin for later: