Did you know that growing asparagus from seed is not only possible, but a GREAT way to affordably start a sizable asparagus patch? I hope you'll find these tips on how to grow asparagus from seed helpful, as you start your own bed of asparagus, which can feed and delight your family for years to come!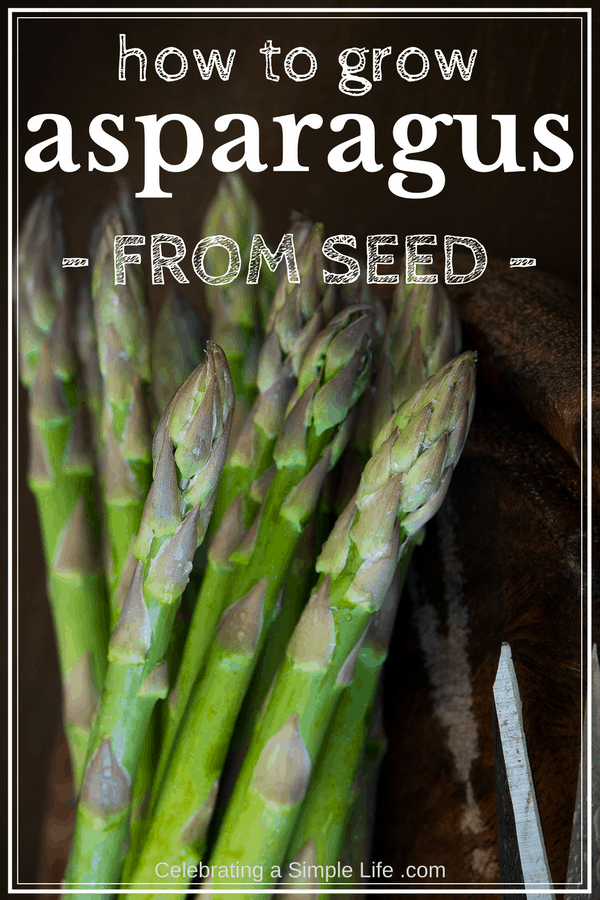 This article contains affiliate links. Click here to learn more.
When we first bought our home, I was excited to get beds of some of my favorite perennial vegetables started. On our first run to our local farm store, I picked up some bunches of rhubarb, and asparagus crowns that happened to be on sale. YAY!
The rhubarb grew and flourished...but the asparagus sadly never did. The following spring, I thought about ordering some more crowns from a seed company that I love, but holy cow, they were pricey! And on our teeny tiny budget at the time, I could hardly afford to buy our garden seeds, so decided to hold off. This year, as I was once again marveling over how much it would cost, to put in as large a bed of asparagus as I'd like to have, I stumbled on something. Asparagus seeds!
For less than $3, I could get 50 asparagus seeds from one of my favorite seed growers, Prairie Road Organic. And these were a variety that's particularly well-suited to our colder Maine climate. I was more than happy to take a $3 gamble for good-sized asparagus bed - even if it'll take 2-3 years to really reach a harvest-worthy size.
I've been delighted so far with my gamble, and here's what I've learned in this first season, about growing asparagus from seed.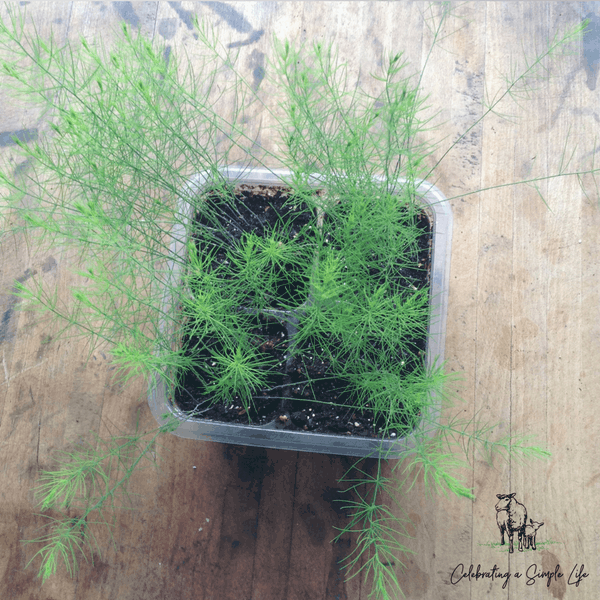 How to grow asparagus from seed
Start indoors, 10-14 weeks before last frost date
Begin by choosing high-quality seeds, from varieties that do well in your climate (This is where I got mine).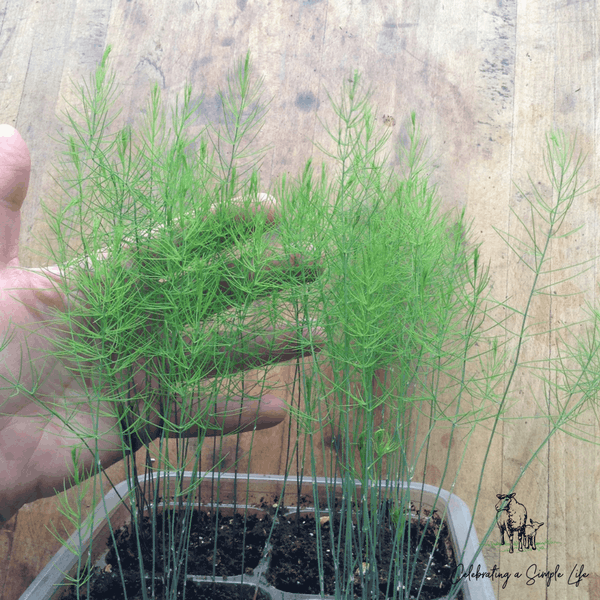 Plant seeds in a light seed-starting mixture, 1/2 inch deep. I had nearly 100% germination, without soaking the seeds, and truly don't feel there is any need to pre-soak them. Asparagus seeds do take a while to germinate - most sources say 3 weeks. I found that 90% of my seedlings emerged within the first two weeks, with a few stragglers that popped up as much as 4 weeks after planting.
Plant in full sun, after last frost
After all danger of frost is passed, plant your asparagus seedlings in a well-prepared bed. You want a location that gets full sun, with rich, well-drained soil. A raised bed, that's had a generous layer of organic compost added, is absolutely ideal.
As you separate your seedlings, you'll be surprised at the very impressive roots under those spindly and almost-ethereal little spears! Set each plant 2-3 inches deep, and space plants about 2 feet apart in each direction. Give them a nice thick layer of mulch, and a good watering.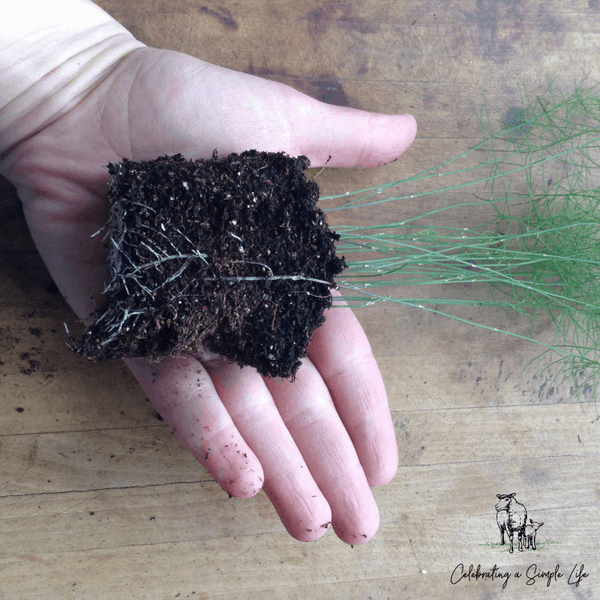 Care for your young plants carefully the first two seasons
Maintaining a good level of moisture for young plants is important as they're getting established, but you also don't want them to sit sopping wet for long periods of time. This is why selecting a rich and well-drained area for the asparagus bed is so important. A good heavy layer of mulch around the young plants will really help keep the moisture level ideal, as they're getting established.
You won't harvest any spears this first year, or even next year. So for now, you're just keeping them weeded, watered, and mulched. In the late fall, as you're prepping your garden beds for winter, you can cut down the spears that will have grown up and gone to seed, and add them to your compost heap. This is a good preventative measure, to help keep pests like the asparagus beetle from overwintering among the young plants.
Start gently harvesting in the 3rd year
By the third year (two years after planting out your new seedlings), you should be able to start cutting some of the larger spears. You'll want to leave the smaller spears to grow up and fully frond out, so that they'll feed and support the root system. If you continue to side dress with good compost, and mulch the beds each fall, always allowing some of the smaller spears from each plant to fully grow and mature, you should have a robust bed of asparagus plants, that will provide abundant harvests for years to come.
While you may still want to invest in some asparagus crowns to jump-start your harvest, I hope these tips for how to grow asparagus from seed can help you to establish a larger, more abundant bed of plants than you might otherwise feel you can afford. It's been a game-changer for me, that's for sure!
Update
This post was originally written April 7, 2018. Updated January 25, 2019.
I thought it might be helpful to share an update on how our asparagus plants from seed grew in their first year. I wish I had some photos of them at the end of their first season of growth - I couldn't believe how tall each plant grew, and how many shoots they put out!
In late May, I transplanted the seedlings to their permanent bed. At the same time, I purchased 25 year-old asparagus crowns from our local feed store. I planted my young seedlings in one half of a 40-foot garden bed, and the asparagus crowns in the other.
By the end of the summer, if I hadn't had the plants well marked, I wouldn't have been able to tell the difference between the plants grown from seed (started in February) and those grown from year-old crowns. I'll be very interested to see and compare the size of both when they come up in the spring, after one of our long Maine winters! I'll keep you posted!
Pin for later: