If you find yourself with too many young cockerels, it can be tough choosing the best rooster to keep for your flock. I hope these criteria might help simplify the decision-making process!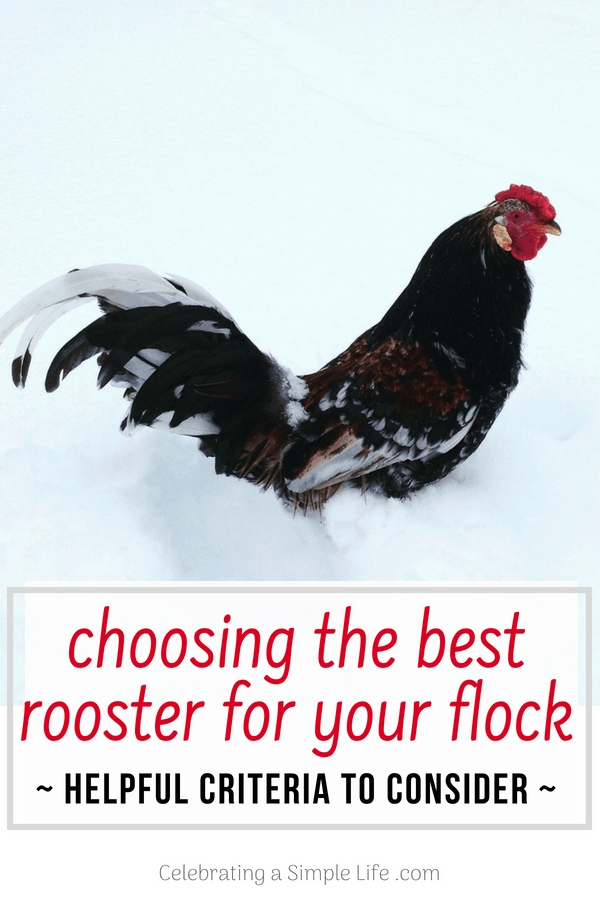 This article contains affiliate links. Click here to learn more.
When you hatch out your own chicks, or buy them straight-run from a local breeder, you're bound to end up with more roosters than you can practically keep. If, like we do, you keep a self-perpetuating flock with lots of chicks being hatched out every spring - extra roosters become a yearly fact of farm life.
Every summer we end up with at least an extra dozen or so young cockerels, which means that about the time they all start crowing, some tough decisions need to be made.
For us, that stage of things usually creeps up sometime around August. One morning I'll hear the first awkward, adolescent crow from one of the youngsters. Within a week or two, things start to get noisy as all of the spring cockerels find their voices. Eek! Time for the annual chicken bachelor pageant!
Choosing which animals to give away or cull for meat is never an easy decision. I find, though, that taking a few criteria into consideration helps me come at it a bit more objectively. Over the years, I've come up with a list of things I look for in our roosters, and it really simplifies the decision making process for me. I hope it might be useful to you as well.
Here are the criteria I use when selecting which young rooster becomes part of the permanent flock:
How we choose which rooster to keep
Temperament
This is the first, and most important criteria in our flock. Above all, I want a rooster that's going to be well-tempered and gentle with my family, including my two small children. I watch the behavior of the young cockerels carefully as they start coming into their own, and the most aggressive ones don't make the cut. While it's very normal rooster behavior do a little jousting over who gets the "favorite" hens in their posse - those who constantly seem to be at the center of more heated disputes end up in freezer camp. Given plenty of food and space, it's perfectly normal and peaceful to keep multiple roosters in one flock.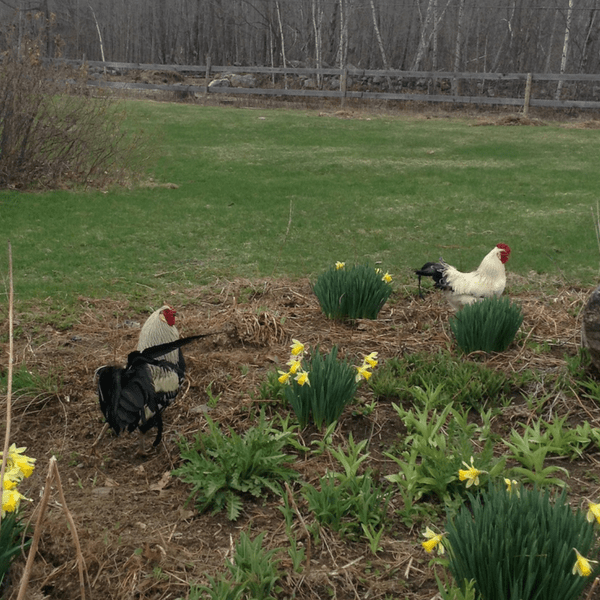 While aggression is a not a trait we want, I DO however, want my roosters to be confident, and help guard the flock against predators. So timid fraidy-cats are out.
It's also important to me that my roosters have a very clear sense of "home territory". Over the years I've noticed that some cockerels seem a bit more prone to wanderlust, and want to take a few of the young pullets away to explore the woods or the neighbor's yard. I choose roosters that consistently stay close to our home and coop. It could honestly be coincidence, but I feel I've noticed that since I've been selecting for this trait for several years now, my last several hatches have had a much lower percentage of cockerels that want to wander far from home.
I also watch how they treat the hens. Are they gentle with "my girls"? That's important to me too!
And CROWING. Crowing is a big enough factor I almost should call it a category of its own. Some roosters crow so much more than others. From what I've noticed in my flock, the very first roosters from any hatch to start crowing, usually grow up to be ones that also crow most often as adults. Again - this is purely anecdotal, just what I feel I've noticed in my own flock. While I love the sound of a rooster crowing, I don't love it to be an incessant soundtrack to the day. So for my own happiness, and that of the neighbors, I choose roosters that crow less frequently.
Appearance
Close adherence to breed standard
Because I raise a landrace (Icelandic chickens) - rather than a breed, I don't have a set "breed standard" that I'm shooting for. However, if I were raising a pure breed chicken with a standard recognized by the American Poultry Association, this would be the second most important criteria that I'd select for. These are the kind of things I'd be looking for:
Coloring - does the color and pattern hold to the breed standard?
Weight - I'd also weigh them, and make sure to choose those that (for their age) are correct for the standard.
Conformation - is the shape of the rooster correct, as well as the way he holds himself?
Character traits linked to the breed - if there are any behaviors associated with the breed, does he display these?
Personal preference
Now, while I might not be looking to win any ribbons for adhering a breed standard, I do have some personal preferences when it comes to appearance, and you might also. For my flock I tend to favor:
Rose or Pea Combs - these are less prone to frostbite in our cold Maine winters.
Color - I like a colorful flock, so I choose roosters likely to sire a good variety of colors in their offspring.
Weight - I like roosters with a slightly larger build, since I raise extra cockerels for meat, and this is a trait I want to encourage in my dual-purpose flock.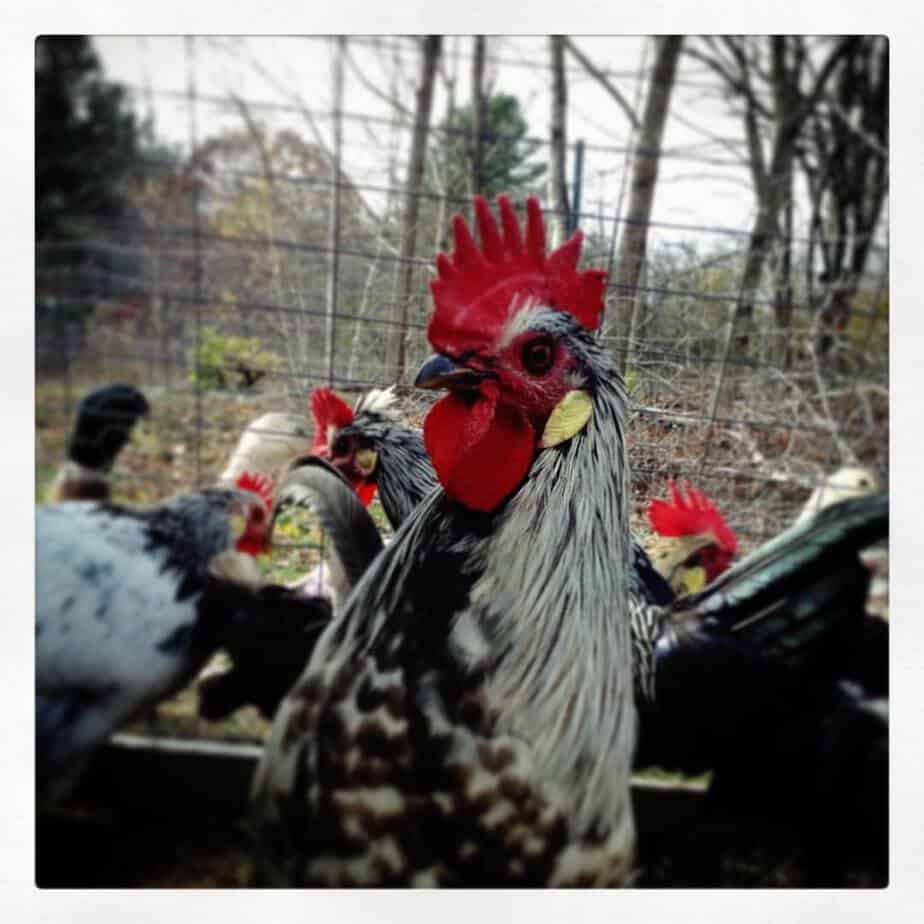 Genetic Diversity
When keeping a self-perpetuating flock, I like to bring in new bloodlines every several generations, to help maintain genetic strength within the flock. It's possible for a closed flock to lose fertility over time, and for resistance to disease to become weakened. Negative traits (like fray feathering) can also be more likely to pop up when maintaining a closed flock and never introducing new genetics.
We keep two roosters at all times, and sometimes three. Until he gets too old to do his job, our Ragnar will always be our primary rooster. So with an eye to maximizing genetic diversity, I try to make sure that our secondary rooster(s) are from a different bloodline, or at least sired by rooster that wasn't closely related to Ragnar.
What do the girls think
Yes. I ask my hens who they like best, and I take their opinion VERY strongly into consideration. When in doubt, I trust my girls. If you spend any amount of time in the chicken yard, you'll very quickly see which young fella the girls favor. When I see established hens wanting to be part of a young cockerel's posse - that tends to be a good sign. You want a rooster that the girls trust and follow. My girls have great instincts, and many times cockerels they liked but that I'd not put much stock in, have turned out to be very fine roosters and good protectors.
This last year, I let a few extra roosters winter out in the flock. The one the girls loved (but had been on my freezer list!) has turned out to be my finest young rooster. The one I'd originally thought was going to be great turned out to be a total pansy who's afraid of his own shadow.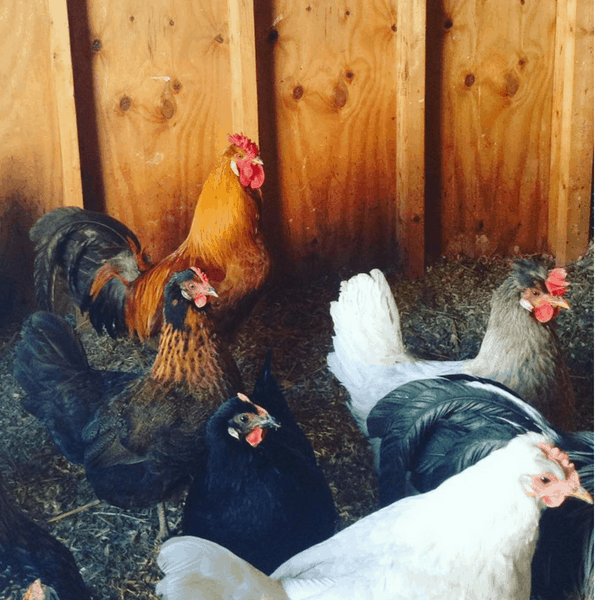 Sentiment
Sometimes, especially when you're a farming family with young kids - young cockerels get named. Next thing you know, they're a FAVORITE chicken. You find them perching on your daughter's head, getting rides in the wagon, and sitting on your shovel handle while you garden.
Sometimes, at least in our family, sentiment wins out. And that's not always a bad thing.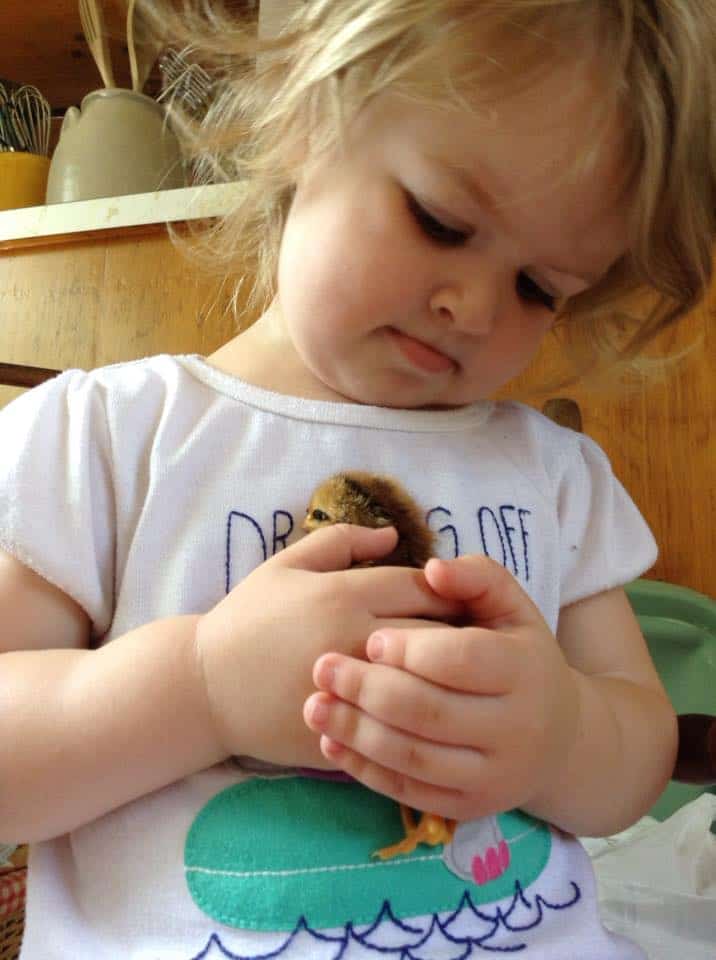 Well, that's a little window into the inner workings of my decision-making process, when selecting a new rooster to add to our flock. If you have any other criteria you keep in mind when choosing which roosters to keep, I'd sure love to hear your tips. I hope this helps as you make your own decisions!