Are you tired of watching your kids ride a miserable sugar high, after diving into their Easter baskets? Here are 23 wonderful non-candy Easter basket ideas to try this year instead!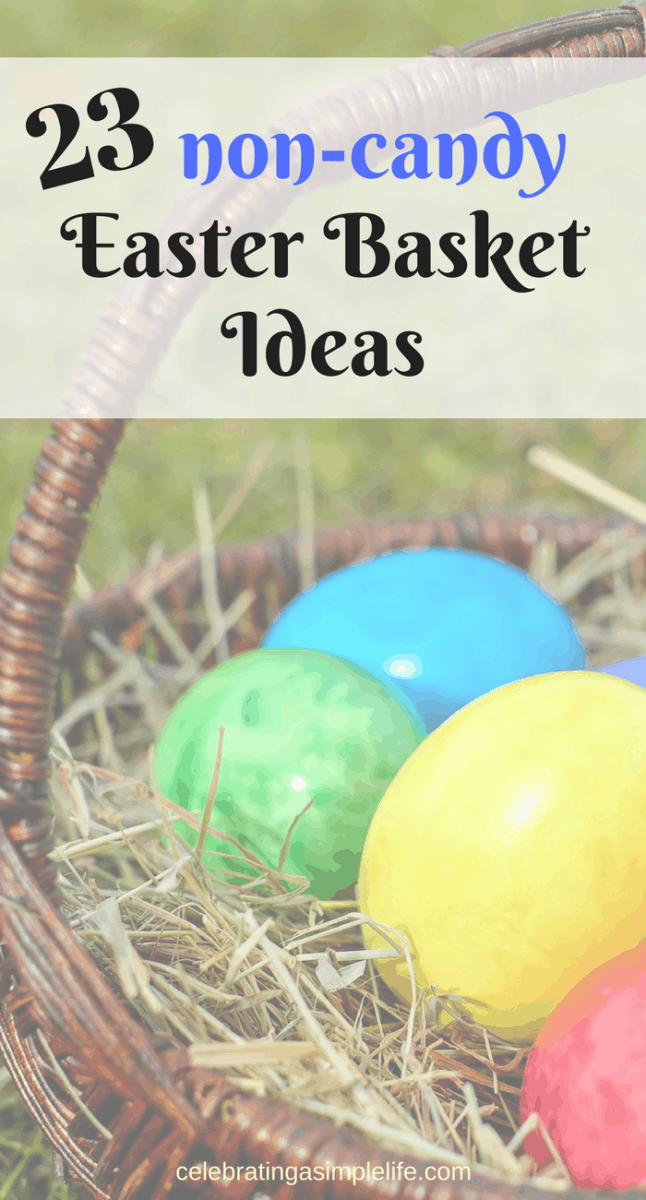 This article contains affiliate links. Click here to learn more.
Growing up, I can remember very well the wonderful rollercoaster that was Easter Morning. We'd get up before dawn, so my music-ministry parents could help lead the sunrise service. This was usually followed by a big pancake breakfast, and then Easter baskets, and our AMAZING Easter treasure hunt. (You guys, some day I'll have to write a whole post about how to put on the most amazing Easter hunts ever...because my parents are the masters, when it comes to creating the perfect treasure hunt!)
By the time we were back at church for the regular morning service, we were SO red-cheeked and jittery! I used to think it was just the excitement of it all but in retrospect I'm pretty positive it had an awful lot to do with all the sugar and artificial food dyes that we'd consumed over the course of the morning.
Now that I'm a parent, I'm trying to find ways of keeping all the Easter morning magic - while sparing my kids the jitters and sugar coma! Filling exciting Easter baskets with things that aren't sweets (and that don't cost much!) definitely takes a little creativity. Here's a quick list of non-candy Easter basket ideas I jotted down the other day. I hope it might help give you some ideas as you put together baskets for your own little Easter munchkins!
23 Non-Candy Easter Basket Ideas
hatching eggs
Hatching your own chicks can be such a magical springtime activity. If you're looking to add some new chicks to your flock this year, why not surprise your child with some fertile chicken or duck eggs that they can hatch themselves?
watercolors & paint brushes
My kids just adore getting new art supplies. New watercolor sets don't cost much at all, but they bring a lot of joy, and make a really colorful addition to an Easter basket!
little hair clips
Tiny hair clips are so inexpensive, or you could really get creative and make your own! If you have a hot glue gun, it's easy to decorate handmade clips with anything from vintage beads, to feathers, to beautiful shells or even soft little pieces of driftwood. I like this clip size for little girls, or these little bobby pins!
homemade play dough
Play dough makes another colorful addition to a basket! Check out this wonderful recipe for all-natural homemade play dough from my friend Rebecca over at Strength and Sunshine - it's even gluten free, so safe for any kid!
work gloves
I love including gardening supplies in Easter baskets - it just seems so joyfully springtime-ish! Tractor Supply usually has a good stock of small children's gardening gloves, or these ones on Amazon look like they'd work well too!
pretty handmade headband
A new headband is always fun, and Easter morning is a great time to try out some sweet new hair accessories! Check out this tutorial from Darcy at the Ruffled Stitch for an easy-to-make headband that probably won't cost a dime, if you have scrap fabric floating around!
handmade bow tie
And if we're going for handmade headbands...how about adorable handmade bow ties for the wee fellas? I mean, could there be anything cuter? Brittany Estes has a great tutorial over on her blog. This is such an easy and addictive little project, you're bound to end up making a dozen of these little cuties.
handmade superhero masks
Here's another adorable handmade project that you can probably make without spending anything, if you're like me and have a huge stash of scrap cloth! What better way to spend Easter afternoon, than running around playing super-heroes?
handmade capes
And if we're gonna have masks...how about some capes? The crafty ladies over HowDoesShe.com have https://howdoesshe.com/how-to-make-a-cape/a really easy tutorial that can be whipped out in no time!
packets of seeds
Little packets of seeds for planting together could be another fun idea. If you save your own seeds that makes it even more special. Click here for a template that you can print, to make your own cute seed packets!
small garden tools
These small hand tools are the absolute best. We've used and abused the little spade from this set for years, and because the heads are screwed right into the handles, they never fall off. Plus - they're so bright and cheerful, they just put a garden-themed Easter basket right over the top!
water bottle
With summer weather coming, I like to make easy on all of us to stay hydrated. So I'm thinking of putting cute BPA-free water bottles in the kids baskets this year. I like these ones from Nalgene, but there are so many great options out there these days!
"treasure" map to their own little plot of ground for a garden
Last year, Izzy got her own little garden, and she loved it so much! She's already talking about what she's going to grow in her garden this year. I thought it would be a really fun idea to make a little treasure map that she can follow through the house and out around the yard, ending up at an "X" marking the plot that will be all hers this year, for her own wonderful garden.
pieces of soft colorful rope, with a printout of how to tie different knots
I LOVED learning to tie knots as a kid! My kids are a tiny bit young for this, but when they're older, I think this would be a fun idea. I'd include two soft pieces of rope, in different colors, along with a printout (like this one) of how to tie some of the most common and useful knots.
handmade finger puppets
Both of my kids love puppets. Any time we get out puppets of any kind, the house just fills with loud, boisterous, belly-laughs. I've been wanting to make some cute little finger puppets to go with different themes (woodland animals, the barnyard, noah's ark...) and I think Easter would be a great time to tuck a set into each of their baskets. If the idea of winging it is daunting, try this great tutorial with free printable templates!
tiny sketchbooks
I always feel like anything to do with writing or art supplies is an investment in my kids' creativity...whether they write, or sketch in them, it's all a good thing, and I want to encourage it as much as I can. I remember getting a little blank book for my 5th birthday - to this day, it's one of the favorite birthday gifts I've ever received. Even then, I knew I wanted to write. Sometimes just the invitation to be creative is a gift.
mini pens or pencils
Along with those tiny notebooks ...maybe some little writing utensils?
handmade mug cozies
My kids really love a good cup of tea. Tea in their favorite mugs is even better. Their favorite mugs, with adorable crocheted mug cozies? I can only imagine they'll love tea time even more. I think I might have to find out!
tiny book of family recipes
This is something I've been wanting to make for Izzy for a while, and Easter seems like a good excuse. She really loves cooking from recipe books. Sometimes she'll just gather a whole lap-full from the cookbook shelf and sit on the floor looking through all the pages. Even if they don't have pictures. She is her mother's child, that's for certain. I want to make her a little recipe book of her own, with some old family recipes copies into it, that we can keep adding to each year.
origami paper, with folding directions
I didn't start learning origami until I was an adult, but it's SO peaceful and enjoyable, I really think I would have loved it as a kid. Bright origami paper is very inexpensive, and easy, detailed instructions are available free online from quite a few great sites. This site is one of my favorites, for really easy-to-follow instructions for kids.
pocket guide of native plants or birds
Small pocket guides are wonderful for helping kids learn to identify the plants, animals, and birds that live in their region. Since my kids are still so small, this young children's version from National Geographic is the one I have my eyes on.
small pocket knife & a few great whittling sticks
For a kid who's old enough, a pocket knife can quickly become one of their greatest treasures. In a few years, I'll definitely be tucking some simple pocket knives into my kids' baskets, and teaching them how to properly and safely carve wood.
a list for an exciting Easter scavenger hunt
Especially if you have a houseful of people for the holiday, a scavenger hunt can be a fun way to just get everyone moving! Put a list in each kid's basket (like this free printable one), divvy up the adults onto teams with each kid, and turn 'em loose!
Those were just the ideas I quickly jotted down on the back of an Amazon box while dinner was cooking last night. There are SO MANY great non-candy Easter basket ideas for filling a kid's Easter morning with fun and magic - without breaking the bank! I love this post from my dear friend Mary over at Boots and Hooves homestead, with even more creative and eco-friendly Easter ideas.
I hope this list helps get your inspiration flowing - and I'd love to hear about your own great ideas! What do you think would make a wonderful addition to a candy-free Easter basket?