It's not uncommon to find opossums in the chicken coop, especially in Spring, when they're looking for a nesting spot. Here's what to do if you find a 'possum in the coop!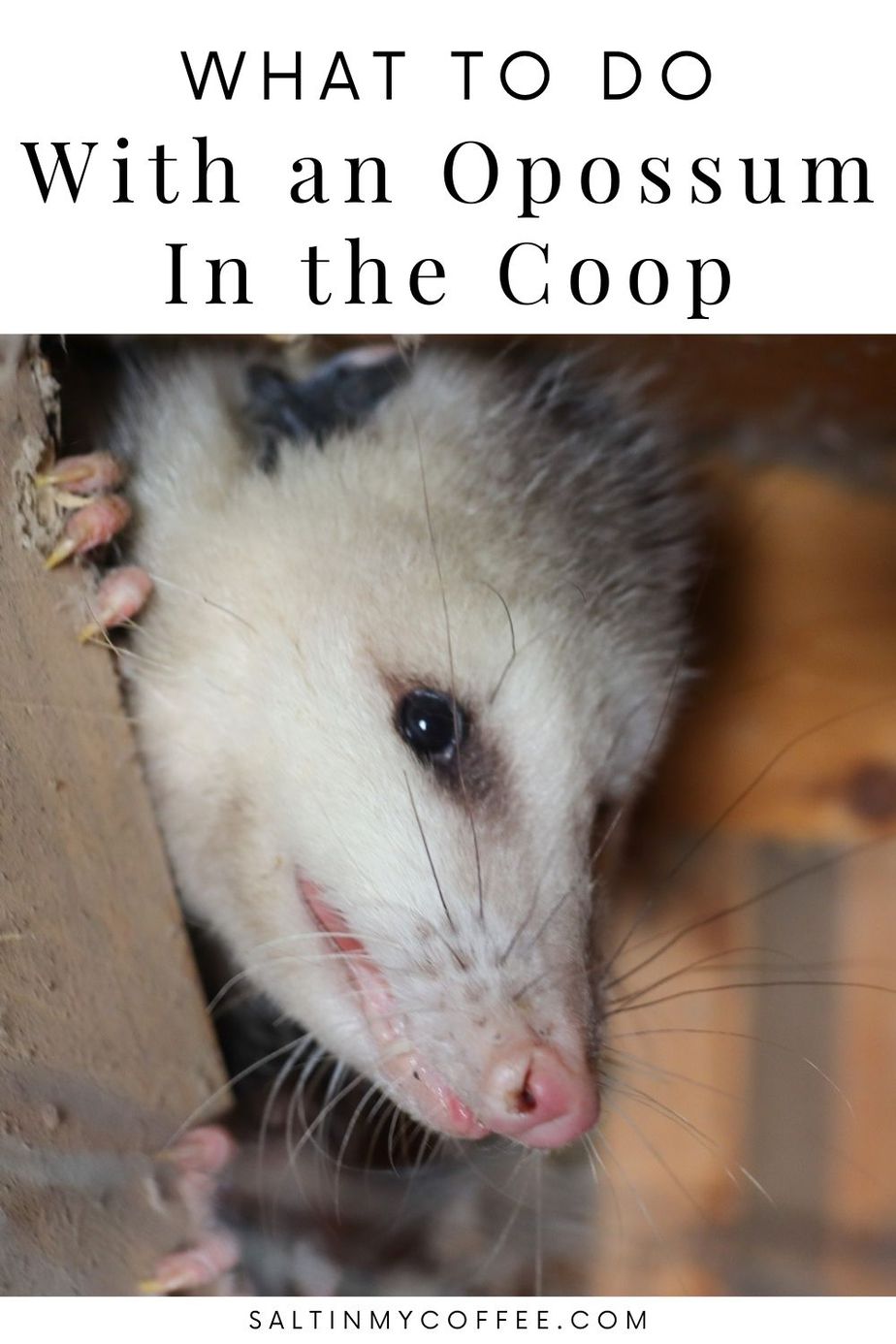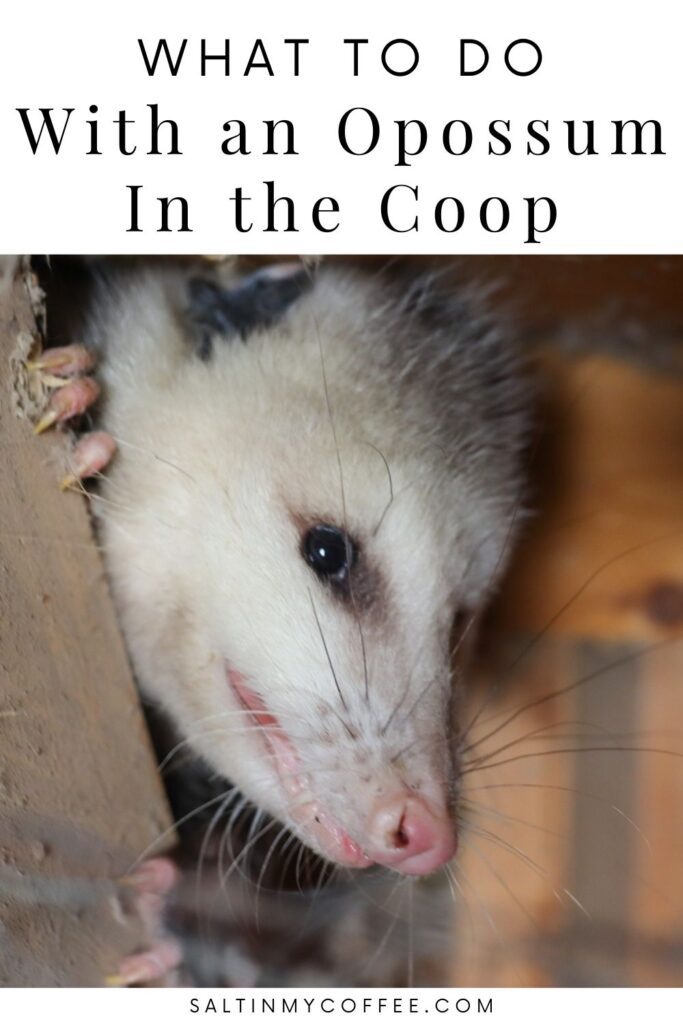 This article contains affiliate links. Click here to learn more.
On a cold and windy morning last week, I opened up the barn to let the chickens out for the day, and discovered a surprise guest in one of the nesting boxes.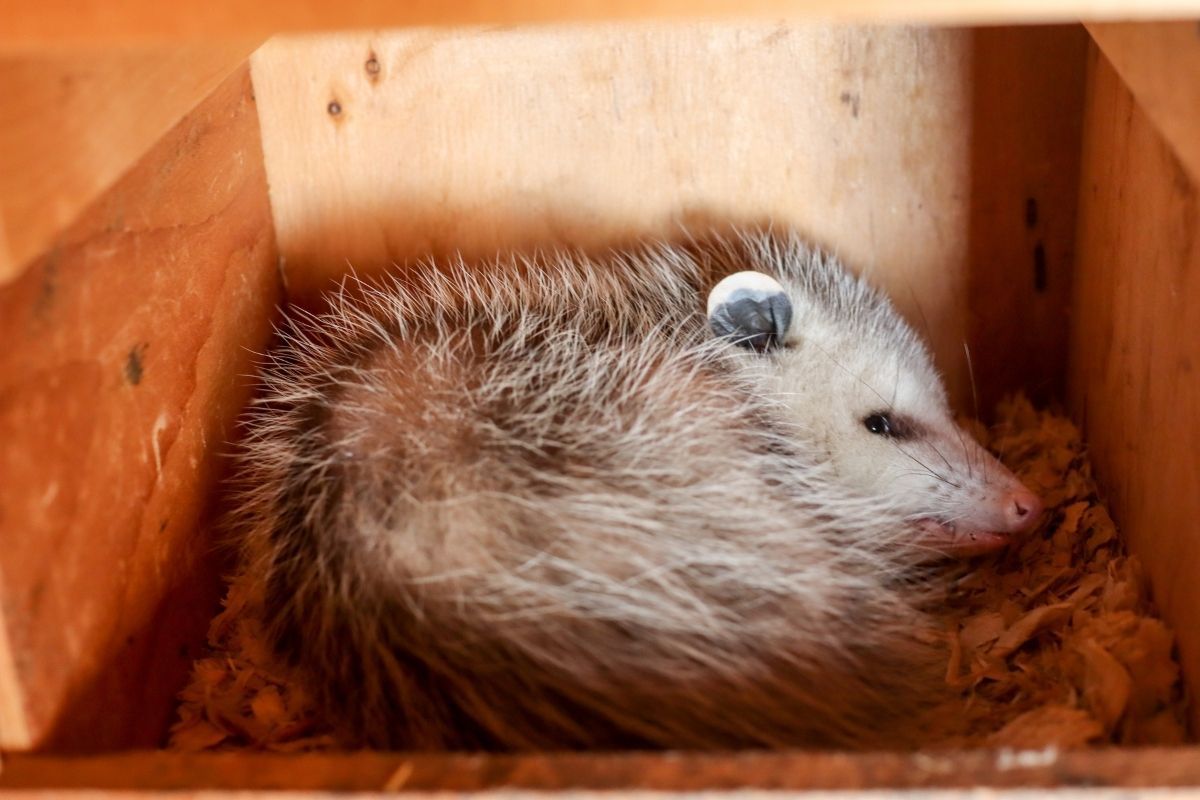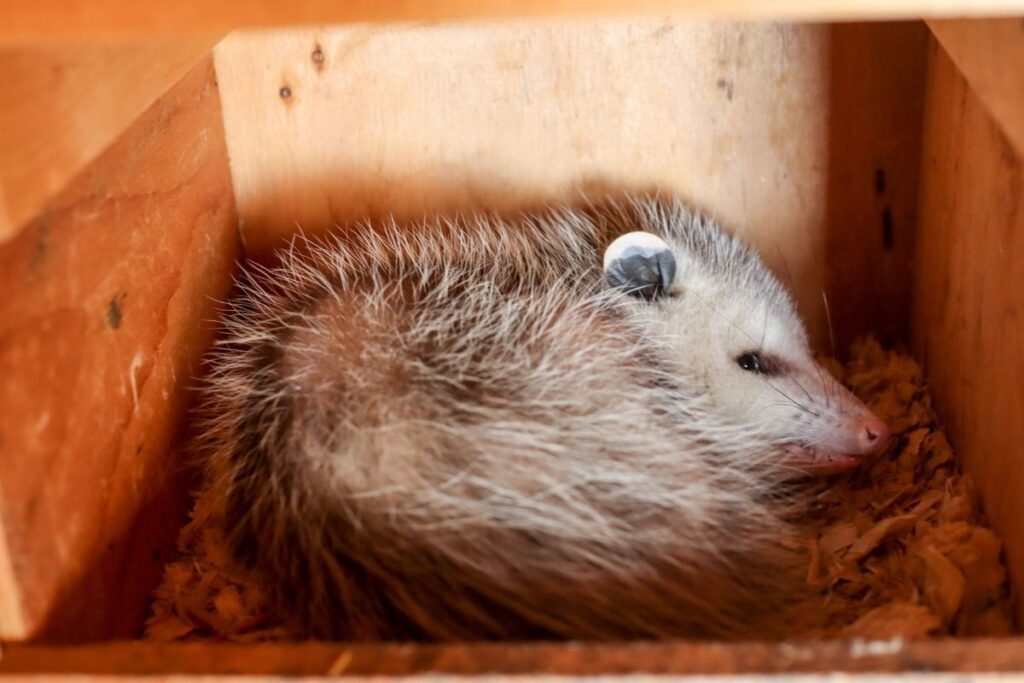 We'd had torrential rains all the night before, with nearly gale-force winds. So if ever there were a night to make a little critter seek shelter with a bunch of feathered strangers, that would be the night!
I'm just glad I didn't absentmindedly reach into the nesting box where she was curled up. I do the morning chores before coffee (maybe not the best idea!), and sometimes I'm really still just half awake.
What I thought was strangest, was the fact that not one of my girls--not the chickens, not the ducks, and not even the turkeys, seemed even a little bit bothered by our visitor!
In fact, while I ran to the house to grab my camera, my shy little Susan even hopped up into the nesting box right next to the one occupied by the opossum, and settled in to lay her daily egg. No big deal, apparently! It's almost like they were glad to have someone new to talk to.
As my friend observed, "Social isolation wears on us all."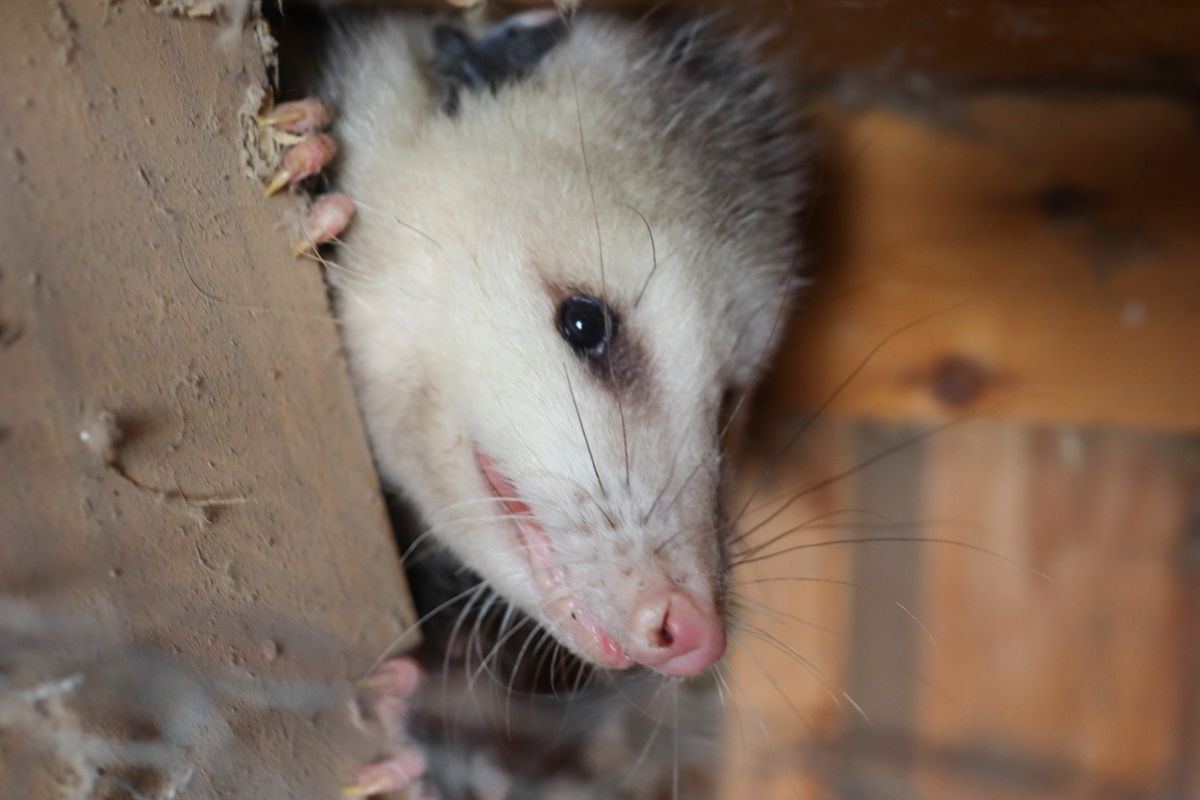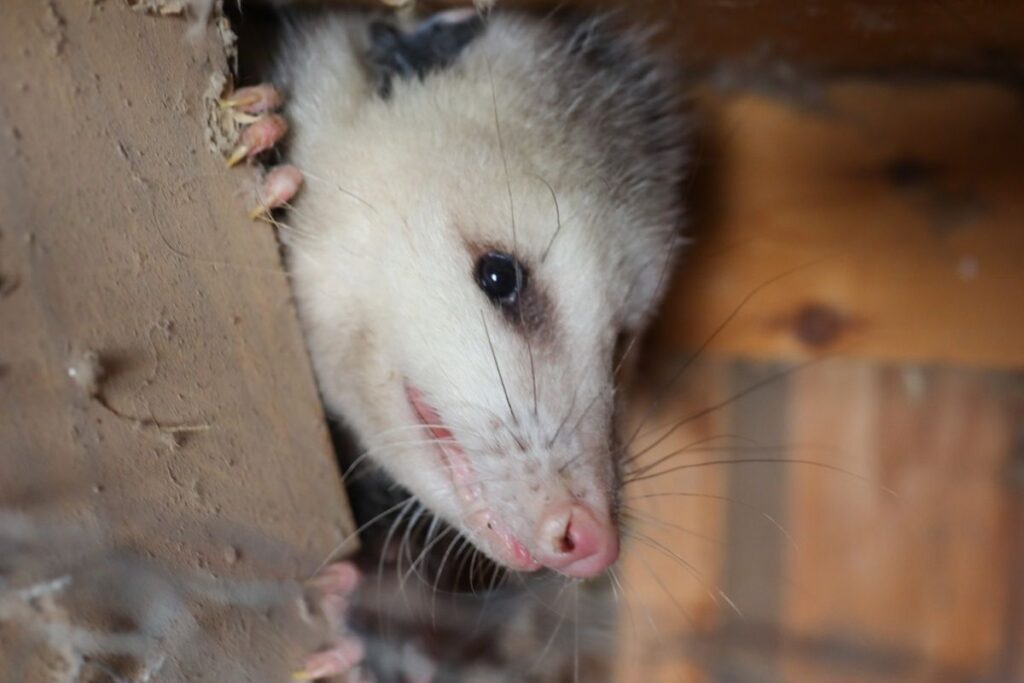 Here's the thing about opossums though--I know they eat eggs. What I wasn't sure about, was what diseases they might carry, or what protection status they might have.
I thought that before evicting the poor dear, it might be a good idea to call the game warden's office.
Let me tell you, there is nothing like speaking to someone who LOVES their job--especially at 8:00 in the morning. Over the next several minutes, I got an education in opossum biology that I didn't know I was missing!
Here are some amazing facts about opossums
-> While they may look like rodents, they're actually marsupials. In fact, they're North America's only native marsupial.
-> They are not considered a rabies carrier, because their low body temperature makes them incompatible as a host to the rabies virus.
-> Did you know that opossums only gestate for 11-13 days before being born, and moving to their mama's pouch?
-> I also learned that it's very common, especially in springtime, to find opossums in chicken coops. They're getting ready to have their babies, and are looking for safe places to nest, as well as reliable sources of food.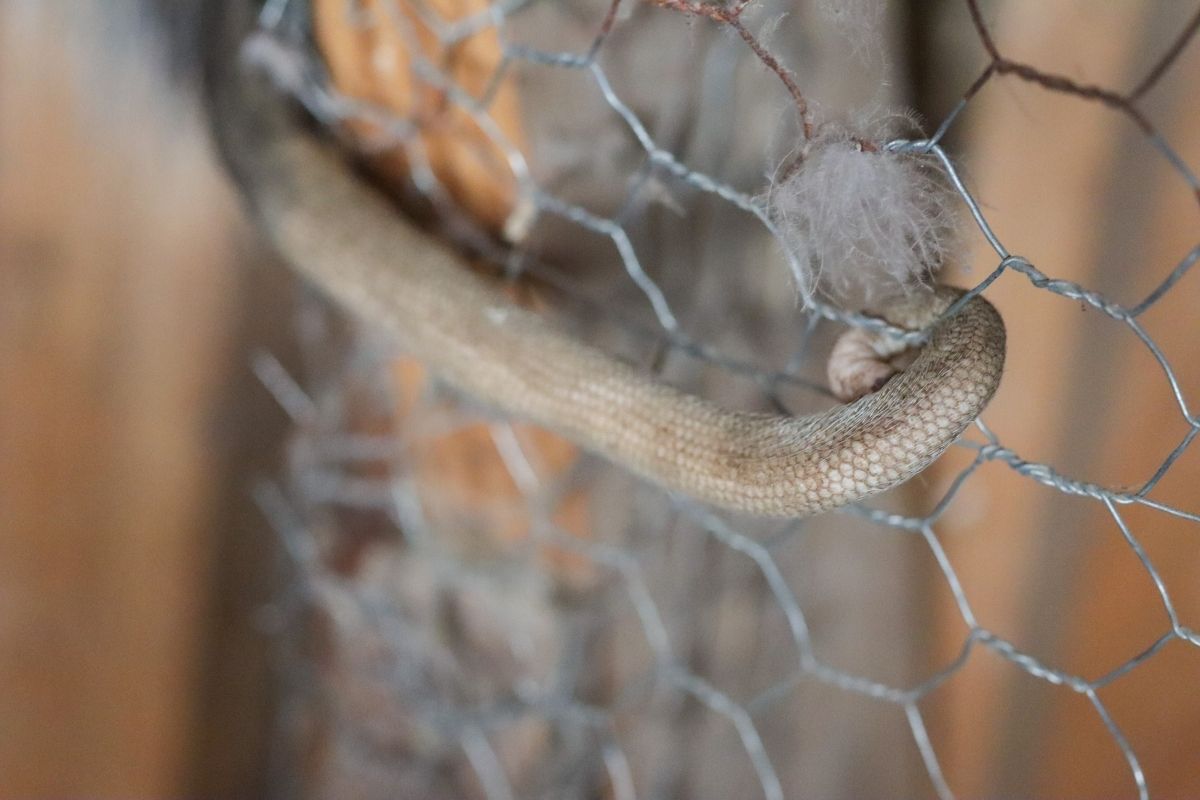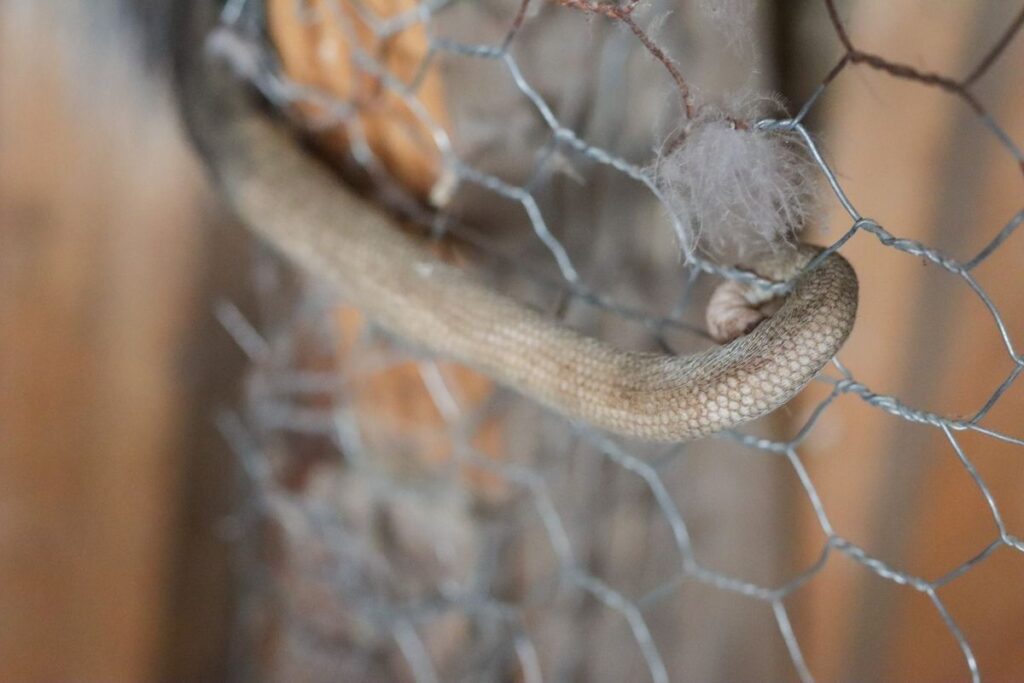 In the case of this beautiful girl, I felt especially bad for her because the 70 acre parcel right behind our little homestead just got clear cut. I feel pretty certain her usually nesting territory was destroyed.
It's no wonder she was looking for a new place.
But how to get her out of the coop, and moved on to somewhere safe?
The game warden had some ideas for me. As a non-dangerous animal, this wasn't something they'd come remove, but he talked me through all the best tips for helping her to move on.
How to get an opossum out the chicken coop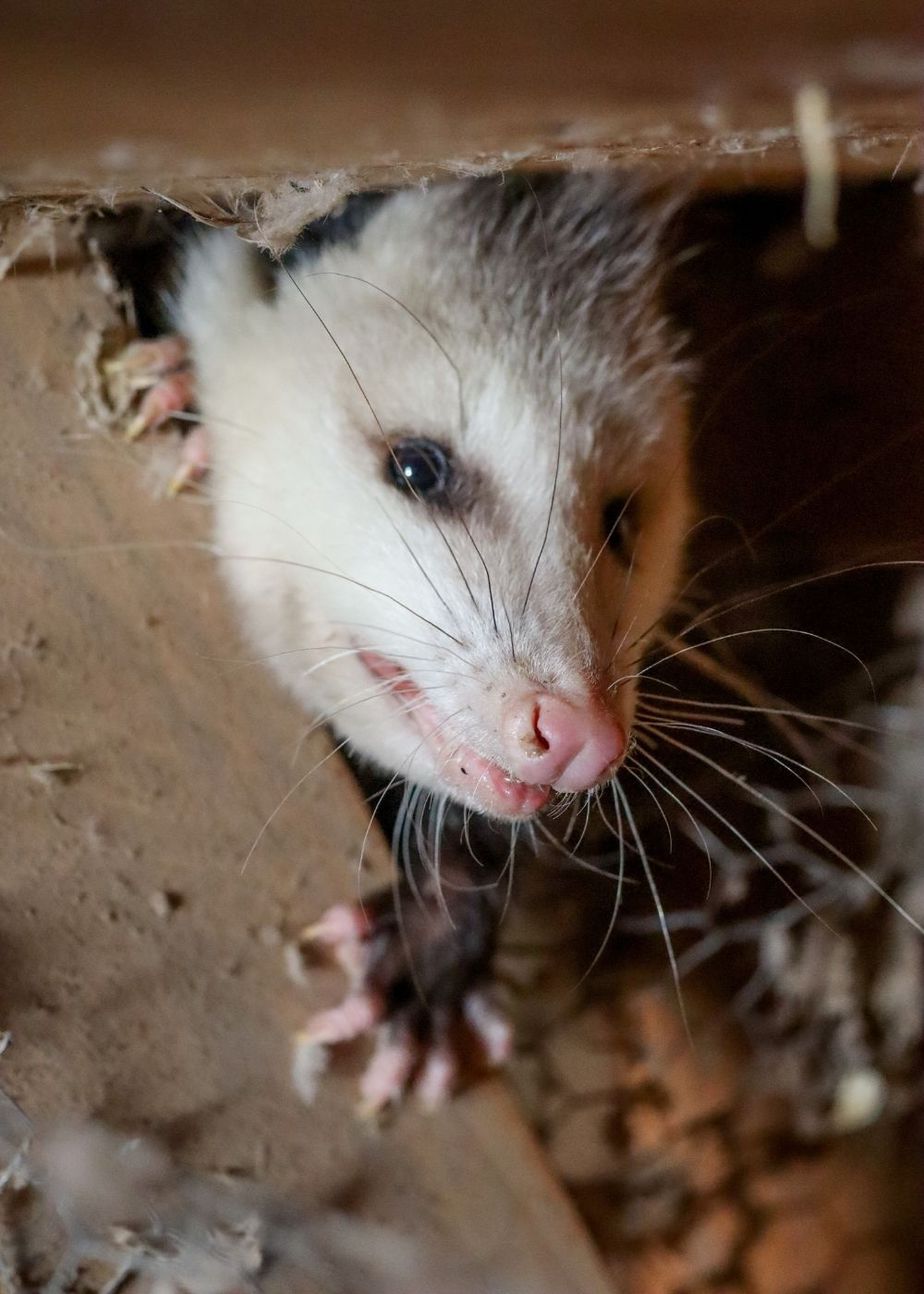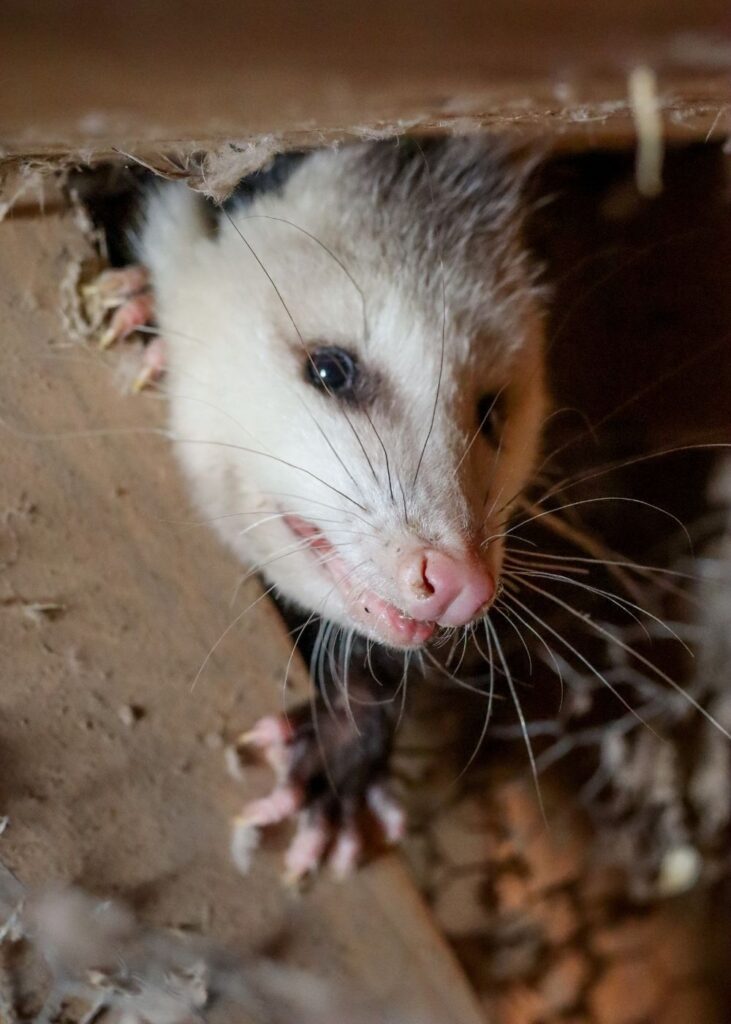 Open all entrances to the barn or coop, and give them a chance to leave on their own.
Try to keep things peaceful enough that they'll stop "playing dead" (if they are), and will feel comfortable enough to move out of the barn and on to new digs.
Trap it.
If you have a large sized live trap, like this one, try setting it up in the coop. The game warden suggested peanut butter on a piece of bread as a particularly good nibble to use for bait. The Havahart website suggests fish, apples, or canned pet food. Here are some more tips from Havahart on how to successfully trap a possum using a live trap.
Make the coop less inviting.
Playing a radio in the coop may be enough to discourage the opossum from staying long.
Shoo it out with a long handled broom or rake.
It's better not to try moving the opossum by hand, even with leather gloves, because they do have a mouth full of teeth, and are surprisingly wiry and muscular.
Call a pest removal service.
If nothing else works, the game warden suggested, you can always call a pest removal service. He suggested that especially for older chicken keepers who may be uncomfortable dealing with removal of an opossum themselves, this may be an easier, if more costly, option.
In my case, I ended up scaring the opossum out of the nesting box and into a large cardboard box, which I then used to relocate it away from the coop. This was a small opossum, and ended up being very easy to move.
Opossums generally weigh about as much as a cat, somewhere between 6-12 pounds. However, some people have reported opossums reaching much larger size--up to 25lbs. So while a large cardboard box worked well in my situation, that may not be the case for someone with a larger specimen to move.
Some common questions about opossums and chickens
Do opossums kill chickens?
Yes. Yes they do. There is no mistake about this. Even a small opossum can kill a chicken--even a large one. Sometimes an opossum can leave chickens alone while opting instead to chow down on eggs. Other times, eggs may sit untouched in nesting boxes while healthy, full-grown chickens end up eaten.
In fact, I didn't put it together until after relocating this particular opossum, but it's actually very likely she may have been responsible for the mysterious death of our dearest pet chicken, just 19 days earlier. While I didn't see any tracks, the visible head trauma makes her death consistent with the methods of an opossum.
Should I kill the opossum to protect my chickens?
Let me turn this around and put the question to myself: If KNEW that this opossum was responsible for our beloved pet chicken's death, would I have opted to kill her instead of relocating her?
No. No, I would still choose to relocate.
To clarify, I am not universally opposed to killing "predator" species, when there's just no reasonable way of avoiding it. I have killed weasels that proliferated in the stone wall behind our house, and were responsible for many deaths in my coop. They're harder to permanently relocate, they were in an unusually high-population "boom" year within the predator cycle, and I think it was the right decision.
However, I think that when at all possible, killing wildlife should be avoided and seen as an absolutely last resort - never glorified.
We are all creatures that have to eat, and I feel pretty strongly that it's my responsibility as a landowner, homesteader, and as a human on this good earth, to choose and champion ways of co-existing successfully with precious native wildlife populations. Opossums included.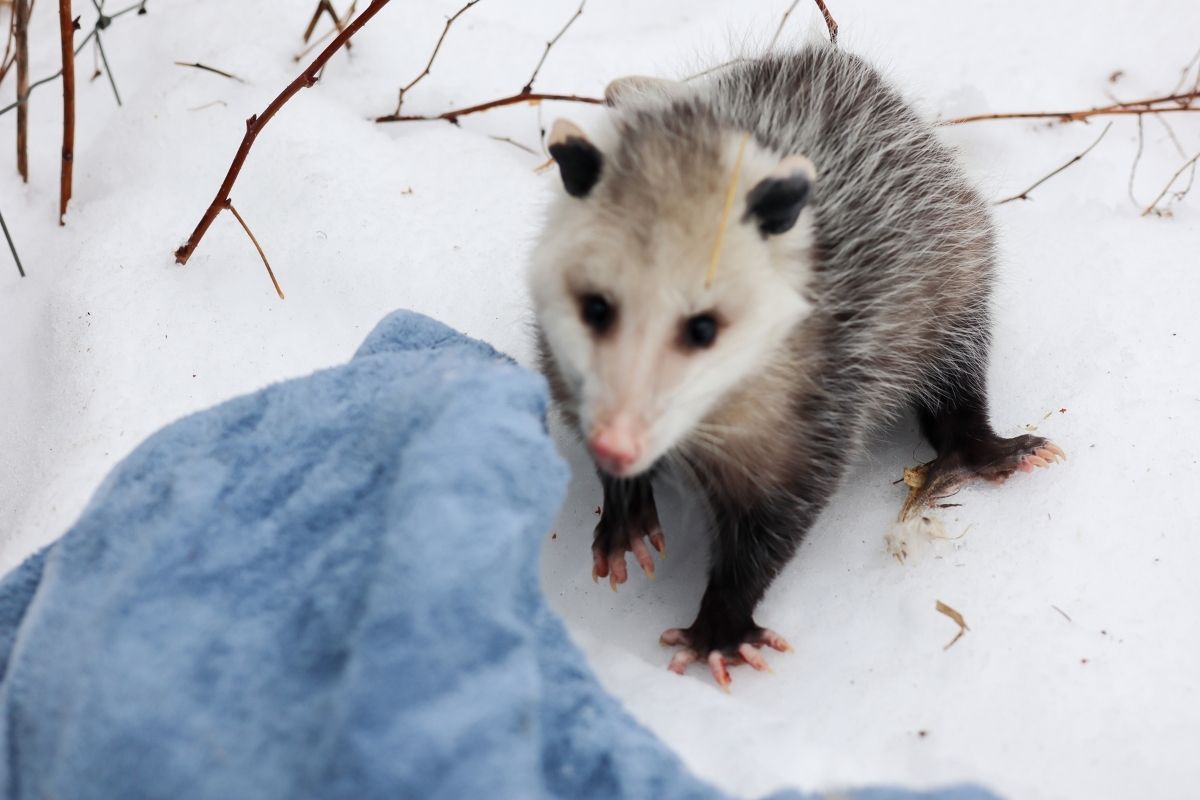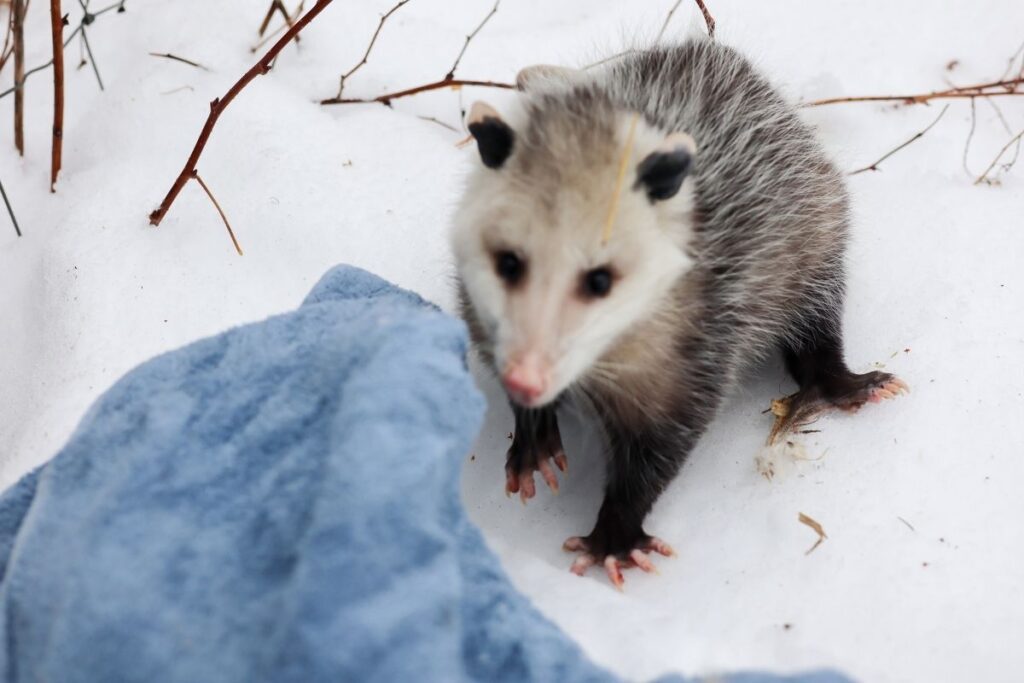 Do opossums eat eggs?
Oh, you betcha. This particular opossum had eaten two chicken eggs, and was curled up around a third. Saving it for later, apparently? Opossums are well-documented egg thieves!
How to keep an opossum out of the coop in the first place?
The best way to keep eggs and chickens safe from opossums is to keep the chicken house securely shut from dusk to dawn. If it's difficult to get out to the coop right at dusk to shut the door, an automatic coop door like this one, can really be a boon.
Shutting the coop securely as soon as all the chickens are in for the night is the absolutely best way to avoid negative experiences with opossums.
Do keep in mind that these amazing marsupials can squeeze through some pretty small spaces. Even a 2"x3" gap may be large enough to let a small one through.
So you'll want to inspect the walls, floors, and doors of your coop well. Seal up any large cracks and or gaps that may possibly provide an entrance to something like a weasel, rat, or opossum.
What to do with a trapped opossum?
You'll want to relocate it in a natural woodland habitat, away from other chicken coops. Since opossums can travel up to a couple of miles in just one night, I've seen it recommended to relocate an opossum as much as 25 miles away from your home, just to ensure it doesn't return.
Keep in mind that some places have ordinances about wildlife relocation, so the best idea is to call your state's wildlife department. They'll mostly likely take your phone number, and have the game warden who serves your town call you back to answer your question, so that you'll be sure to get the correct local advice for your area.
In my experience, game wardens tend to be enthusiastic about helping to ensure that humans and wildlife are able to co-exist peacefully. They should be able to give you good solid guidance on where to relocate your trapped possum.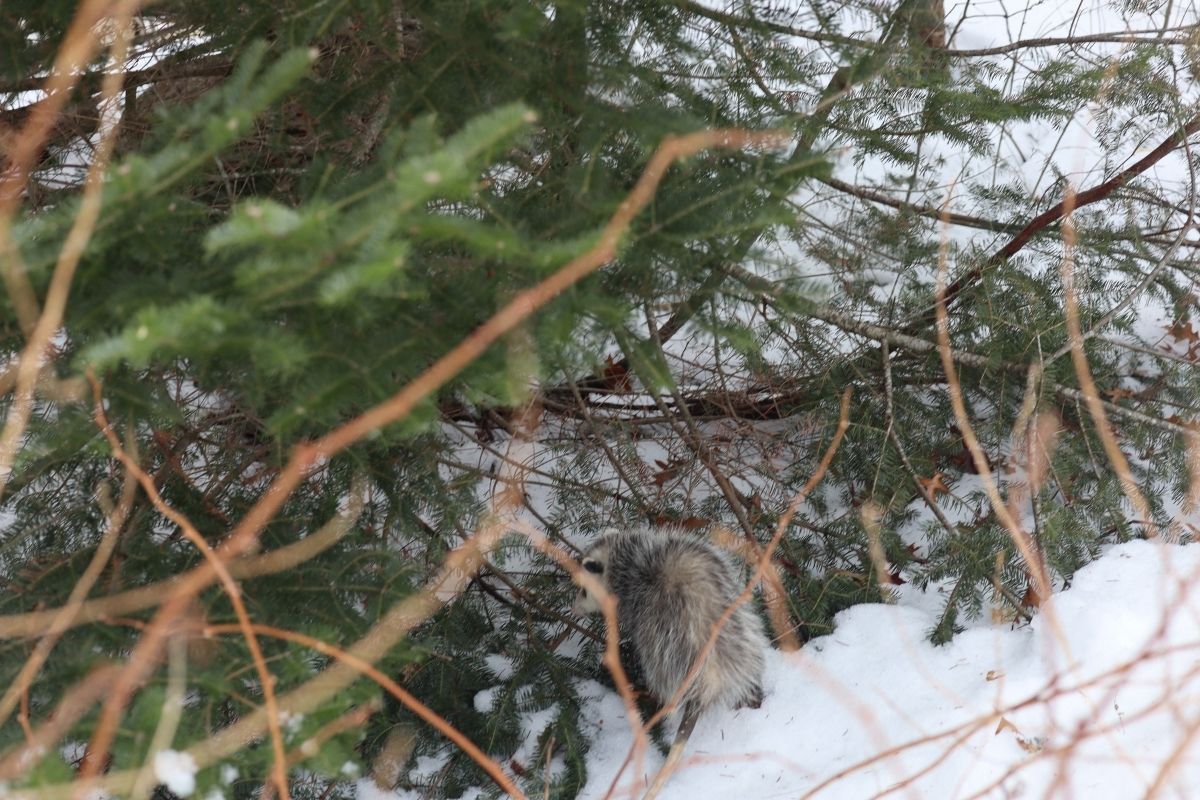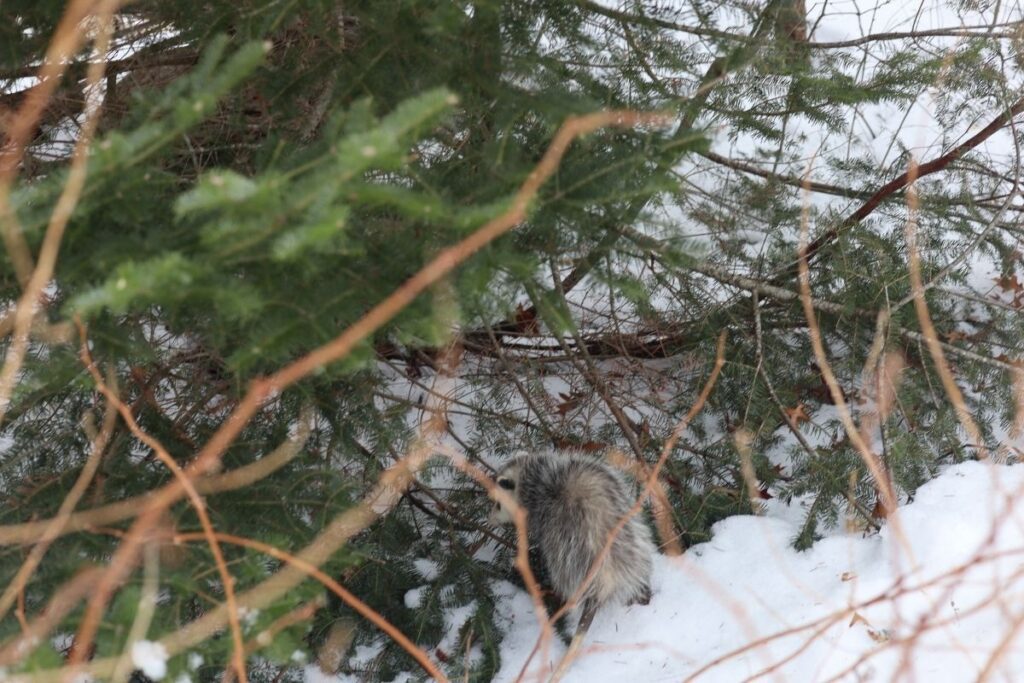 Farewell, fur face. May God bless and keep you--far away from my chicken coop.
---
Well. That was my recent opossum experience. How about you? Have you had encounters with opossums in your chicken house? I'd love to hear about them in the comments. Please feel free to share!