In the 18th and 19th centuries, it was a common custom in the US to serve election cake. So I thought I'd share one today, in honor of Election Day coming up next week!
Most of the early election cake recipes I've found have a few things in common…
They're BIG recipes. These call for ingredients by the pound, and they're made into loaves…quite a lot of loaves. These are recipes for large groups of people, much like the old fashioned wedding cake recipes.
Nearly all call for raisins, and most also call for citron. This recipe includes both.
Election cake seems required to be a spice cake—I have yet to read a vintage election cake receipt that doesn't call for spices, especially nutmeg.
This particular recipe I'm sharing today is from an 1880's cookbook, called Practical Housekeeping. But the book lists this recipe as being over 100 years old at the time, so that would make this a recipe from the 1780's or earlier.
What cookbook is this Election Cake recipe from?
It's called Practical Housekeeping, and was published by the Buckeye publishing company. The edition I have was printed in 1881.
Here's a link to the digitized text where you can actually read the whole wonderful cookbook, if you like! I should specify that this cookbook, like quite a few others of the era, was republished under multiple (very similar) names, over the course of several years. The edition I've linked above was called Buckeye cookery :
with hints on practical housekeeping.
The recipe is the same, and is also found on the same page (70), and even includes the same typo as my edition.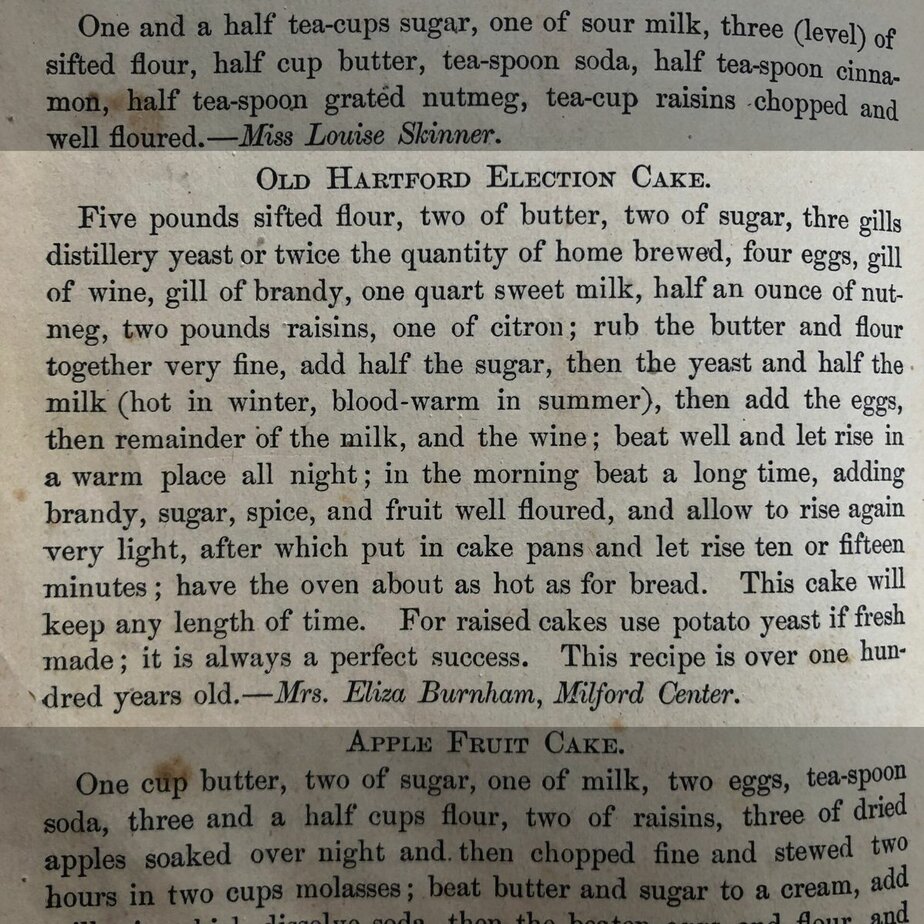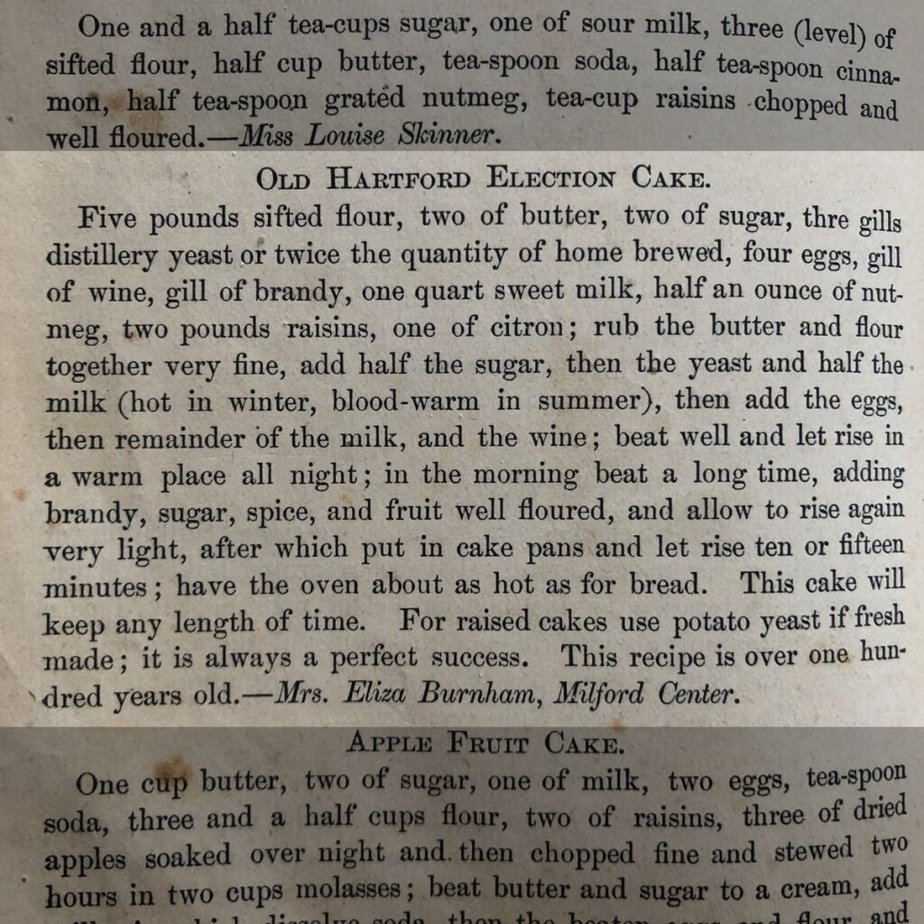 What temperature should you use for baking Election Cake in a modern oven?
OVEN TEMP: 375 degrees F is what I would use for this recipe. This is a hotter oven than we see used in some of the other vintage recipes I've shared recently, like for 1800's minced pies.
When we read instructions to heat the oven as for baking bread, that's about 375, or a little higher. Generally, from the vintage cookbooks I've worked from, I've found that bread was cooked at slightly lower temperatures that what we commonly use now with our perfectly even heat and commercial yeast.
What is a GILL?
Welcome to the "Gill"! If you haven't cooked from vintage books before, this one may be new to you. In American cooking, in the 1700 and 1800's, this would have been 1/4 pint. You can use a half cup measure, or (perhaps more accurately) 4 ounces, per gill called for in the recipe.
What kind of yeast should be used for old fashioned Election Cake?
For potato yeast, I like this recipe from Lydia Child's The American Frugal Housewife, published in 1832. This is her receipt:
For the starter yeast, you can use a sourdough starter like this one.
OR, if you just want to MAKE the cake already, I'd suggest whipping up that potato starter with a packet of commercial yeast in place of the "cup of good yeast". Let it really get going, and then make some Election Cake!
---
WHEW! What did I miss? Let me know if you have questions!
Does this recipe sound as delicious to you as it does to me? I think I have to make this one!