What are Celadon quail eggs, and what type of quail lays them? Celadon eggs are laid by Coturnix quail that carry a recessive gene. Read on to find out all I've learned about Celadon quail.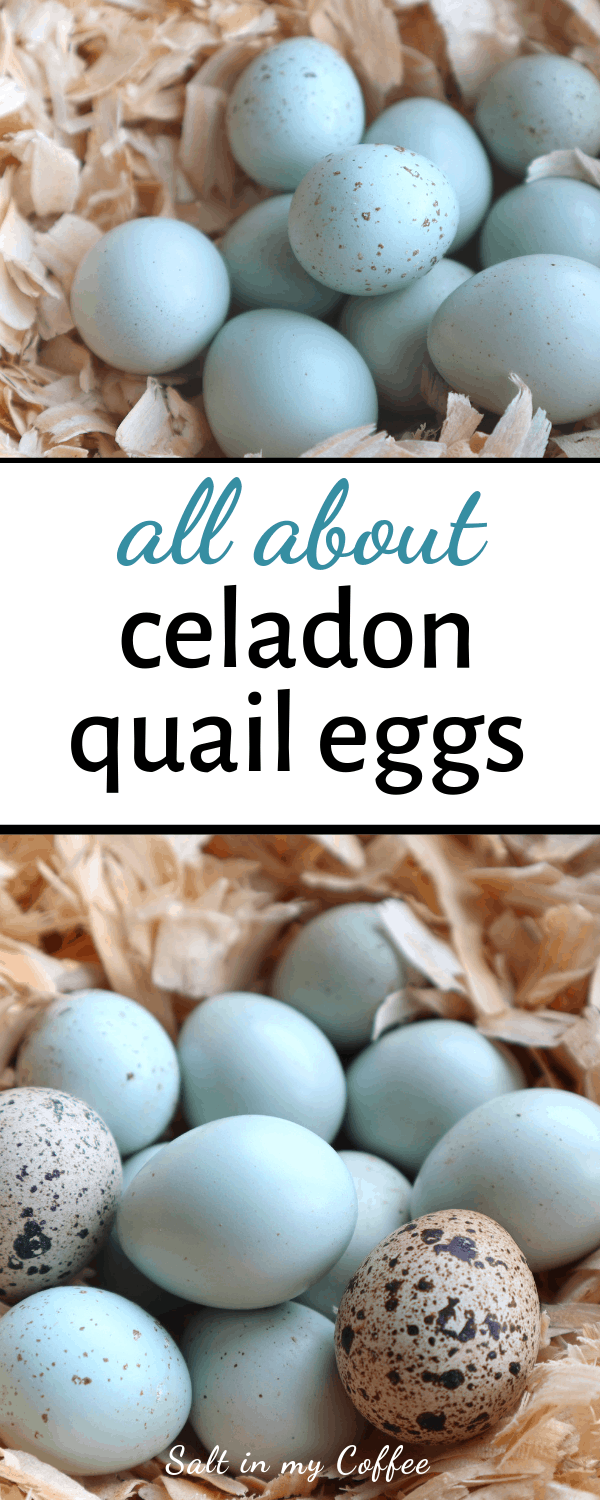 If you've been following me on Instagram, you may have seen some of my recent pictures of beautiful blue eggs, that look much like robin's eggs. Many of you have been stunned to learn that these were laid by my Coturnix quail, and I've received quite a few messages and questions about them.
So I thought I'd share with you everything I've learned so far about these rare Coturnix quail that lay unbelievably gorgeous eggs!
What makes a quail lay blue eggs?
Celadon quail eggs are laid by Coturnix quail who carry an uncommon, recessive gene, identified as the "ce" gene.
The "ce" gene is what's called an "autosomal recessive gene". This means that in order for it to be expressed by laying blue eggs, the female laying the eggs must posses two copies of the gene. So she must inherit this trait from both parents.
Celadon egg layers are not in themselves a separate variety of quail, any more than having blue eyes makes someone a different race. It's simply a recessive trait (like red hair or blue eyes), that some Coturnix quail carry.
Will a celedon-laying quail always lay celadon eggs? The short answer is "Yes." Here's a helpful quote from Robbie at James Marie Farms (importer of the 'ce' gene to the US, and a forefront breeder of celedon quail) that tells a bit more…
"Not all hens that hatch from Celadon eggs will lay Celadon Color eggs - but the shells of those hens will be "Most times" Blue on the inside and that egg & hen can produce hens that lay Celadon eggs also…..a hen that displays the "ce" gene laying blue eggs will lay Celadon color eggs every time she lays a egg."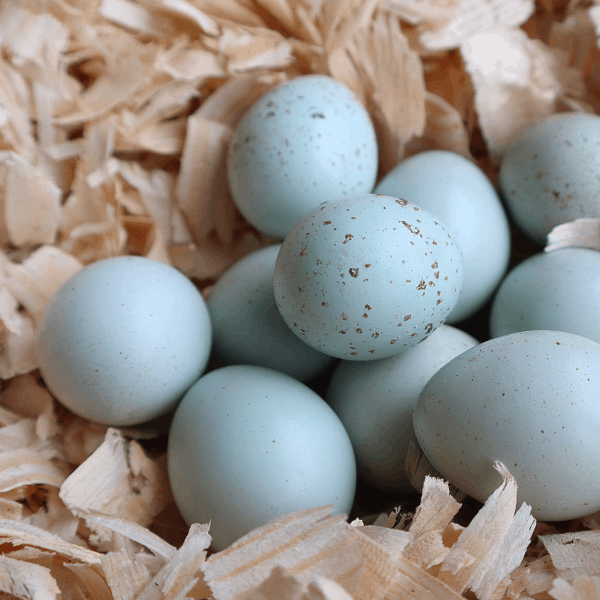 What does a Celadon quail egg look like?
Celadon quail eggs come in a range of colors, from very pale blue, to nearly robin's egg blue, to a slightly greenish seafoam shade. They may be a pure solid color, or have adorable little speckles.
I have found that my celadon layers actually show a tiny bit of variation in the shade of eggs that they lay, from day to day.
What colors patterns do celadon egg layers come in?
Because laying celadon eggs doesn't mean that quail are from a different variety, they're just carriers of this recessive gene, celadon quail come in a very wide variety of colors. I've seen folks say that they have celadon layers in all of the following color patterns:
Tuxedo
Silver
Charcoal
Roux
Wild-type
Tibetan
Scarlet
Slate
Fawn
Blue Barred
Recessive white
Kansas City Quail Farm has some great information about breeding celadon quail, and they're also a wonderful source for ordering hatching eggs. On their site, they say: "Extended brown birds (Tibetan, Tibetan Tuxedo, Rosetta, Range, Scarlet) carry this gene the easiest & will be what you typically can expect from a hatch as well as a few silver."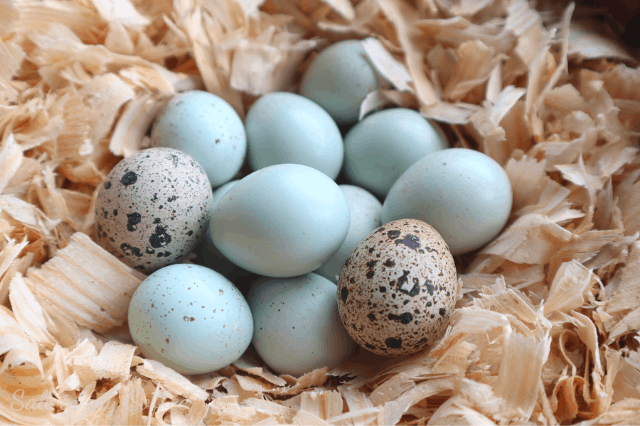 Where to order Celadon Quail
There some excellent breeders working with Celadon egg layers in the US. Most of these breeders sell hatching eggs, rather than live chicks, but they have eggs from excellent stock that you can hatch at home.
Old World Quail
This is where I got my stock, and Gonçalo has been amazing to work with. Every one of the females I hatched from his celadon hatching eggs is now laying celadon eggs, and they come in a wonderful variety of colors.
James Marie Farms
As I understand it, James Marie Farms was actually the original importer of celadon quail into the US. That was in 2015, and he's been working on the lines ever since. If you follow his Facebook page, he has some amazing color patterns!
Kansas City Quail Farm
Here's one breeder that actually does ship live chicks! So if you're looking for chicks instead of hatching eggs, this would be a great option.
Sadie Girl Farms
Here's one more great place to get your hands on some beautiful celadon hatching eggs. She's also fun to follow on Instagram!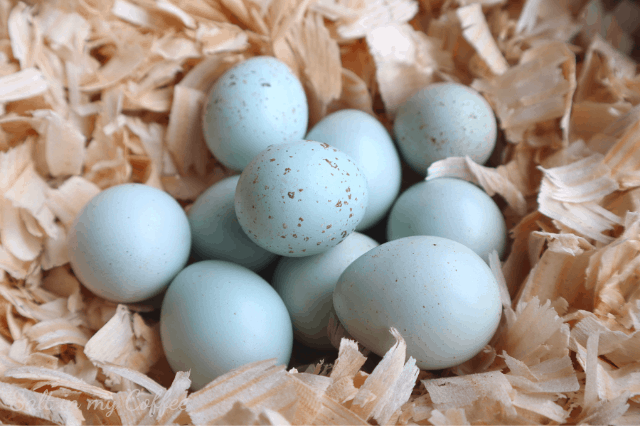 I absolutely love our celadon egg laying Coturnix quail. They're beautiful birds, and they lay gorgeous eggs! It still delights my heart every day when I go find these little gem-like beauties in their nests.
Still have questions about celadon quail? Drop your question in the comments below, and I'll do my best to find you the answer!
If you liked this post, you may enjoy:
✦ Hatching Quail Eggs
✦ Boredom Busters for Quail
✦ What to Feed Quail Chicks
✦ Starting a Small Scale Hatchery
✦ 52 Ways to Make Money on a Small Homestead