Looking for the method to make perfect dried pineapple rings in a dehydrator? This post will walk you through it step by step!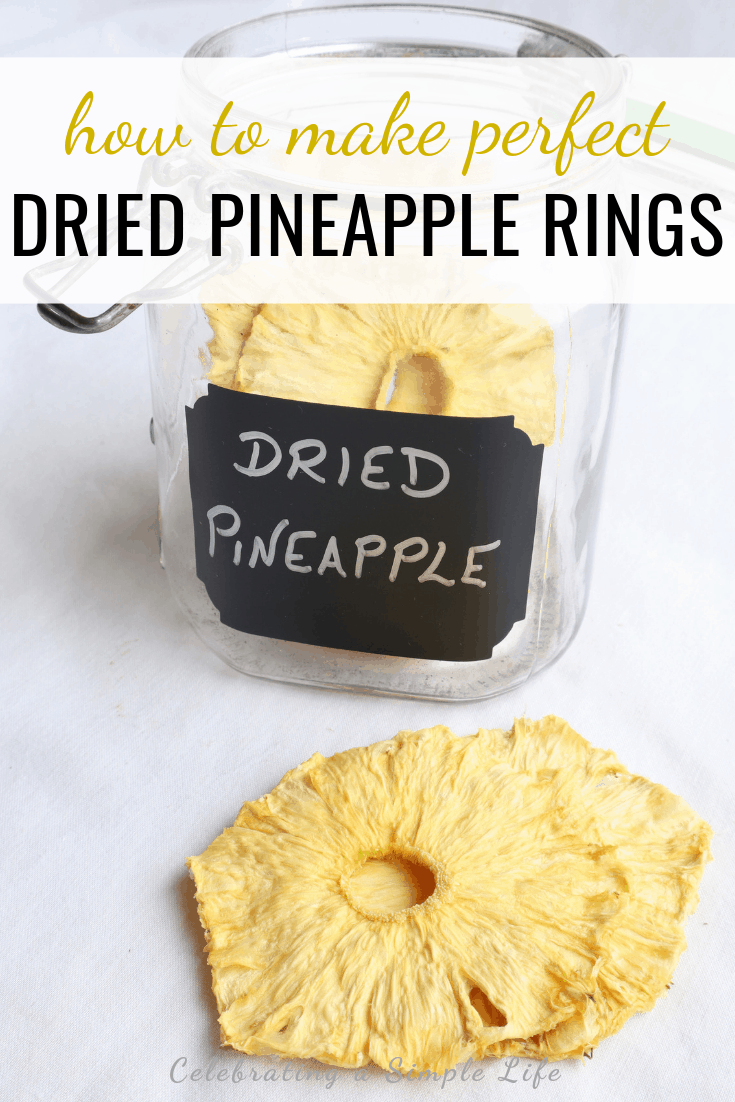 This article contains affiliate links. Click here to learn more.
We're getting ready to take our first family road trip next month! I'm super excited to be heading to Vermont to watch my darling "little" cousin get married, and we're extra excited because Izzy gets to be a flower girl.
This is going to be one special road trip! As we all know, special road trips call for special snacks, so I'm already in prep mode making sure we'll have a good supply of healthy (and special!) car-worthy treats.
Fruit leathers and dried fruits are my go-to for travel friendly sweet snacks. We don't do much sugar of any kind in our family. Especially when we want to keep our immune systems high, and our emotions steady and resilient (like for a family wedding!) I try to make sure that our special sweet treats are healthy ones!
Dried pineapple rings are one of our favorite special treats, but it can be hard to find dried pineapple in the store that doesn't have added preservatives.
Even when preservative-free dried pineapple is available, it tends to be pretty pricey...and brown. It's still tasty, but not very nice to look at!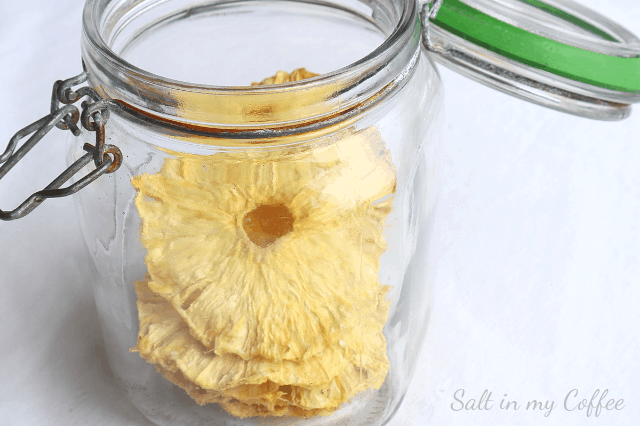 The easy (and cost-effective) solution is to make our own! A couple of pineapples dehydrate nicely in about 8 hours, and provide great snacks for a weekend road trip!
I used to regret that I could never seem to make beautiful dried pineapple slices with a perfect hole in the center, like the ones in the store. But I've finally found the simple hack that makes it easy to dehydrate perfect pineapple slices! Here's the step-by-step process.
How to make perfect dehydrated pineapple rings
Start by cutting off the leafy top, as well as the very bottom of your pineapple.
Stand the pineapple up on its flat base, and cut off the outer skin and "eyes" - making smooth slices from top to bottom.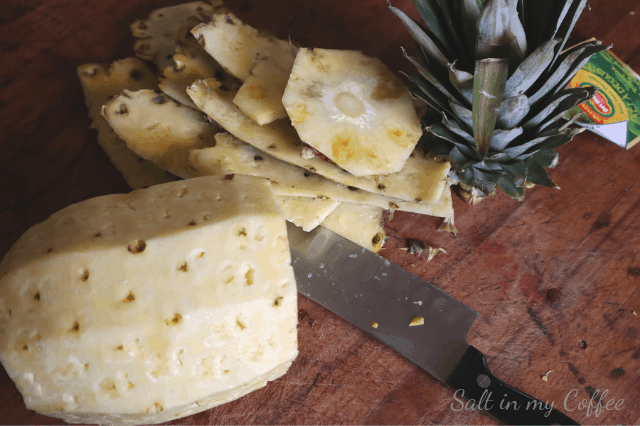 Now lay the pineapple on its side, and cut it into slices, about 1/4 inch thick. Try to make your slices as evenly thick and uniform as possible, since this will make them all dry evenly, in the same amount of time.
Now - here's the trick that make it easy to core the pineapple with perfect holes! What you need is an apple corer, like this one. Just press it down through the center of each slice, and it will take the core right out. I've found my apple corer to work perfectly on even large pineapples.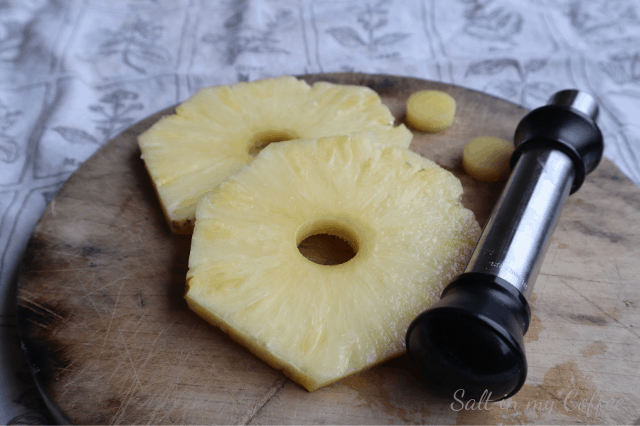 Now, lay pineapple slices on the tray of your dehydrator, and dry at 135-140°, for about 8 hours. If you'd like, you can flip the slices halfway through their drying time, but unlike with softer fruits like peaches, I've not found this to really speed up the drying time, or significantly improve the even-ness with which the slices dehydrate.
The slices are ready when they're dry and leathery to the touch. If they're at all sticky, they're not done yet, and should go a bit longer.
Allow pineapple slices to fully cool before removing them from trays, and packing loosely in airtight containers. Vacuum sealing is a great way to preserve the quality of your dried pineapple for a long time, but if you plan to vacuum seal your dried pineapple, don't do this quite yet.
According to the National Center for Home Food Preservation, the moisture content of home dried fruit should be about 20 percent. To make sure your pineapple slices are evenly and fully dry, it's important to condition them before long term storage.
All this means, is that once your pineapple slices are in their containers, they should be allowed to stand at room temperature for a week. Any extra moisture in some pieces that weren't quite as dry will be absorbed by the drier pieces. Give the jars a shake each day, separate any pieces that may be clumping together, and check for any condensation.
If you do find condensation in the jars at any point, return the pineapple slices to the dehydrator for more drying time. Once you've let them hang out at room temperature for a week, and have seen that they're properly dry, without developing any condensation, you can seal them up for long term storage.
How long can dehydrated pineapple slices be stored?
The National Center for Home Food Preservation states that "Most dried fruits can be stored for 1 year at 60ºF, 6 months at 80ºF."
Ours will definitely not be lasting that long...I'm guessing these two pineapples' worth of dried slices will be gone by the time we reach Vermont!
Can you dry pineapple slices in an oven?
You bet! Place your pineapple slices on parchment-lined trays, and dry them in the oven at the lowest possible setting (for many ovens, this is about 200°. In this case, I would go ahead and flip the slices every few hours to ensure even drying. Start checking for done-ness after about 5 hours, and then check every half-hour or so until they're dry and leathery. This will almost certainly take less time than in a dehydrator, so check early and often.
What dehydrator do you use for drying pineapple slices?
I use a "Nesco FD-61" dehydrator that I've had for 10 years now. I have put well over 2,200 hours of use on this machine and it will not die. I have often though of getting a nice square-tray Excalibur, but as long as this amazing workhorse that I already have continues to perform perfectly, I'm just going to keep using it! This model below is the exact dehydrator that I have:
That's all there is to creating the perfect home-dried pineapple slices. And check out the color in the photo below! These dehydrated pineapple slices are perfectly dry, and still have amazing bright lemony-yellow color - so much prettier than preservative free dried pineapple from the store!
Wish us luck on our first big road trip, and if you have any questions about dehydrating pineapple, just leave me a comment below!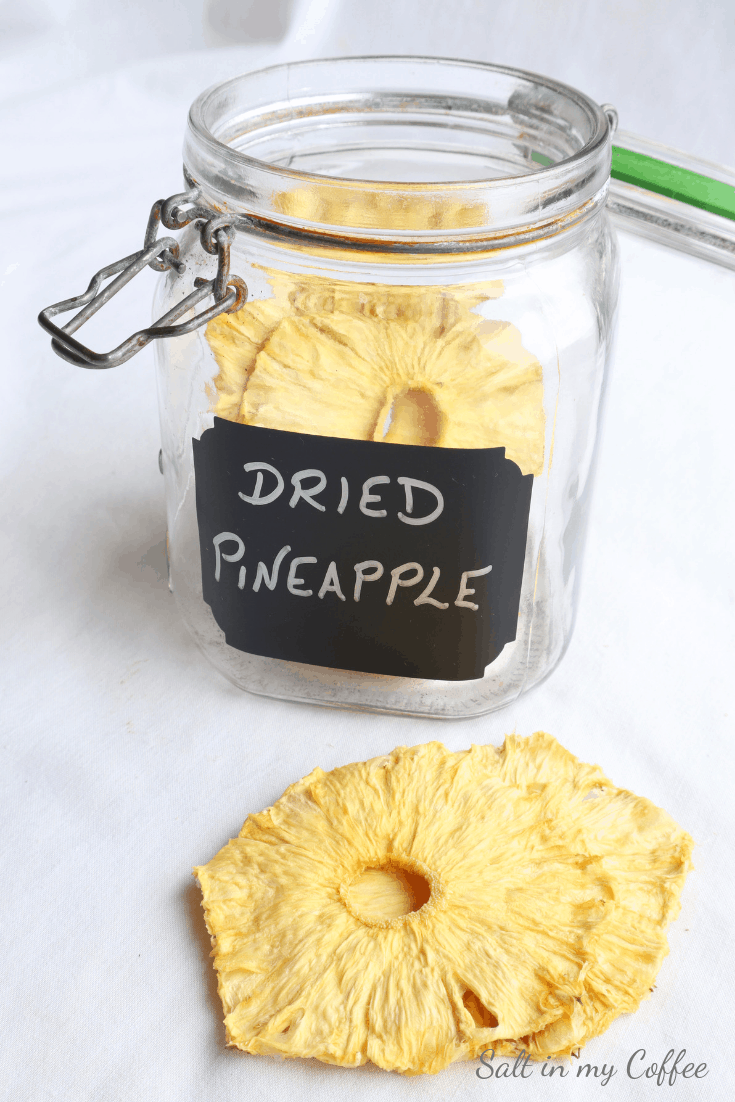 If you liked this post, you may enjoy:
✦ Bacon Wrapped Quail with a Butter Pesto Sauce
✦ Fresh Strawberry Breakfast Ideas
✦ Duck Egg Mayonnaise
✦ Salted Maple Honey Caramels
✦ 18 Amazing Fruit Leather Recipes