It's 92 degrees at our place today. More than a little un-seasonal for the last week of September, here in Maine!
But while I might be wearing shorts, and the kids are running around in their bathing suits, I'm totally humming Christmas music. Yup...I'm that girl.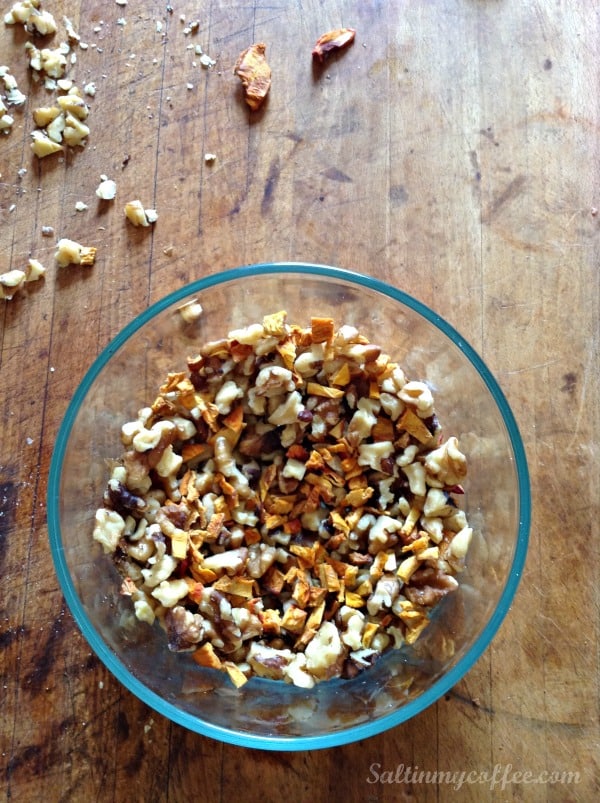 I can't help it. By the time the harvest is mostly in, and the apples are the only thing left for me to can and freeze, my heart gets hankering for the holidays.
In some ways, that's not a bad thing, since many of our gifts each year are homemade, and that takes awhile! So while I've been playing ice cube toss with the kiddos, I've been brainstorming handmade gift ideas.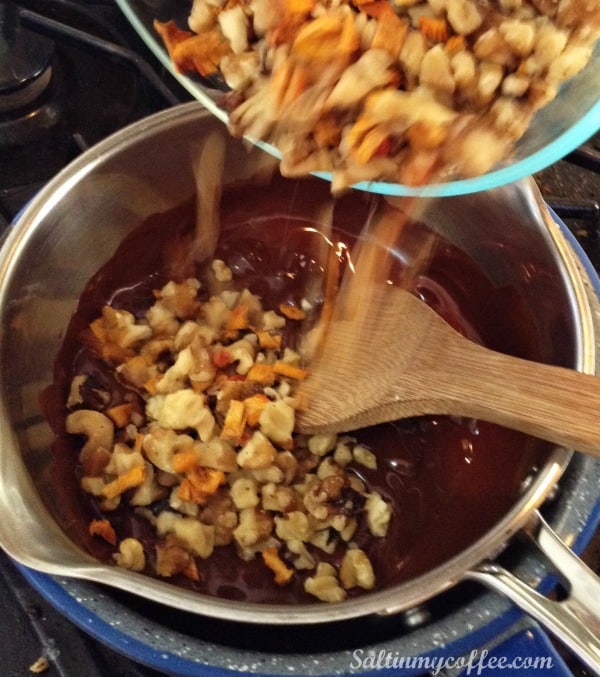 Knowing me, it's probably not surprising that I found myself meditating on chocolate.
Chocolate truffles. Chocolate fudge. Chocolate chocolates.
There are so many options when it comes to special handmade chocolate Christmas treats. What direction should I go this year? It's a big decision, y'all.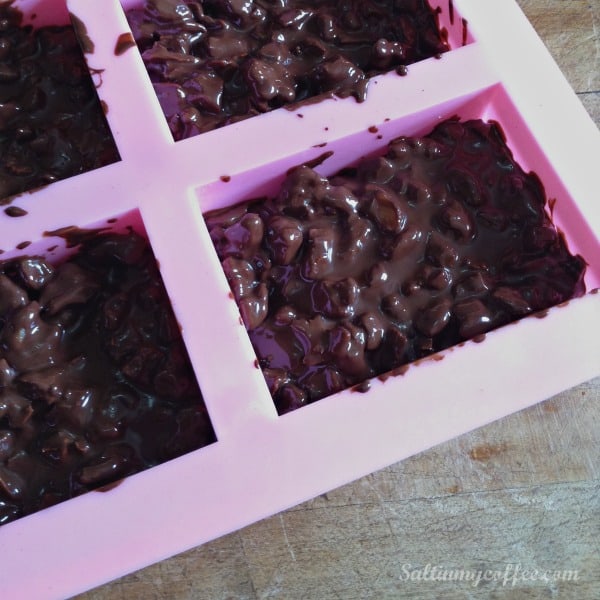 Probably because the peach harvest was just a couple weeks ago, and I dehydrated SO MANY of them, dried peaches came to mind as a probable good companion for dark chocolate. Dried peaches, and nuts, maybe.
By the time our ice cubes were cleaned up, I knew I had to make a test batch of homemade fruit and nut chocolate bars, using our own home-dried peaches. So out came our handy silicone mold...my favorite way to make individual chocolate bars.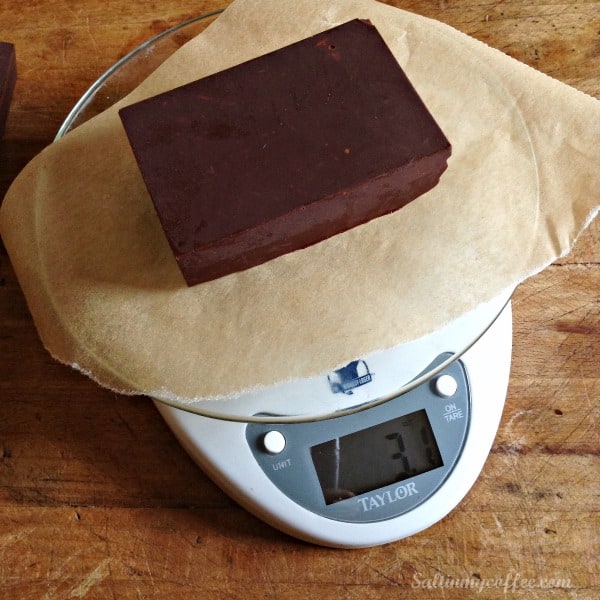 With lots of help from the kids, we got our nuts and dried peaches all broken and chopped into bits. Because there was lots of tasting along the way, I used my scale frequently, so I could be sure of exact measurements right before each ingredient went into the pot.
Izzy stirred carefully while our chocolate melted, and then "very, very, very carefully" as I slowly added our chopped nuts and peaches.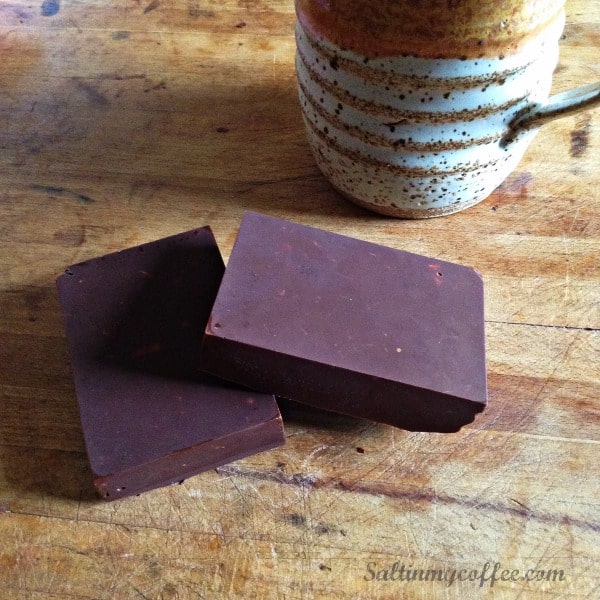 We filled our molds, and set them to cool. By the time the kids were up from naptime - it was ready!
So. Much. Happy.
If the rest of our family and friends love these half as much as my kids do, I'm going to call this Christmas chocolate test run a total success.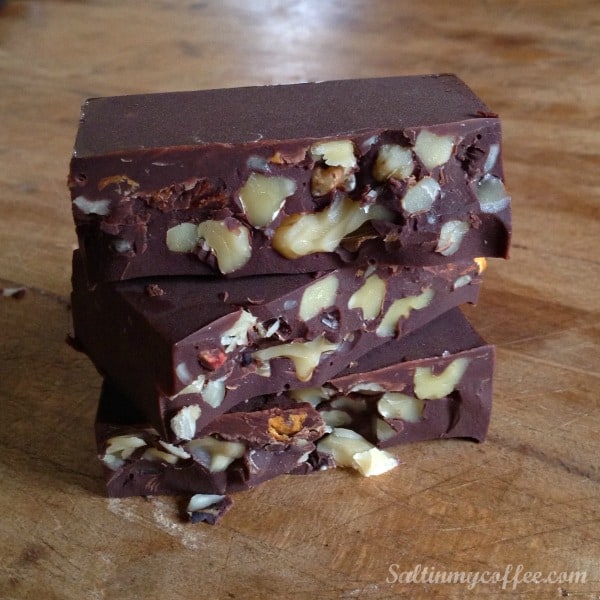 One thing I love about this particular recipe is that I can use an ingredient grown and made right here on our homestead - the dried peaches.
However, if you're making this recipe and don't have your own dried fruit that you want to use, let me suggest my favorite alternative...freeze dried fruit.
Aside from the fact that sulfur dioxide isn't generally used as a preservative in freeze-dried fruits, while it commonly IS in regular dried fruit, I think the texture of freeze-dried fruits in chocolate is pretty heavenly. So if I didn't have an abundance of my own dried peaches, I might opt for some organic freeze-dried peaches, pears, or other fruit.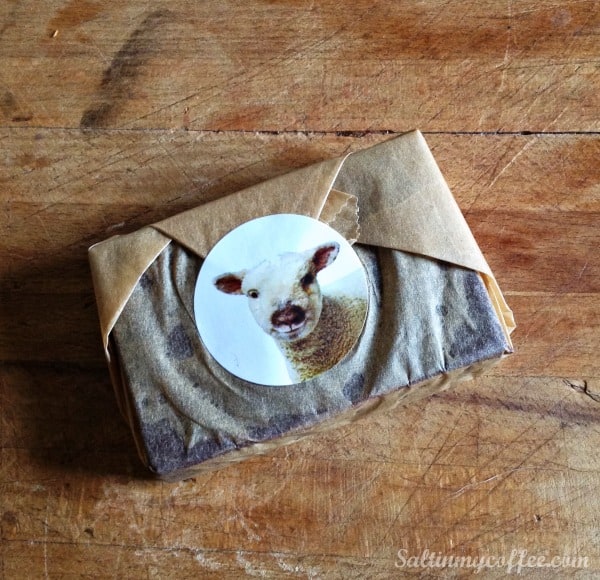 And a quick word about chocolate. You might have noticed that I linked to Theo chocolate up there.
As a family, we're working our way surely and steadily toward greater self-sufficiency. We grow or raise most of what we eat now.
But - we'll never be growing chocolate in our backyard. And every time I have to source a food that I can't grow, I think about it pretty seriously. Because someone, somewhere, is growing that food. And the last thing I want, when I'm making special Christmas treats for my kids, is to know that other very young children are working under harsh slavery conditions to grow and harvest that food.
I know. I might have just lost you there. It's not my usual style to get on a soapbox.
Knowing this about chocolate is inconvenient and it's sad. It's made buying chocolate more expensive. We eat less of it. But - it tastes so much better when we do. Theo is a company I trust to do right by the growers and workers who make our chocolate. If you'd like to explore some of the options for slave-free chocolate, I think this is a helpful list.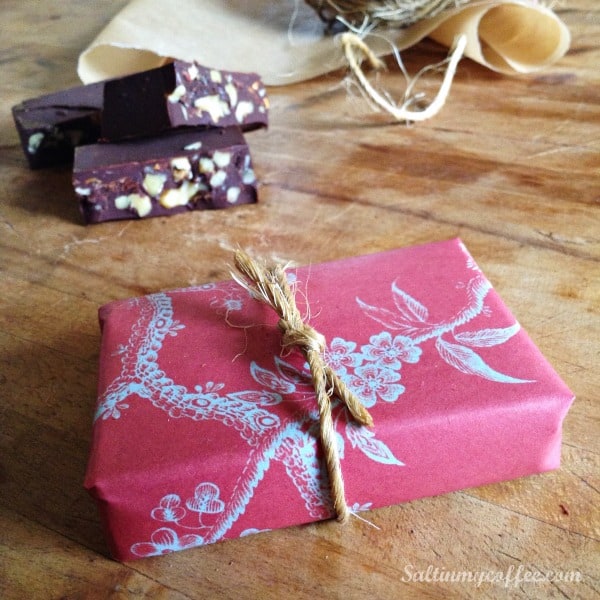 Once you're done actually making those fabulous homemade fruit and nut chocolate bars, I think the REALLY fun part is packaging and decorating them!
There are a million ways you can go about it - for us, we're going with stickers, colorful papers, and hemp twine this year. We'll make up the ones that will actually be Christmas gifts a little later in the season - probably about a week before Christmas. In the meantime, we know we've nailed a recipe that we love, using a home-grown ingredient that we're excited to share.
Hope you have as much fun making these as we did!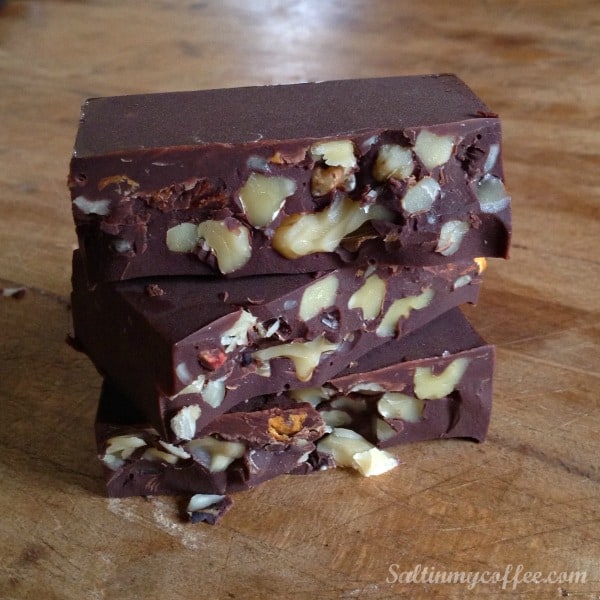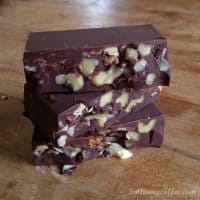 Homemade Fruit and Nut Chocolate Bars
This beautiful homemade fruit & nut chocolate bars make a wonderful handmade gift, and are so easily customizable - use exactly the fruits and nuts YOU love best!
Print
Pin
Rate
Equipment
double boiler

silicone chocolate molds
Instructions
In a double boiler, melt 6 ounces of the chocolate.


Remove from heat, and stir in nuts and dried fruit.


Divide mixture evenly into molds. Lift mold slightly and thump down on table or counter top to help chocolate settle, and fill any air pockets. Let cool slightly.


In the same pan, now melt remaining 4 ounces of chocolate.


Divide melted chocolate evenly between molds, smoothing the surface with soft rubber spatula, or back of spoon.


Let cool completely. It's ok to put the whole mold (perfectly level) in the freezer for 15 minutes, if you'd like to speed up the cooling process.


When chocolates are completely cool, pop out of molds. If you have used the freezer to speed up cooling time, it's important to allow the chocolates to come back down to room temperature before packaging. You don't want to trap any condensation inside your packaging materials.


Wrap chocolates in parchment or waxed paper. Then wrap or package them as decoratively as you like!

Nutrition Facts
Homemade Fruit and Nut Chocolate Bars
Amount Per Serving
Calories 444
Calories from Fat 279
% Daily Value*
Fat 31g48%
Cholesterol 3mg1%
Sodium 7mg0%
Potassium 480mg14%
Carbohydrates 39g13%
Protein 6g12%
Vitamin A 24IU0%
Vitamin C 1mg1%
Calcium 78mg8%
Iron 4mg22%
* Percent Daily Values are based on a 2000 calorie diet.
Nutrition
Calories:
444
kcal
|
Carbohydrates:
39
g
|
Protein:
6
g
|
Fat:
31
g
|
Saturated Fat:
12
g
|
Cholesterol:
3
mg
|
Sodium:
7
mg
|
Potassium:
480
mg
|
Fiber:
7
g
|
Sugar:
27
g
|
Vitamin A:
24
IU
|
Vitamin C:
1
mg
|
Calcium:
78
mg
|
Iron:
4
mg

Save
Save
Save
Save
Save
Save
Save
Save
Save