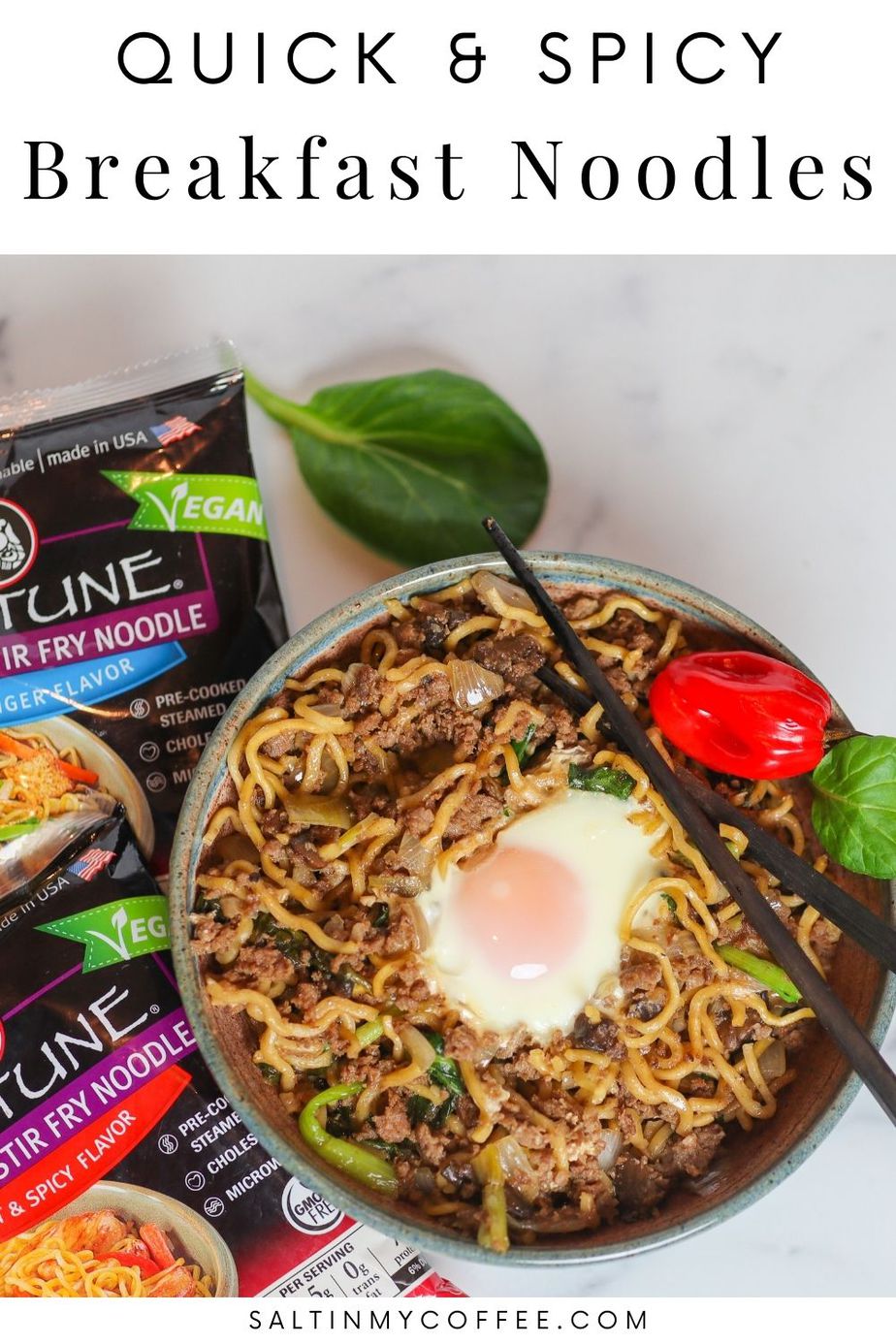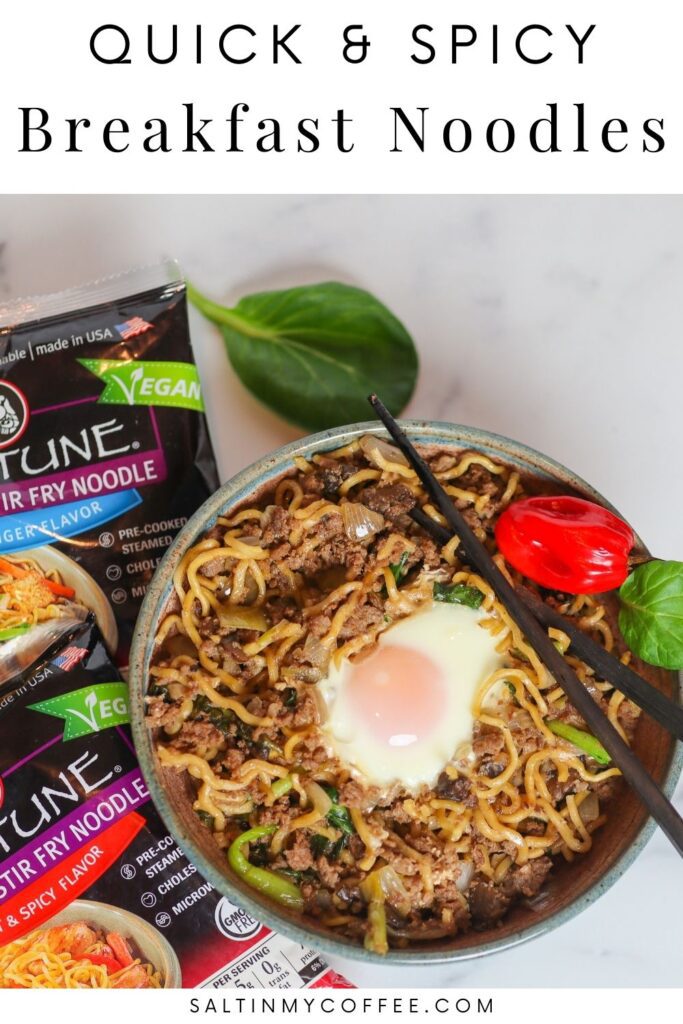 This article contains affiliate links. Click here to learn more.
A few weeks ago, Fortune Noodles offered to send me some of their wonderful meal kits, so that I could participate in their Fortune Noodle Stir-Fry Blogger Recipe Challenge.
As I learned more about the challenge, I was surprised to discover that one of the recipe categories was BREAKFAST.
"Noodles for breakfast?" I thought. "I don't know how I feel about that."
I was really looking forward to trying some creative noodle recipes with these easy meal kits that don't include added MSG or food dyes - things we're really sensitive to in our family.
As I unpacked packages of Ginger Soy, Teriyaki, and Hot & Spicy Yakisoba noodles, the possibilities seemed endless. But to be honest, breakfast still wasn't on my radar.
About a week later, leftovers changed all of that.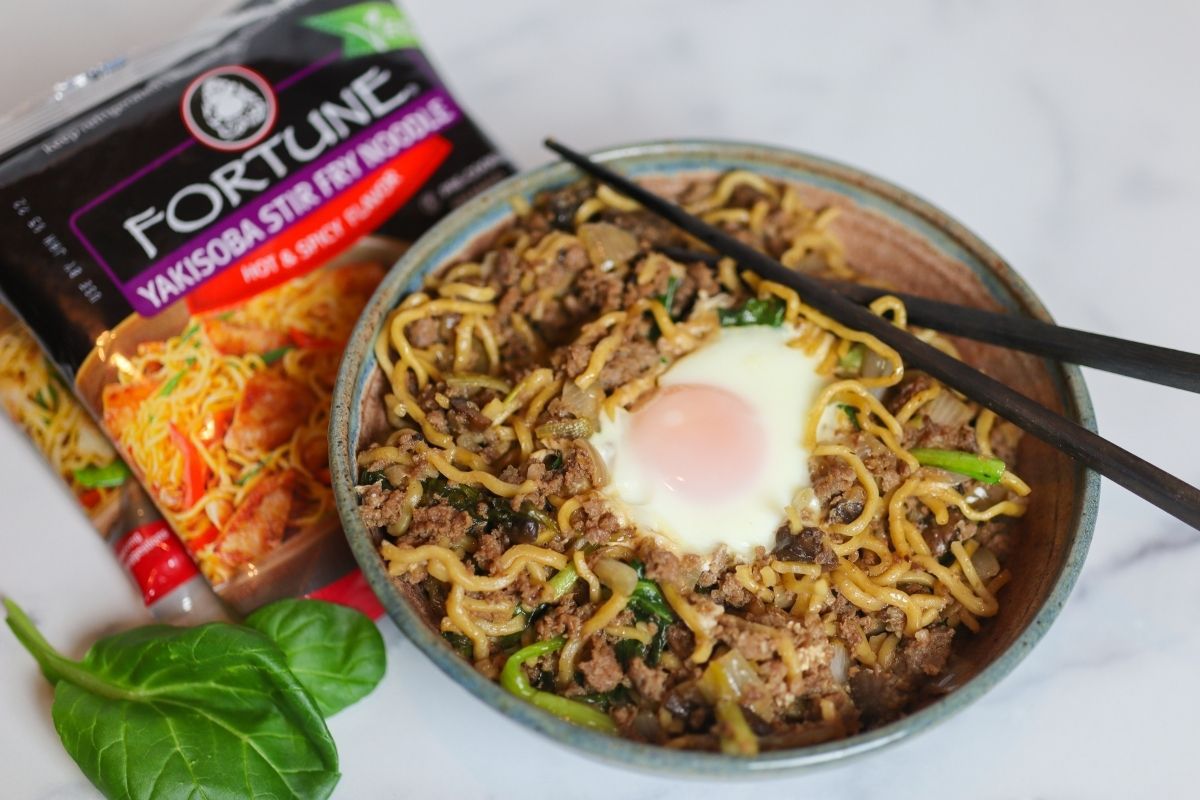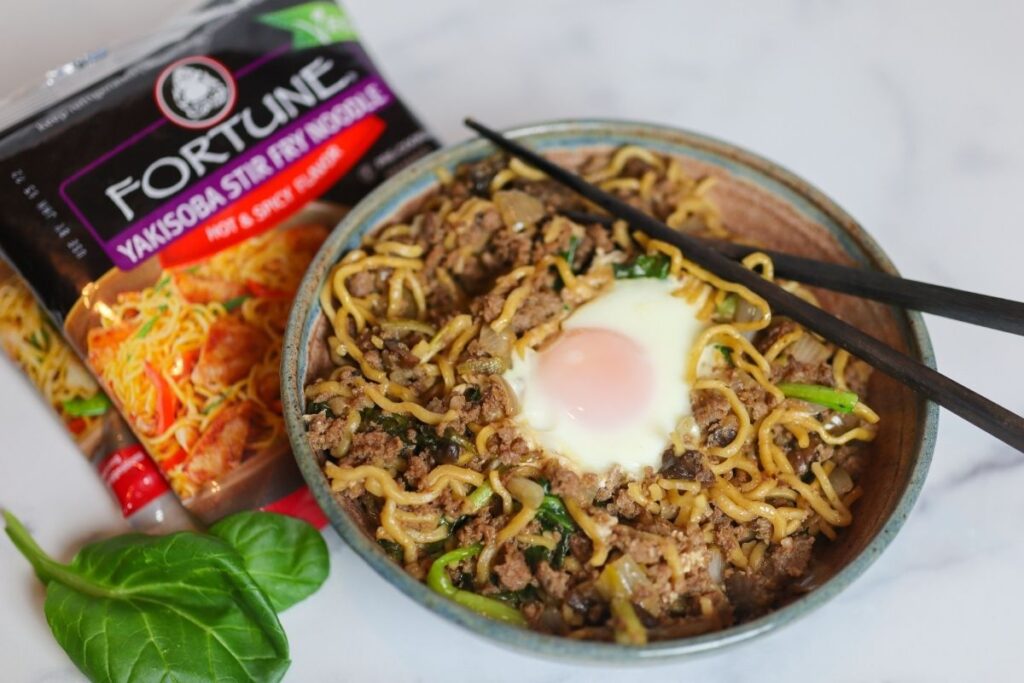 I had made a delicious noodle meal with one of the Ginger Soy Yakisoba Noodle packets, and I'd made way too much. When I opened the fridge to start breakfast the next morning, those noodles called to me.
Noodles for breakfast. OH, NOW I GET IT.
The kids still opted for our usual oatmeal, but that morning changed my whole perspective on noodles for breakfast. I am all in, baby.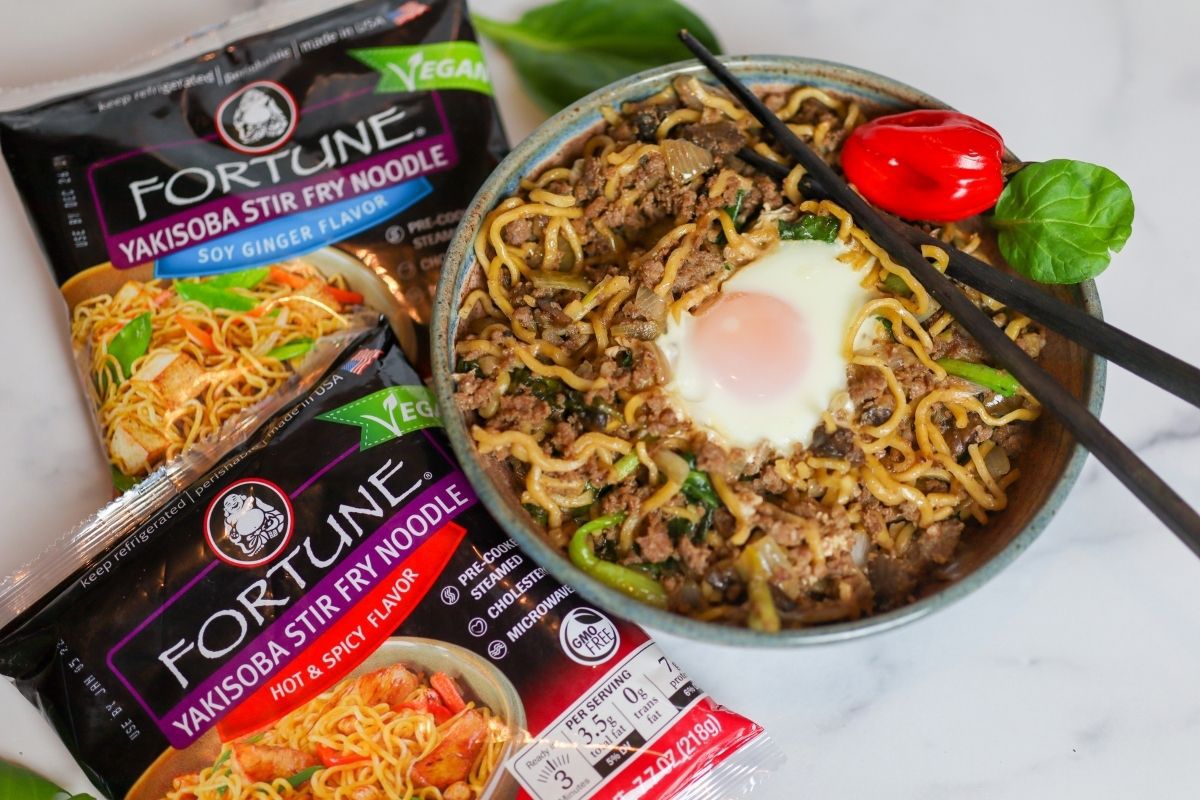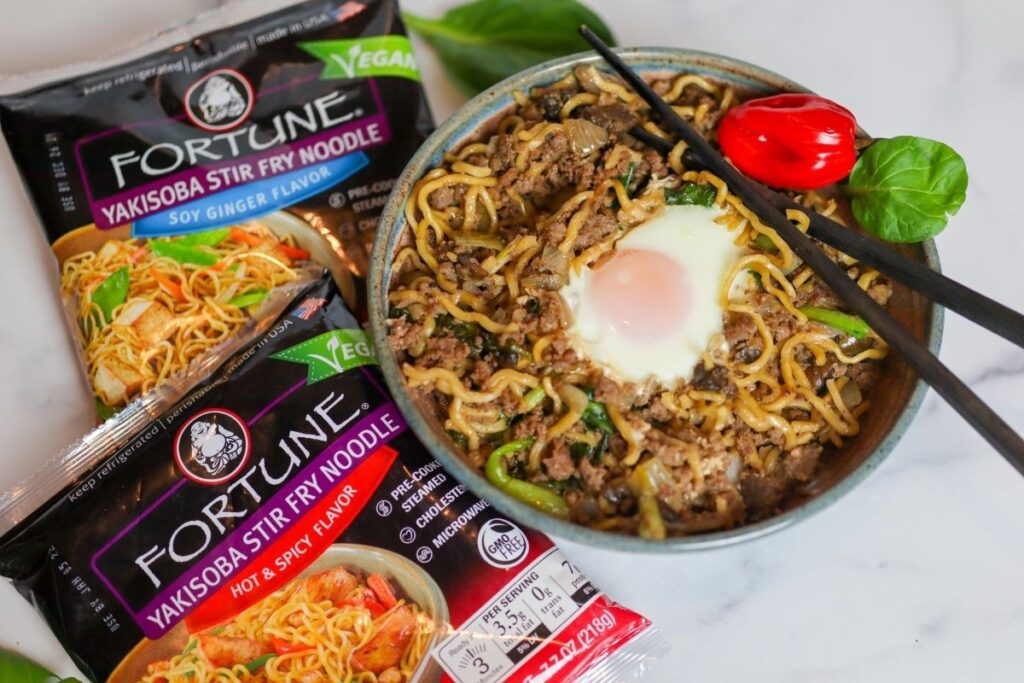 After that, I dove into making noodles for breakfast on purpose, and discovered that warm and flavorful noodles make a wonderful nest for serving a shirred egg or two.
I always feel best if I start my day with plenty of protein, so the addition of an egg really makes this meal for me!
Where can you find Fortune Yakisoba Stir Fry Noodles?

Fortune brand products can be found in your local grocery store, usually right by the produce section.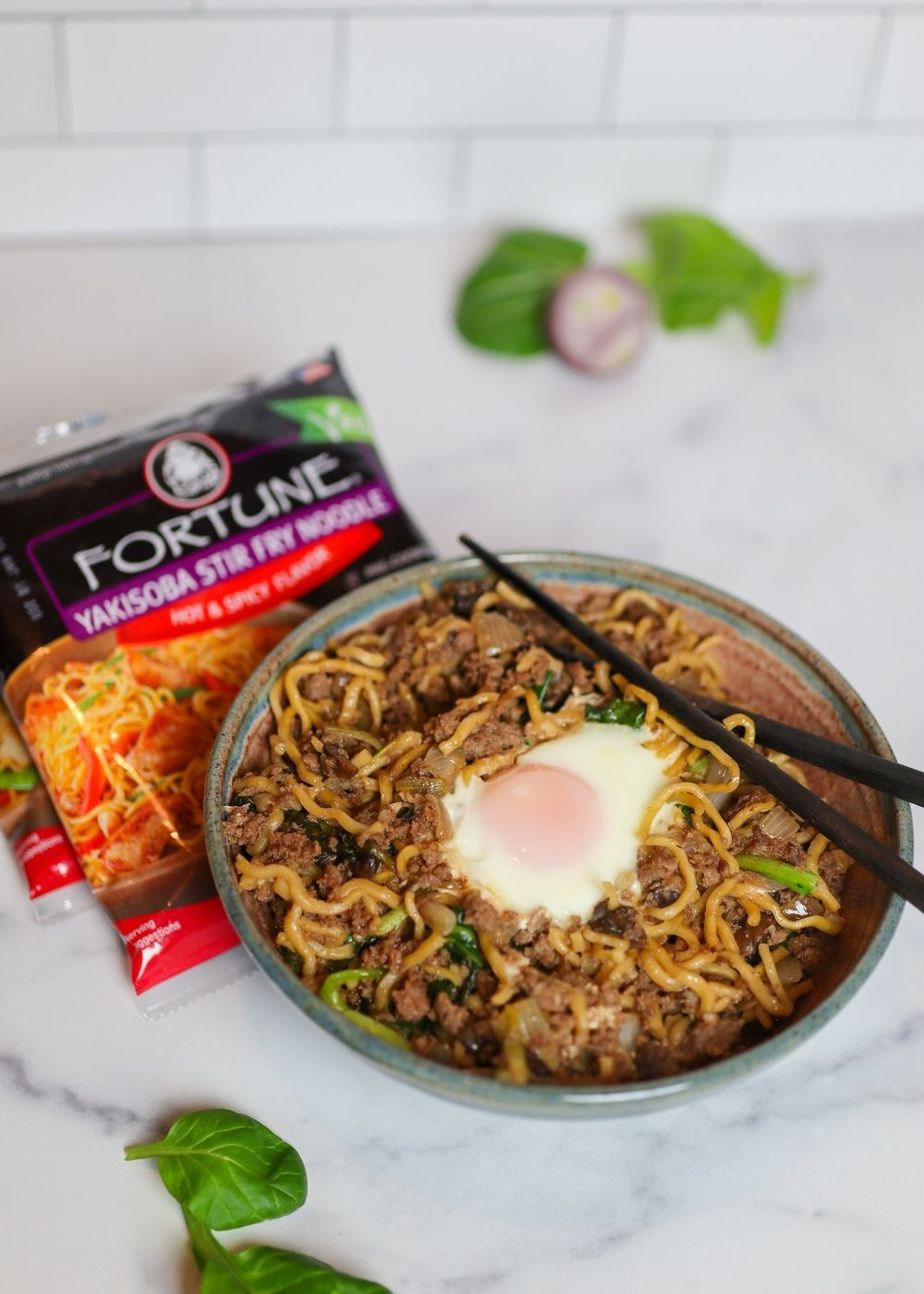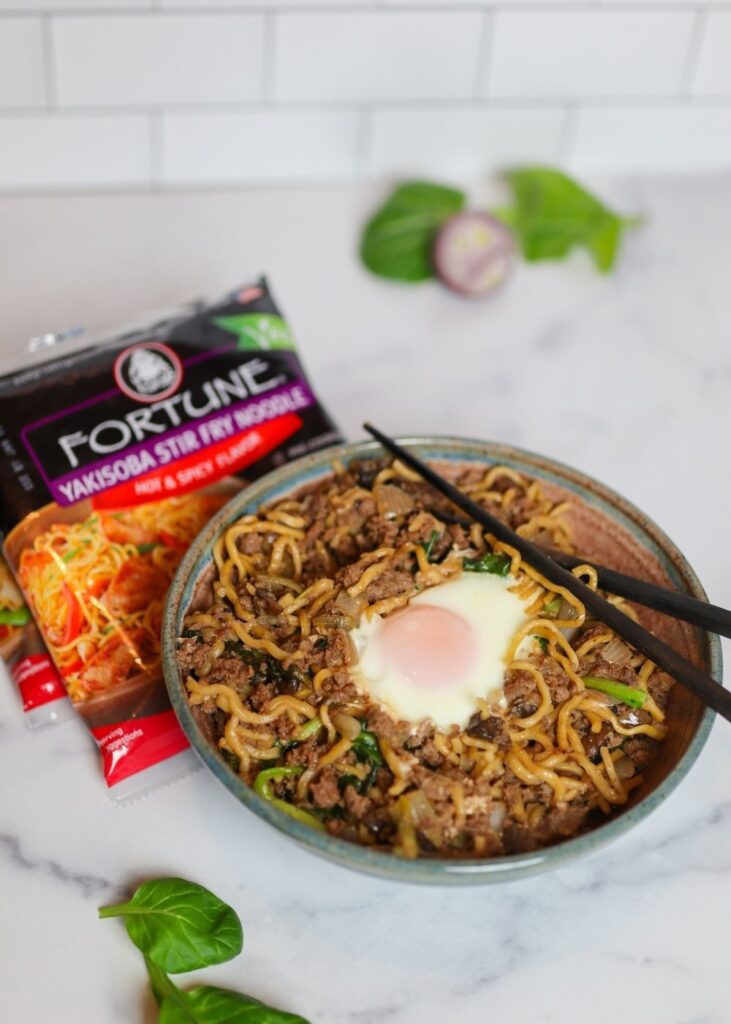 Cooking an egg on top of a pan full of other ingredients reminded me of the traditional Italian "Eggs in Purgatory" recipe, so I decided to lean into the heat and spiciness of that, by choosing Fortune's "Hot & Spicy" noodles when I was creating this recipe.
If you're not into hot and spicy though, this recipe works wonderfully with the Soy Ginger flavor noodles as well.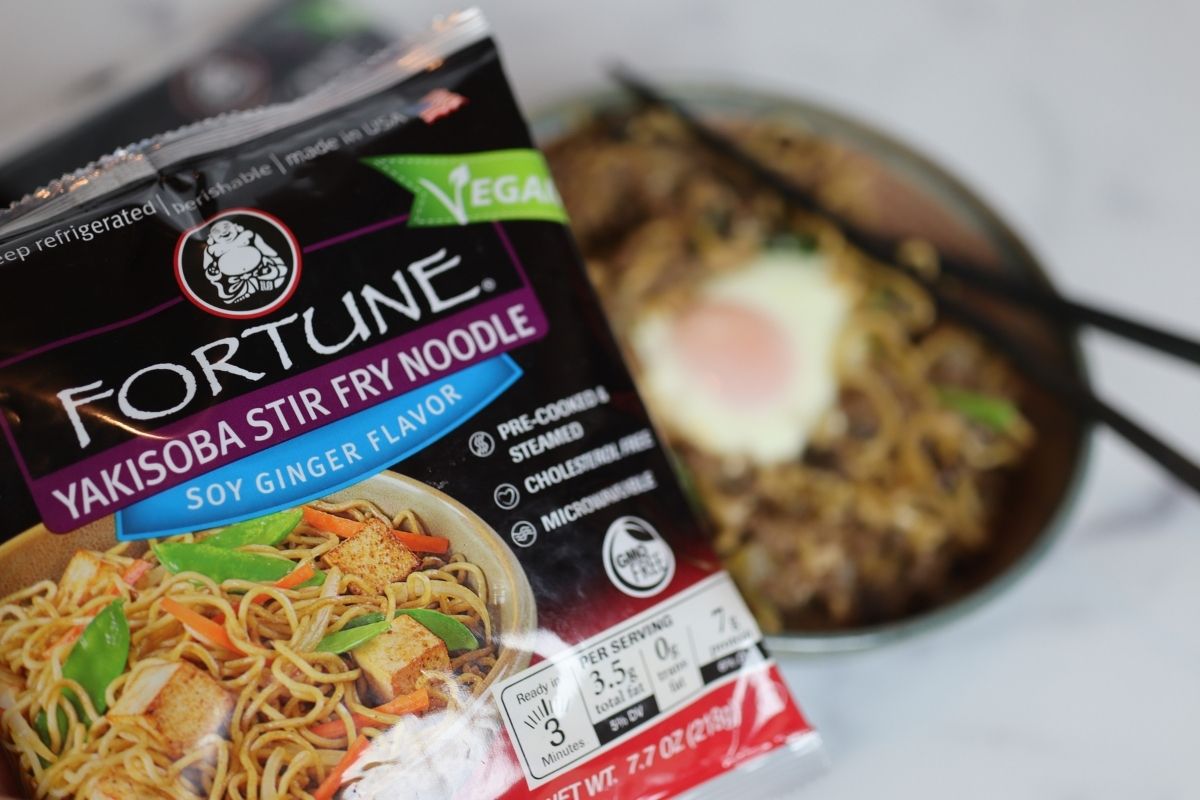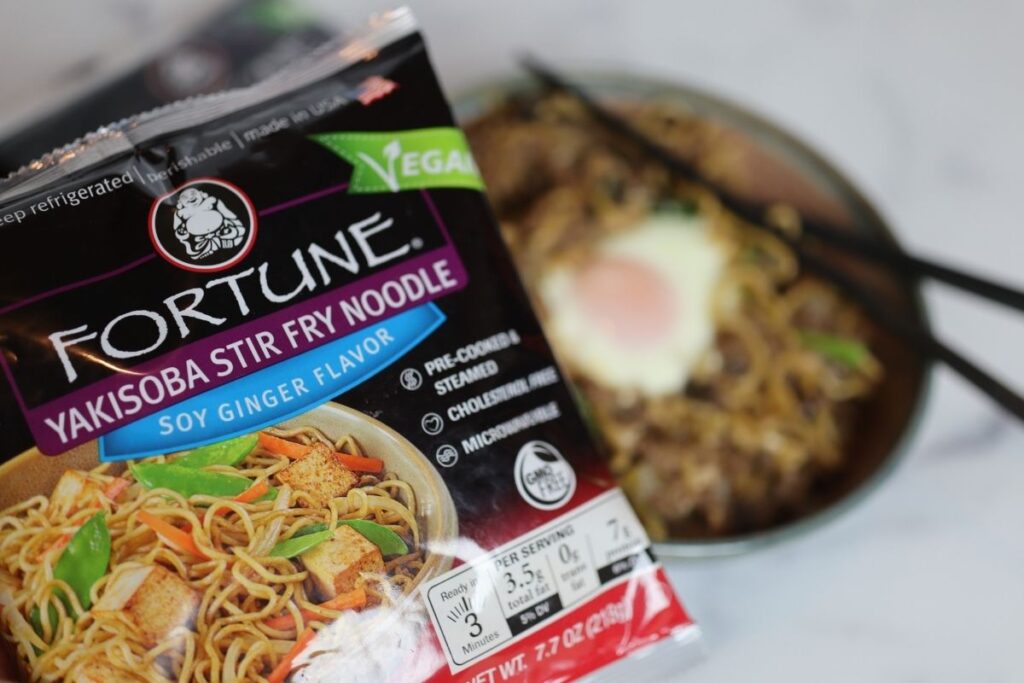 In fact, there are so many ways you can tweak this recipe to your taste.
Try using leeks or onions instead of the shallots, substitute shredded root vegetables instead of the greens, or top the whole thing with a little kimchi!
FOR MORE GREAT RECIPE IDEAS,
FOLLOW ONLINE!

FACEBOOK: JSL Foods

INSTAGRAM: @JSLFoods

WEBSITE: www.JSLFoods.com
The variations on this are endless, and it's really hard to go wrong!
A nice thing about this easy breakfast is that it comes together so quickly, and uses just one covered pan (or use your Instant Pot!). Cleanup is a breeze.
I hope you enjoy this easy noodle breakfast as much as I do!
Have some great ideas for other ways to tweak this breakfast noodle combination? Leave your ideas in the comments below!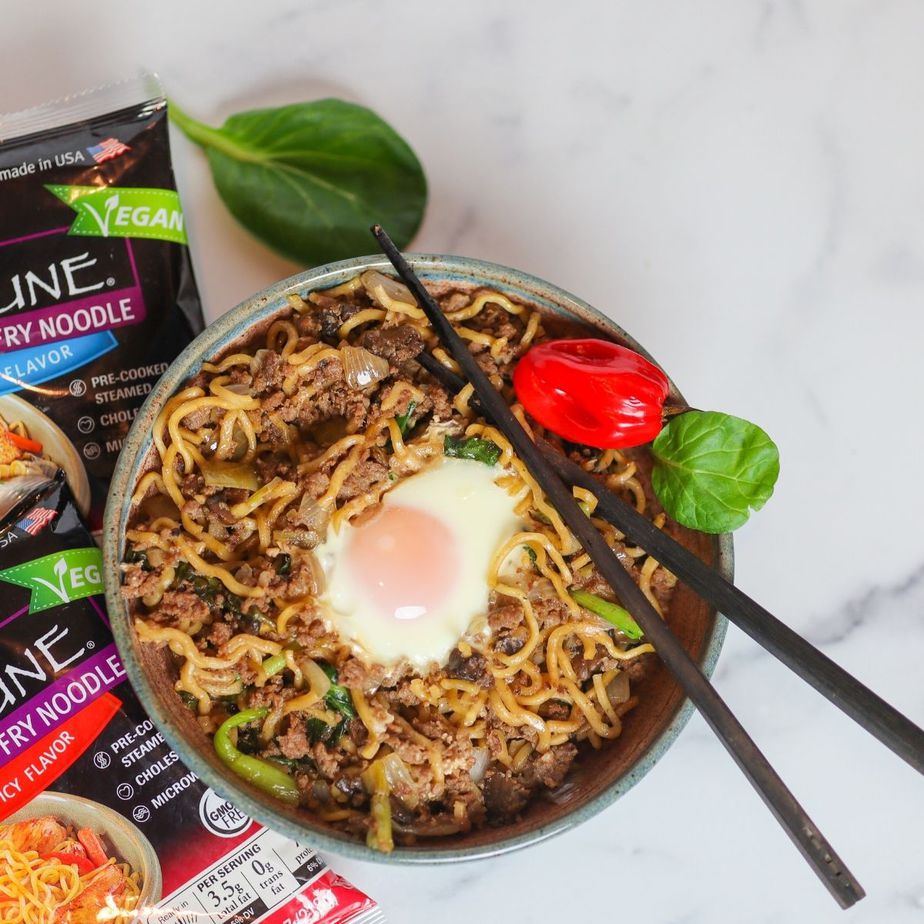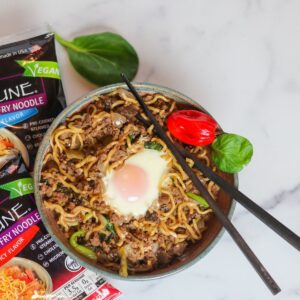 Quick and Spicy Breakfast Noodles
With a nod to the classic Eggs in Purgatory, these quick and spicy breakfast noodles come together in less than 15 minutes, and offer a warm and flavorful start to the day.
Print
Pin
Rate
Equipment
Wok with lid, large covered pan, or Instant Pot
Ingredients
1

package

Fortune Hot & Spicy Noodles

.5

lb

breakfast sausage

2

medium

shallots, chopped

3 or 4

portabella mushrooms (optional)

1.5

cups

fresh spinach or baby pac choi

2

eggs
Instructions
Add breakfast sausage, chopped shallots, and mushrooms (optional) to a wok or large pan, and saute until the sausage is cooked, and shallots are translucent.

Toss in the spinach or baby pac choi. Saute just until greens darken and wilt - about 2 minutes.

Add 3/4 cup of water, the Hot & Spicy Fortune Yakisoba noodles, and the included spice packet. Stir-fry for 1-2 minutes, until noodles relax and sauce base is thoroughly incorporated.

With the back of a spoon, make two indentations in the stir-fry mixture. Carefully break an egg into each indentation, then immediately cover the pan.

Cook for one minute, then remove from heat and allow to sit covered until egg whites are fully cooked, but yolk is still runny, about 3-5 minutes. (It's ok to quickly peek and check for done-ness.)
Notes
To make this recipe in an Instant Pot, follow all directions above, using the "Less" setting on your Instant Pot's SAUTE function.