Wooden watches can be a perfect complement to embracing a minimalist lifestyle. Here's how wearing one has made this nature-loving gal a happier mom.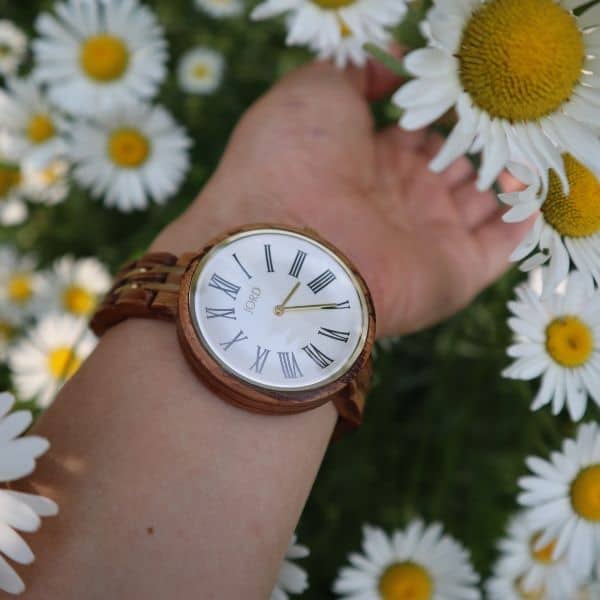 It's been nearly two decades since I've worn a watch.
At some point in my early 20s, the strap broke on whatever cheap sports watch I was using at the time, and I just never replaced it. Or rather, I did replace it, but not with a watch - with my smartphone.
With something digital in my pocket that was fully capable of telling the time, why did I need a timepiece? My phone was always on me during the day and right next to me at night. It became my time keeper. And so things went, for years.
Then I became a mom. As a work-at-home mom who spends my days with my children and blogs by night, I no longer carry a smartphone in my pocket. It is so important to me to relish these beautiful (and fleeting!) days with my young children, and for my days to be spent intentionally connecting with them, teaching them, feeding them well, and playing with them. A couple of years ago, I realized how easily my smartphone could distract me during my days with the kids, and I knew I needed to change that.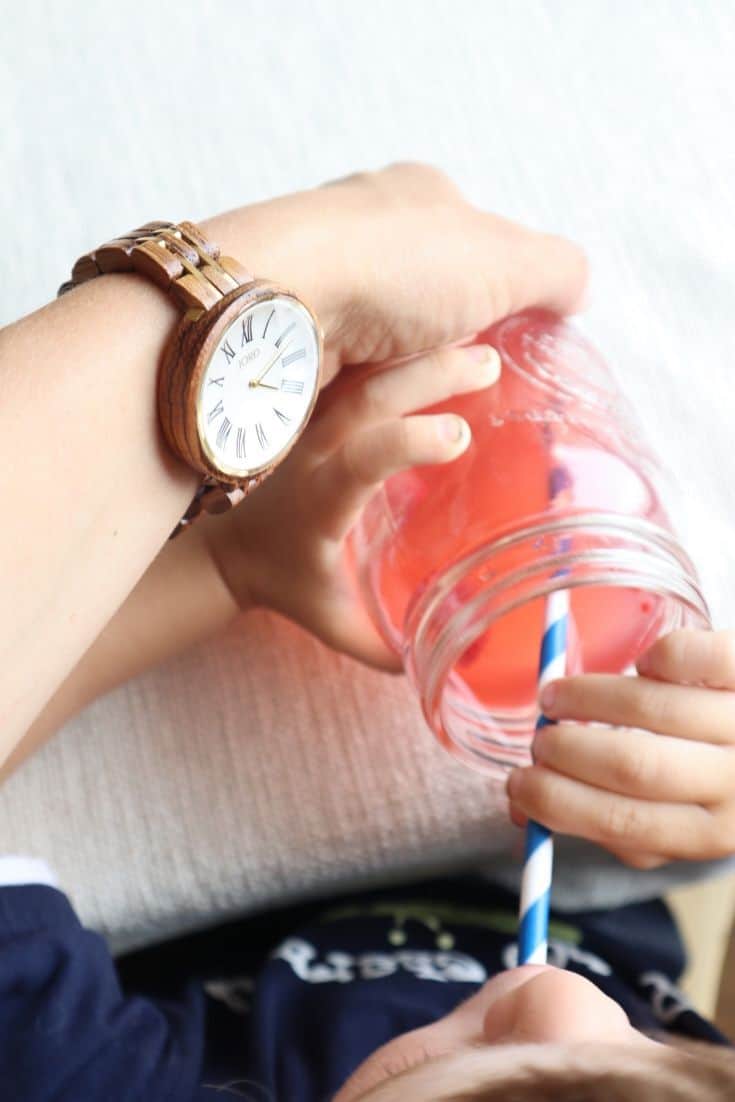 Because these are the glory days, y'all. These days of endless laundry, of celebrating successful potty runs, of catching toads and giving them names before turning them loose again, of stopping everything to run inside for the field guide so we can identify a new (and slightly icky) beetle. It might not always feel like it in the moment, but these days are glorious. I'm so aware that this precious chapter of life is a brief and colorful one.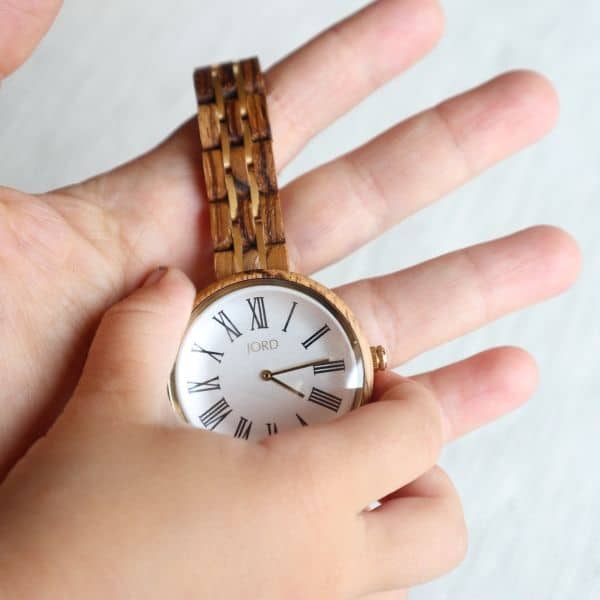 I don't want to miss any of it by falling into the trap of pulling out a phone "for just a minute" and starting to scroll. In perusing the feeds of other lives, other people's chapters, it is just so easy to not be fully engaged in my own.
So during the day, my phone stays on the shelf. It's no longer a keeper of time for me, and it's also no longer a distraction. For quite a while after making this change, I was ok with running into the kitchen where I could see the clock if I needed the time.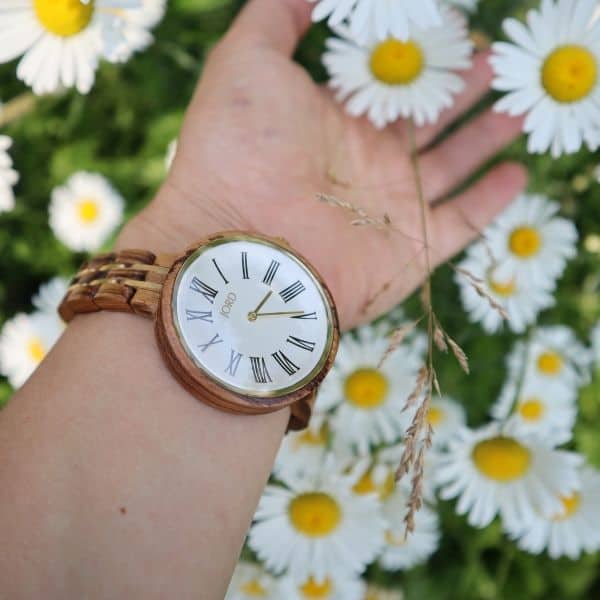 But as my kids get older, and we fit more activities into our days, having a way to always easily tell time has started to feel more important. A few weeks ago, I found myself glancing at my wrist and thinking, "You know. I really should get a watch." I probably whispered a little prayer about it too, because that's how I roll.
A day or two later, I got an email. Would I like to partner with JORD (pronounced "Yode") watches on an amazing giveaway - and get to pick out a gorgeous, sustainably-made wooden watch? Well, yes please!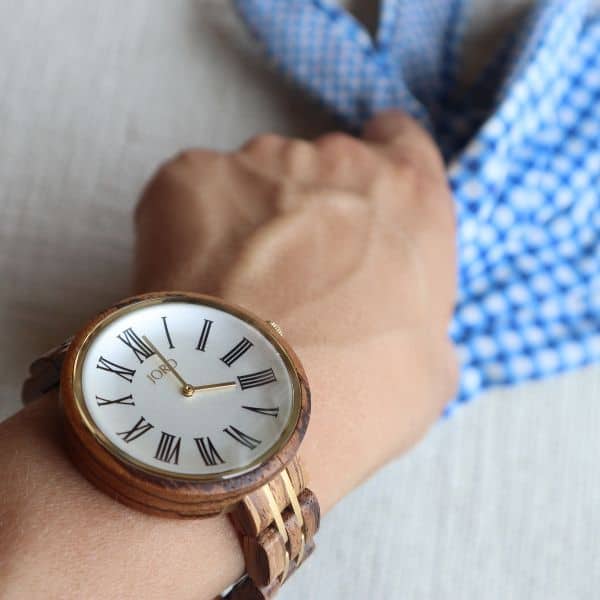 When you guys see these watches, you'll understand. They're beautiful. They're simple. And they're sustainable. For a mom who longs to keep things simple, who spends my days barefoot, and is continually drawn to keeping myself grounded in nature, a wooden watch just felt right.
After falling in love with their wooden watches, I read more about the company, and these lines on their "About" page absolutely resonated with me:
The value of a watch is not in being able to tell how much time has passed, but in being aware of the need to make that time count. Moments are bigger than minutes and your watch should tell more than time.

~ JORD watches
Not only was this my kind of watch. These were my kind of people.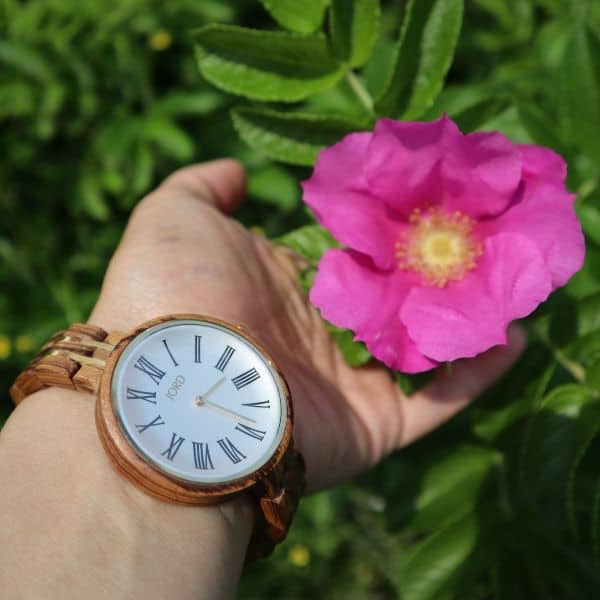 When they say, "sustainable", they mean it. I was delighted to learn that much of the wood they use comes from furniture remnants. It doesn't take a very large piece of wood to create a watch casing or link, so JORD is able to utilize wood that would otherwise end up being wasted. The bamboo and maple that they source is completely sustainable, and all koa wood comes from damaged trees or trees that were brought down by a natural weather event.
They're dedicated to environmental safeguards as well. JORD watches are treated with only natural substances, never hazardous chemicals. Watches are conditioned with natural tung oil. Choosing natural isn't just better for the environment, it also values the health of those who work on the watches. That's important to me.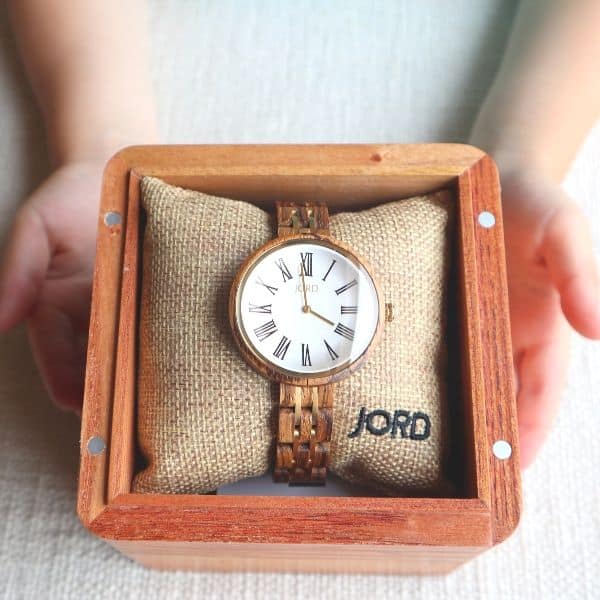 When my watch arrived, I was blown away. The arrival of the daily mail is a happy little interval in our mornings, and the kids could hardly wait to see what was in the sleek black box shipping box that had arrived. Neither could I.
As I pulled out a beautiful square humidor box, and lifted the lid, we all said "whoa." I'd chosen the Cassia Watch in Zebra & Ivory, and there it sat, nestled beautifully into the box, which was engraved with a quote I'd chosen:
Lost time is never found again.

~ Benjamin Franklin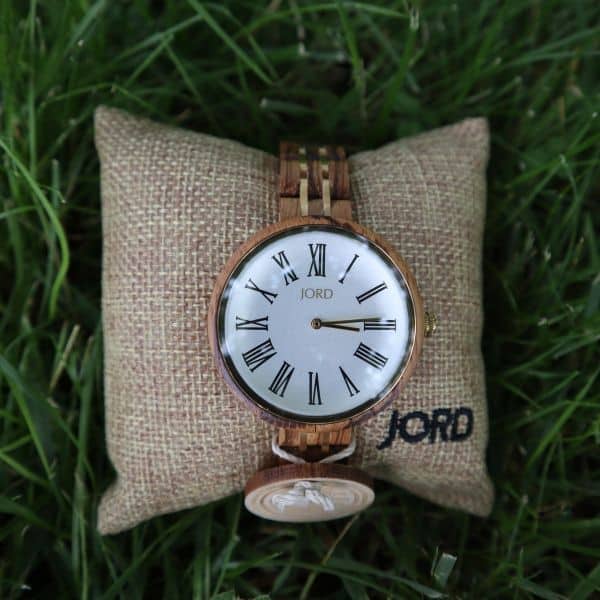 The engraving is also on the back of the watch. I wanted it not just to mark time, but to remind me how important it is to value every moment with my children, and spend those moments well.
In the week since this beautiful watch arrived, it's made such a practical difference throughout my days. Seeing the time makes it easier to keep a healthy routine as we enjoy our summer days. I'm anything but a stickler for rigidity, but I find that being aware of the time just by glancing at my wrist helps me navigate the day with more grace and less stress. It's also helped me to be more intentional about spending time connecting 1-on-1 with each of my children.
Magical moments get marked daily by this timepiece...
10:07am - discover new species (tiger beetle!)
11:48am - picnic lunch in the play house!
1:15pm - quiet time. Mommy gets a shower (just not with the watch since it's water resistant, not waterproof)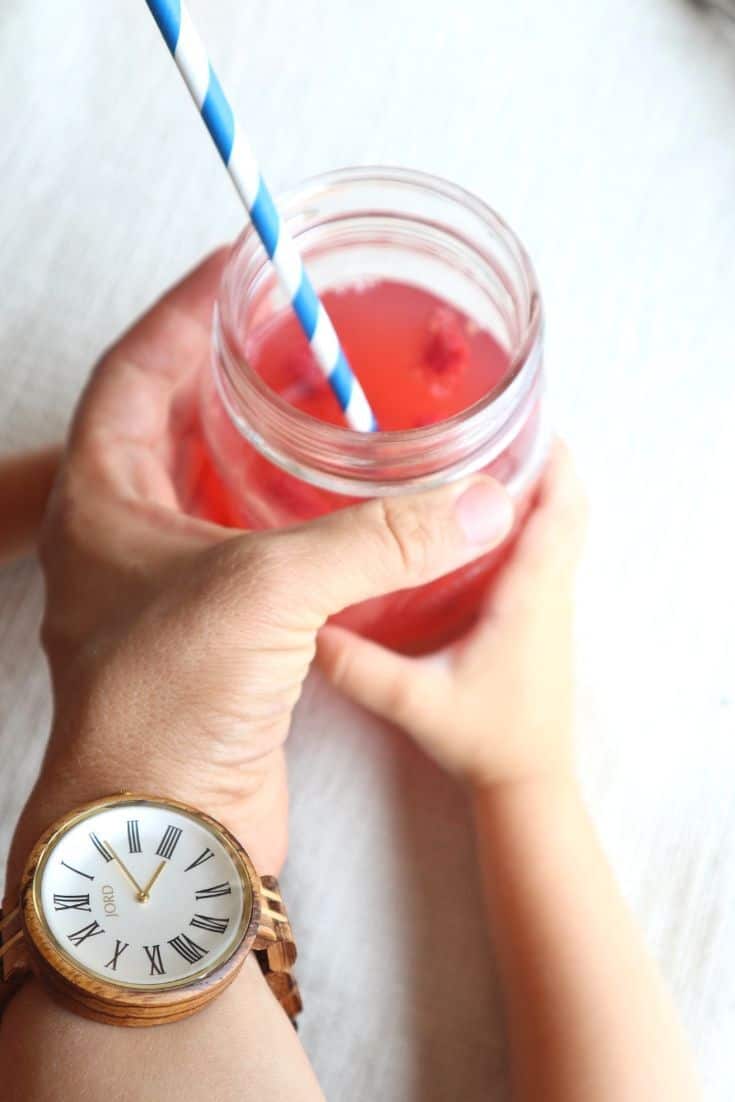 You get the idea. For me, wearing a timepiece I really enjoy wearing has proven to be an invaluable complement to breaking up with my smartphone. If you're looking to eliminate the siren call of a smartphone in your pocket, wearing a watch you love can really be a great part of moving toward a less-digital, more naturally-grounded life.
Take it a step further by having it engraved with a quote that inspires you. (JORD does a great job with engraving their wooden watches!)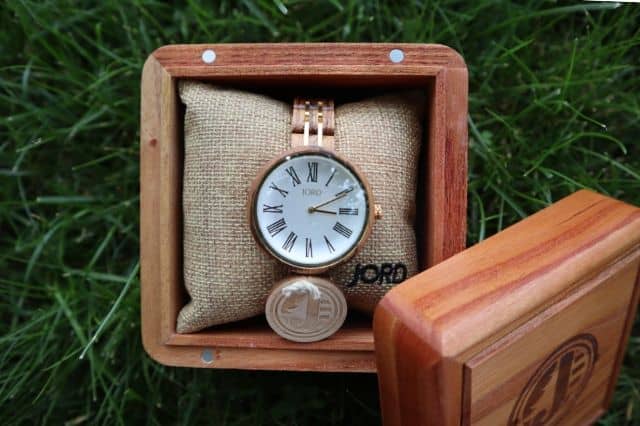 I'm so tickled to be able to share this exciting giveaway with you from JORD!
The winner will receive a $100 gift code toward the purchase of any watch in JORD's collection! You'll be emailed within a month if you win, and even if you don't - you'll still receive a "consolation" code for 10% off!
CLICK HERE TO ENTER THE CONTEST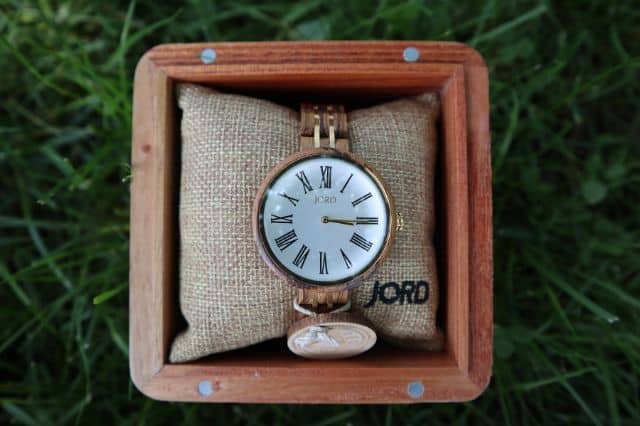 I'm so excited for someone to win! I had a REALLY hard time choosing a favorite from all of the beautiful wooden watches JORD offers, and I'm thrilled I went with this one. If you're the winner, I hope you'll come back and tell us which one you picked!
Which watch would YOU choose?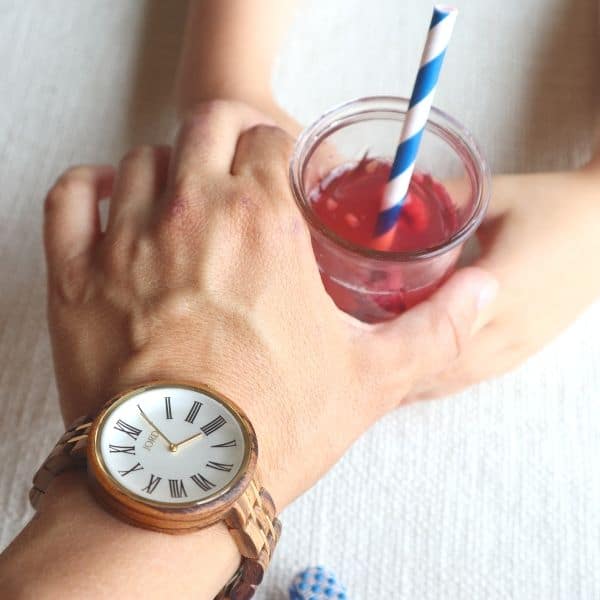 Wooden Wrist Watch
Read Next: What to Pack for a Theme Park Day